Signing of Neymar the making and breaking of Rosell at Barcelona
On Thursday, Sandro Rosell resigned as Barcelona's president, a day after a judge agreed to hear a lawsuit accusing him of allegedly hiding the cost to acquire Brazilian forward Neymar. Here, Dermot Corrigan charts Rosell's reign at the Camp Nou, after his first major signing proved his last.

Neymar was always the symbol of Rosell's Barcelona presidency, from the very start to the bitter end. Even before he won the 2010 election, and replaced his former ally-turned-sworn-enemy Joan Laporta at the head of the Camp Nou hierarchy, Rosell was looking to break with the past and the Brazil star was the key to this moving on.

- Pressure on Barca chief after Rosell exit
- Sandro Rosell confirms resignation
- Tomas: Bring Barca election forward

Laporta was associated with Pep Guardiola, Lionel Messi and a Dutch-influenced tiki-taka heritage dating back to Johan Cruyff's time at the club. Rosell wanted to put his own stamp on the club, to show that the previous regime's achievements had not been all that special, and to use his own Brazilian contacts to shift the focus in a different direction.

But rather than making headlines for his discovery of the next Lionel Messi, Rosell was elbowed out of the club on Thursday. Rosell resigned in fury the day after a Spanish judge agreed to hear the lawsuit filed by club member Jordi Cases alleging Rosell misappropriated funds to sign Brazil striker Neymar from Santos last June, using false contracts to hide the true cost to the club.

This meant going for Neymar was a priority right from the start of Rosell's time in charge at the Camp Nou. In 2011, there was speculation for months and months in the Madrid and Catalan press about the youngster's future. Other suitors including Bayern Munich, Chelsea and Manchester City were also interested in signing what a player many saw as world football's next big superstar, and whose ready smile was known to be marketing gold. Madrid even thought they had signed him that summer, having agreed a 60 million euro deal with his then-club Santos.

But Barca, i.e. Rosell, had outwitted their rivals -- and most importantly Blancos president Florentino Perez. Neymar, at that time still only 18, signed a new contract to stay at Santos until June 2014, but also he and his father/agent Neymar senior agreed a lucrative "pre-contract" with Barca. This rumour appeared confirmed when news emerged of a 10 million euro "down-payment" in Barca's 2011-12 accounts. Although there was no direct mention of the player's name, there was a growing feeling in Catalonia that it was just a matter of time before Neymar was pulling on a Barca shirt.

Even still, Perez kept battling, sending emissaries to Brazil last spring to try and change the mind of Neymars junior and senior. Well-placed reports suggested Madrid would go as far as 100 million euros, even repaying the "deposit" Barca had already put down, and the Madrid media was full of claims their side might win.

Until Blancos president Perez finally admitted defeat late last May. "For us it would have cost more than 150 million euros," Perez said then on Spanish radio. "I do not know how much Barca paid." This disappointment at missing out on Neymar appeared to then feed his determination not to miss out on Gareth Bale, with Tottenham able to leverage the situation into last summer's world record 101 million euro transfer.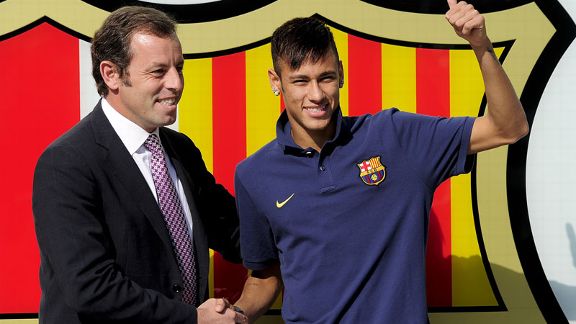 GettyImagesSandro Rosell and Neymar pose after the Brazilian signed a five-year deal with Barcelona in 2013.
Meanwhile, Rosell's fixation with Neymar has even shone through in the club's dealings with Messi and his camp in recent months. Just as the Brazilian was scoring regularly before Christmas, with the Argentine back at home recovering from persistent thigh injuries, Rosell's fellow board member Javier Faus made his unfortunate comments on how the club did not necessarily need to keep renewing Messi's contract each year. Even though Rosell intervened to say he wanted Messi to stay, the possibility of him leaving the club was out there, and Barca would have a ready-made replacement in house -- the current board's emblematic signing -- should the worst come to worst.

December also brought strong rumours in sports daily Mundo Deportivo that current coach Gerardo Martino could leave at the end of his first season. Should that happen, the idea was floated that Brazil coach Phil Scolari -- who Rosell knows well from his time as Nike's marketing chief in South America -- would be free to take charge post the summer's World Cup. Scolari's style of football is about as far from Guardiola's as you can imagine, and would not really suit Messi at all, but Neymar has thrived under his tutelage -- again another break with the past could have been achieved.

So even in recent weeks, as the Madrid-court investigation into the transfer gathered pace, and it became clear that Rosell and his fellow Barca board members would have questions to answer over the deal, they kept trying to ride out the storm. The story remained the same: that the club paid just 57 million euros, that they did nothing wrong or illegal, that other clubs pay agents too, that a confidentiality clause sealed their lips on the details. And mostly that the transfer should still be celebrated as a triumph for Barca over Madrid.

"The prosecutor's decision casts doubts on what was an impeccable operation and one which has allowed FC Barcelona, for 57 million euros, to obtain the services of a much sought-after player," said an indignant club statement of Jan. 13. "The signing of Neymar Da Silva Santos Junior involved complex and difficult negotiation. We are aware of this and have expressed this every time we have been referred to the confidential character of some of the agreements in the contract. Our rivals were prepared to do the same operation, with much more money, but due to the ability and skill of its negotiating team, FC Barcelona were able to get in first."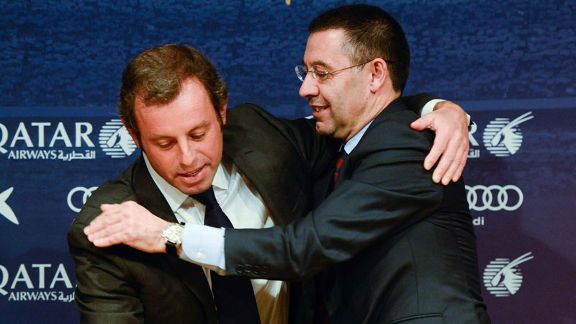 GettyImagesJosep Maria Bartomeu hugs Sandro Rosell as he announces his resignation.
Having staked his own presidency -- and personal reputation -- on the Neymar deal, it seemed Rosell would not or could not change tack, even as El Mundo reported the judge investigating the case had documents suggesting 95 million euros had changed hands, with over 50 million euros going to Neymar's family in the form of bonuses, fees, and commissions. He stuck to the same line on Thursday evening as he announced his departure at the emotional Camp Nou news conference.

"In recent days an unfair and reckless accusation of misappropriation has resulted in a lawsuit against me," Rosell said. "From the beginning I have said that the signing of Neymar Junior has been correct and his signing has caused despair and envy in some of our adversaries."

Such pride in his own cleverness now looks like misplaced arrogance, with a statement from Judge Pablo Ruz talking about "a crime of misappropriation." Rosell, his successor Josep Maria Bartomeu and Neymar senior are now likely to be questioned before the court. No individuals yet face any criminal charges, but the judge's citing of article 252 of Spain's penal code has led some commentators to say a fraud prosecution could be in the cards.

That might not be the only legal case Rosell may have to fight in the coming months, as the third-party investors who used to own a "stake" in Neymar are still angry at being cut out of the deal. Brazilian investigators are also still looking into his long-standing commercial links to former Brazilian Football Confederation [CBF] Ricardo Teixeira, with reports suggesting he has continued to make money from marketing Brazil friendlies even after returning to Barca as president.

But for the moment it is all about Neymar. While the last three years have seen other controversies at the Camp Nou -- commercial dealings with Qatar, the return of "ultras" Boixos Nois to the ground, changing policy to charge young children to attend games, the treatment of Eric Abidal when he had recovered from cancer, allowing Thiago Alcantara and Victor Valdes to leave on the cheap, firing well-liked medical staff -- Rosell's presidency will now be mainly remembered for just one thing.

If he has indeed gone too far to seal the deal that was supposed to be the crowning achievement of his regime, Rosell only succeeded in bringing about his own downfall.