The eerie parallels between Pep, Xavi and Cesc
It's funny how the passage of time can not only dull the memory but utterly "erase" things that actually happened.

Although he disagrees with me and repeatedly claims that Andres Iniesta is already his better, I honestly believe that Xavi Hernandez is the best pound-for-pound footballer Spain ever produced.

I'd base that on a mix of components. He is an integral part in the golden generation both Barcelona and La Roja have enjoyed under his unerring orchestration. Then there's the fact that when Luis Aragones, when pressing the "restart" button for Spain, and Pep Guardiola, using that same "restart" command to even more startling effect for Barca, each built his plans around him.

His innate ability to produce at the key moments of the most crucial games. Those crucial assists, Champions League final 2009, umpteen Clasicos, the World Cup semifinal, Euro 2008 final (etc., etc.) -- just luxuriate in playing them back in your mind. Xavi has an unshakeable bond with Iker Casillas, which has helped La Roja close, or reduce, the Clasico chasm. That, too, marks him as a generational great.

Perhaps not above all of that, but certainly important to me, is something that I can only try to describe and wonder, in the next few days, whether anyone understands the sentiment or feels the same.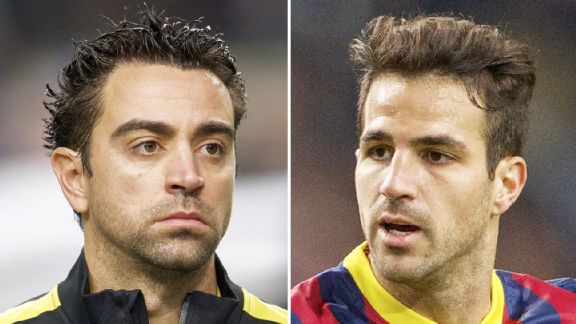 VI Images/Getty ImagesWith Xavi considering an offer from MLS, could Cesc Fabregas follow in his footsteps in a similar way that Xavi emulated Pep Guardiola?
Xavi plays with the rhythm and the majesty of the elements. The tide at the shore lapping, the surge of orchestral music, surely one of mankind's greatest, most uplifting spiritual achievements, the passing of day into night and night into day -- this Catalan's move, turn, reverse, seek, think, move, push, run, stop, shunt, turn, turn, pass, think, look ... win, they all remind me of the earth and mankind's excelsior sights and sounds.

But they used to boo and whistle him on the pitch at the Camp Nou.

He was young, he hadn't proved himself, it was long ago and far away.

Nevertheless, once upon a time, he was the bad guy.

Guardiola was a totem pole at which the Catalan football nation, understandably, worshipped.

Time and tide weren't waiting for him, his dissatisfaction with the Joan Gaspart presidency was gnawing at his happiness and self-respect and although he was planning to set sail on the last great adventures of his playing career, the Camp Nou socios (members) craved the chance to avoid change, to put off the dark future without the last truly great vestige of the Dream Team.

Xavi, to many of them, represented the cuckoo in the nest. Say what you want, conservatism is an innate part of the Camp Nou DNA -- I won't give house-room to a counter argument.

Whatever kind of player Xavi was going to turn out to be, not only was he not "Pep," he represented the feared future. (A point on which, for six years, they were proven right.)

Xavi has told me often that "sheer stubborness" prevented him from accepting the chance to join Manchester United about that time, just before Guardiola left Barcelona in 2001. He had tangible offers from Milan, too, but decided to stick with this one mantra:

"I'm not being forced out of MY club ... by anyone."

Recently, much to my surprise I admit, he confessed to Mundo Deportivo football paper that he was on the point of signing for Bayern Munich in 2008 (after the last two decadent and slothful Frank Rijkaard seasons drained him of his enjoyment at the Camp Nou) until Guardiola (how ironic on every count) phoned him and said: "It's about to go ballistic here, I'm taking over and you are 'me' on the pitch."

The rest is history.

Now the cycle is approaching completion. Manchester City's new New York franchise want Xavi to be with them for the season kickoff in 2015. Xavi's contract runs until 2016, and although he stated that he wants to finish his career at Barcelona, " ... I don't know whether I'll be able to achieve it but I want to ..."

It's not difficult to see how nicely one last adventure, just as Guardiola tried, might fit this man who has dedicated his playing life to just one club. Equally, what Guardiola found is that if you head off into the unknown, then unpredictable things can happen -- for good and bad. How much more attractive would it be for Xavi to be working for an organisation run by a former Camp Nou vice president (Ferran Soriano) and a former Barça director of football (Txiki Begiristain)?

Meantime, the "relevo" (the next generation) is ready and waiting.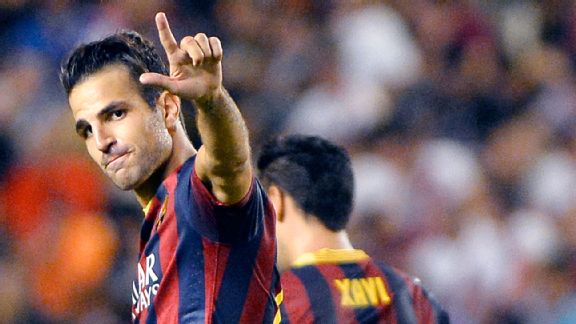 Gerard Julien/Getty ImagesCesc Fabregas wouldn't talk about Manchester United's rumored interest in him but did admit that he could join MLS later on in his career.
When I spoke to Fabregas late last week at a event sponsored by Puma, I asked him: "Would you, in due course before retiring, appreciate the chance to experiment with a couple of seasons in MLS football?"

His answer: "Yes, I'd like that very much." He was serious, too. He immediately added, laughing, " ... in many, many years."

Perhaps as many as nine or 10.

In the interim, I hope he's going to take a leaf out of Xavi's book.

This is his club. By returning, pretty gloriously in my estimation, and winning trophies, he scratched an itch.

There was an ascending scale. First: Play in Barça colours at the Camp Nou. Then: Win his place. Finally: Win trophies, hopefully truckloads of them, to compensate for the relatively barren medal years at Arsenal.

It would be natural if next summer were a crossroads. Since returning home, he's won seven trophies for club and country, and once the World Cup is over, he'll be 27. With care, with his current appetite for hard work and self-improvement, it could be that the golden years are still to come.

It's unfair to expect a direct comparison, and I'm not, but it's an interesting guide at least that at that same age, Xavi had won seven club and country trophies -- the other 19 came between his 27th birthday and now.

Salutory.

Asked last week about Manchester United's pursuit of him, he played a straight bat.

"The past is past. My future is at Barcelona and I'm very, very happy."

But there will be suitors, of course there will.

United still require that position filled and their budget is as tremendous as their need. Arsenal are growing again and I believe that he thinks he had unfinished business there (insufficient trophy wins) plus extremely happy memories of life in the Premier League.

It's also wholly natural that the financial behemoths tempt both him and his club, who, if the members vote in favour this April, have a 600 million euros bill to pay for a remodeled stadium. Financial behemoths mean PSG and Manchester City. He'd grace either team.

What's fascinating with the little jigsaw here is the fact that Fabregas can look at Xavi's attitude, his stubborn desire to dominate European football from his hometown club, his perpetual hunger to improve and win major competitions and apply all of that to the years between, say, 27 and 33.

Yet, at the same time, he'd increasingly benefit from Xavi doing a Guardiola and setting sail for a new adventure -- be that New York in 2015, or Aberdeen this summer (one can but dream ...).

Last weekend, a great deal of fuss was made about him striking the roof of the dugout when substituted in a stalemate at Levante. Knowing him to the degree I do, nobody should attribute that as a gesture of anger or defiance at the coach. One of the central tenets of this guy, beyond his immense talent (a talent I think is somewhat underplayed by many analysts) is that he is phenomenally competitive and hates "losing" as much as any great sportsman you could name.

When there is a queue of clubs looking to tempt him away from the Camp Nou this summer, I won't blame them for an instant.

Yet it will be a time for him to career-wise be thinking two or three passes ahead, to read his situation like he reads a first-time pass to Messi or Neymar.

It's more than feasible that the best is yet to come.

The big test

There isn't a single person, playing squad or coaching staff who has ever been through what potentially faces Atletico Madrid in the next four weeks.

If things go to plan (bear with me here, all the San Mames season-ticket holders), Diego Simeone's team will sequentially face Athletic Bilbao, Athletic Bilbao, Real Madrid, Real Madrid and AC Milan from Thursday for the next four midweeks.

Sprinkled in between, on Liga duty, there is what is sure to be a spicy Madrid derby (another!) against Rayo Vallecano plus the visit of a significantly re-invigorated Real Sociedad.

All of this comes at a time when three of their past four results have been draws (home to Barcelona and Sevilla, away to Valencia).

Under no circumstances could you say that the wheels have come off, nor even that Atletico look vulnerable. But the club's level has gone from white-hot to "mild for this time of year, isn't it?" And they are about to suffer a test of fire.

OK, they may not surpass the double test of Athletic Bilbao home and away, and some will argue that given Simeone's side presenting real credentials as Liga or Champions League winners, the Copa is the least of their worries. But they are defending this hard-won trophy, Madrid lie ahead in the semifinals and that's simply not the way Simeone's mind works. One of the most articulate of his on-pitch lieutenants is Tiago. Enjoying a golden autumn to his career, he's been vital to how hard it is to play against the Colchoneros.

But he knows, as does anyone who has watched Manchester United at their best or Barcelona under Guardiola, that the very thing that makes you great -- intensity -- is something that can burn you out if not measured and tempered. Especially when you face the greatest match-after-match-after-match stress such as Atletico face now.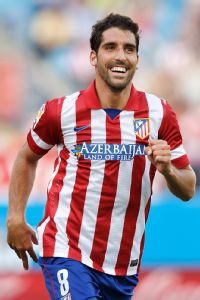 Gonzalo Arroyo Moreno/Getty ImagesAtletico Madrid's Thiago is an integral part of Diego Simeone's revitalized team.
Tiago makes a comparison with a previous boss, at Chelsea -- Jose Mourinho.

"He and Simeone are actually very similar," he said. "In terms of their refusal to be held back by what has gone before, their insistence on perfecting every detail during training sessions and in terms of the bond they develop with their players. They're both pretty demanding. 70 percent won't do.

"They want 100 percent effort every time. And when you play a match at the end of the week, you're always fired up to get every ball because that's what it's been like all week at training."

Thiago adds: "I'm not saying it's an easy thing to work under such pressure day in day out. He really demands a lot from us. But it's that which sets you apart as a professional. It's that kind of pressure that prepares you for competition."

The veteran midfielder admits that he's become focused on being a versatile player, as opposed to just relying on his technical ability.

"Nowadays it's not just a case of using my ball skills, it's also about coming up with the solutions that will win us the match," Thiago says. "Every single game we play is a battle. We go out not only to win that match but to sustain our progress in terms of our ongoing battle with Barca and Real. That's what gives every match that extra edge for us."

From Simeone's perspective, though, the extra edge now needs to come from him. Tired minds, sore legs, squad rotation, picking a jack-in-the-box player like Oliver Torres, Joshua Guilavogui, Mario Suarez or Jose Sosa, making a training session "light" and fun in order to freshen up minds -- these are the keys to making through this steel-jawed man-trap of a month.

No one doubts the quality or intensity of his team -- nor that he built it that way. But this month, this is what he built it for. Do not miss a minute of it. Glorious.

The big move

I must say that if Mourinho is determined to view Juan Mata as a bit-part player and Chelsea are willing to sell, I see absolutely no reason why Manchester United shouldn't absolutely bite their hand off.

Mata, aside from being a top-class footballer, capable of succeeding at any club in the world, is both the blueprint of what Manchester United need right now and of David Moyes' dream footballer.

Talented, ferociously committed, hard-working, loyal, intelligent, technically gifted, goal assists, goals, leadership, hugely professional, Premier League-adapted, fluent in English, hungry to win more trophies and keenly in need of a good six months from now until Vicente Del Bosque picks his World Cup squad.

Should they manage to sign him, other players will need to increase their level, and Moyes will have made his first "breakthrough" signing of a world-class footballer. A no-brainer.