Title race set to tighten after Calderon draw
MADRID -- "Who remembers the winter champions?" Tata Martino asked journalists after this match finished 0-0. "I'd prefer to be the summer champions: That's just a little bit more interesting."

If the Argentinian's sincere and articulate postgame demeanor was a true yardstick of what Barcelona take away Saturday from the Calderon, then Atletico took their best shot and didn't pierce armour, either sporting or psychological, of the team that has won La Liga four times in the past five seasons.

"Finishing the first half of the title chase with 50 points seems to be very good and we've gone from less to more in terms of our form and our performances. But we are in search of excellence," added Martino.

There was some of that to pick out of the frenetic, intense morass of this game that did so little to tell us which of these two -- if either -- will lift the title in May.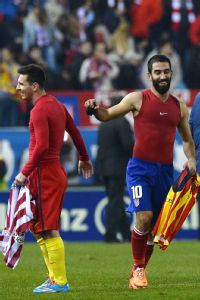 Gerard Julien/AFP/Getty ImagesTuran and Messi swap shirts and share a joke after the game.
Atletico's Arda Turan -- the tough and talented Turk -- had fun and is fun to watch. He lifted the ball out of tackles, spooning it up in the air and roaring after it. He mimicked the work on the touchline (as did Koke) which Franck Ribery and Arjen Robben did so well in the Champions League semifinal last season, when Barca weren't hit for six but for seven.

For the reigning champions it is about time those who complain about Gerard Pique recognise that he, like Sergio Busquets, is having his best season for some time. The Catalan centre-half was easily the visitors' most consistent, most impressive player.

It's my opinion, knowing him pretty well, that the more responsibility you heap on Pique, the more you'll get back. When Carles Puyol retires, there will be a move to hand the captaincy armband over, based on seniority, to Xavi. Leo Messi, Argentina's spiritual and official leader, is another candidate.

Pique, though, is carving out his case. On Saturday, he and Javier Mascherano had their hands full.

Atletico are now sufficiently used to winning -- points and trophies -- that in some matches against given opponents they know precisely when to jab, when to duck and weave and when to rain the punches to finish off an already bloodied rival.

But Busquets had a point postmatch, equally as valuable as the one each team took from this encounter to stay tied at the top of the table.

"This is new for Atletico," argued the midfielder. "They are equal top, they are through in the Champions League and defending the Copa [del Rey] they won last season. They've not been through this before. Right now you can expect them to be fighting for the title until the end.

"They are one of the best in Europe," Pique added, "very defensive and good on the break. They foul, they break up your playing rhythm and they deny you space. But they are in new territory."

This is the third match between the two teams this season. Each has been drawn and we've seen only two goals. In fact, of all the absolutely exceptional things which Diego Simeone has achieved since taking over as manager two years ago, beating Barca is not one. Three defeats and three draws later, it's an outstanding task for this outstanding coach.

"We've got different styles, these two teams, but we did our job in a way that I'm happy with and I couldn't complain in any way about the effort my players put in. They can't beat us this season … but we can't beat them yet!" he joked.

Simeone tried, though. In the Supercopa games last August, Diego Costa was often used wide, as an extra midfielder, and asked to do an enormous amount of work to mix closing Barcelona down with creating or taking chances.

Early in this match, Simeone was happy to risk going with only four in midfield, supplemented by the back four when needed, and to use the Brazilian/Spaniard next to David Villa.

It was then that, with Turan putting on a show, Atletico looked like they might end the horrible sequence, which has occurred in each of the past three league campaigns, of the Catalans beating them home and away.

"Costa gave us a hard night's work," Pique was happy to admit postmatch.

Because the striker didn't score, and has not now for a trio of matches, some of those who skim the surface before commenting might turn their gas down a peep or two when they describe him.

However, this was unquestionably a night to increase your admiration for Costa. His work ethic, his closing down, his aerial power, his first-time control, how much he demands of himself: Costa's was a display for those who write or watch to praise and for those who play and train to copy.

Overall you could call this a "Jack Sprat" game. You haven't heard the old children's rhyme, which dates back to the 17th century?


"Jack Sprat could eat no fat.
His wife could eat no lean.
And so between them both, you see,
They licked the platter clean."



If Barcelona could just add a tad of the athleticism and consistency of space-denying at which Atletico are experts, and if Atletico had just a smidgen of the technical class and attacking verve of Martino's side, each team would be near-perfect or, to coin the new phrase, "Near Bayern."

Speaking of the European champions, whether Barcelona (on this showing) are quite ready to turn the tables after last season's humiliation is a moot point, but you could argue, with confidence, that if Barca had played with this physicality, this application, this intensity and this competitive spirit then, at least, they would not have been so humiliated last spring.

At the beginning of the season, Martino could not have been more explicit about his aims for his first season in charge.

Small evolutions in playing style, recognisable passing and goal-scoring statistics, slightly more vertical football, all Barcelona's "great" players needing to take their turn to rest on the bench and, above all, ensuring that his squad were fit, hungry, quick and competitive at the danger end of the season, not in December.

To arrive in March and April full of fizz and with sharp teeth -- that was what the new man in charge valued above all. Perhaps this is a staging point.

Martino chose, intelligently, not to start either Messi or Neymar. There have been spells in recent seasons when such an idea would have been unthinkable.

In the past, if Messi, or a player of Neymar's status, could walk without sticks or someone propping them up they'd have been in the starting XI. Guaranteed.

Martino knew that both were missing tempo and match sharpness. He knew that starting them would probably be a sop to their status in the hierarchy. Above all, he knew that against a Simeone side you need to work twice as hard as you need to create or improvise technical brilliance.

Would Atletico have been chased and tackled as much without Alexis Sanchez and Pedro on the pitch, if Messi and Neymar had started? No.

Will Martino get his proper dues and some thoughtful appreciation on Sunday morning in Catalunya? Probably not.

Will it be noted that, of the 11 Barcelona matches refereed by Mateu Lahoz -- eight wins and three draws -- this was the first time he booked more players from Barcelona than their opponents? No. Probably not.

That is a small statistic to indicate that, while the champions did not play dirty, they did add an edge and were not pushed around after the 46 fouls Atletico committed on them during the two Supercopa games.

While people shriek with horror if you even suggest that there's any move away from basic Camp Nou principles under Martino, it still needs to be accepted that there are minor evolutions.

Verboten and prohibido during the Pep Guardiola era, defenders under pressure are now absolutely allowed to hoof the ball out of play. Indeed, Martino loudly applauded Pique for doing just that while under pressure in the first half.

What of Atletico?

"It's vital that we don't allow anything to distract or divert us from our style of playing, our hard work, our concept of team play" confirmed Villa postmatch.

"Not only is a 50-point total after the first half of the season extremely good for Atletico Madrid [a club record], it would be excellent for anyone: Barcelona, Real Madrid... whoever."

Continued Villa: "It was fun to play against former teammates but these games, plus the two in the Supercopa, show how little there is between us and the best performers of the last few years in Spain and Europe."

In fact, intense though the Colchoneros were, fun though it was to see Turan and Costa, the fact remains that Thibaut Courtois was by far the busier keeper. Saves from Pique and a fierce Messi shot can be added to the missed header which the latter should definitely have converted.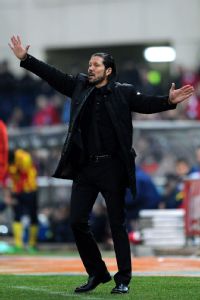 Denis Doyle/Getty ImagesSimeone's wait to beat Barcelona goes on.
Simeone stressed that he now wants the same snarling, bristling energy this week to ensure that his team remains in the Copa del Rey -- Atletico face Valencia in the last-16 second leg with the tie level at 1-1.

No doubt, he will look to introduce new signing Jose Sosa, with whom he won a title in Argentina and from whom he clearly wants eight or nine goals between now and May. Meanwhile, just around the corner lay AC Milan in the Champions League last 16.

Meanwhile, quietly and without any fuss in their Barcelona city centre hotel, Carlo Ancelotti's Real Madrid squad and technical staff will have enjoyed the evening.

It's not a given that they win at Espanyol on Sunday but, if they manage to, the points gap will reduce to a mere three. The pressure of chasing, a small gap at least, is always less high-profile and less draining than is defending a slender lead, especially when you've not been through that experience before.

Neither of Madrid's two rivals could score and neither of them looked super-crisp or razor-sharp.

Ancelotti will have subtly reminded his players that, without hitting full ramming speed, they are easily in touch: Their title challenge is not drowning, it's waving.

Eighteen years ago, the last time Atleti won the title (and the Copa, beating Barca 1-0 in the final) they thrashed the Catalans twice in the league, scoring six goals in the process. If the omen counts, this wasn't an echo of the glorious past.

"We are in search of excellence" was Martino's phrase. If he achieves it as his truly great players return to form and fitness, then his objective of being at the danger end of all three trophies in the spring will be achieved.

If Simeone needs to seek anything in comparison to his older Argentine countryman, it will be that no gasoline leaks from the Atletico tank.

This was a biggie: the chance to take the champions down. A draw without conceding in a match which has regularly been a home defeat in recent seasons ain't no kick in the teeth, but nor is a kick onward in their push for self-belief, for momentum, in their push for the line.

For Atletico it's back to bread and butter for a few weeks. It is a time when minds can wander, when injury niggles can begin to throb more than they did previously and when sports psychology begins to be worth its weight in gold.

Advantage Barca. Opportunity Madrid. A new test for Atletico.