Messi's return adds extra spice to Atletico-Barca
Heeeeeeeere's Leo! And, in his manager's words, he's got the look of the assassin about him. Sixty days later, Lionel Messi was back. He had waited long enough; he was not going to wait very much longer.

A few minutes to ease his way into the game vs. Getafe and, bang! -- there he was leaning through the splintered door, that look on his face: "You don't escape me that easily".

Two months out followed by two goals scored. The timing was perfect, too. If the people have been waiting for Messi, they have been waiting even longer for Saturday night at the Calderon: Atletico Madrid vs. FC Barcelona.

- Mitten: Watching Messi's comeback
- Hunter: Koke catches attention
- Rosell: Xavi is 'Barca's greatest-ever'
- Xavi: Atletico game is 'marker'
- Report: La Liga's 'World Challenge' plans

Injured on November 10 against Real Betis, Messi returned on January 8. Coincidentally, that date was exactly thirty years after Diego Maradona returned to the Barcelona team followig the infamous broken ankle he suffered at the boots of Andoni Goikoetxea, boots that Goiko kept in a glass cabinet like a trophy.

That wasn't the only parallel, either: it was Barcelona against Getafe in the Copa del Rey, a game in which -- in April 2007 -- Messi had emulated Maradona's (second) 1986 World Cup goal against England. It was all set up.

The chants started eight minutes into the second half when Messi appeared to warm up. A few moments later, he was standing on the sideline alongside the fourth official, waiting for his chance to go on.

Eyes were turned as much his way as towards the pitch. It had only been two months -- compare that to Maradona, who was out for five and suffered for longer -- but somehow it felt like the wait had gone on forever. The countdown clock had been ticking and ticking.

Tata Martino, the Barcelona manager, had planned for Messi to get half an hour. If he did not get on sooner it was because there was no break in play. When, finally, there was, it was because Barcelona had won a penalty.

63 minutes had gone and a murmur went round the stadium. The ball was on the spot, sixty yards away from Messi, who was standing on the touchline, ready. The thought was inevitable: could he come on and take the penalty, scoring with his first touch back?

It would have been a bit scripted, a bit forced, and it didn't happen: Cesc Fabregas scored the penalty to make it 2-0. But what did happen was not far off and, afterwards, Martino described it as "like the plot from a film."

Ambling at first, Messi came on as if gently dipping a toe into the water. Martino had suggested that as important as his physical state was his emotional state. Would the fear of a recurrence have gone entirely? Would he play with freedom and fluidity? There were also concerns that Messi might have returned too soon but that was never likely: this time was different. This had felt like a clean break, a complete re-set. Super-cautious, possibly even a little exaggerated.

Messi had cleared his mind as well as his injury, travelling to Argentina and escaping it all. It felt pastoral as well as physical, as if it was not just the six-centimetre tear in his thigh that troubled him but something more general, something less precise but more profound. The public confrontation between Messi and the board of directors added to that sensation.

On Wednesday night, it would have been enough for Messi to have come through the match fit, sharp and confident. What happened was even better. Bit by bit he introduced himself to the game. Yet if it seemed slow, cautious, what he ultimately did in less than half an hour suggested quite the opposite, as if he had dived straight in.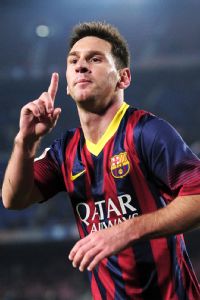 Josep Lago/AFP/Getty ImagesTwo goals vs. Getafe took Messi's total this season to 16 in all competitions.
A couple of runs, a couple of passes to create chances for Alexis and Pedro. Then Messi scored: a simple enough tap-in, sure, but his fifteenth of the season. It was a goal on his return, finished with a coolness that, however easy, still said Messi.

Then in the last minute, he was really back. Receiving Alex Song's excellent pass, he set off, accelerating. The ball ran alongside him obediently, never far from his foot, and as he reached the area he curled it, hard, into the net. Never any doubt. If there is a "Messi goal", this was it.

It may be wise not to get excited -- Messi had scored the third and fourth in a 4-0 Copa del Rey win against Getafe, after all, not the winner against Bayern Munich -- but no one could help themselves. The Argentinian newspaper Ole changed its masthead so that it now read "leO." Sport declared that the puto amo -- the man -- had returned.

In the dressing room, the excitement was palpable and public. Twitter and Instagram filled with pictures and messages from Barcelona players: welcome back, Leo. They lined up to take photos with him as if the man standing alongside them was less a team-mate, more a visiting deity. Like kids who had met their idol.

"You returned, genio," Javier Mascherano wrote. "The monstruo is back," Song said.

Asked if the performance made any difference to his team selection at the weekend, Tata Martino smiled. "No," he said. Far from rushing Messi back, this has been managed. The markers on route to his full recovery were dictated not only by his fitness, but by the fixtures.

Atletico Madrid on January 11 was always circled; other games could be overcome without him, but this one is big. So much so that had it been a week earlier, you suspected that the timing of Messi's return might have been a week earlier too.

Half an hour against Getafe and, all being well, a start against Atletico: in a perfect world, that was always the plan.

As it turns out, this game is even bigger than anticipated. For months Atletico-Barcelona shone out across the other fixtures, a defining moment eclipsing all else, but somewhere along the line the expectation was that Atleti would drop points before they got there.

Even if it was only a couple of draws, most anticipated that they might slip a little behind. Instead, as we reach the exact halfway point of the season, they remain level with Barcelona, five points ahead of Real Madrid.

Five points: that's as many as they have dropped in the entire season so far. Both teams have the same, astonishing record after 18 games: 16 wins, one draw, a solitary loss.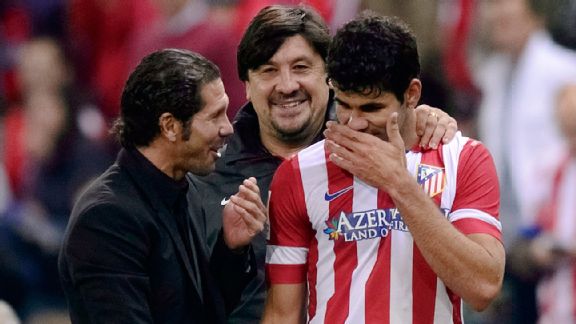 AllsportDiego Simeone and Diego Costa have Atletico keeping pace with Barca this season, setting the stage for a memorable La Liga clash.

Nor was it just Atletico. When Messi got injured, you wondered if Barcelona would reach this point in such a strong position too. They have not always convinced: debates that have been almost existential have raged about style and identity and have been exacerbated by off-field problems, the infamous Camp Nou entorno. For many it has felt like the end of an era; for Martino it has felt relentless, and often unjust.

But Barcelona kept on winning, without Messi and sometimes without Neymar, and in the past few weeks they have played like Barcelona, too: some of the sharpness is back, the speed of passing, the high pressure.

At times, Messi disguised how badly Barcelona were playing. On Wedenesday, his return may have disguised how well they have been playing. They may have lacked the cutting edge -- the assassin's gaze -- until he came on but the performance was good.

Lately, it has been. Things are falling into place, ready for the biggest game of the season so far. In the past three matches, Pedro has got a hat-trick, Alexis has got a hat-trick and Cesc has scored two. Then Messi came on and scored two, two months later.

On Saturday night, Leo Messi travels to the Vicente Calderon, where he will probably start for the first time in two months. Atletico Madrid vs. Barcelona was already huge and it just got even bigger.

Now the game that has it all really has it all.