In-demand Koke has what it takes to reach the top
First things first: Happy birthday to Jorge Resurreccion Merodio, who turns 22 on Wednesday.

If you aren't yet sure who that is or why his anniversary merits attention then think of him under his soubriquet: Koke.

Think of him supplying the cross for Miranda's goalscoring header which won Atletico Madrid last season's Copa Del Rey final at the Bernabeu against their city rivals.

Think of him supplying the goal assist pass for Diego Costa the next time the two sides met, in the Madrid derby at the Bernabeu in September, which gave Atleti their first Liga win over Los Blancos since 1999, when our man was seven and within a couple of months of moving from the Rayo Vallecano youth system to that of Atletico.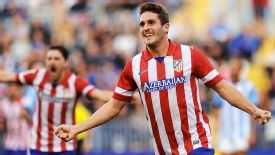 AllsportKoke celebrates after scoring the winner at Malaga.
Think of him scoring the winner against Malaga last weekend to put Diego Simeone's team top of the league, on their own, on the first weekend of 2014.

Think of him as an exceptional talent, who is coveted by the top Premier League teams and Barcelona but who, I think, is locked up tight at the Calderon for quite some time to come.

Koke, like Real Madrid's Isco, is what's called here in Spain "El Relevo": it's a way of saying "the next generation".

Even though Andres Iniesta is still at his peak, he is 29 while Xabi Alonso is 32 and Xavi is about to turn 34. Thus, if he maintains his current form, Koke will soon become a fixture in the national team midfield, which will also regularly perm from Isco, Javi Martinez, Thiago and Sergio Busquets.

Simeone is Koke's fourth senior coach at Atletico and often deploys the player on the left of a four-man midfield, making him something of a victim of Arda Turan's preference for starting on the right.

Given that Koke is markedly right-footed, it says a huge amount for his dexterity and technique that he is now an automatic in the Colchonero XI, a Spanish international and coveted by the European greats, despite nominally playing "out of position".

You'd be forgiven if it took until last season to really take notice of him, or at least of how vital he has become to his team.

Underwhelming beginning

Koke's debut came four years ago, in late 2009, at the Camp Nou against Barcelona. Of the 14 players used that day, as well as the coach -- Abel Resino -- he is the only one still at the club today.

Koke was so timid back then that, upon arriving first for the team bus he waited outside for the captain, Antonio Lopez, to ask him where he was allowed to sit. Given that Atleti were later thrashed 5-2, it was part of an inauspicious start for this fabulous midfielder.

He went ten straight games without winning (the majority were losses) before Kun Aguero's goal at Zaragoza allowed him to savour victory, which he followed in the next game -- a 2-2 draw with Sevilla -- with his first goal.

Perhaps the thing which is most attractive about Koke, certainly to the Premier League's leading clubs, is the fact that he possesses the technical ability which has been the hallmark of this golden era of Spanish domination.

Nobody should seek the fool's gold of asking whether he is "as good" or as exceptional as Iniesta or Xavi. Not only are those type of comparisons for the foolhardy, this is a guy who is just turning 22.

But Koke does possess great dollops of the goal-assist excellence, which each of his Barcelona elders have exhibited throughout their brilliant careers, and he looks eminently capable of outscoring them in the long-term.

Moreover, he has some of the natural physical toughness which footballers like Cesc Fabregas and Fernando Torres needed to go to England in order to develop.

In that respect, this fella benefits from some of the steeliness which Xabi Alonso had naturally, although he is not as tall.

"Much more than any development technically, the last two seasons have seen a physical progression in him which has allowed him to apply his excellent technical skills more consistently" says Koke's elder brother, Borja, who also stood out in Atletico's youth system but whose career has been decimated by injury.

"His physique has adapted to the Primera Division but to be so precise with the ball when the game is moving at such high speed is his point of excellence," Borja continued.

Several coincidental things have added to the "hothouse" effect over the last season and a half, which has seen Koke transformed from "promising" to "must have".

The departure of Diego, Atletico's Brazilian playmaker, not only placed a greater need to step up but it also allowed Koke creative space on the pitch from which, gradually, he has benefited.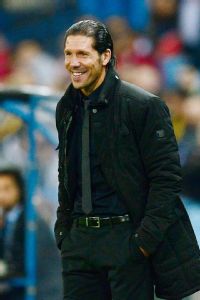 AllsportSimeone has seen Koke blossom under his management.
The arrival of Simeone -- "We had just been knocked out of the Cup by Albacete and we were sinking" is how Koke describes the moment -- has also been exceptionally important.

The Argentinean, as a player, was not completely dissimilar to his talented young pupil and Koke is being taught how to produce consistent excellence by a man who matches Pep Guardiola in his tireless, obsessive search for perfection and trophy victories.

Equally, the departures of Kun Aguero and Falcao from the Calderon have also left new spaces. Both strikers would drop deep, and wide, in order to pick up possession and either run with the ball or seek a team-mate to feed, so that a "set-up" pass would be returned.

Diego Costa isn't so dissimilar from that but a) he is more of a direct, head-down, full-steam towards the goal striker and b) Costa and Koke seem to have developed an extrasensory perception about where one another should be and when the latter should deliver the ball to the former.

(Albeit that it worked the other way on Saturday when Costa's set up work, via Adrian, created the scoring chance for Koke to nonchalantly tuck away the goal that claimed victory at Malaga).

In the company of legends?

And then there is Koke's piece de resistance: his set-piece delivery, which is comparable to two legends of recent times, namely David Beckham and Luis Figo.

While different stylistically, I believed that the Portuguese rivalled Beckham's outrageously good delivery. Indeed, Sir Alex Ferguson once said "I'll not sell Beckham until I find someone whose use of the ball in crossing is as good as his."

Ferguson and Figo made eyes at each other for a long time and the player, who spoke good English, often admitted that he "dreamed" of a move to England and that United would be his preferred destination. However, it didn't happen.

Now, again, Koke is only 22 so I'm not stacking him up against either Beckham or Figo's achievements and saying he'll outdo them but what I do believe, passionately, is that he resembles the Englishman from dead ball situations and has something pretty close to Figo's crossing ability from open play.

All of this, plus the fact that both David Moyes and his most trusted scouts have been taking long looks at Atletico all season, has led to the idea that Man United are about to buy Koke.

There's more to back the concept of this happening. In due course, Koke will play in one of the central positions of a 4-4-2 midfield because he's sufficiently strong and tactically astute and is quite capable of winning the ball as well as he uses it.

So, to recap, Koke is right-footed but made his name on the left of midfield and is adept in the centre. Moreover, he is very likely able to perform as an auxilliary second striker and has played for Spain at right-back. He has goalscoring, is prodigious with his assists, works hard, is tough and has a fistful of major medals and nearly 150 first-team outings. And he's 22. What's not to like?

Well, for United and any other suitor, there's his buyout clause for one. In lte 2013, Koke renewed his contract until 2018 meaning that, to buy him out would cost a basic 60 million euros plus taxes which could, easily, make the fee more than 73 million.

Is he worth that king's ransom? David Villa doesn't doubt it:

"His explosion as a star player hasn't surprised me because we could all see what was coming. He's a complete footballer and his development potential is without limit. He presses fantastically and he's exceptional at making the right pass in a counter attack too. His touch on the ball is exquisite."

Football being as volatile as it is, the transfer market-wealth generated in England and the fact that Atletico are trying to complete the construction of a new stadium should mean that an "all-in" bid from a Man United, Bayern, Barcelona, Man City or Chelsea would prise him free.

But this is a guy who grew up idolizing Fernando Torres, someone who stayed loyal to Atletico longer than was normal and then thrived for both Liverpool and Spain. Koke feels those red and white colours at the Calderon and with a healthy new contract recently signed, he'll be very hard to persuade to leave. Perhaps impossible, in the short-term.

Moreover, Koke should be a shoo-in for the kind of impact player Vicente Del Bosque will need in Brazil this summer for games where perhaps Xavi, Iniesta and Alonso are either too drained by humidity to start, injured or perhaps out of form.

Should Koke choose to leave now for a major pay-day, it would unquestionably put at risk his form, his regularity in his new team's starting XI and the likelihood of Del Bosque taking him to the World Cup.

Finally, it's been approaching twenty years since Atletico won the title. Unter the management of Raddy Antic and fired on by the lavishly talented Serb Milinko Pantic in midfield, Simeone -- the player -- and company won the league and cup double in 1995-96.

Ahead of this weekend's mouth-watering match against Barcelona at the Calderon, Atletico are joint top and playing like potential champions. For someone like Koke, even more so than Costa, that's incentive enough to stay.

Pantic, who for years was an important part of youth at Atletico, can be proud of the young pretender so when he says "I'm convinced he has the ability to go on and be a better player than me", it is high praise indeed.

Koke to the latter stages of the Champions League, to the last few matches of La Liga as a potential title winner and to the World Cup as an important "jack in the box" player? Yes.

Koke to the Premier League in this transfer market? No, I don't think so.

Alonso's uncertain future

Across Madrid, there's a different story. No-one, perhaps apart from his family, will dwarf my admiration for Xabi Alonso as a footballer, as a competitor and as an on-pitch organizer: a general who can change his troops' perception of whether they can, or cannot, win a match.

As I live and work in Spain, I'd very much prefer that the 32-year-old Basque either decides to renew his contract with Madrid or, romantically, chooses to lend his final golden years to his true love, Real Sociedad.

My suspicion is that, if he were to be staying at the Bernabeu, we would have known by now. It is in no way to the betterment of his season, his concentration or his team's performance that Alonso's future, now that he is free to sign for whomsoever he chooses, remains an incognito.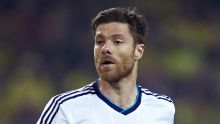 Getty ImagesAlonso's is in the final year of his contract at the Bernabeu.
Clearly, he may choose to size up his options and then opt to stay but two points seem clear to me.

First, when his close friend Mikel Arteta says that, if there's any doubt in Alonso's mind about staying at Madrid, it has to do with physical concerns, it indicates as much about what he is being asked to do for Los Blancos as it does about any worries Alonso retains about his stamina.

Second, for all their expenditure in bringing in the likes of Asier Illarramendi and Casemiro, both of whom can begin to fill the gap in due course, Madrid seem rudderless when Alonso doesn't play. Even when he's in the team and firing on all cylinders, he must feel like he's doing the work of two men.

And when he does play, but is off-form, for example because of an inner-ear problem as was the case against Celta on Monday night, Madrid also look directionless and easy to pick apart.

My guess is that Alonso would like to be playing in a first-class squad where his excellence is complementary to that of those around him rather than somewhere where, if he doesn't play, the team ceases to function competently

I've got no doubts that Carlo Ancelotti has a terrifically exciting squad that he is capable of moulding into trophy winners.

However, it doesn't feel right that the whole Real Madrid caucus -- executives, players, staff, fans and media -- should be so reliant and waiting with such baited breath on the decision of a 32-year-old who has to carefully protect the groin problem which surgery corrected last summer.

If, for example, Alonso believed that the next two or three years at Chelsea or at Liverpool would surround him with young, aggressive, hard-working midfielders, who would allow him to excel in his distribution, his goalscoring and his leadership, then you would have to see the temptation to move.

Equally, while it is quite natural for Madrid to want more of the excellence they currently have from their World Cup-winning midfielder, is it possibly time that they faced up to the daunting task of renewing the midfield and accepting that, at his age, though Alonso remains top class, he does not represent the club's future?