Where false idols are concerned, origins can be irrelevant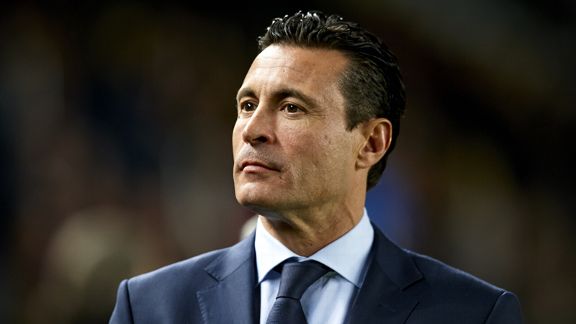 AllsportSalvo's Valencia is on the brink of a takeover but the deal with Peter Lim is not yet complete.
Amadeo Salvo, Valencia's president, described it as a "barbariedad": barbaric, incredible, astonishing, huge.

Just before Christmas, he announced that he had received an offer to buy the club from the Singaporean billionaire Peter Lim. According to Salvo, the offer was amongst the "two or three biggest" in the history of football.

He continued: Lim would take responsibility for the club's debt, which stands at a total of 354 million euros, he would finally finish the construction of the club's new stadium, on which work has long since ground to a halt, and he would spend up to 40 million euros on players, immediately.

Lim set a January 15 deadline for the deal to go through. Bankia, the bailed-out bank to whom Valencia are indebted, have not yet made a statement or taken a decision. Salvo went public to try to bring public pressure to bear on them.

The club's president, who so far has been the public face of the bid and would continue in his position after the proposed takeover, said that was because Lim needed to be able to buy players straight away before the winter transfer window closed. There would be no hanging around: Valencia wanted to compete immediately.

No wonder Lim's bid was celebrated and met with relief and excitement. He has been heavily involved in Formula One and he has tried to invest in Liverpool and Atletico Madrid before and, at the time, his possible input was described by one Spanish paper as "liquid gold."

- Hunter: La Liga winners and losers in 2013

This could be the end of Valencia's crisis. They would have a brand new stadium and a brand new team. Previously, they sold Juan Mata, David Silva, Jordi Alba, David Villa and Roberto Soldado. No more. Now they would sign people. It might help the Spanish league too: here is another club that maybe, just maybe, can compete with Barcelona and Real Madrid.

The problem is that when things seem too good to be true, they tend not to be true. Witness the reaction to the potential takeover.

While there was excitement towards Lim, while arms were spread wide and welcoming, while there was little in the way of critical analysis, while the overwhelming response was to provide a warm embrace for a potential saviour, there were nerves too.

Some Valencia fans could not quite believe it; was this really going to happen to them? They were few but others feared the risk of worshiping false idols. After all, we've been here before.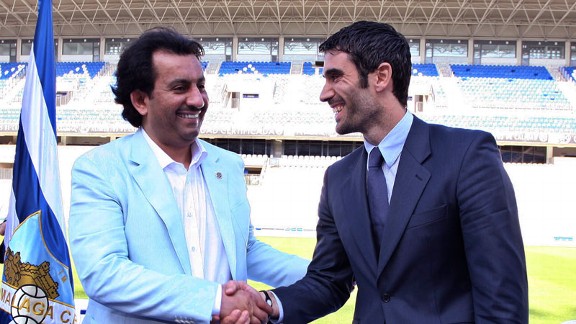 AllsportHappier days: Sheik Al-Thani shakes hands with Malaga's president Fernando Sanz in June 2010.
In 2010, Sheik Al-Thani from Qatar arrived at Malaga promising to challenge Spain's big two. For a while they did: they were Spain's biggest spenders; they climbed into the Champions League for the first time ever and were just two minutes from the semi-final.

But then reality bit and bit hard. Players, clubs and the state had gone unpaid. Al-Thani lost interest, virtually disappearing and investment dried up; almost as soon as the edifice was put up it was brought down again. The ride was fun, and no one will ever be able to take it away from them, but it did not last long. Malaga are currently tenth in La Liga and banned from European competition.

In Santander, Indian businessman Ali Syed arrived at Racing in 2011 as the club's saviour, entourage in tow. He promised that they would become Spain's next power and wildly celebrated in the directors' box when Racing marked his first game with a late win. Then he disappeared, wanted by Interpol. Racing are bankrupt, fighting for survival, and down in the Second Division B.

It's not the first time either for Racing. It is just over a decade since the Ukranian-American former Olympic long jumper Dimitry Piterman bought the club and decided that he wanted to be manager and sit on the bench.

When the league refused because he didn't have the requisite coaching badges, he applied to be the doctor: again, they refused. So he applied to be the kitman: again, they refused. So he accredited himself as the club's photographer and sat pitch-side with an orange bib on, shouting orders at his baffled players.

From Racing he went to Alaves, where he employed puppet coaches, gave team talks, took training sessions, and took the team down, before departing with the club in crisis.

Nor are these isolated examples and nor are they just seen in Spain. This Christmas has of course brought the Vincent Tan pantomime in the Premier League too.

But there has been something a little facile in the fears. In fact, it may be worse than merely "facile." The foreign owner is an easy target, sometimes an unpleasantly easy one. There is an implicit rejection in phrases like "petrol dollars", which is often applied, a natural suspicion of foreign investors, beyond the simple assumption that they may know less about the clubs.

Real Madrid's status as a club, owned by its members, has often been presented as a guarantee of it not falling into Arab or Russia hands, for example. No further explanation, just that. And yet the evidence suggests a different risk.

Getafe's president Angel Torres once announced that he was selling the club to investors from Dubai... only it turned out that those investors didn't exist. In Spain, there have been relatively few foreign owners seeking to buy clubs.

The reason is simple: there's little point in buying a Spanish club, little in the way of true business potential. Of Spain's first and second division clubs, over half are in or have been through the Spanish equivalent of administration.

Piterman and Syed's examples are just two of those: if the last decade has demonstrated anything it is that the fears, the nerves and the suspicions shouldn't be about where owners come from but where they're going.

This week, Augusto Cesar Lendoiro resigned the presidency of Deportivo de La Coruna after a quarter of a century. He had overseen the best days of their lives but also left them in over 100 million euros of debt.

Jose María Del Nido has just departed the presidency of Sevilla having overseen their most successful ever period. He leaves to go to prison for his role in a corruption scandal in Marbella; as he departed his final press conference he was handed a standing ovation.

Across the city, Manuel Ruiz de Lopera was convicted of tax fraud in 2006. He was once named Betis's president in perpetuity and the stadium was named after him too.

Almost a decade ago, Jose Luis Astiazaran left Real Sociedad in debt and heading towards administration. He became president of the league.

Real Oviedo's former majority shareholder, Alberto Gonzalez, is missing, presumed in Panama and wanted by Interpol.

The Ruiz Mateos family, the former owners of Rayo Vallecano, have had their passports removed and are banned from leaving Spain. Jose María Ruiz Mateos once punched the finance minister in the head.

Speaking of punches, Jesus Gil, president and owner of Atletico, once landed a right hook on the president of Compostela at the league's headquarters.

Somehow, Gil escaped jail, despite multiple cases against him. He was not alone. His family and Enrique Cerezo are still the owners of Atletico even after the courts found them guilty of unlawfully gaining control of the club when it was turned into a PLC.

Because the five-year statute of limitation had passed, nothing happened and they continue. All of them are from Spain; false idols but not foreign ones.

And as for Valencia, they got into this fine mess in the first place thanks to the disastrous presidency of Juan Soler, the man who promised better things on the 2006 day that he proudly signed the most expensive player -- 25 million euros -- in the club's history, Joaquin.