Irrepressible Ronaldo reaches new levels of brilliance
After a vote of ESPN FC's editorial team and readers, Cristiano Ronaldo is the winner of our "2013 belonged to..." award.

The Portuguese superstar has enjoyed astonishing individual success for club and country over the last 12 months, the highlight of which was a remarkable hat trick against Sweden that clinched World Cup qualification for Portugal.

Graham Hunter, who has worked as a journalist in Spain for over decade, charts the rise of Ronaldo, from a precocious teen in his native Portugal to a footballing megastar for whom 2013 was simply the next step on the road to legendary status.

From the very first time I heard his name, it has always surprised me how people often tend to react to Cristiano Ronaldo.

It was August 2002, just as he was on the verge of his first-team debut at Sporting Lisbon, when I first learned about this phenomenon.

Colin Hutchinson had been, for years, the managing director at Chelsea, and we struck up a respectful friendship, although there were times when he must have felt that I hounded him -- such as one night in 1998 when, convinced (rightly) that a deal to sign Brian Laudrup had been completed, I woke Hutchinson up with a phone call from Wembley stadium at 12:30 a.m. seeking confirmation.

Already immensely knowledgeable about the state of the transfer market, Hutchinson had tired of the absolute burnout (the politest word I can find) of working on moves for a club run by Ken Bates and opted to become a consultant to agent Paul Stretford, who has represented Wayne Rooney and Andrew Cole among others, and his Formation Group agency.

Hutchinson phoned me to say that his new employers were forming an alliance with Jorge Mendes' Gestifute agency and that there were a couple of kids at Sporting about whom I should know in order to swot up my knowledge and monitor their likely transfer-market progress in the imminent future.

The two he mentioned, only one of whom I'd heard, were Ricardo Quaresma and some young buck called Cristiano Ronaldo.

Quaresma was already on the radar and heading toward 50 appearances for Sporting, having played significantly in 2001-02, the season when the club last won the Portuguese title.

The winger of Gypsy origins is a couple of years older than Ronaldo and packed full of tricks and skill.

"What can you tell me about them, Colin?" I wanted to know.

"Well, we are working hard to make sure that one or the other, or both, comes to the Premier League soon," Hutchinson replied. "It might be that Ronaldo's height makes him the more likely. He's only played a couple of games for the [Sporting] first team at the moment, though."

Chelsea's former Mr. Nice Guy (as Gianluca Vialli famously branded him, having been sacked by Hutchinson) added for good measure:

"For my eye, and that of the scouts I've spoken to, it might well be that Ronaldo will go on to be the better of the two players..."

OK, I know. Right now it doesn't seem as if it's necessary to say "Pass Go and collect 200 pounds" in light of Hutchinson's judgment but, in context, I still think we should doff our caps to him.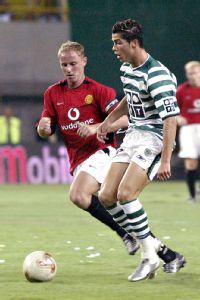 Andre Kosters/AFP/Getty ImagesAn 18-year-old Ronaldo plays against Man United in 2003. Weeks later, he moved to Old Trafford.
Ronaldo, a lanky winger, really had only made a couple of first-team showings and was patently raw: talented but gauche. Moreover, all this pre-empted the first time that I was genuinely surprised by people's reactions to him.

Quaresma could play. Sometimes he was as elusive as a trout covered in goose fat, and his subsequent flakiness wasn't apparent so there was a case for admiring him.

But I know that Barcelona were alerted to the two players, scouted each of them, and actively chose to pursue the Quaresma signing, completed in 2003, which subsequently went so badly wrong.

It wasn't that Manchester United -- or even Arsenal, who very nearly beat everyone to Ronaldo's signing in that winter of 2002 -- were ahead in pursuit of the teenager. The Barcelona of president Joan Gaspart and manager Louis Van Gaal actively favoured Quaresma over Ronaldo.

Pretty bizarre. They should have consulted Hutchinson.

Of course, when Ronaldo got to England with United in the summer of the following year, the going wasn't smooth. He was judged, and misjudged, again and again.

It's little wonder that CR7's reaction to United manager Sir Alex Ferguson's retirement, which became the most retweeted sports tweet of 2013, was a "thanks for everything, boss" sentiment.

Ferguson moulded Ronaldo. Where others saw a show pony -- football's version of a circus act -- the Scot saw substance.

He saw bravery, he saw an indomitable spirit, he saw goals, and he saw a guy at whom you could throw any challenge to which, even if his reaction appeared sulky or disinterested, his competitive spirit would inevitably bristle and then engage.

Ferguson, not everyone knows, wasn't a training-pitch habitual, even as far back as Ronaldo's embryonic days at Old Trafford. Carlos Queiroz paced the touchline session by session, taking particularly close interest in the education (not protection) of his fellow Portuguese.

While Ronaldo was still ridding himself of his tendency to overuse his step-over, the player he used to irritate most was, of course, Ruud van Nistelrooy.

Of all his repertoire of skills, the Dutchman had a superb sense of when to make that run off the shoulder of the last defender, or when to catch his marker napping via a spurt of speed into space.

For those sixth-sense moves to be valuable they, of course, needed teammates on the same wavelength.

Delivery needs to match movement, otherwise said movement can appear ill-judged (at least to the dull of mind), the offside flag will be raised, and frustration (not to say resentment) will set in.


So it was; van Nistelrooy snarled and gnarled at Ronaldo. Instead of recruiting and educating, the Dutchman viewed him with anger and derision.

He began to refer to Queiroz as "your dad" or "your father." As in: Yeah, yeah, you do what you want -- your "dad" will look after you.

It ended, very shortly after Ronaldo's own father passed away in 2005, with one remark too many from van Nistelrooy. A flare-up on the training pitch followed, during which blows were aimed, the players had to be separated, and the winger departed in tears.

Within a handful of months, Ferguson had begun to exclude van Nistelrooy sufficiently that the Dutchman was shipped out to Real Madrid.

It baffled me then, and still does, why a classic, classic scorer like van Nistelrooy could see Ronaldo only in 2-D.

Sure, when Ronaldo was a Bambi-footballer, the frustration of the ball not being delivered on time, every time, could gnaw away. But he was clearly a work in progress, growing in class and efficacy every season, and into (potentially) a footballer to give the Dutch striker more space, more crosses, more interplay ... and more trophies.

Ronaldo was worth befriending, worth educating: worth the earth.

When they eventually coincided again at Real Madrid, in 2009-10, my notes tell me that not only did they not spend a single minute on the pitch together in a competitive match, but the last act they shared was van Nistelrooy coming on for Ronaldo in a league match in which CR7 had already scored twice in a Madrid rout.

Albeit with injuries playing a part, van Nistelrooy was immediately gone again -- to Hamburg -- and the prospect of one of the great centre-forwards forging a successful and mutually beneficial partnership with one of the greatest-ever strikers (once he had matured fully) was again denied us. Partly because "Van the man" couldn't judge Ronaldo correctly, or wasn't willing to.

In addition, according to former Real Madrid president Ramon Calderon, Pep Guardiola's Barcelona were so desperate to correct the misjudgment of the previous Camp Nou era that Ronaldo's arrival at the Bernabeu was, briefly, under threat.

After we'd completed an interview in the spring of 2012 (just prior to Madrid beating CSKA Moscow 4-1 in the Champions League), Calderon explained how proud he was that he had been able to arrange, and guarantee, Ronaldo's signing from United several years earlier -- despite a late surge from Barcelona.

"I thought we were going to get him in the summer of 2008," said Calderon.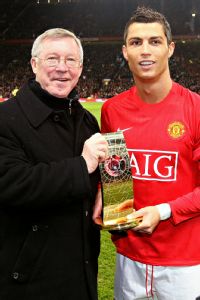 John Peters/Manchester United/Getty ImagesFerguson presents Ronaldo with the 2008 FIFA World Player of the Year award.
"Negotiations were going well, the player wanted to come, but late in the transfer market I took a personal call from Cristiano, who said, 'President, I will join Madrid but I can't come this season. I owe so much to Alex Ferguson and he says he wants one more season from me, so a move cannot happen now, but it will happen next summer.'"

Calderon continued: "We agreed a transfer price with United, who were then great to deal with, and we agreed the contract with the player on the explicit agreement that the transfer would take place in July 2009.

"But it was subsequently, while I was dealing with FC Barcelona in my presidential role, that they started to tell me they were going to ensure Ronaldo joined them instead of Madrid.

"They tried to create a deal where they paid the player the same wages we were offering, they paid the same or a little more to United, and they offered Ferguson the chance to keep Ronaldo a year extra -- until summer 2010!

"But what scuppered that idea immediately was Ronaldo. He told me [that] he told them and he told United that he only wanted to join Madrid ... so said 'thanks, but no thanks' to Barcelona."

Calderon's version certainly casts favourable light on Los Blancos and, you might say, "He would say that." But in Ronaldo's specific desire to leave Manchester United only for Real Madrid, there's something I genuinely like and admire.

The super-elite of footballers are patently so vastly rich and so deluged with income streams that you would like to think their minds are clear to make very strategic, very intelligent career decisions.

They can afford to clear all the clutter out of their heads and to look with cold, calculating eyes at where they truly want to be.

Whether for romantic reasons, for lifestyle reasons or -- and I wish this were the case all the time -- for a genuine belief that they are joining the club where the football philosophy and trophy victories will be most guaranteed, they truly have free choice.

What a rare, rare condition that is in life: a decision totally unfettered by financial or "can I afford to take that risk?" considerations.

What would you give for that?

Many players have the opportunity to make the best pound-for-pound choice but fail to do so.

Given those circumstances, Ronaldo -- like Gareth Bale last summer -- chose Madrid. To know what you want and to pursue it unashamedly is, we in Europe are taught, the American way. How apposite it is to discover that trait in a man named after Ronald Reagan.

I have often written about my confusion and disappointment at how long it took some of Ronaldo's teammates, not to mention much of the Santiago Bernabeu faithful, to warm to the star.

I consider their reaction to have been not only slow, conservative and dull but also a betrayal of the spirit of the man after whom their stadium is named.

In a 1961 publication entitled "The Real Madrid Book of Football," President Santiago Bernabeu expounded:

"I have always considered football an entertainment and that it is the responsibility of a club to acquire the best possible entertainers ... i.e., players of the highest class, wherever they may be found.

"To have contracted Di Stefano, Gento, Del Sol, Kopa, Didi, Dominguez, Santamaria, Puskas, Canario, Pachin, Marquitos and so many others was not simply greed for the world's best, nor an expression of our wealth.

"Primarily, these players were bought as we needed to maintain our high standard of football. That standard, its attractiveness, is our main asset. To repair and enrich it is clearly good sense.

"We live as an image in people's minds. It would not do to let the image decline or be distorted ... In exchange for their money, and for their faith, we 'contract,' then, with our supporters to provide football of first quality.

"I am astonished, from time to time, to think there are club administrators who do not seem to accept this 'contract' as their first priority. What other motive can there be for directing a football club?"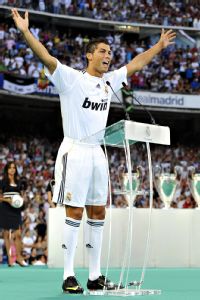 Dani Pozo/AFP/Getty ImagesRonaldo is introduced as a Real Madrid player in July 2009.
High standard of football ... highest class ... attractiveness ... repair and enrich ... best possible entertainers...

Can anyone have thought, from 2009 until now, that Ronaldo does not fit all those criteria and many more?

Fine, you can like or dislike his mannerisms -- all the things that make him tick. But it's impossible to debate, legitimately, that Ronaldo would have been gold-stamped as the world's out-of-sight No. 1 player for the last four or five years had it not been for a certain Argentinian named Messi.

Nor, I think, is it possible to deny that Ronaldo has continued to improve as a footballer, as a striker, as a teammate and as a team leader during his time at Madrid.

The desire that Don Santiago Bernabeu outlined 43 years ago, to aim to incessantly better yourself for no other reason than that's the only thing to do, the desire which Ronaldo showed when he told Ferguson "I must end up at Madrid, the club of my dreams": That's the desire he has also shown to improve his already awesome level of performance and to be re-crowned the best player in the world.

I bow to nobody, at all, in saying that the vast majority of football cognoscenti, if given total control at a club and a limitless budget, would always buy Lionel Messi before any other footballer in the world.

However, injury has gnawed at Messi's uncontested "king of kings" status, and his Portuguese nemesis has been ready to pounce, ready to reassert himself.

Not for the first time, I'm happy to share my philosophy: Thank the Lord we are all living in an era when we have both Messi and Ronaldo.

Differently wired, differently built, but united in brilliance, hunger and entertainment value. Roll on 2014.