Given Spain's love of Boxing Day, why not in Spain?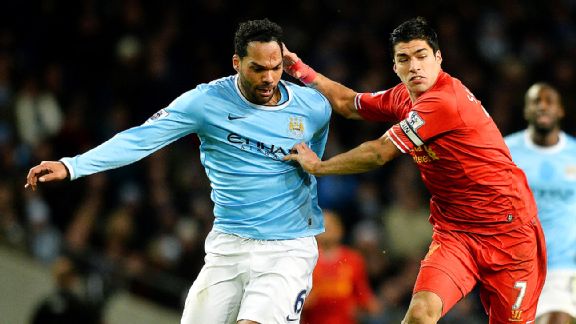 PAUL ELLIS/AFP/Getty ImagesBoxing Day's Man City-Liverpool clash showed just how good festive football can be. But that doesn't mean it would translate to Spain.
Boxing Day morning and the excitement builds. What better way to celebrate Christmas, and escape the family after 24 hours holed up at home, than with a full programme of Premier League games? Better still when one of them is Manchester City vs. Liverpool.

But this is not just about that huge match, it is about all the games. It is about the occasion, the tradition, the day. There are previews in the papers, live matches on TV and live commentary on the radio. There are minute-by-minute reports and endless debates. On Twitter, "Boxing Day" is trending.

And that's in Spain.

Here, Boxing Day refers less to a day in the Western Gregorian calendar than to a day in the English footballing calendar. Expressed in English -- the translation dia de cajas, once used to explain the origins, has become obsolete -- everyone knows what it means. And what it means is football.

Browsing the websites of the country's two biggest sports dailies, and it is news from England that tops the pages. Marca.com declares: El Boxing Day, en directo while the central column at AS.com is dedicated to the games in England, updated live: Chelsea-Swansea, Spurs-West Brom, Hull-Man United. Videos, scores, stats, tables, quotes, debates.

On one level at least, it is natural that the Premier League takes centre stage on Boxing Day. English football is popular in Spain and there are more than 30 Spaniards playing in England now. Besides, "slow news day" doesn't really do justice to Dec. 26.

Over Christmas there are a handful of charity games and matches for the country's regional "national" teams -- the Basque Country and Catalonia the most significant of them -- but La Liga's teams played their last games of 2013 last weekend and won't be back until the first weekend of January. Players, managers and presidents disappeared, and there is virtually nothing to say but there are still pages to fill.

English football fills them perfectly.

These are fixtures that provoke fascination; they also provoke envy. The image of Boxing Day, with its unique atmosphere and packed stadiums, is idealised. Games are shown on Spanish television, and they are superbly produced and directed by their English counterparts.

Watch the games, compare them to Spanish ones, and the grass is -- or appears to be -- quite literally greener. There is something about the fixtures that says: "This is a gift to the fans." This is for them. The noise is loud, supporters are in good spirits, and the sense of occasion is intense; Christmas and football go together well. It is perfect.

And then some Spaniards add two words: "Unlike here." The debate -- the criticism begins. Why does La Liga have a Christmas break? If it works there, why couldn't it work here?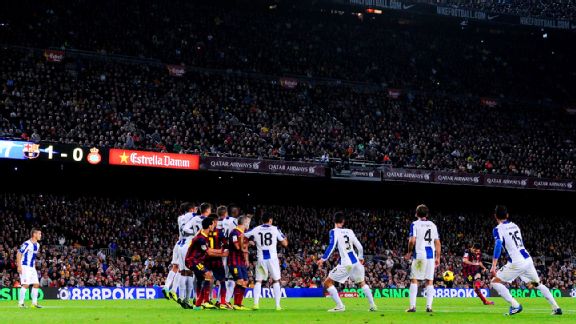 David Ramos/Getty ImagesThe festive period usually means big crowds in England, but Spain's stadiums don't fill like the Camp Nou given travel indifference and unfriendly kick-off times.

Spain's Boxing Day coverage and following certainly suggests that there would be interest. Only the league's president, Javier Tebas, has previously used arguments about fixture problems to point the finger at the players' union. They're the ones, he has insisted, that demand a winter break and they will not budge.

It is easy to see why: The chance to spend Christmas with their families is not something they are keen to give up. For those players from outside Europe, the break is even more significant.

Some Spanish players who have played in England admit that their first Christmas came as some shock. Frankly, they didn't much fancy spending Christmas day laying off the food and the booze and Christmas night in a hotel with their teammates. (And from a selfish point of view, the truth is that football journalists covering Spain are grateful for the break.)

As for the teams, not only is the break an opportunity to start again, give players a breather and the chance to clear their heads, but also to generate money: on Jan. 2, Real Madrid are off to Doha, Qatar.

The debate cuts both ways. A winter break may well be good for the players -- and, by extension, good for the quality of the football they produce. Sean Ingle this week wrote a fascinating piece in The Guardian about the potential benefits and plenty of coaches and players have said it would be help. The question will inevitably be raised again in the summer when England crash out of the World Cup.

Yet even those who contemplate a winter break in England do not often argue for it to come during Christmas, but later. Boxing Day fixtures are sacrosanct. It makes little sense to undermine a tradition that goes back almost a century and is enjoyed by fans across the country.

Plus, although that appears to argue for a similar set of fixtures in Spain, it may in fact outline one of the flaws with the idea of following suit in La Liga: You cannot simply create a tradition.

Maybe one of the things that makes the interest in Boxing Day here so significant is precisely the fact that it is unique, a one-off, that it can be enjoyed on a different level and in a different way. There is a fascination in the Englishness of it all, in the whole sense of occasion.

That and Boxing Day doesn't really exist in the Spanish calendar. It is not a holiday and does not carry the same cultural significance. Would fans really respond if there was a full league programme on Boxing Day?

This is a country where there is relatively little culture of away travel, a country that is substantially bigger than England and one where empty seats are a depressingly common sight. Kickoff times do not help, either: Traveling to a Boxing Day game in the middle of afternoon is not the same as traveling to a Boxing Day game in the middle of the night.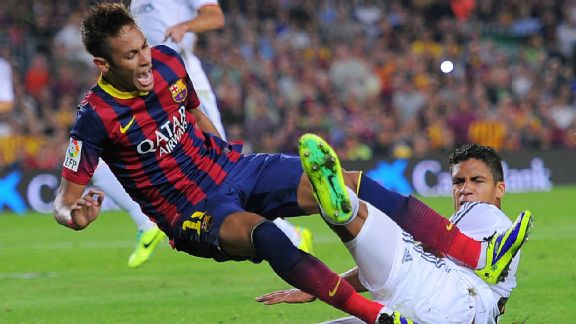 Denis Doyle/Getty ImagesA Clasico for Christmas? No chance, as replicating Boxing Day in Spain would mean artificially creating a tradition.

Besides, could the Spanish league be trusted to handle it correctly? Most believe the answer is a resounding no. There is a sense here that while the English league is geared toward the fans at the stadiums, the Spanish league could not care less -- for them it is all about the viewers at home.

What they do not seem to appreciate fully is that the two things go hand in hand. A match played in an quiet stadium where you see more seats than supporters is not much of a TV "product" either.

Each weekend, 1 different time slots are occupied by Spanish league games, with kickoffs at noon, 4, 6, 7, 8, 9 and 10 p.m. across Friday, Saturday, Sunday and Monday. Does that model -- which is not proving especially successful in stadiums anyway, even if it is maximising potential live TV audiences -- really lend itself to creating an occasion like Boxing Day? And if not, would they be prepared to change it?

Although they are improving, kickoff times are normally fixed a matter of weeks, not months, in advance. Across a country in crisis, prices remain often obscenely high too, while increasingly few matches are treated like they really matter. Plus statistics show that the dominance of Real Madrid and FC Barcelona is a social reality that contrasts sharply with the English league, even if the landscape there is changing.

One of the reasons that English football is so popular among Spaniards, one of the reasons why it is growing with viewing figures booming and fan fidelity on the up, has been precisely because it offers an alternative.

Are festive fixtures really for export? Perhaps it could work and there are certainly Spanish football fans prepared to watch football on Dec. 26. On Dec. 26 this year, that is exactly what they did, eyes wide with excitement.

On Boxing Day, the debate again emerged: And why not here? Over the next few days there will be opinion stories and voices will be raised again. But the truth is that it is a debate that is likely to be quickly forgotten, until the next time.

Boxing Day in England is unlike Spain. And, who knows, maybe that's the way they like it.