La Liga's winners and losers of 2013
With another memorable calendar year gone in Spain's top flight, we look at those with something to cheer -- or something to moan about -- over the festive period.

Good Year: La Liga Exports
There persists a stubborn one-eyed minority who can't (or won't) see that La Liga is, by a considerable distance, pound-for-pound the best football league in the world. Particularly compared to England, it produces more clubs capable of winning UEFA trophies and a far wider variety of clubs sufficiently competitive to qualify for the Champions League. Plus, as a development classroom for talent, technique and tactics, La Liga has been the hothouse where Spain's treble-winning squad (two European championships and a World Cup ... so far) has been produced.

Germany and England have leagues where the fan is massively better catered for, where fan culture is tribal and healthily different and where revenue is more healthily divided. But when it comes to the actual product, there is a vast tranche of Premier League product where the entertainment is more of the Sylvester Stallone variety than George Clooney.

Further evidence has emerged this year. Once it was obligatory for teams who aspired to win the title in England to have a clutch of Scots in their side. Now if you want a trophy, a Spaniard -- or at least a La Liga product -- is de rigeur. And that holds true across Europe.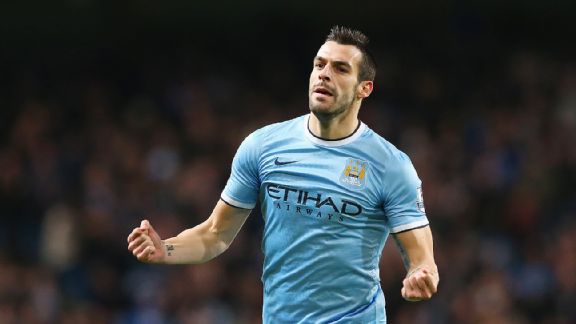 Alex Livesey/Getty ImagesAlvaro Negredo's smooth transition to life in the Premier League is proof positive of Spain's quality exports.

Alvaro Negredo has Premier League defences cowering and has hit the ground not so much running, but Olympic sprinting. As City reap the benefits and see Jesus Navas begin to become a game-changing player, David Moyes may wonder why the scouting department he inherited didn't recommend either of them to Man United.

Still, 2013 was the year when David de Gea truly came to full footballing maturity at United, winning the title and becoming a central pillar of that triumph.

Equally, having played a cameo role in Chelsea's 2013 Champions League win, Fernando Torres dominated the Europa League and scored a cracker in the final against Benfica (his ninth goal in 16 games of that European season). Rafa Benitez, fairly Spanish, proved to be a pretty good Chelsea coach, interim or not into him as you may be.

Swansea? Their first major trophy in 101 years came via the efforts of Michu, Jonathan de Guzman, Angel Rangel, Pablo, Chico Flores and Michael Laudrup, who spent the best part of his playing and managing career in La Liga.

At Everton, Barcelona loanee Gerard Deulofeu is described by fans, media and teammates as something close to genius. Back at the Camp Nou he's looked upon as no more than as a promising raw talent.

Over in Germany, Bayern broke their transfer record to sign Javier Martinez from Athletic Bilbao and he played toweringly well in their treble triumph. Go back and soak up how he played Andres Iniesta over each of the semifinal ties against Barcelona -- intense and awesome. Thiago chose Bayern over United last summer -- much to the disquiet of some in Bavaria who wonder whether Bastian Schweinsteiger, Toni Kroos or Thomas Mueller can possibly be under threat -- and comes back from a long, debilitating injury to score in the World Club Cup final this week, his second such title in two years.

At Juventus, Fernando Llorente is now a firm favourite with his coach Antonio Conte, the fans and his strike partner Carlos Tevez. From a slow start when he was discovering how much being ostracized by Athletic Bilbao over the past 12 months had cost him physically, he is once again a genuine candidate for Spain's World Cup bid in Brazil. Juve are five points clear in the Serie A race. Llorente's goals and assists have played their part.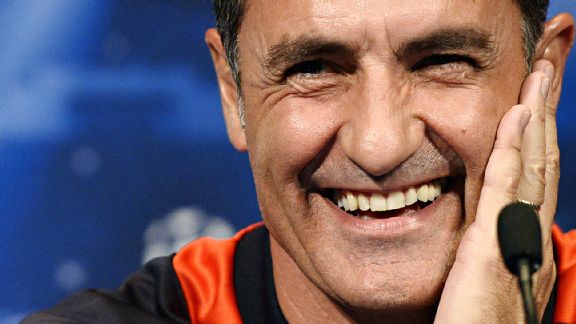 Franck Fife/Getty ImagesIt's not just players making noise outside Spain. Michel's been a confident, composed asset as Olympiakos manager.

Look beyond the top five European leagues and it's more of the same. Michel is going to be the fourth Spanish coach in four years (although that's split between him and Ernesto Valverde) to win the Greek title; his Olympiakos side currently sit 10 points ahead of PAOK and also managed to emerge from the Champions League group stage, eliminating Benfica and Anderlecht, to face Manchester United in February.

And then there's Pep Guardiola. Well, Pep is Pep. Three trophies contested as Bayern manager -- two won. Winter champions in the Bundesliga and Champions League group winners. His team looks quite good ... again.

As for the queues of clubs desperate to sign Iker Casillas, Victor Valdes, Koke, Alberto Moreno, Diego Costa, Ander Herrera, Alvaro Morata ... the list could go on. Talent rules and always will.

Good Year: Athletic Bilbao
On balance, Athletic Bilbao do come out of this year in credit which, given how badly they botched things in the first half of 2013, is no mean feat. Their treatment of Fernando Llorente was scandalously bad. Bitter, without foresight and increasingly vindictive. Not the way to treat a good, honest servant. However, almost everything else looks shiny and bright.

To open their marvelous new San Mames stadium on time and on budget has been a triumph. Given that the previous summer saw a punch-up between the construction foreman and coach Marcelo Bielsa due to the gentle extension and redevelopment of the training ground, you have to suppose that building a new stadium might, if handled equally badly, might have caused civil disobedience, sporadic rioting and hunger strikes.

Instead there is a playing surface the team likes, despite how new and barely bedded in it is, there are queues of fans waiting to buy season tickets when the fourth stand is finally opened (it was only ever intended to open with three operative tribunes) and Athletic are flying at home. Just four points dropped at home by the turn of the year is a fundamental improvement.

And -- sorry again, Valencia -- where was Ernesto Valverde last season? Yes, coaching at the Mestalla. This is an urgent, convincing, clear-thinking coach whose football, when it clicks, is a pleasure to watch. Signing him and bringing him home was not only obvious, but a masterstroke. Their football is quick, intelligent and worth watching. And they head into 2014 currently occupying a Champions League slot.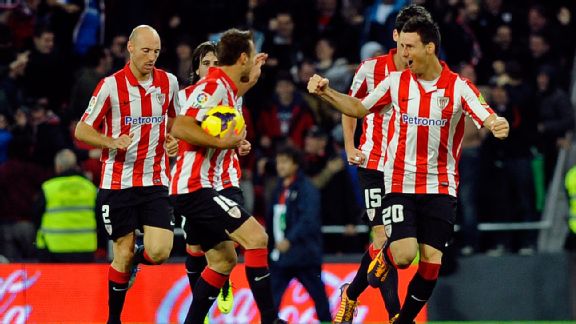 Rafa Rivas/Getty ImagesDespite losing Javi Martinez and Fernando Llorente, Athletic Bilbao look better than ever in 2013.

Bielsa had been the ultimate example of the law of diminishing returns. Perhaps if he'd been removed sooner despite the early charisma of his team's football, then neither Javi Martinez nor Llorente would have been so determined to leave.

Equally, insisting on the buyout clause of Ander Herrera was the right thing to do. His young age, high fee from Zaragoza and almost boundless potential meant that, with the money for Martinez having been so immense, letting him go to Manchester United at a cut price would have been a serious misjudgment. Gradually he's getting that out of his system and returning to top form. If Valverde uses him regularly as "pivote," Athletic will have a player fully worth his 36 million euro buyout.

Good Year: Diego Simeone
Writing this coincides with the second anniversary of Simeone's appointment as Atletico manager. How often in the history of football has a choice of manager gone so well so quickly? Right now you'd say that Atletico only need to bow before Bayern as Europe's "buzz" or "flavour of the year" team.

Not only did they win their first Copa del Rey since 1996, they beat Madrid at the Bernabeu twice in a row for the first time in their history. The results and performances are easy to laud. They are right in front of our noses. Back in August before a ball was kicked in anger, I argued that Atletico were title contenders, that this is what El Cholo would be convincing his players and, two goals shy of leading La Liga at Christmas, I don't retract a word.

But perhaps there are less visible things that firmly underline the degree to which 2013 has been Simeone's 24-karat year.

Thibaut Courtois has ability to burn. Within a short space of time, the only debate in world goalkeeping will be whether he or Manuel Neuer is number one. Quite how Simeone convinced him to stay at the Calderon one more year on loan rather than insisting on going back to Chelsea and putting Petr Cech under real pressure for the No. 1 spot at Stamford Bridge is remarkable. OK, the Belgian needs to play in a World Cup year but there must have been a loud voice in Courtois' mind saying "Take Cech on, you're good enough. You'll be number one by Christmas."

Instead he has stayed, and grown, at Atletico. According to Simeone he, with Gabi and Costa, is one of only three "irreplaceable" footballers at the club.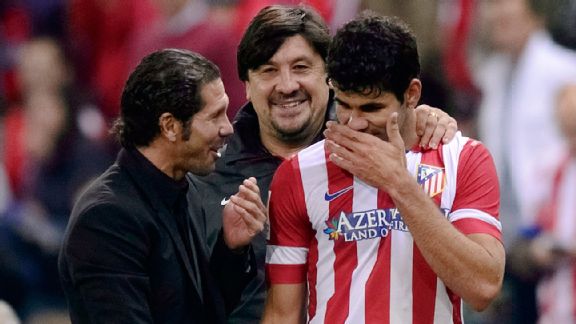 Dani Pozo/Getty ImagesDiego Simeone has brought the best out of Diego Costa and his entire Atletico Madrid team. Could they win La Liga this year?

Costa, of course, has proved that. But he was a wild mustang -- even last year. Simeone has taught him that controlled power and anger, not raw, anarchic "Zlatanism" is the way to excellence. Costa has reined in his immaturity and developed in both physical terms and his footballing intelligence. This is a modern striker par excellence. Horrendously hard to control physically, good off both feet, deft, good in the air and ferociously hungry. Though Costa is still raw in some aspects and using his fuel at a vast rate this season if he's to be on top form next summer for Spain, he remains a joy to watch.

Part of that credit goes to Simeone. He's a manager, like Sir Alex Ferguson or Guardiola, who transcends tactics and training and technology. Man to man, he's inspiring his players. Above almost anything else a modern manager is required to be able to make sure his army believes in him, utterly, and will follow every order remorselessly. This is how you get young multimillionaires to not only reach their potential but, in some cases, somehow exceed it.

Atletico would be scared to take a weak or lackadaisical performance into the half-time dressing room as long as this guy's in charge. The club have earned around 18 million euros thanks to their unruffled progress in the Champions League and, what's more, every last damn Colchonero believes again.

The good times are back. The whole? Greater than the sum of the parts under Simeone. Bravo.

Bad Year: Barcelona's Football Department
Neymar has, thus far, been a terrific success. No doubt. But his was a presidential signing. Despite his football merit, the Brazilian's goals, assists and attitude aren't things that give credit to an otherwise dull performance by the Camp Nou football department.

Victor Valdes is leaving, determined to change his vista. Even though he swears blind that his principal driving force is to experience new scenery, this is something that should never have been allowed to happen.

He has his views on how he is valued at the Camp Nou, above and beyond salary, and I think those views are that he's rather taken for granted. How he does his specialist training, who is the specialist goalkeeper trainer at the Camp Nou ... these are vital decisions that I'm unconvinced are totally harmonious -- or have been for some time. I admire his wish to forge himself in a new style of football, but when the risk managers at Barcelona sat down and said "Who do we NOT want to lose?" -- Valdes should have been in the top four. Evidently he wasn't. Good luck replacing him.

Then there is Eric Abidal. Promised a new contract the minute he played again after liver surgery, he played ... and he was shown the door.

Irrespective of whether Barcelona's Mes Que Un Club "word" should have been honoured, and irrespective of the painful outcome for a guy of immense bravery, dignity and hunger, the hard-nosed end of the decision has been wrong. So far this season, Abidal has played 18 of Monaco's 19 games in a team that is hotly pursuing the most powerful PSG side ever and has only conceded 13 times in Ligue 1. Meanwhile Barcelona continue to concede far too many headed goals, continue to use Javier Mascherano out of position (costing goals) and appear not to want to trust Marc Bartra. Showing Abidal the door was, clearly, an error.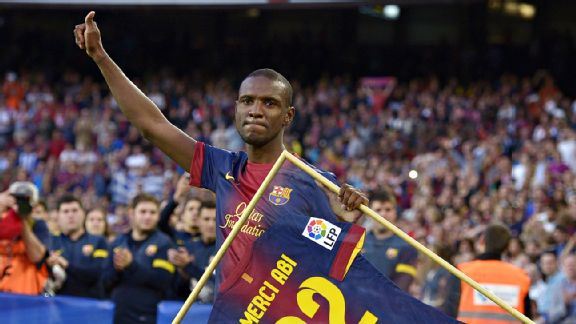 Lluis Gene/Getty ImagesEric Abidal received a tearful and genuine farewell at Barcelona but the reality is he deserves to still be on the team.

The height and power of Edmilson, Thiago Motta, Seydou Keita, Rafa Marquez, Thierry Henry, Abidal and Yaya Toure has never been replaced. I go as far back as Motta and Edmilson just to remind everyone that even at the height of the "talent and technique irrespective of physique" culture, there was room for tall, powerful men who could also play.

Thiago, scorer of that World Club Final goal, left because he didn't believe in his future at the Camp Nou and didn't think he'd get enough game time. But he did believe he'd be given a proper chance to mature and learn in the most competitive Bayern side in history.

What does that say about the football planning at the Camp Nou? If we don't hear the sound of socks being pulled up in 2014 then Barcelona won't just be caught -- they'll be overtaken.

Bad Year: Betis
Finally, Betis. Like Levante, what they have been achieving is remarkable. To clear debt, pay creditors, rise to the Primera Liga and not only survive but earn UEFA qualification is a remarkable feat.

This is one passionate club. The greatest public demonstration in the history of Sevilla, not a docile city, was by tens of thousands of Verdiblanco fans infuriated by the club's poor management, their second-division status and the fact that bankruptcy and possible closure loomed.

So the past few years in which Miguel Guillen and Pepe Mel have been president and manager in tandem have been marvellous. A clearly out-of-time, out-of-date and out-of-ideas president, Manuel Ruiz de Lopera, has been consigned to history as promotion, healthy competitiveness and European football have all been achieved.

Now, with a blip -- albeit a serious one -- a president I both respect and believe in has, I think, made a serious mistake.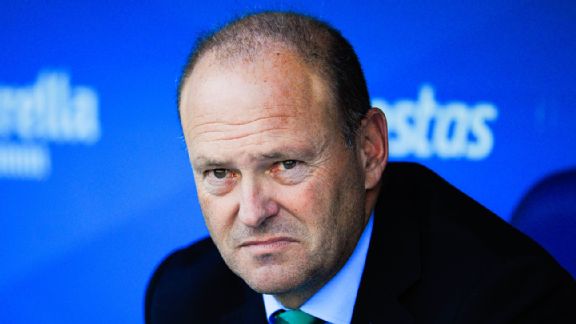 David Ramos/Getty ImagesPepe Mel had worked wonders in keeping Real Betis relevant and competitive despite financial turmoil. Letting him go could prove fatal.

One of the terms and conditions of being in administration and needing to clear debts, particularly in this vicious crisis, is that it's hard to sign top players on big wages and far, far easier to talent-spot those who will come, on loan, to either further their name, resuscitate their career, gain experience or play in order to convince Betis that they should, in due course, be bought.

What that leads to is a change of personnel each summer that best resembles the tide going in and out. The gross movement of players, in and out, last transfer market was 46 at final count: 21 in, 25 out. Try planning with that tsunami of movement going on. It included the departure of vital players like Joel Campbell, Dorlan Pabon, Jose Canas, Benat Etxebarria and Alejandro Pozuelo. A brain drain. And of course that's for the second season in a row.

How does a manager achieve consistency? How does he plan? How, when the players are often new and untested, does he cope when there are rampant injuries or when the director of football has different priorities and signs footballers who don't match the blueprint that the manager sets?

When Mel was sacked a couple of weeks ago, I argued that Betis had erred. This is a guy who has the right personality, the right ideas and the right public support to keep the team up, consolidate and then resume fighting for a Europa League place -- and, perhaps, the Copa del Rey again next season. President Guillen was obviously heavily drawn to the idea of playing in the Europa League again next season -- a competition, thanks to Mel's efforts, that Betis could still win this season -- and took it particularly hard that the green-and-whites were in the bottom three.

Fine. It's understandable that this stings. But the mature view was to wait till the centre-halves were fit and in match form. Wait till Ruben Castro starts firing again. Wait until the clever deals can be made in the winter market!

Good luck to new manager Juan Carlos Garrido -- he has his talents. But I'm convinced that Pepe Mel was worth saving, worth trusting and worth re-investing in. Just a fortnight after Mel was dismissed, so too was Vlada Stosic, the director of football with whom Pepe Mel didn't see eye to eye.

So, president Guillen: whose fault was the league performance? The manager whom you sacked first or the sporting eminence grise who followed shortly after?

I have my views. La Liga is a much, much healthier place with a strong Betis in it. The Sevilla derby is nuts, completely loco, but often arresting and enjoyable. The Benito Villamarin stadium is also somewhere both Madrid and Barcelona have lost recently -- how often the Primera's critics yearn for that sentence!

Also, good luck to Guillen. He's a true Betis fan and his business nous has helped save the club. This is no attack on him, but I think his nerve faltered at the wrong moment. Good luck for the rest of the season.