Crisis at Valencia deepens on and off the pitch
"No matter what happens, Miroslav Djukic will end the season at Valencia."

So said the club's president, Amadeo Salvo, late on Sept. 22. On Monday of this week, less than three months later, the inevitable happened: Djukic was sacked, the latest man to depart Mestalla as a failure.

Never mind end the season; Valencia's coach hadn't even reached the end of the year. "I understand the decision but I don't share it," Djukic said.

The sacking had been coming for some time; the Serbian has been hanging on almost from the start, his grip loosening by the day. Every time the crisis went away, it did not go far.

Reminded of his words recently, Salvo had squirmed and mumbled something about how that was then and this is now. He too was hanging on, resisting directors who urged him to sack the manager, telling the players that they would not be able to push the manager out, but his hold was slipping and, on Monday, he let go.

"I made a mistake," Salvo admitted. Not in sacking Djukic but in saying that he would not. When former Valencia player Francisco Rufete was made the new general manager at the end of November, he installed two cameras at the club's training ground to monitor the sessions.

It was symbolic of the lack of trust in the manager and the shift in power within the club. Djukic felt watched, and he also felt like the club was pushing him to resign. He would not, but he was on borrowed time, and Salvo could now lay the decision at someone else's door.

- Djukic dismissed by Valencia
- Corrigan: Atleti outclass Valencia
- Hunter: Tricky CL draw for Spanish clubs

On Sunday night, Valencia face Real Madrid. The timing of the decision suggests that the board feared their team winning and thus making it harder to sack a manager who played for the club with distinction between 1997-2003 and remains popular with supporters. Let an interim manager take the fall instead and, if by any chance Valencia win, it will not tie them to a coach they no longer believe in.

Valencia are ninth in La Liga, 23 points off the top. Djukic became a prisoner of his own words: he had arrived talking about awakening a sleeping giant, about competing with Real Madrid and Barcelona, but his side could not.

For three consecutive seasons between 2009 and 2012, Valencia finished third under coach Unai Emery. He was sacked because third place was not good enough. Few lamented his passing; they might now. Never mind third, which Valencia are 18 points away from, a repeat of last season's fifth-place finish looks unlikely.

This was the chronicle of a death foretold. Not just because the results have been poor, but because they were always likely to be; because what can go wrong has gone wrong and there appears to be little guarantee that there is not worse to come. Because it is not just what happens on the pitch that matters but what happens off it, too.

Thirty-three-year-old Nico Estevez has been put in charge but there are no plans to keep him there. Whoever takes over will be the fifth permanent coach in the last three seasons.

However, Valencia's crisis goes far, far deeper than just the first team. Every year for five years Valencia have sold their best player: this past summer Roberto Soldado followed Jordi Alba, Juan Mata, David Villa and David Silva out of the club. That is not because they have wanted to leave or, at least, not only.

When Salvo took over in the summer, he became the seventh president in as many seasons. His big goal was to enhance the image of the club in a bid to attract investors and generate revenue. There was a total overhaul as he swiftly sought to distance himself from former president Manolo Llorente.

Salvo was unable to persuade Valverde to continue as coach and chose Djukic, a decision that he had to stand, and eventually fall, by. And at the start of the season, the club's captain David Albelda, always seen as close to Llorente, was forced to retire.

The sporting director has gone, so too have the youth-team coaches, plus the HR director, the ticketing manager, the advertising manager and the director of external relations. Now the manager has too. It will not just be a new manager; Valencia want to put a whole new structure in place.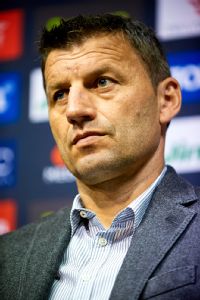 Manuel Queimadelos Alonso/Getty ImagesDjukic oversaw a start to the season in which Valencia have lost eight of their opening 16 games.
But for how long? Djukic's sacking has cost the club 2.2 million euros, money they do not really have. It comes in the wake of the announcement that Valencia are up for sale. It is their only way out of the crisis.

This week, it was announced that that the European Commission will investigate a number of Spanish clubs for, among other things, possible illegal state aid. If they force the clubs to return the money they have effectively received, it could force them out of business.

In Valencia's case, it is not just state aid, it is state ownership. They, like Hercules and Elche, are owned by the Valencian Generalitat. Their crisis reflects a broader collapse in a region of the country hit by the property crash and rocked by seemingly endless political corruption scandals; this is not just a monetary issue, it is a moral one.

To take but one pertinent example: Villarreal were sponsored for five years by Castellon Airport, a brand-new airport where not one plane has ever taken off or landed. At the airport there is a statue of Carlos Fabra, the local political don who is now a prison inmate.

Valencia is a club that has two stadiums: one that it cannot sell and one that it can't afford to finish building. The New Mestalla stands empty and unfinished, a monument to folly. Juan Soler, the former president thought a real estate move was the way of resolving the debts, but the operation blew up in his face.

Valencia took a loan from the savings bank, Bankia, to cover a share issue that was supposed to rescue them and prevent the club from going into administration but that subsequently failed.

Interest accrued and the cost of the loan rose from 74 million to 86 million euros. Selling players each summer brought in important amounts of money and debilitated the team but it was like putting a band-aid on a broken leg. Valencia were barely staying afloat.

Far from chipping away at their debt, they struggled to meet interest payments and defaulted; the Valencian government was the guarantor, which meant they were forced to take over ownership.

The club is effectively bankrupt, unable to continue without being propped up by the same local government that is swinging the axe at every turn, one that recently closed its own TV station, where all is falling apart.

Now they are desperate to sell Valencia, historically Spain's third club. The price will be a bargain for any investor boasting the capital to finish the new stadium, and there has been interest. And that is something of which Salvo is well aware.