UCL draw tricky, kind, fun for Spain's elite
We are all capable of a little slip of the tongue, particularly under pressure, so no harm and no foul to UEFA's Gianni Infantino. During the draw for the Champions League knockout round, he credited Real Madrid with 10 titles in this competition before swiftly correcting himself and changing that total to nine.

However, the luck of the draw coincidentally means that if you had to go all-in with your chip pile right now, you'd say that events in Nyon, Switzerland on Monday have left Los Blancos looking like the Spanish team most likely to think "this looks like our year -- start planning for Lisbon!"

- Smith: Narratives dominate UCL draw
- Delaney: Five round of 16 takeaways
- Vote: Who will advance?

The pairings helped Real Madrid nicely, and it will be looked upon as a shock of inordinate proportions if a free-scoring side like Real doesn't capitalize on a leaky sieve like the Schalke defence -- but more of that later.

Above all, what the Spanish part of the Champions League draw gave us was fun. We got some spectacular, groundbreaking ties and the promise that by very early 2014, we'll once again be riveted by the world's greatest club competition.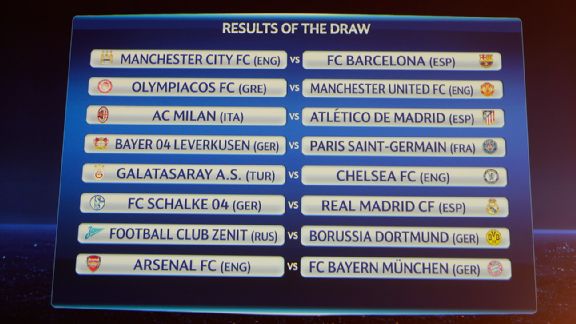 Fabrice Coffrini/AFP/Getty ImagesThe Champions League Round of 16 draw offered up plenty of fun for La Liga's representatives.
Manchester City vs. FC Barcelona
Now if you try to read the runes from the tea leaves at the bottom of the cup or gaze into a crystal ball, then put this in your mystic pipe and smoke it.

The Barcelona draw (versus Manchester City) was made by its modern Judas figure, Luis Figo.

Camp Nou sports director Andoni Zubizarreta was stuck in traffic and heard the news in a taxi en route to UEFA HQ.

Finally, it pits him against his opposite number and ex-Dream Team teammate, City football director Txiki Begiristain, who most of the English media continue to insist on fumblingly calling "Trixi." Significant? Kismet? A case of fates intertwined?

Let's not even talk about how Barca, under President Sandro Rosell, have tried to take legal action against Ferran Soriano, current Manchester City chief executive and former Camp Nou vice president. If anyone recalls "Dallas" or "Dynasty," this tie has all the pot-boiling, infighting and loyalty-swapping soap opera nonsense that J.R. or Blake Carrington ever had to endure.

I'd still like to believe that the big thing here is the football. Among the unusually bountiful post-draw quotes from Manuel Pellegrini, the usually reserved City manager: "Barca are not the same side as they were two years ago." All the better for him.

There's a false idea out there that Pellegrini has a poor record against Barcelona, but the fact remains that his Malaga era must have made him feel about the Blaugrana the way the ancient Romans felt when they saw the Huns, Vandals and Visigoths coming into sight above the hills surrounding the eternal city.

Admittedly at a time when Malaga's unreliable owner began to not pay players' wages, Barca inflicted four 4-1 wins on the Andaluz club, two 3-1 wins, one 2-2 draw and a 4-2 win in the return leg of that cup tie.

People will also point to Pellegrini losing both of his Clasicos while in charge of Madrid. But I can tell you that the first one, clinched by Zlatan's fabulous volley just after halftime, was as tight as a miser's purse-strings, and that the first thing former Barcelona manager Pep Guardiola did after winning the title, on the last day of that season, even before thanking his players, was to congratulate Pellegrini for the nobility of the title race and the quality of Madrid's football.

Pellegrini's time in charge of Villarreal paints an entirely different picture when it comes to how this Chilean begins to unpick Barcelona. From his unbeaten first season (a 3-1 win and a 3-3 draw) on, he totaled three wins, three draws and four defeats from his 10 meetings with Barcelona, and the goal difference was 15-14 in Villarreal's favour. This, remember, against a couple of the truly great Barca sides that were twice crowned European champion during this spell.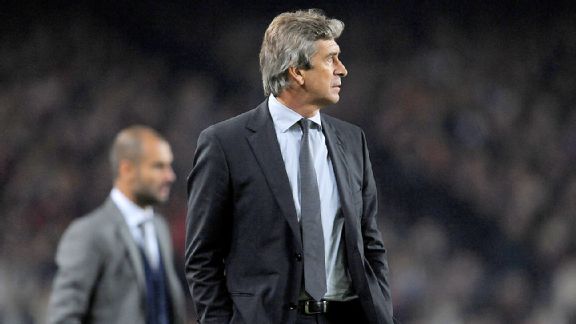 Jasper Juinen/Getty ImageThough the results haven't always been stellar, Manuel Pellegrini has traditionally matched up well with Barcelona.

Not for the first time, I liked and agreed with Barcelona manager Tata Martino's principal verdict on the tie. The Argentinian said: "Now is not the time for me to analyze City ... a vast amount in meetings like this depends on what kind of form the teams are in when it comes closer to the first match. Our task is to make sure we are in good shape in February."

It's only his debut season at the Camp Nou, but Martino knows his onions. I suspect he's referring to the fact that, regularly in recent campaigns, the Catalan club has developed minor bouts of indigestion between late January and early March. Just what City want to hear.

In 2010-11, having already lost 3-1 to then-Division 2 Real Betis away from home in late January, Guardiola's Barcelona side drew 1-1 at Sporting Gijon on Feb. 12 and then lost away to Arsenal in the Champions League despite leading at the Emirates.

The following season, Barca drew at home to Madrid, drew away to Villarreal, drew at Valencia and lost 3-2 at Osasuna between late January and Feb. 12. Not great.

Worse still in 2012-13, the Jordi Roura/Tito Vilanova-led side lost at Real Sociedad, lost twice (home and away) and drew once with Madrid, drew with Valencia, and lost, calamitously, to Milan. All this having broken every record in the book prior to the Christmas break.

- Curtis: City's rise to be tested
- Tomas: Respect, but don't fear, Man City
- Martino: Tough battle expected
- Zabaleta: We'll be ready for Barca

City, you'd think, will be absolutely delighted that the first game in this "should have been the final" tie is in Manchester, but I reckon there's also another nice twist of fate in City's favour.

Pellegrini's team precede the first leg against Barcelona with either an FA Cup tie or, if knocked out in January, a weekend off! After playing Barcelona, City face Norwich next in the Premier League. Before the second leg, City have Villa at home and follow the Camp Nou decider with Hull at home.

In short, the Citizens have a pretty comfortable timetable surrounding both these epic ties. Easy, in fact.

Given that the fixture list directly affects not only how a top team performs in the Champions League but their chances of collateral damage in their title race, too, Barcelona won't be thrilled to have a trip to Real Sociedad, where they lost last season, immediately after facing City in February.

Equally, it's just a touch uncomfortable to prepare for the second leg of the last-16 round with an away trip to freezing cold, hostile Valladolid in early March. There's also the small matter of the Clasico, at the Bernabéu, 11 days after the winner-take-all Barca-City game at the Camp Nou.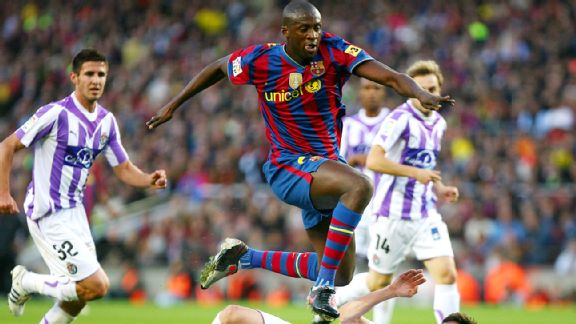 Alejandro Garcia/AFP/Getty ImagesYaya Toure was forced out of Barcelona only to become a dominant force for Manchester City. Will the Blaugrana regret it upon his return in the Round of 16?

But what could be more uncomfortable than, for example, midfielder Yaya Toure returning to Barcelona, the city he never wished to leave, and bossing the crucial tie for the City he's helped make great? Although there's meat -- substantial meat -- on his bones, he's the skeleton in Guardiola's closet.

Before the fallout with Zlatan, Guardiola turned cold on Toure. The player was carrying a kilo or two more than he should, and his agent was sounding his mouth off -- repeatedly. But instead of finding a middle path, Guardiola stepped to one side and pushed the Ivorian into cold storage. Not used sufficiently in his final season and then sold for a fat fee but a football loss, Toure has gone on to have his true golden age since leaving Barcelona.

His type, technically brilliant but also physically imposing, marks the future. Part of the attraction of this Champions League tie is to discover whether that future, as Barcelona's midfield loses some of its mobility, is now.

Finally? Lionel Messi and Sergio "Kun" Aguero. Hopefully both will be fully fit and firing on all cylinders. The bulletin on Aguero is that his calf injury will need "at least" a month to heal, so barring setbacks, he should make the first match.

What a wonderful prospect. He had too little fortune with Atletico Madrid against Barcelona -- a couple of noble nights ... and plenty of thrashings. Aguero remains a personal predilection of Rosell's and is extremely tight with Messi. Together they hope to conquer the world with Argentina in Brazil. Where better?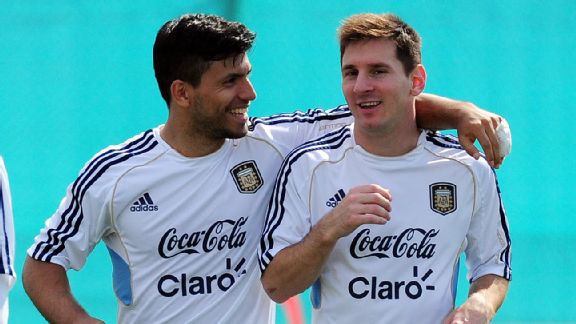 Daniel Garcia/AFP/Getty ImagesSergio Aguero and Lionel Messi are good friends and both currently injured, though the Man City and Barca stars should be back in time for their head-to-head.

As for Messi, Barcelona's talisman, he's bursting with good health and upping his training schedule, so prepare yourself for the "back ahead of schedule" headlines.

If there are no "unforeseen circumstances," then never mind Rosell versus Soriano, the Premier League versus La Liga, or Tata versus The Engineer -- the prospect of Kun versus Gerard Pique and Messi versus Vincent Kompany will keep us all warm from now 'til mid-March.

Thanks, Figo. Good work.

AC Milan vs. Atletico Madrid
Part of the attraction of the City-Barca tie is that they've never met competitively. Despite six prior friendlies, this is the first time it will be mean-eyed and personal.

As for AC Milan, they have played Deportivo la Coruna, Celta Vigo, Malaga, Espanyol and Sporting Gijon, and have bumped chests with Barcelona and Madrid almost endlessly, but in all their 53 matches against Spanish opposition, AC Milan's sheet has never once read: AC Milan versus Club Atletico de Madrid. This, too, is first competitive contest between these clubs. Hallelujah for it, too. I passionately love this competition, for it offers up novelty on a reasonably regular basis.

Barcelona and Milan have played eight times in this competition over the past two years. Chelsea and Liverpool, partly thanks to 10 Champions League meetings, played 24 times in four seasons from 2005 to 2009 -- sometimes famine is better than feast. As such, a history begins with this meeting of Colchoneros and Rossonero.

Lots of attention will focus, naturally, on comparisons between two behemoths of the striker union -- so long as January doesn't see Mario Balotelli sold. Diego Costa and "Balo" have a lot in common, including their slightly "out of the ordinary" status.

Balotelli has Ghanaian parents and is the Italian national team's first black player, while Costa is in a small clique of Brazilians who have chosen to play for Spain instead of the Canarinho. The Italian is out of form but dangerous, and the converted Spaniard? Well, he's just danger.

But I prefer to think about how the news of Atletico manager Diego Simeone's return to the San Siro will go down in Milan.

His time with Inter was short but powerful. They won a European trophy (the UEFA Cup in Paris against Lazio in 1998 at a time when Milan were in a nine-year European drought). Simeone also marked his first Milanese derby with the opening goal in a 2-2 draw, followed it up with two goals in a 3-0 win and never lost a Serie A match against Milan when he was with Inter. The first thing he did upon moving to Lazio was to score against Milan, too, as the Roman side won the title, relegating Milan to third.

Safe to say he's not adored by the Rossoneri. And for Atletico, this tie raises a dark spectre, too.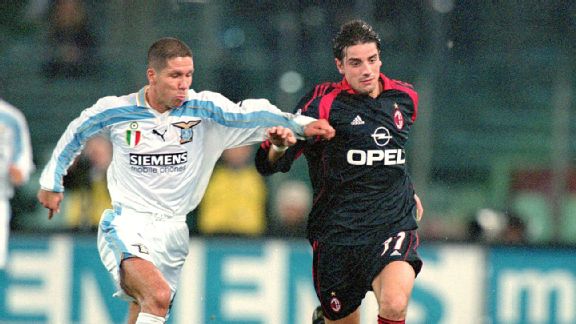 Claudio Villa /Allsport/Getty ImagesDiego Simeone tormented AC Milan as a player for Lazio and Inter. Now can he do it as Atletico Madrid's mercurial manager?

Repatriating Simeone was something they should have done long ago. He yearned to return to the Estadio Calderon as a manager, doing interview after interview with the Spanish press while in charge of Racing, Estudiantes, River Plate and San Lorenzo in Argentina, all the while making clear his desire to be back with the Colchoneros.

Finally, with Atletico six points off the relegation zone at Christmas 2011, Simeone was hired. He has earned three trophies, brought in huge revenue from the Champions League, and made Atletico a candidate to win La Liga. It won't be long before predators are hovering over the Calderon.

Inter will be one such vulture. In due course, whether Walter Mazzarri succeeds or not, the new owner at Inter Milan, Erick Thohir, will look to see just how an old fan favourite is thriving as a hungry, winning young coach. Simeone's name will be spewed out by the computer programme that prompts such thoughts.

If Simeone puts Milan out of the Champions League in March, the phone call will come sooner, not later. Now the question: Is Atletico's squad deep enough and characterful enough to fight on all three fronts until March, when the tie with Milan will be decided?

Nine days before the second leg, Atletico play Real, aiming for three straight wins over Los Blancos. Can they cope with the tiredness, the pressure, the inevitable injuries ... the altitude? We are about to find out.

Schalke 04 vs. Real Madrid
Another blind date.

Madrid don't particularly like Germany. They've had all-time great German stars like Paul Breitner, Gunter Netzer and Uli Stielike. They made a sufficient profit on Mesut Ozil (ex-Schalke) to help fund the purchase of Gareth Bale, while one of Madrid's most famous Germans, Bernd Schuster, won them the title both as player and manager.

But playing Bundesliga sides? That's generally a "no thanks/no gracias/nein danke." Real have departed the semifinal of this competition in the last two seasons to Bayern Munich and Borussia Dortmund, and while the last Champions League that Madrid won was against Bayer Leverkusen, their coach that day, Vicente del Bosque, was sent off at Hamburg in a European Cup semifinal with Madrid having arrived up 2-0 only to lose 5-1.

- Rigg: Real out to banish German hoodoo

But Schalke? Not only have these two never dated before, but Schalke seem to shape up as precisely the kind of opponent Real manager Carlo Ancelotti would have asked for. Julian Draxler, probably the German side's most-sought-after player, was realistic to admit, "I don't think we could have been drawn against a stronger team, but we will take up the challenge and I'm really looking forward to both games.

"It's going to be a real Champions League highlight for us. It has always been a dream of mine to play against Real Madrid in the Bernabeu."

Madrid led the scoring charts in the group stages with 20 goals and no defeats. By comparison, Jens Keller's side suffered this ignominy: Six Champions League teams that were eliminated either matched or beat Schalke's six-goal total, while their 6-0 aggregate thrashing from Chelsea in Group E doesn't hint at this being any kind of banana-skin test for Madrid.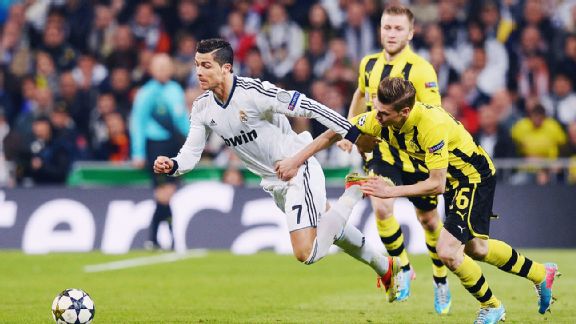 Mike Hewitt/Getty ImagesReal Madrid has never faced Schalke in a competitive game but the class of Cristiano Ronaldo and Co. should prevail.

Ancelotti has coached against the Gelsenkirchen club only once before, beating Schalke 5-4 on aggregate back in 2005 while in charge at Milan, but it was sufficient experience for him to know that the Veltins Arena, if the boys in blue are in arresting form, can be one hell of a test of spirit and self-belief.

When that roof is closed, as is inevitable for the first leg in late February, and the stadium is packed, it remains one of the great atmospheres in world football. Deafening.

Heaven help you if Schalke get on top.

Usually that brings out the very best in champion players like Cristiano Ronaldo, Xabi Alonso and Iker Casillas ... but you never know. Who saw the four-goal destruction of Madrid in Dortmund, just down the road, coming last spring?

But since Manuel Neuer was sold to Bayern and Raul -- about whom Madrid director Emilio Butragueno admitted, "We could always give a phone call" -- left the club, it has been ropier at the back and less classy up front. This season Schalke have lost five times in the league, won only 50 percent of their games, and conceded 28 times. Butragueno added, with Madrid's Bundesliga history in mind, "We will have to be alert to every detail of this tie. One bad night in Europe will leave you out of the competition, so we will need to be careful."

Naturally, Ancelotti -- Italian by birth and by footballing nature -- also feels the need to exhibit a healthy chunk of caution.

"Schalke are an experienced team," he said. "We have not been lucky or unlucky with the draw. It is the Champions League round of 16 and we have to be at our best in both matches. It's always difficult. In this competition you must produce your best in every match, staying focused and motivated. We cannot make mistakes."

Ancelotti will not be delighted that the second Liga Clasico, this time at the Bernabeu, takes place just a handful of days after the second leg against Schalke, but that does make for two absolutely cracking nights of football in the Spanish capital.

And spare a thought for Ronaldo. By then he'll know whether he's the winner of the 2013 Ballon d'Or. But last year he took back the Champions League top scorer title from Messi, after a five-year wait, and notwithstanding the fact that Ronaldo leads the challenge to win it again this season, the thought of him at full tilt against this unreliable Schalke defence and with Timo Hildebrand in goal means that if you don't have your money on the Portuguese to finish top scorer by the time the final finishes in the capital of his country in May, then it's time to do so.

In fact, it's long overdue.