Thoughts on the messy Messi-Villa incident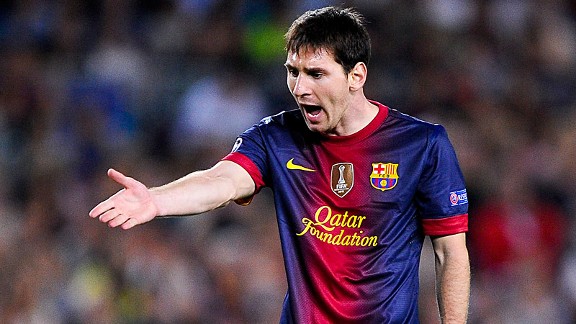 GettyImages / David Ramos/Getty ImagesLionel Messi's angry reaction to David Villa hints at his desperate desire to win games, but let's keep the "incident" in perspective.
I think it's fair to say that Leo Messi committed a minor error by chewing out David Villa just before halftime on Saturday as Barcelona was sweating out an edgy win against Granada. But in doing so, some pretty healthy signs were also apparent.

For Messi to lose his temper at a teammate making his first start in 10 months over the lack of a first-time pass that, if it had been pulled off, would have been just short of telepathic was a clear overreaction.

And yes, it does betray Messi's increasing need to boss the pitch and have the ball whenever he demands it, but it also hints at his desperate desire to win games and conquer any physical or psychological barriers in his way.

Because the two men are both feisty, determined competitors -- and given that there's a spotlight on absolutely everything relating to Messi -- there are quite a few who either for mischief or for lack of information wish to take this incident as definitive proof that there is a problem between them.

However, at this point some context might help.

Messi's actions on the pitch, sublime and astonishing as they are, make it seem to many that he's superhuman. Not everyone around the globe has the good fortune that we do here to meet him occasionally, listen to him in news conferences, watch him mix with the rest of the team and chart his growth and development.

If your only contact with Messi is seeing him do extraordinary things a couple of times a week it's easy to forget that, like you and me, he's flesh and blood.

For example, he confirmed what I wrote a couple of weeks ago in saying that thanks to the World Cup qualifiers for Argentina culminating in the 1-1 draw in Peru, he'd gone nine nights without proper sleep (with barely any sleep at all, in fact) as a result of jet lag. That would leave anyone a little bit edgy and fractious.

Moreover, Messi is due to be a father for the first time in the not-too-distant future -- again, enough to make anyone a little bit narky.

And just to put a cherry on the icing, there were stages during what became a 2-0 win over Granada when it looked like Barcelona might drop two points to their lowly foes, perhaps even three. The Blaugrana were a little stodgy in their play. Not crisp, not devastating. Anxiety was setting in.

What's unavoidable is that although there exists a healthy tension between Messi and Villa, there's also a huge amount of respect and a good dose of friendship.

Villa was the key striker at Valencia, able to pick and choose where he moved, when he demanded the ball -- basically, their equivalent of Messi.

When he signed up at the Camp Nou it was made 100 percent clear to him that Messi was pre-eminent. Primus Inter Pares -- first among equals. As such, the Argentinian would be first choice at centre forward and serve as the team's leader and its symbol. Villa would need to play on the left, submit to team orders and take his chances when they came.

But I'd recommend to conspiracy theorists that even if this chafed at El Guaje a little bit, it also served a function.

Remember Jose Mourinho's first trip to the Camp Nou as Real Madrid coach? The 5-0 pasting that night included the best assist I've ever seen Messi give -- and it went to Villa, a 40-meter heat-seeking pass that allowed Villa to power through and score past Iker Casillas.

Or what about the Champions League final at Wembley? It was Messi's darting run in from the right touchline that ended up with Villa bending a glorious shot around Edwin van der Sar.

If you watch it again you'll see Messi sinking to his knees in supplication at the utterly glorious style with which El Guaje sealed Barca's Champions League triumph.

Just one more? The Spanish Supercopa first leg last year. Messi's forward run down the middle, a pass to the left for Villa before the Asturian cut inside and bent an equally unbelievable goal past Casillas at the Bernabeu.

No complaints from Messi that night about not getting a first-time return ball, either.

That Messi has a fierce temperament is also not a shock to those who have chronicled him for a long time.

OK, he's a pacifist 95 percent of the time, but remember his utter fury at Frank Rijkaard for not naming him in the 2006 Champions League final squad? So angry was Messi that after the final whistle he steadfastly refused to go down to the pitch to celebrate with his teammates with the trophy. He regretted it almost instantly but the red mist descended. It also did in the 2009 UEFA Supercup Final against Shakhtar Donetsk when he came within a millimeter of head-butting Dario Srna in a bad-tempered match.

How he restrains himself from retaliating given the tackles he suffers, I'll never know. But just because he manages that gargantuan feat doesn't mean he's immune to rushes of blood to the head.

What I also consider healthy is that Messi, who doesn't crave publicity and only sporadically consents to interviews, immediately said "yes" to the request from Barca TV after the match so that he could clear the air.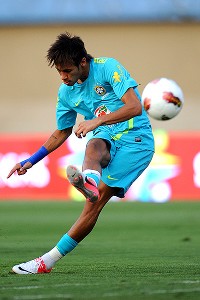 GettyImages / Pedro Ladeira/AFP/GettyImagesIf Neymar came to the Camp Nou, which is looking likely, some Barcelona attackers may be sent packing.
No hiding, no sulking, no campaign of whispers surrounding the issue. Just trying to put it to bed.

"There's no problem between us because we are in a fantastic dressing room. These things happen in games because we want to win. They happen in training but you don't get to see that because there are no cameras there. It was just a product of the pressure we put on ourselves to win and go get that first goal which makes everything that much easier. I've got no problem with David, quite the contrary in fact. You just saw the character of the team, we want to win and keep on winning. That's why the tension can get you annoyed and heated up. My aim isn't to score more goals than last season, the important thing is that this team has goal scorers in it and that we win trophies."

To me, the misjudgement comes when a guy who lives to play has a broken leg, misses nearly a year and then gets pretty antsy about his first start; that isn't the time to bawl him out over a tiny error.

So, hey, Messi made a mistake. Where Tito Vilanova would have a problem to address is if this repeats, or if Villa feels slighted and bears a grudge, either of which would turn the whole issue on its head.

Another question, altogether, is the news that on enquiring about buying Neymar, Paris St. Germain was told by Santos that the Brazilian prodigy is heading for Barcelona, probably next season. Messi, Villa, Pedro, Alexis Sanchez, Cristian Tello, Isaac Cuenca -- and Fabregas! -- plus Neymar is what the Spanish call "overbooking." Somebody is going to have to travel in steerage and somebody's going to have to move to another flight.

A looming problem, not the issue right now. But perhaps something on David Villa's mind?

Football Needs Good Engineers to Build Something Long-Lasting

There's an understandably jolly atmosphere around Malaga right now.

A few weeks ago it would have taken one puff of an ill wind to see the Andaluz club kicked out of La Liga and the Champions League qualifiers, sued by four of its main stars, forced to sell even more of its resources (Isco, for example) than were already cashed in to stave off disaster and in deep, deep trouble with the Spanish revenue department.

Now Malaga are unbeaten in La Liga, in line for an 18 million euro bonus simply for competing in the Champions League group stage and owners of a brilliant 3-0 win over Zenit St Petersburg.

Happy days.

The mood was summed up by Joaquin joking that, "I'd love to come away from the San Siro [AC Milan] with the scoreboard showing 0-3. That's the encounter that every single Malaga fan is looking forward to. But we intend to go into it with our heads firmly screwed on. It's all about taking it one game at time and keeping our feet on the ground.

"Being in this competition is a dream come true for our fans," he continued, "and although it'd be great to promise that they're going to see us in the final, I can at least guarantee that we will fight to get as far as we possibly can."

Which is all very fine, yet despite how gloriously Isco, Portillo, Caballero and Joaquin played last week, the Malaga squad is too small to cope with a heavy burden of European football and finishing in the top four of La Liga. So it's going to be worth striking a medal for Manuel Pellegrini right now.

There came a stage of the summer when there was total chaos, a power vacuum into which all the good things achieved over the previous couple of seasons were being sucked.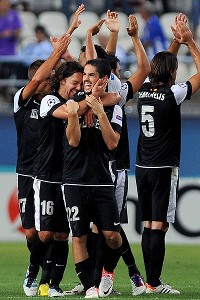 GettyImages / Jorge Guerrero/AFP/GettyImagesManuel Pellegrini has helped give Malaga reason to celebrate, including a brilliant 3-0 win over Zenit St Petersburg.
The Chilean coach spoke out, bravely I thought, and underlined that there were numerous problems from top to bottom in the club which needed immediate addressing if Malaga were to remain anything like competitive. He made it clear that preseason training had been deeply difficult to plan and that he had very little idea about how bumpy the road between then and the beginning of the season was going to be.

Shortly afterward there were authoritative-looking stories in the local media that Pellegrini's salary was "too expensive" -- it looked like he was going to pay the price for talking clearly and bluntly.

But Pellegrini declared to his remaining players that he was in this fight for the long haul, that if they committed to him then all was not lost. As Joaquin testifies, this was the turning point.

"Things are much better now but we've had a very hard time," he said. "We got through it because of the values and high standards we have as professionals and because Pellegrini has provided unflinching support. He has been a rock for us. Without him the whole thing would have collapsed."

What he's done is ignore all the peripheral nonsense and coach well. Hard work, discipline, good standards, promoting young players like Javier Portillo and Fabrice Olinga Essono, who scored the winner in the first match of the season, thus becoming the youngest Liga goal scorer in history at 16 years and 98 days.

Pellegrini's nickname, the Engineer, is well earned. His is the old-fashioned approach of someone who creates, who builds, who has a scheme and a professional skill to apply to the project.

When Al Thani took over at Malaga and eventually hired him the Chilean must have thought it was Christmas, the big lottery win and his birthday all rolled into one.

An ambitious project, fervent fans, patience (Al Thani put up with a long spell where Malaga weren't firing in the first season), deep budgets and a commitment to youth development. Then to have that all apparently falling apart in the blink of an eye must have been horrendous -- stressful, confusing and distressing.

Yet he held his nerve, held things together and is now reaping some unexpected bonuses.

Hats off to the Engineer.