As times change at Barcelona, should the formation?
Johan Cruyff, the architect of it all, is fiercely disliked by the Barcelona president, Sandro Rosell, and has announced that he will not return to the Camp Nou while Rosell is in charge.

Pep Guardiola, the Crown Prince of Cruyffism, came, won and went. Now he's building a kingdom of his own. Elsewhere.

Leo Messi, possibly the club's greatest ever footballer, is in the middle of an injury-induced blip; Xavi, the passing machine, is approaching a certain age; while former manager Tito Vilanova is fighting for his health and well-being.

The current coach, Gerardo Martino, is Argentinian, not Dutch or Catalan, and Futbol Base products like Cristian Tello and Martin Montoya are threatening to leave if they don't get more game time.

And at the Barca B level, some workaday footballers are being bought in, rather than La Masia products being promoted, in what seems like more of an effort to keep that team in the Segunda Division than a finishing school for Catalan-trained playing products.

If you could time-travel back to May 2011 and join Barcelona's post-Champions League final party at London's Natural History Museum, very few would stand there watching the celebrations and predict that within, effectively, the blink of an eye, the club would not simply be starkly less impressive than on that day, but almost unrecognizable.

Despite a firm preference among some players and sections of the media, plus some Barca Socios/dedicated fans, there are not too many currently running the club who seem attached to the Rinus Michels/Cruyff/Guardiola way of training and playing.

Something of real sporting beauty, vision and efficacy -- pure "tiki-taka" -- has been pretty rudely discarded.

Style matters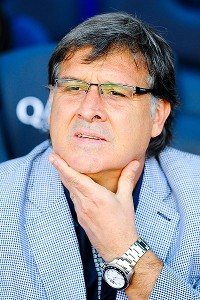 AllsportMartino has plenty to ponder as he manages Barcelona's transition.
Martino actively wants a more vertical style, from back to front more rapidly, with long, searching diagonal passes to catch the opposition napping. He is also sufficiently aware to admit that his team is currently not physically robust enough to press and harass high up the pitch as it once did.

As first-team boss, it's his right to evolve this squad's play as he sees fit, and some of what he's trying to introduce not only makes sense but has seemed effective. But Barcelona remains a club in search of a football identity, a governing philosophy.

The Cruyff blueprint no longer informs every single decision from scouting and playing to developing and training, tactics and credo.

This matter is out of Martino's hands, but how is it feasible that a club that produced a searing splash of some of the best football ever during the last few seasons could sequentially lose some of the height and athleticism that powered that highly technical play and not replace it?

As Thierry Henry, Yaya Toure, Seydou Keita, Samuel Eto'o and Eric Abidal have moved on and Carles Puyol has hit the wall physically, Alex Song (who barely plays) has really been the only significant addition to address the deficit of height, power, physical intensity or athleticism.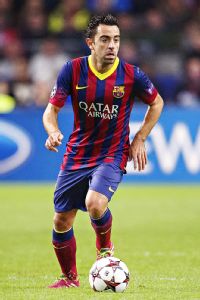 Getty ImagesSince 2006-07, Xavi has averaged in excess of 50 games per season.
Thus when, as now, the Spanish champions hit a spell when some key players are absent, some of those available lack form or when Xavi -- now 33 years old and with far too many games in his legs over the last five years, isn't quite the force he was -- Barca can simply look as if they are being pushed around and trampled on by teams that may be "lesser" technically but that can produce performances of "Citius, Altius, Fortius" proportions.

The philosophical vacuum at the top of the club isn't for today, nor is it Martino's fault in any way. Rather, it's part of his challenge.

Time for a change?

In an objective, analytical sense, however, there appears to be one choice that might have offered the playing and coaching group some respite from their current situation -- a perfect squall rather than a perfect storm -- which has seen them lose back-to-back games for the first time this season.

Indeed, it is a solution that might offer significant rewards between now and May: change the formation.

By the time the winter break has been and gone, it's likely that both Dani Alves and Jordi Alba will have returned and Tello will be available. Furthermore, though Messi will likely still be a couple of weeks away from full recuperation from his thigh injury, his impact will also be imminent.

Yet what will remain is the fact that large parts of this group of players have had some of the mental and physical excellence squeezed out of them by the constant demands of winning trophies for Barcelona, Spain and Brazil.

Extrapolating from how they are playing right now and from the moments this season when some individual excellence -- rather than the brilliance of a playing system or the team being in peak form -- has won them matches, there are tests coming.

Away to Atletico, Real Madrid, Getafe, Real Sociedad and Villarreal. It's fair to suggest the champions will be vulnerable to precisely what undid them at Ajax and Athletic.

- Corrigan: Beaten in Bilbao
- Marcotti: Bad week for Barcelona
- Tomas: Trust Martino

Moreover, Barcelona's away record in the Champions League has gone from sublime to substandard. Recent defeats in Amsterdam, Milan, Glasgow, Munich and at Chelsea, plus a draw in Paris, are all evidence of a once-unthinkable vulnerability.

So why, given all this, is the one thing that has remained "untouchable" the adherence to the basic 4-3-3 formation?

Why, given the myriad of tactical niceties out there, is this club hidebound to never, ever think of reducing deficiencies and augmenting remaining strengths by producing performances in which the team shape is 4-2-3-1? Or 4-4-2?

Or 4-3-3 but with a "doble-pivote:" two organising, defensively adept, physically strong midfielders like the Busquets-Alonso tandem that is used by Spain?

The very phrase "doble-pivote" is heretical in that part of the world. So acute are the antennae in the football strongholds of Catalunya that sirens will be sounding and steam will be emanating from ears in the media and at the Camp Nou.

Sedition! Treason! Heresy!

But what puzzles me is why the 4-3-3 element is completely untouchable?

If, in the future, the Camp Nou board and the "big" brains in the football department wish to re-stock the playing pool (from the youth system and the transfer market) with a Cruyff/Guardiola philosophy guiding them and pick a first-team coach who understands how to train and play that way, fine.

The structural deployment of players in a 4-3-3 formation -- with its fluid variances which can easily become 3-4-3 or even 3-3-4 -- is an integral part of that ideal.

Right now, though, it is not visible.

Barcelona are not particularly playing with width. The wide players in the front three are not used as wingers to go outside full-backs, nor do they stretch the pitch as a device to open up space for the main striker and midfielders to attack.

Superiority slips away

The absence of Alves and Alba has meant that Barcelona don't overlap with wing-backs who become auxiliary wingers to provide superiority: two on one against a defender. In the best of the Rijkaard and Guardiola years, Barcelona were technically and athletically able to find superiority in midfield.

The front three, whoever they are from this squad, do not press as high up the pitch or as consistently and as intensely as during the Guardiola years. The five-second win-the-ball-back rule has been abandoned.

Xavi and Andres Iniesta still join the pressing when it happens at the three-quarters area of the pitch, while Pedro, Neymar, Messi and, noticeably, Alexis Sanchez drop back by 10-15 metres to aid. However, it is not pressing that either resembles or is as effective as what we saw between 2008-12.

Xavi and Iniesta are also less capable (or willing) to track back to follow the greater numbers of players who are flooding midfield and running past them.

It's a really simple equation. Teams -- particularly good or athletic ones -- are pressed less when they want to play out from the back, so they can reverse the superiority of numbers and make 4-vs.-3 or 5-vs.-3 situations in midfield.

If they happen to catch Xavi/Iniesta/Cesc Fabregas on a bad day, players like Sergio Busquets, Song, Gerard Pique and Marc Bartra can often find that they are having to cope with 2-vs.-1 or 3-vs.-2 situations in defence.

Without possession of the ball the team might have a back four or a back three. But in possession there would always be a back three: one defender would advance into midfield and sometimes just two would be at the back. Opposition sides were completely over-run by quick, clever, athletic and technically brilliant play.

Sometimes this remains the case now, but often not. Partly through the inevitable passing of time, partly through rust and partly via poor transfer strategies, the capacity for this style of play has diminished.

Lessons from Real Madrid?

If the aforementioned "doble-pivote" idea is too much for anyone at the Camp Nou to accept, perhaps a lesson can be drawn by the system used at Real Madrid by Carlo Ancelotti recently.

4-3-3 has become 4-2-3-1 with four defenders, including full-backs who are permitted to attack, two organising midfielders (Xabi Alonso and Luka Modric or Asier Illarramendi), three attacking/creative players and a striker.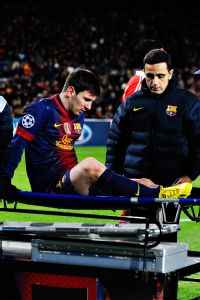 David Ramos/Getty ImagesLionel Messi has not played since Nov. 10.
When fit, Messi can play any of the four attacking positions but, principally, as either the striker or the No. 10 in the middle of the attacking three.

All playing systems are merely tools to maximise the talent at a club's disposition. A system, in itself, doesn't win games or trophies. However the right structure or system, applied to a situation where a squad has an imbalance of strengths and weaknesses, can be curative.

What is sacrosanct about 4-3-3 at the Camp Nou, particularly right now?

It is true that La Masia products have been trained that way, but many of them have also learned to play 4-2-3-1 at Spain's junior teams level.

During Euro 2008, Xavi, Cesc, Iniesta and Puyol won La Roja's first trophy since 1964 with performances in which the team shape could be 4-4-2, 4-1-4-1 or 4-2-3-1.

The 2010 World Cup was also won with some tactical performances that used 4-2-3-1 as their base: Iniesta, Pique, Xavi, Pedro, Cesc, Puyol and Busquets coped perfectly well with that demand.

You see the point. Just like at Madrid these are tactically intelligent, well-developed, experienced footballers who have scope for adaptation.

Perhaps I'm preaching to the converted. Perhaps all of this is blindingly obvious. But if so, then why aren't these concepts being chewed over and experimented with at Barcelona?

Yes, the "thou shalt not touch the sacrosanct system" fans and media would swoon, and even some of the players might be slow to embrace. But football has a big canvas and allows a wide range of creative brushstrokes.

Right now when tiredness, injury, a philosophical vacuum, transition, ageing and inadequate transfer planning all afflict this club in the absence of their guiding Dutch Master and his blueprint, why isn't there a move away from dull greys and beige?

It's time for a splash of colour, some vivacity. It's time for a new school at the Nou Camp.