Distracting Ballon d'Or debate, Diego Costa's year, more
Cristiano Ronaldo was not on the pitch when Real Madrid played Galatasaray midweek, but he was at the Santiago Bernabéu. He was up in his private box, the glass-fronted tower wedged between the south stand and the west stand. And not only there, he was, in fact, everywhere.

On the way into the stadium, people were handing out Ronaldo masks. According to reports, there were 45,000 of them. It promised to be a surreal sight: a kind of "Being John Malkovich," Real Madrid style. "Put this mask on in the seventh minute, the 77th minute and any time Ronaldo does a good move or scores a goal," it said on the back.

Things did not exactly go as planned. Because of the injury, there were no good moves or goals to cheer, and in the seventh minute, Madrid fans instead launched into their normal chant in honour of Juanito, the former player who wore the No. 7 and died in a car crash in 1992.

In the 77th minute, though, it did happen. Masks were held up, and a chant went round: "Ronaldo, Balón de Oro!" Up in his glass box, Ronaldo smiled and gave a grateful thumbs-up.

His relationship with the Madrid fans has not always been so warm, but there is no doubt now. How could it be otherwise when his performances have been so astonishing?

Madrid's fans were supporting Ronaldo's case to win this year's FIFA Ballón d'Or. "I don't need campaigns to tell me that I'm the best," responded Franck Ribery, the favourite for the award until the voting period was reopened. Now Ronaldo is the man bookmakers think will win.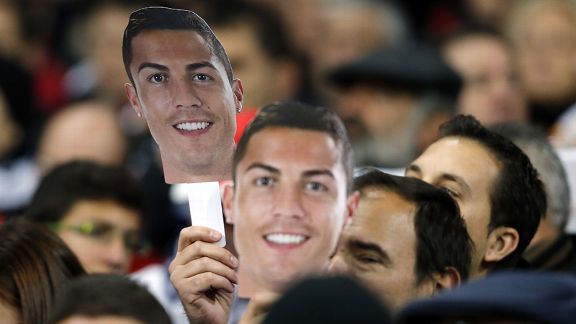 GettyImagesReal Madrid fans display Cristiano Ronaldo masks in backing the player's Ballon d'Or campaign.

Despite what some have said and its obvious flaws -- the voting system, the timing, the lack of clear criteria, the political posturing, the individualisation of a team game and the way in which being second- and third-best players in the world is somehow converted into being a loser -- the Ballón d'Or is a worthwhile award. Much of what has been said against the award is daft; the suggestion that it is pointless is demonstrably false. Why shouldn't extraordinary players have their achievements commemorated? Why shouldn't people have the chance to express their admiration and gratitude? And, of course, why shouldn't Madrid fans champion the case of Ronaldo?

But at times the anger, zealousness and paranoia of the campaigning, from all sides, have been baffling. It has been revealing too, a reflection of the primacy of the cult of personality, the conversion of the game into a kind of reality show where reality matters little, another stick with which to beat each other up.

More trenches dug, cover after cover, conspiracy after conspiracy -- so much has been said. Too much. At times it can feel like everything has been turned on its head, the world upside down.

To judge by the arguments and agendas, the Ballón d'Or has become the question, above all else. It is as if the Ballón d'Or is all that matters, not the game, as if the teams, fans, matches and football are at the service of the award. Instead of winning the Ballón d'Or being something that happens as a natural consequence of the real goals -- games, performances, victories, trophies -- it is as if the Ballón d'Or has now become the goal.

If Ronaldo, Ribery, Lionel Messi or Zlatan Ibrahimovic score, the response is often: "He might win the Ballón d'Or now." Should it not be: "His team might win this game now?" It's almost as if, instead of the player playing for his club or country, the club or country plays for the player.

When Portugal defeated Sweden, Ronaldo was extraordinary. He is extraordinary. His performance, many said, took him closer to the Ballón d'Or. Somehow, somewhere, it felt as if that was more important than the fact that his performance took his country to the World Cup.

---

The match-fixing allegations in England have had their echo in Spain. La Liga president Javier Tebas has been explicit, saying that games here are bought every year. At the back end of last season, Tebas admitted that "more than one player" had told him of games being bought and insisted upon taking over that match-fixing was his "most important priority."

In an interview with the newspaper AS this week, Tebas reiterated the point and outlined his plans to prevent it happening in the future. "There is clear evidence to suggest the game between Racing and Hércules was fixed," he said. He has expressed public suspicions about other games too.

Coming from the league's own president, it was an extraordinary remark. It may have been an imprudent one too; he offered up no proof and no names.

Tebas has talked about the risk inherent in the explosion in betting on matches in Spain, but the risk is that the focus on a handful of players and gamblers, or on isolated games, allows an arguably deeper, long-term problem to continue to go uninvestigated and unpunished. Every year, talk turns to the infamous maletín or "briefcase" -- third-party payments made to ensure results. Everyone in Spain says it happens, yet it is tolerated as an inescapable reality and results can be predicted with a certainty that is soul-destroying.

Every now and then, evidence emerges -- such as recordings and declarations -- and every time the same thing happens: absolutely nothing. This is not a few players and a gambling syndicate getting rich quick; this is the clubs themselves systematically adulterating the competition.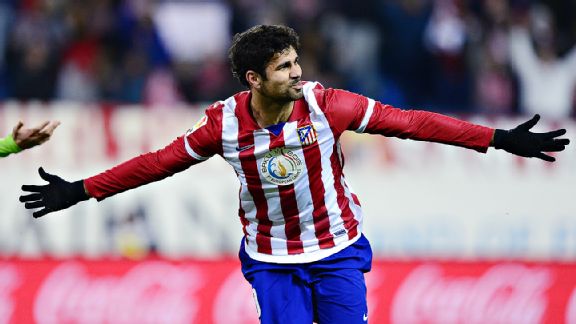 Javier Soriano/AFP/Getty ImagesDiego Costa's sustained excellence makes him arguably the best player in Spain right now.
After all the battles and bureaucracy, Diego Costa was finally called up to play for Spain -- and promptly picked up an injury that meant he could not play. A week later, he was on the bench for Atlético Madrid's league game against Getafe, but he did come on and almost immediately scored a ridiculous overhead kick in a 7-0 victory.

A case can certainly be made for saying that, pound for pound, he has been Spain's most impressive performer, not least because while it might have been the most spectacular, it was probably the least important of the goals he has scored this season. With 14 goals in 13 starts - including the winner against Real Madrid -- Costa has scored the opener five times and found the net in 11 games.

No other player in Spain can boast a contribution as decisive.

---

And so the debate rages at Barcelona. They finally lost for the first time under Tata Martino, meaning he was unable to beat Pep Guardiola's record of 21 games unbeaten since taking over as manager. But it was not just the fact that they lost against Ajax in Amsterdam; it was the way they lost. Once again, the talk is of identity and style over substance. This debate is not going away.

"We've been better when the games have been open, end to end," Cesc Fabregas said, pretty much saying it all.

The fact that it was Ajax, Johan Cruyff's other club, that defeated them made the symbolism even greater.