When it comes to health, La Liga beats the Prem
In the same way that night follows day, the fact that La Liga's top four teams won by a combined score of 19-0 this past weekend brought out the snide remarks, the cyclops-esque criticism and the "I've had a solitary thought this week so it's important the world knows it" brigade.

If the general drive of what was said had been aimed at the fact that La Liga remains maladroit at taking the fans into account, the ticket prices when the big teams travel to some distant Spanish cities or the ugly debt situation that some clubs have artificially maintained, then fine. Even if the central tone was "Valencia and Sevilla, traditionally muscular, are going through extremely bruising times, having had to sell their principal talents," also fine.

But it's the myopic, knuckle-dragging rubbish condemning Spain's Primera Division against which I'll continue to rail. What appears to me to be the most cretinous is the "not competitive" remark, usually followed by "The Premier League is miles better" and "boring" (yes, even if Getafe's Luis Garcia used the "B" word too).

Just go behind the screen, loosen your clothes and we'll have a health check.

Competitive? For a brief spell, following a time when Villarreal and Sevilla threatened to win the title right up until the final weekends, there has been a clutch of title races where no team other than Real Madrid or Barcelona is in with a realistic shout.

Now Atletico Madrid have proved to all but the most dull-brained that whether they eventually win their first title since 1996 or fall away, the fact right now is that with five trophies in the last three years, two consecutive wins over Real Madrid and two draws with Barca in the Spanish Supercup, Diego Simeone's side is a legitimate contender.

Thus Spain has a genuine three-way title contest between three sides who have also been sufficiently good enough to dominate their Champions League qualifying groups at the same time. So don't let me hear nonsense about "not competitive."

What I fail to see is how some of these people, fans, analysts, journalists or broadcasters -- whoever it might be -- can either be so dense or so hypocritical. The Premier League is "strong" and "competitive" because, what, Sunderland can beat Manchester City, Cardiff can draw with Manchester United and Newcastle can beat Chelsea? Bravo for the Mackems, Malky Mackay's Bluebirds and the Geordie nation. I applaud them all.

But does this really mean "strong?" A league in which the best teams, those either funded by limitless petrodollars (Chelsea and City) or a vastly complicated financial mega-structure with an intimidating global sales machine funding it (United), can draw or lose to the most lowly? That is an indication of strength?

Were it the case that Newcastle, Sunderland and Cardiff (speaking generically, because this would be true whether the club in question were Crystal Palace or Hull, etc.) were strong because they are producing a handful of excellent young international players for the English national team (or the junior national teams) and were winning the odd game against the Premier League behemoths, then that's healthy.

Sadly, that's not the case. The Premier League is inured against the world's financial crisis to an extent that Spain, with a football administration that had become complacent and indulgent, is not. Those teams in England who snap and occasionally bite at the heels of the big dogs do so either because they have a terrific, combative manager or because they're allowed to buy and pay wages on inflated terms thanks to (A) TV rights revenue and (B) the Premier League's stunningly successful marketing.

That isn't "strong" in any football-healthy sense -- it's falsely inflated. The Premier league produces some theatrical spectacles -- this past weekend's Merseyside derby would be a good example. It produces some good goals, it's a test of character, it's often surprising and thrilling. But why does it inspire so many of its followers to be blind to what's healthy and what's not, what benefits could be derived from Spain and to be willfully dismissive?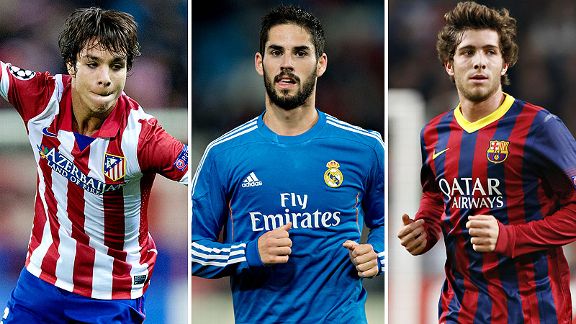 Getty ImagesFew leagues generate young talent like La Liga does, with Oliver Torres, Isco and Sergi Roberto all proof of Spanish football's health.

For example, Real Madrid played with nine Spaniards in their ranks on Saturday. How often does the equivalent happen with a top Premier League team? You're more likely to see one of them with nine Spaniards in it too. Real saw fine performances from their homegrown players Alvaro Morata, Jese Rodriguez and Daniel Carvajal -- aged 21, 20 and 21 respectively. The star of the show was Isco, 21.

Barcelona won firmly without several important footballers, which helps those who want to put the boot in gratuitously. But they did so featuring four players born and brought up in Catalunya, all of whom are nursery products and four of whom are 22 or younger -- Marc Bartra, Sergi Roberto, Martin Montoya and Adama Traore. The latter is, at only 17 years old, the eighth-youngest Barca debutant in club history.

Fifth-place Athletic Club Bilbao just opened a stunning new 53,000-capacity stadium, a large chunk of which was paid with public funding, and still play a wholly Basque (never mind wholly Spanish) squad and are "healthily" in the ascendancy despite losing their two best players, Javi Martinez and Fernando Llorente, within the past 17 months.

Having scaled the heights of la Liga, the Champions League and the Europa League, fourth-place Villarreal fought their way back from relegation having cleared all their debts when they went down -- repeat, cleared all their debts -- and are now playing thrilling enough football to have drawn with both Real Madrid and Atletico this season. If you want to go and watch them against Malaga this weekend, it'll cost you 20 euros (17 pounds). Not bad value.

Their president, Fernando Roig, says: "We keep our fans coming back because we show that we care, we're affordable and we provide quality entertainment. You have to offer quality at a good price. We believe in the Mercadona philosophy [his supermarket chain] -- a good product at a good price. Keeping our stadium full is a priority."

In light of the horrible sporting crisis they are fighting through, Osasuna gave a Liga debut to 16-year-old Juan Manuel Garcia (the third-youngest debutant in club history) because he's an extraordinarily talented, explosive and confident kid who's come through their youth ranks. Coaches around their "futbol base" system in Pamplona often remark that he most reminds them of Kun Aguero. No small compliment.

Players like Garcia, Alberto Moreno at Sevilla and Oliver Torres, sublimely talented and playing regularly up front for Atletico despite them having David Villa, Diego Costa, Leo Baptistao and Adrian (and despite the fact that he only just turned 19), represent "healthy."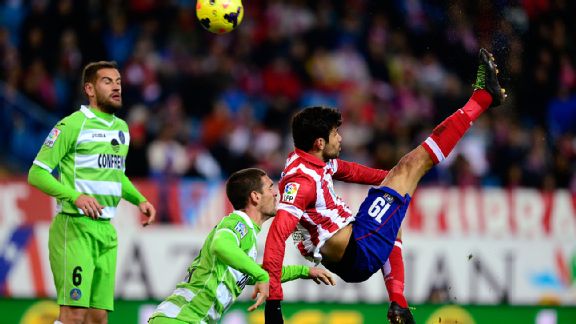 Javier Soriano/Getty ImagesLa Liga rivals any league for excitement. Just watch Diego Costa's bicycle kick goal this past weekend.

Nationally speaking, Spain's economic situation has been far, far worse than the UK and Germany and this has magnified existing flaws in the football infrastructure. The Premier League and Bundesliga are involved in factory fishing for talent, stripping every top player they can prise free without any thought for restocking. Fair enough.

La Liga will, obviously, feel an impact. But, for example, the Spanish under-21 side just completed its 31st and 32nd matches of an unbeaten streak stretching all the way back to France in 2011 -- and they have won the last two U-21 European championships. The age restriction means the squad must keep regenerating, but it does, the team keeps lifting the trophy and it has run rampant for two-and-a-half years -- 27 wins, five draws.

What about excitement? This weekend yielded superb bicycle kick goals, one seeming to compete with the next for excellence, Diego Costa for Atletico and Uche for Villarreal the authors. The visit of Celta Vigo to Real Sociedad was a heady brew of thrills and spills, equal to the Mersey derby in theatre if not in worldwide impact.

From 3-1 down at home to a 4-3, Real's win (thanks to all four goals from Carlos Vela) is the kind of match you'll never forget and one of the reasons Spain's games yielded the biggest goal tally around Europe's top leagues at the weekend. The nine games yielded 39 goals to the Prem's 30. Germany saw 30 goals in 10 games, France 22 in 10 and Italy only 18 in nine Serie A matches.

When BT Sport recently spent close to 1 billion pounds ($163.1 billion) on acquiring the Champions League UK broadcast rights for three seasons beginning in 2015, they weren't simply buying the right to show Arsenal, Manchester United, Celtic, et al -- and hopefully, finally, one or two new faces from the Premier League, where Champions League participation has been utterly stagnant for years.

No. Part of their marketing strategy and part of UEFA's ability to negotiate an utterly extraordinary price relates to the fact that football punters now crave seeing Barcelona and Real Madrid play as regularly as possible. Thirteen years ago, Real Madrid used "making markets" in the emerging football areas of the world as a central plinth of their "Galactico" project. They had Asia and North America in mind but also knew that there was already a significant and spend-healthy fan base in Northern Europe. One that has grown ever since.

All around the world, people want to see Barcelona and Real play, whether it is for thrills, to support them or in prayer that they will see them beaten and humbled. That's true in the Prem-obsessed UK too, and while watching Barca and Madrid is the means to watching two of the greatest players ever, Lionel Messi and Cristiano Ronaldo, that will remain the case.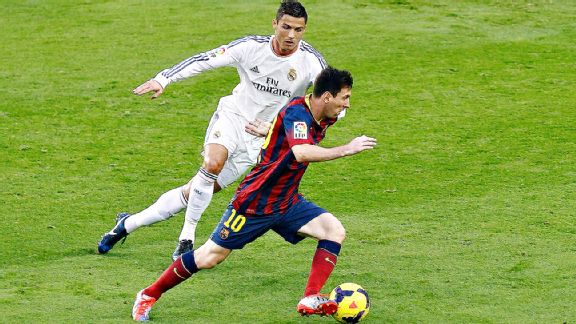 Quique Garcia/AFP/Getty ImagesThough Premier League fans may argue otherwise, the chance to watch Cristiano Ronaldo and Lionel Messi regularly is an irresistible draw.

If La Liga's critics prefer the Premier League or Bundesliga or even Serie A, then fine. But there are two things I will fight against becoming acceptable here.

First, the concept that the same people (or type of people) can bemoan the failure of England to produce a sufficient number of highly talented, football intelligent and football mature young players but then still put the boot into Spain's league while ignoring that, organically, it's getting a great deal more right than the Premier League is.

Second, the idea that the definition of "better" football must revolve around playing at a thunderous tempo, in a theatrical style and at a speed where athleticism dominates over technique and intelligence.

Last laugh?
It's widely held, particularly in the corridors of power at Real Madrid, that Daniel Levy specifically wanted Gareth Bale to be sold, if he had to be sold, as late in the market as was feasible.

Levy has been a force for solidity and growth at Spurs for some years now and I suspect he is quite proud of his reputation as one of the most difficult football negotiators ever. He does so for the benefit of his club but I know many people who believe he wants to leave his spoors on a deal. As in "You've Been Out-negotiated By D. Levy, esq." stamped all over the process.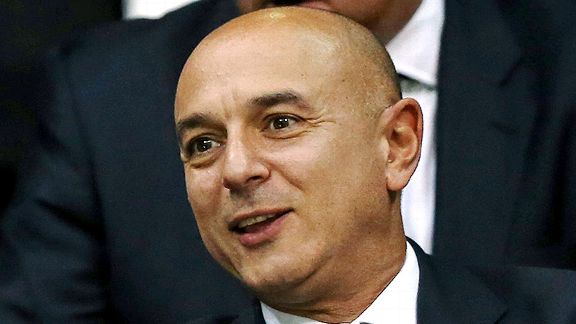 Adrian Dennis/AFP/Getty ImagesDaniel Levy worked his usual magic with the Gareth Bale transfer but will Real Madrid make out best in the end?

I've been told he was unhappy to lose Luka Modric to Real Madrid the previous summer and for a price lower than he felt he might have extracted from Chelsea prior to that. Thus it was that the Bale deal dragged on and on. Real Madrid were infuriated, paid far more than they wanted or expected to and Bale started the season without having the adequate physical preparation because he was "in limbo."

He was injured, Madrid lost the first Clasico and there was a massive spotlight placed on the player and his price.

But there was a cost to Spurs, too. Madrid now look increasingly fluid, Bale has fit in beautifully once healthy and if you combine his goals and assists, he's well into double figures for Los Blancos already.

Meanwhile, Spurs spent handsomely not stinting on resources for Andre Villas-Boas, but they didn't make those investments early in the transfer market. There was an impression left that the "splurge" came courtesy of the Bale money and that the process could have been constructed more strategically.

Now Madrid are threatening the top of La Liga, are scoring for fun, are going into the last 16 of the Champions League (with all the extra revenue that brings) and Spurs are in bother.

I'm no fan of Florentino Perez, but he may be composing an email to D.Levy@Spurs.Premier.Uk.com along the lines of "he who laughs last ..."