I was sitting in a windswept stand at a rural club in Alava on Saturday, over in the western part of the Basque Country. It was freezing, night was falling and my son was playing under the yellow glare of the floodlights.

Behind the lower stand opposite, the darkening countryside rolled away into the hilly distance. We were playing away, and my son's coach, an ex-pro who played in the World Cup for Spain in 2002, was sitting in the stand with me -- not because he wanted to be especially friendly, but because he's serving a six-match suspension for having words with a referee last month. I heard the words, and thought the punishment a tad heavy, but that's the way it goes when you're well-known.

Of course, he was continuing to coach the team from the upper tier of the stand, to which I'd climbed mainly because it offered some shelter from the wind-chill factor. Whenever the linesman approached to within hearing distance, I offered to drop down to pitch level to convey his messages to the players more discreetly, but it started to look a bit obvious, and when some of the home crowd made occasional sarcastic comments I decided to stay put. Besides, we were winning 2-1 and beginning to cruise.

The coach began to talk. "You know, some of these kids can make it," he said. "Sometimes you wouldn't think so, would you?" I shrugged, so he continued. "The thing is -- and not many people know this -- it's actually quite easy once you start playing at the top level." Since that seemed a fairly weird thing to say, I asked him to elaborate as the first half trundled on below.

"The thing is: the hard bit is now for these kids. Look at them. The best ones stand out, but they can't really show what they can do until they're surrounded by a load of quality players. The reserve team -- that's the worst time for a footballer! When you get promoted to the reserve team you think you're there, but you're not. Loads of kids fail at that stage. But once you get to play in the top flight, suddenly you've got much more time. People don't rush you -- it's fantastic."

As the coach spoke, the guy he'd picked to play up front for the afternoon failed to pressure the home centre-back as he brought the ball out, and he immediately shot to his feet and hollered from the stands: "What did I tell you half an hour ago? What did you have for lunch -- f---ing lettuce?" The youth stole a sheepish glance back in the direction of the rant.

Once he'd sat down again, I decided to ask him what it had been like in the dusk of his career, playing for a series of lower-division sides until the inevitable hanging up of the boots. "Awful," he replied, staring at the light from his cellphone. "That's the point. You're half an hour ahead of everyone. They don't get you, and you don't get them. I should never have done it. And they all expect you to do stuff, and you can't anymore. It's crap. I hated it. But you can't let go. It's the same as the big-name teams that go down to the Segunda Division. Suddenly the pitches are terrible, people are kicking the crap out of them and they don't know what's hit them. That's why they can take so long to get back."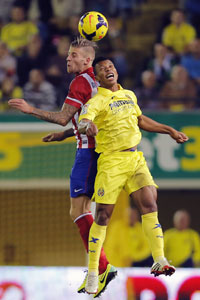 GettyImagesNewly-promoted Villarreal held Atletico Madrid to a 1-1 draw on Sunday.
On the long, rainy drive home (we won 3-2, in case you were dying to know), I started to plan this article, because what the coach had said made me reconsider some of the games this weekend. Villarreal and Atletico Madrid stood out in this respect, because the Yellow Submarine have started so well in their return to the top flight, as if their single season down in the purgatory of the second tier actually prepared them better for coming back to more familiar terrain.

Villarreal, you may recall, started poorly in the Segunda Division last season, failing to adjust to the different demands of the new context and suffering quite badly until a mid-season pick-up saw them rise in the table and seal their return.

Deportivo went back down last season after similarly bouncing back from the second tier after a single season (they actually adjusted much more quickly), and are now showing signs of getting back to grips with matters, beating leaders Recreativo at the weekend and moving into second place. Sporting Gijon, another of the fallen semi-giants, are now in fifth place and have their eyes on the Primera Division again after falling from grace in 2012. They spent 27 consecutive seasons at the highest level from 1970, only to drop into the second tier for a ten-year spell until 2008, when they returned to what they considered their rightful position.

Villarreal, by contrast, are a newer kid on the block in historical terms, only tasting top-flight action for the first time in 1998 but a significant and consistent performer since then. Who would have thought that, by the 13th game, they'd be contesting a Champions League place with Atletico Madrid, who are themselves pushing Barcelona at the very top of the tree?

Of course, Villarreal are none too enamoured of Atletico, since it was defeat to them in the final match of 2012 (in the Madrigal) that appeared to send them down, although technically speaking Raul Tamudo's last-gasp goal for Rayo Vallecano actually relegated them.

Sunday's game finished in a 1-1 draw, with two own goals deciding the result, but Villarreal played well and should have won. Not many teams are outplaying Atletico this season, and the yellow-clad ones remain in fourth place -- admittedly ten points adrift of Atletico, but still in an impressive position after a third of the season has been played. By contrast, the teams that accompanied them last season, Elche and Almeria, are both above the relegation zone (just), but not quite proving the point my son's coach was trying to make. It doesn't contradict it either, since the step up to the top flight is a step in quality that certain squads simply cannot make.

It doesn't matter whether you have more time on the pitch or whether you attempt to make up for the difference in quality with fiery commitment, the teams with the quality squads will tend to dictate the patterns of play, obliging you to rethink your approach. When this happens, you get recent sides like Granada, who manage to adjust on a shoestring, and Getafe and Levante, who just know how to hang in there, occasionally honing their approach so well that they rise to European heights.

Villarreal and Deportivo largely retained their top-flight squads when they were relegated -- often a tricky process in financial terms, but one that usually pays off if the players are young and hungry enough. If they are all like my son's coach, nostalgic for the good old days, then there's no chance. If the economic situation is so extreme that most of the sailors desert the ship or walk the gangplank (see Racing Santander), the descent usually continues. Salamanca, Oviedo and Tenerife will attest to this, although Tenerife seem to be on the verge of a revival.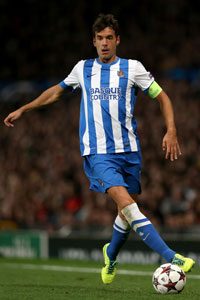 GettyImagesReal Sociedad captain Xabi Prieto stayed with the club during their three years in the Segunda Division.
Some other teams, like Real Sociedad for example, actually benefited from relegation because the absence of parachute payments in La Liga obliged them to focus on their youth policy, with 13 of the present Champions League squad having played or cut their first-team teeth in the three-season period in the second tier. Once they came up, the young, quality players found the top flight to their liking, with more time and space to strut their stuff.

Zaragoza and Mallorca, both relegated last season after short- to medium-term financial difficulties finally took their toll, have also found it hard to adjust to their new environment. Although neither has started tragically, Zaragoza's latest home defeat to Numancia meant four games without a win and prompted murmurs from the crowd that they would prefer to see the back of coach Paco Herrera. There's actually plenty of time to get things together, but the other point is that the more modest outfits in the second tier also delight in beating the likes of Zaragoza and Mallorca, against whom a game is a big day out. Having not been considered big teams in the top flight, it comes as something as a shock when Ponferradina, a team you can't even pronounce, visit your palace (as they did this weekend) and happily take a point home with them.

Meanwhile, all was backslaps and gaiety in the other universe, at Betis and the Bernabeu, where Barcelona won 4-1 to extend their lead at the top to three points, and Real Madrid turkey-stuffed a poor Real Sociedad 5-1, with Cristiano Ronaldo scoring his 23rd hat trick for the club. The visitors were apparently tired after their efforts against Manchester United in midweek, but Madrid were not similarly affected by their trip to Juventus.

In fact, while huddled up against the freezing wind talking to the ex-pro on Saturday afternoon, the half-time score (4-0) from the distant Bernabeu flashed up on his phone. "Pah!" he spat disdainfully. "It's always the same. But I'm telling you, it's much easier than you think there. Real Madrid let you play. You just have to go out there onto the pitch without feeling acojonado [overawed]. It's much harder to play against bloody Burgos or someone on a Monday night, I'm telling you."

I'm sure it is, although sadly I'll never get to know. Next week, the big boys -- well, some of them -- can take a rest because of a raft of international games, and I'll write a piece from a rather more exotic spot than usual. Until then, if your footballing dreams were cruelly curtailed years ago, take comfort from the fact that, if you'd actually got to the very top, it would have been much easier from then on.