Forget La Liga; can Atletico win the Champions League?
The question got asked so many times that it became almost a running joke, but what if it's the wrong question?

After every game, Diego Simeone came into the press room and was asked if Atletico Madrid could win the league. And after every game, Diego Simeone said no. No they couldn't win the league. "Partido a partido," he repeated, over and over: game by game.

His players followed suit. "Yes, we're candidates ..." midfielder Koke admitted after they had defeated Real Madrid at the Santiago Bernabeu. "Candidates for the next game." Nothing more, nothing less.

This was, the Atletico Madrid coach had insisted, a "boring league" that would be inevitably won by Real Madrid or Barcelona. That night at the Bernabeu, the song remained the same despite a convincing victory. "It would be demagogically perfect for me to say that, yes, now we can win the league but I'm not going to," he said as he settled into his seat. "This doesn't change anything." He continued to insist that the resources boasted by Madrid and Barcelona are just too great to compete with: their budgets are five times the size of Atletico's. Sure, one of them might slip up, but not both. The rest had no chance.

But Atletico keep on winning and the question keeps getting asked. Now can Atletico win the league? ... How about now? ... Or now? No, no, and no, Simeone responded. "You'll see that I'm right later in the season," he added. He almost seemed relieved when Atletico lost at Espanyol -- proof of what he was saying. Atletico, though, recovered and went back to winning and winning and winning and the question wouldn't go away. Simeone stopped even answering it. Instead, he changed the subject and headed off in a different direction, a knowing smile stretching across his face. He was enjoying this.

They tried repackaging it or asking with stealth, but he was not falling for it. So they started asking his opponents instead: You've just played them. Can Atletico Madrid win the league?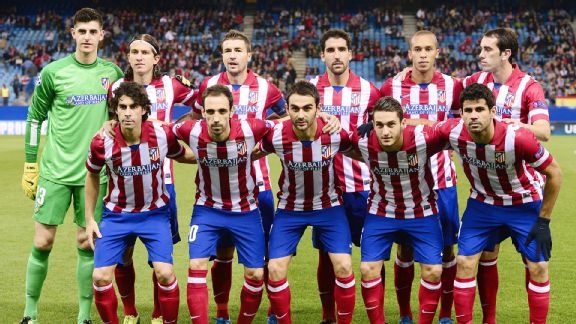 Javier Soriano/AFP/Getty ImagesThough the Liga season slog might be too much, a winning run of form in the shorter Champions League is possible.

"The difference between the top three and the rest is huge," said Athletic Bilbao manager Ernesto Valverde. That's top three, note.

"Yes, they can win the league," Real Madrid coach Carlo Ancelotti said.

"You'd have to be naive to say that they're not a challenger," agreed Celta de Vigo's Luis Enrique.

The country's best-selling newspaper even splashed them on the cover. "Atletico," the headline said, "present their candidacy."

Looking at the table, you can see why. Atletico sit second, just one point behind Barcelona and five points ahead of Real Madrid. They have won 11 of their 12 games, their solitary loss coming after an unfortunate own goal at Espanyol. They have conceded just seven goals while scoring 30 times. No side in Spain has a footballing identity so clear at the moment: they know exactly what they're doing and there's a relentlessness, a focus, concentration and intelligence about them that other teams can't live with.

Nor are they just a defensive, counterattacking team as some of their critics would have it. They have begun steamrolling their opponents, pushing them back right into their own area. "Is it really so hard to break that first line of Atletico pressure?" Valverde was asked. A resigned smile: "Yes, very." Diego Costa is the league's top scorer, tied with Cristiano Ronaldo on 13, but he is not Atletico's only scorer: in all competitions this season, 13 different players have got goals.

Atletico finished last season beating Real Madrid in the final of the Copa del Rey; it was the first time they had defeated their city rivals in 25 games, stretching back 14 torturous years. They beat them again this season, the very next time the teams met. They lost the Spanish Super Cup to Barcelona on away goals after two draws in which they could claim to have been the better side. So far this season, in all competitions, Atletico have played 18 games and lost just one.

And that's the thing: all competitions. The Champions League. This week they defeated Austria Vienna 4-0, becoming the first team in Europe to guarantee that they will reach the last 16 in first place. Austria Vienna had no chance: only their goalkeeper Heinz Lindner prevented the score being bigger, even saving a penalty; the shots on target count read: 12 to 1. Atletico sit on top of Group G with four wins from four, 12 scored, two conceded.

Have we been asking the wrong question? Never mind Can Atletico win the league? How about: Can Atletico win the Champions League?

Austria Vienna's coach Nenad Bjelica thinks so. "I watched Juve-Madrid and both teams play without discipline. They won't be able to compete with Atletico," he said. "If they stay fit, they can go a long way towards winning it. They'll have their chances."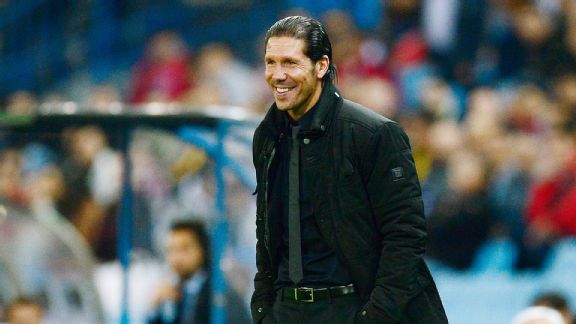 Javier Soriano/AFP/Getty ImagesDiego Simeone refuses to be drawn on questions of what Atletico Madrid could win this season. Yet he has his team doing everything right.

You could argue that Atletico's group was far from being the most difficult in the competition -- Zenit, Porto and Austria Vienna -- and you'd be right. You'd be right, too, to insist that the Champions League is an extremely difficult competition to win, one in which the smallest detail can see you knocked out. But there's a certain logic in posing the question and arguably more logic than asking if they can win the Spanish league.

The assumption that the Champions League is harder to win than the league isn't really true. Few would seriously argue that Chelsea were the continent's best team in 2012, or Liverpool in 2005. Last season Malaga were just a few seconds away from the semifinal. Why couldn't Atletico do something similar? If the draw is kind -- and having come first in their group it should be, in theory -- if big teams clear each other from their path why shouldn't they aspire to a semifinal place?

It is a logic they're aware of at Atletico. One player recently noted privately that winning a normal league would be possible but winning a 100-point league was a different matter; the margins are just too fine, the possibilities too few across an entire year. When the Champions League was mentioned, there was a glint in his eye, the hint of a wink, as if a secret had been uncovered, as if a covert mission had been revealed.

The league has been talked about endlessly; the Champions League has not. But it is hard to avoid the conclusion that Europe may actually suit them better. Of course it is difficult, of course it is unlikely, of course there are better teams, but that has not stopped Atletico recently.

"The league is long and we don't have the bench that Madrid and Barcelona have. That's why we say we can't compete with them," midfielder Thiago said.

With a little luck, with careful planning and with ambition, that is less of an issue in Europe. No one will want to face Atletico; tough, well-organised, clever, quick. By contrast, right now the only side Atletico really want to avoid are Bayern. In the first knock-out round, they will.

Simeone has said before that over a 38-game season, resources will tell -- the sheer size of squad, the depth of talent -- but that in one-off games or head-to-heads Atletico "have a chance."

The example he cited was the Copa del Rey final won against Real Madrid and his comment came on the eve of the Super Cup second leg against Barcelona, when the sides had drawn 1-1 at the Calderon. But what he said is applicable to the Champions League too: a 13-game season in which the first four games (and effectively the first six) are already out of the way, in which you go, as Simeone is so keen to insist, game by game. Well, pairs of games by pairs of games.

On Wednesday night, the question they had asked constantly gave way to the question that they had not asked yet. Can Atletico Madrid win the Champions League?

"We'll approach the Champions League the way we approach the league, with the same humility," Diego Simeone replied.

"Game by game, step by step."