Real Madrid, in mini-crisis, face champs of England
The one thing that football most definitely shares with fishing is the power of "the one that got away" as a narrative. A trophy agonizingly lost in extra time, a goal narrowly edging past an outstretched boot with the net gaping -- just like a marlin jumping and twisting its way off a sea hook or a juicy salmon leaping for but missing a well-tied fly.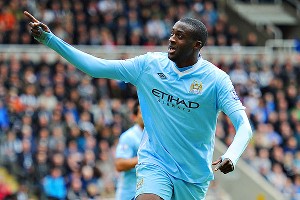 GettyImages / Michael Regan/Getty ImagesYaya Toure is just the sort of midfield player that Real Madrid wishes they had.
But tonight's Champions League meeting of Real Madrid, in mini-crisis, and Manchester City, an oasis of cash in a credit crisis, highlights another kind of "one that got away" tale.

It's usually Jose Mourinho who has the knack and the smarts to dominate the media agenda just before a delicately balanced contest like this. Prince of the dark arts he may be but we, the media, often dance to his alluring tune.

Often, it's a dart at the opposing manager -- in this case, no friend of the Special One's given that he inherited Inter Milan from Roberto Mancini, then made the side better and taunted Mancini about that fact. Mourinho is also a far from unlikely candidate to replace the Italian because of Mancini's unhappiness with some of his superiors at City.

With this match, we can expect the Special One's usual dark words about refereeing or how everyone is against his team. Standard stuff ... but you'd be surprised how often players come up for the bait.

Therefore, anyone who is paying attention should have doffed their cap in appreciation at how Manchester City played a cute card in attempting to draw attention away from the great man's prematch press conference -- especially with Jose having already used the English press at the weekend to detail precisely how much grander Madrid was as a footballing institution than the Sky Blues.

But City, in turn, waited until Monday morning to announce that they tied down David Silva to a massively lucrative new five-year deal. It was a damn smart piece of business. Silva was a Real Madrid target before he moved from Valencia to City, and when there have been recent smoke signals emanating from Manchester that he wasn't necessarily 100 percent content with his lot, there were many who expected the Spaniard to be repatriated to his country's capital next summer.

Now that cost would look to be prohibitive, but Silva re-committing to the English club is a massive indication of his faith in how the project is developing and a message to his fellow players. This is the place to be for success.

That said, it's not Silva whom I'm identifying as the "one that got away."
It's Yaya Toure.

During Madrid's recent malaise, there have been so many things that Mourinho has identified as problems to which Toure could easily have been the solution.

Height, power, commitment and ability on the ball in midfield are some of his outstanding traits. But what impresses most about Toure is his sublime capacity to play as an organising defensive midfield presence but then, in a blink, to power forward using delicate ball skills and either put himself in a scoring position or supply a killer pass to a teammate. He may not be a world champion like Xabi Alonso, but Toure has complementary skills which I'm certain the Basque midfield machine would adore playing next to.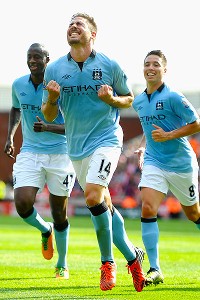 GettyImages / Laurence Griffiths/Getty ImagesJavi Garcia scored on his Manchester City debut versus Stoke.
It interested me that all Madrid's recent transfer market business rotated around midfielders -- Lassana Diarra out for a nice fee to Russian football, Luca Modric's signing a long and draining exercise in patience and overdraft management plus Michael Essien, the tangerine at the bottom of your Christmas stocking. Oh, look, it's an Essien as well!

That sort of thing.

Right now, I think Mourinho is caught between two schools of thought. So athletic, so aggressive, so focused and so good at scoring on the counter attack was his Madrid side last season that the 4-2-3-1 formation was like hand in glove.

But he'd love to be more able to deploy a 4-3-3 formation if possible.
Pepe's pace allows the team to push forward and play quite high up the pitch, Alonso's distribution is first class and the pace, power and finishing skills of Ronaldo, Gonzalo Higuain and Karim Benzema mean that when this system works, it's a thrill to watch (and to play in, I'm sure).

But when Mourinho's key players are a little jaded physically or slightly off form, there is no Plan B that can dig them out of the kind of problems Madrid has faced at Getafe and Sevilla where, in two defeats, they have basically just been outworked.

No problem of large dimension has a single, simple solution, but a player like Toure would have gone a long way to resolving the issue.

If Mourinho was sure he could play three in midfield without either a loss of creativity or having a creative player in the three who didn't do his defensive job, then I'm certain he'd use that formation more often.

Toure proved at Barcelona he was a polymath -- elegant and clever going forward, powerful and well organised in defensive chores.

What's more intriguing, I guess, is that there was a stage when the African stormed out of one of City's games at halftime and went home in frustration at the slow pace of change under Mancini. Players weren't responding, training was full of spats and the team looked undercooked.

Most City fans would say that Toure is the single most important player in transforming those tendencies into the champion side Mancini now manages.
What a coup it would have been for Madrid to take one of Guardiola's most serious mistakes (selling Toure, albeit for a fat fee, because the Catalan couldn't find a way to keep the player's agent's mouth shut or for the midfielder to shed a kilo or two was an error) and turn him into a lynchpin for Los Merengues.

Like the salmon, like the marlin, that chance has probably gone now. But Toure represents the kind of player Madrid still require if they are to add flexibility to their midfield, notwithstanding the fact that I expect Modric to flourish and succeed there.

LACK OF HARMONY AT REAL?
With respect to the game itself, as preparation for the visit of England's champions goes, this would appear to be a take-a-strong-drink-and-hope-for-the-best variety.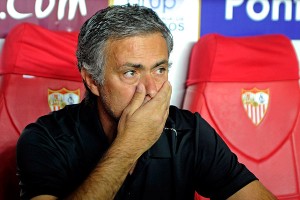 GettyImages / Christina Quicler/AFP/Getty ImagesJose Mourinho was appalled at Real's performance against Sevilla, but will his verbal beatdown of his players inspire a better showing against City?
However, the one time this season Mourinho's elite Spanish champions have really turned on the burners was after that first public humiliation when they responded by absolutely battering Barcelona for 40 minutes in the Spanish Super Cup second leg.

Perhaps Mancini's side face the same fire and brimstone treatment -- in fact, the Santiago Bernabeu crowd will demand it.

But the big questions will remain. When the man who was brought to conquer Europe again, and who actually seemed to be on course, having won the Spanish Cup, the League and now the Super Cup in his two seasons thus far, gives his players a verbal battering for their poor performance against Sevilla, what kind of response will he get out of them? And how much will be due to Mourinho's words or the fact that Iker Casillas, Sergio Ramos & Co. are simply more motivated when they face big dogs like Barcelona and Manchester City?

Because what's beginning to look like the most feasible cause for Madrid's pallid work rate against blue-collar teams is that there's a lack of harmony between Mourinho and some of his most important footballers.

At least twice now the heated exchanges which he has had with both Iker Casillas and Sergio Ramos on the training ground have burst out into splash headlines on the front of the Madrid football dailies.

The gist of the Spanish ire is that they're the ones – and not the Portuguese, Brazilian or French players – who seem to be hung out to dry in public.
Ramos' point of view would be that he, Alvaro Arbeloa, Casillas and to a lesser degree Alonso, have the finger pointed at them both in private and, worse, in public more than Fabio Coentrao, Marcelo, Pepe or Mesut Ozil.
So it's quite feasible that Mourinho's biggest test this week is not the visit of City but when he takes his team across the city to the lump-and-bump approach of Rayo Vallecano, where they like to play attractive football but they definitely mix their velvet glove with an iron fist.

Raising the spirits, damping down mutiny, pushing the players to new heights this season -- none of these should be too testing when Kun Aguero, Joe Hart, Mancini and Vincent Company are on the other side of the ball in the Champions League.

These are the nights Mourinho was brought to Madrid for, and over the past two seasons he has edged his side closer and closer to the final having won the showpiece himself with Inter in 2010.

But if Madrid shake off their light blues tonight, does it mean that it's all love, peace, harmony and hard work from here on in?

We'll wait, with real anticipation, to discover the answer.