Costa to Spain one of football's biggest, best stories
Pele has taken sides, Big Phil Scolari has his knickers in a twist about it and Vicente Del Bosque has admitted that he feels somewhat "obliged" on the matter.

Meanwhile, the Fernandos (Llorente and Torres) deserve to have their noses out of joint while Alvaro Negredo has quadrupled his normal goal ratio to try and cope with the new threat. As for Roberto Soldado? Well, it's feasible that he's working out a schedule for an igloo-building summer retreat in the Antarctic just to pass the "wasted" months of June and July next year and avoid seeing any images of the World Cup.

The root of the problem, the man who may debut in a Spain team next week and could well be treading the turf of Spain's World Cup-winning stadium next Tuesday despite having been born in Brazil and played for the Canarinha twice -- well, his name's Diego Costa.

Right now, the volume level around him is intensely high -- sufficiently so that you'd wonder how he has the time and space to think clearly enough to reach a decision and be brave enough to 'dump' the country of his birth for his adopted Spain. All that given the fact if Costa makes it to his native Brazil with La Roja next summer, the reception for him will be extraordinarily hostile and negative.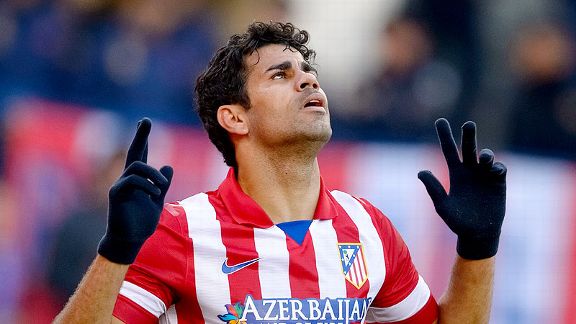 Dani Pozo/AFP/Getty ImagesDiego Costa's choice makes sense and is not without precedent. Now it's time to see what he can do for La Roja.

I guess a lot of people will either give evidence of their short memories and read huge significance into the moment if Costa does pull on a red shirt and play against South Africa in Soccer City on November 19. Because Spain have been incessantly successful since 2007, there are many who actively want to see the tall flowers cut down.

Some will argue: "It's symbolic of the beginning of the end for Spain that, four years after Andres Iniesta lifted them to the summit of football in this stadium, they need a Brazilian to try and retain their trophy."

Fine, good luck to those columnists.

Not picking him, on this form, would be the same as having a 25-year-old born in Bilbao or Alicante who has scored as many goals as Cristiano Ronaldo in La Liga -- and who is excelling in the Champions League -- but refusing to let him wear red and try to prove his worth.

At least that's what the rules say. He's now Spanish, according to FIFA and the country's government; moreover he's taken a formal oath that he wants to choose the reigning world champions over the "champions-elect," the same rules that allowed Marcos Senna to become a primal force in Spain's great breakthrough years of 2007 and 2008.

- Report: Costa highlights Spain squad
- Duarte: Leave Costa alone
- Story: CBF furious at Costa's choice
- Watch: Why Costa picked Spain

Even in the presence of Xabi Alonso, already a Champions League winner and an intelligent leader at Liverpool, Luis Aragones not only trusted Senna but picked him to the exclusion of the Basque midfielder. Senna subsequently brought order, intelligence, calm and drive to the "pivote" role between the back four and the attacking midfielders.

He told me: "I'm Brazilian-born and when I was young I obviously supported my national team. But my 'second' team was always Spain. I liked how they tried to play football and long before they won trophies they were regarded as a 'great' football nation in Brazil. one which we thought would inevitably triumph one day."

Senna also told me that during the victorious 2008 European championship he was the one who felt no psychosis about playing Italy, Spain's bete noire in that most tense of quarter-final battles. He ran around roaring at his team mates when he thought he saw the demons of previous quarter-final and penalty shoot-out eliminations returning to Spanish minds.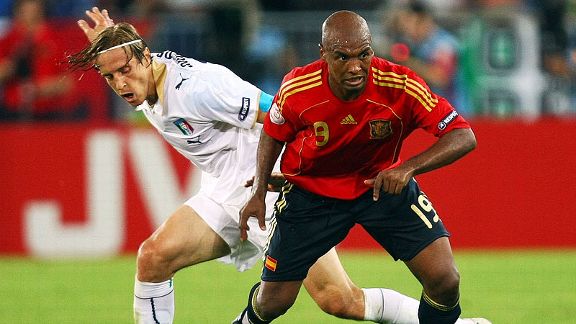 Martin Rose/Bongarts/Getty ImagesMarcos Senna also made the Brazil-to-Spain switch, successfully leading La Roja to a Euro 2008 title in deep midfield.

Ultimately, Senna was a central factor in the hoodoo ending and in ensuring that Iker Casillas lifted the trophy. "Before the final in Vienna the Spanish fans somehow got into the team hotel bar and sang there all night. I had to take a sleeping pill to nod off because I couldn't be tired for the European Championship final against Germany. But as I fell asleep I could hear the Spanish songs and I woke up with them echoing in my head the next morning. I knew I couldn't let these people down!"

Those who don't agree with FIFA's rule about players like Costa and Senna being allowed to 'naturalise' in a country after a given amount of time and when they take the nationality of that country by acquiring a passport perhaps won't be swayed by these sentiments. But until there is a rule change, I am. Senna met all the rules and "felt" Spanish in those marvelous Austrian weeks that began this trophy hat-trick.

However, Senna didn't feel treated as a Spaniard all the time. He also told me that he grew weary of the Madrid media always leaving him off the graphic on match-day morning that announced their predicted La Roja XI for that night's game. "No matter how I'd played in the last game, not even if I'd been man of the match, the papers always had someone else -- Xabi, Xavi, Cazorla, whoever -- in my place. The great thing about Aragones was that he paid not a blind bit of attention. If he thought I'd played well and fulfilled his brief the last time out then he'd have picked me no matter if the papers dedicated every single page every day to starting lineups which didn't contain my name!"

Costa has precedents, too -- Senna, Donato and Juan Antonio Pizzi in Euro '96, plus the most famous flag-of-convenience player of all, Don Alfredo di Stefano [Argentina, Colombia and Spain]. Without pretending to be a sociology professor, I nevertheless believe it to be true that this is a propitious time for an "outsider" to try and fit in.

The past few years have seen club divisions, geographical divisions and questions of national identity set aside. A group of Catalan footballers have been fundamental not only to Spain's playing success in recent years, but to the atmosphere and attitude in training, both while travelling and during tournaments. Not better than those from Madrid or, say, the Basque Country, Andalucia or Valencia -- just fundamental.

Do all those Catalans, from Victor Valdes and Joan Capdevila to Gerard Pique and Jordi Alba, feel as attached to the Spanish flag, the Spanish state as every other colleague in this golden era? I'd venture not. I know, from first-hand testimony, that some of them are very happy, are proud to play for Spain and "get" the nationalistic feeling but still think of themselves as Catalans first and Spaniards a close second.

All I'd say is that this has bred an atmosphere of acceptance, accommodation and unity. There's probably a greater chance of Costa, if he cuts it as a footballer and buys into the "all for one" atmosphere when travelling the world and living cheek by jowl, fitting in right now than at any previous time with this national team.

Coincidence or not, it appears to me that his emergence has already had a catalytic effect. Since it became clear that Vicente Del Bosque valued him as a striker, trusted his "Spanish" status and liked him as a guy, there has been an interesting upsurge in the performance level of those whose place he might take next summer if Costa's current form continues.

Del Bosque and the Atletico forward had a meeting in early October and the story leaked that La Roja wanted to go Brazilian a year a head of actually going to Brazil.

Since then, Alvaro Negredo has produced nine goals, David Villa four, Torres three and Llorente two. In each case it's a greater total than prior to Costa's sudden emergence as "Spanish."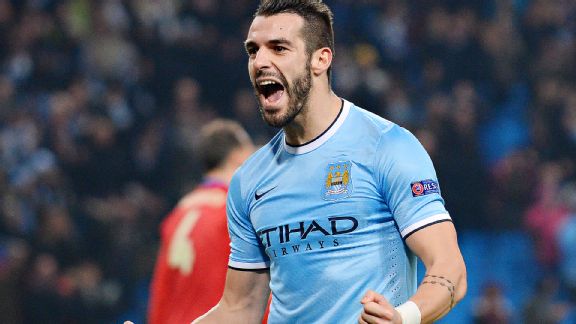 Andrew Yates/AFP/Getty ImagesCosta's impending assimilation has coincided with several Spanish strikers picking up in form, including Alvaro Negredo.

If by some sporting miracle this fella from Lagarte in the mid-south of Brazil signs for Spain, heads over to his country of birth and helps Del Bosque's side not only retain the World Cup but add a fourth straight title -- thus denying the pentacampeons a trophy most over there believe is already won -- it will become one of football's great stories.

There's a lovely irony hidden in there, too, that I've not noticed anyone making much out of. Although there is always a cocktail of factors that combine to make a footballer the flavour of the month, in this instance Costa's club coach has been a dominant influence.

Diego Simeone is a proud, proud Argentinian. Cut him open and you'd see pictures of Diego Maradona and the World Cup floating in blue and white blood. He's the type that saw nothing wrong in conspiring to get David Beckham sent off, unjustly, during World Cup '98 if it gave the Albiceleste a competitive advantage.

Rather than "all's fair in love and war," this is "anything goes so that Argentina get closer to a World Cup victory." To this day, he talks about wanting his players ready to "kill... in a sporting sense."

Right now he's obsessed by the wonderful project he's constructing at Atletico Madrid, spearheaded by Costa [and David Villa], but next summer he'll be rabidly Argentinian, praying for a final in which his beloved national team beat Brazil. In Rio. At the Maracana.

Meanwhile he's created a force of footballing nature who could, potentially, help propel Spain past both nations.

How ironic.

"This isn't a simple moment for Costa right now because there's a whole mountain of things going on around him none of which are easy to resolve," noted Simeone recently. "He needs to realise that he's no longer the guy he was four or five months back. He's got to adapt to his new situation without losing any of his essence. Mono Burgos [Simeone's assistant] and I speak to Diego a great deal about what's happening. We both explain how much we gave to be competitive, hungry, whole hearted footballers when we played. But we stress that you have to learn, to mature and to develop more and more intelligence."

"Honestly, we're so proud of how [Costa's] evolving -- he's talented, smart and there's so much more still to come."

So, a Brazilian-born, Spanish adopted, Argentinian-trained super striker who Pele admires for the strength of his principles. There is room for many and varied stories in the big house of football. But this has the potential to be one of the best.