Lou Reed and Barcelona's rock'n'roll football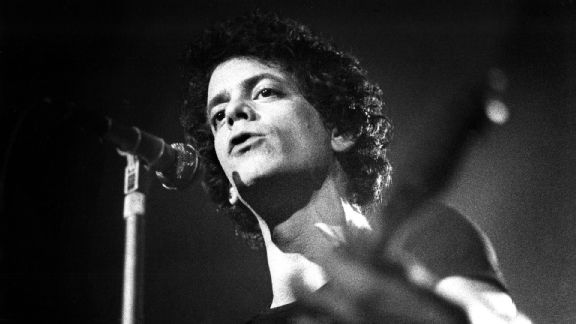 Gijsbert Hanekroot/Redferns/Getty ImagesLou Reed died on Sunday at the age of 71.
Lou Reed shared the same interest in the promotion of Tibetan civilisation and culture as Carles Puyol. Gerard Pique is one of those footballers who knows his alternative music culture inside out and Victor Valdes is a real connoisseur of the North American songbook.

Having said all that, I can't swear to you that the Velvet Underground founder's death definitely touched the sentiments of the FC Barcelona dressing room.

- Ledwith: Cesc shoots down Celta Vigo
- Holyman: Barca quartet on Ballon d'Or shortlist

Nevertheless, I felt it was poignant that one of the great counterculture creative icons passed away within a few hours of there being further evidence that Barca are abandoning the searing white heat of experimentation and horizon-testing in football.

Set aside the subject material of low-lifes and lost souls in Reed's body of work and the fact still remains that there was a time in the early 1970s when he, David Bowie and Iggy Pop were the three horsemen of the popular culture apocalypse.

Everything they wore, said, sang, wrote and did was a challenge to the status quo. Outlandish clothes, black nail varnish, sparkling tinsel on their bowler hats and foppish shirts, male makeup.

Reed, Warhol, Bowie and dear old Iggy saw things differently from the ordinary musician. Their ideas were pure, daring, threatening to some -- but inspirational.

I once had a cherished tutor who talked about the risks that Reed and Bowie took as being like the burning flame of a comet or shooting star.

Not many could cope with the white heat of creativity, almost nobody could move that fast, nor was it the territory of the "ordinary" to produce such new, revolutionary thinking.

Notwithstanding all that, such pure art could inspire. Others who weren't quite capable of living on the edge, of dreaming massive dreams or of assuming the great risks associated with pure art could still thrill to what they heard or saw and take their own direction.

Reed and co saw innovation and risk as their life vocation. From the day Pep Guardiola took over at the Camp Nou, he produced rock'n'roll football. "Satellite of Love," "Vicious," "Walk on the Wild Side" and "Pale Blue Eyes" played out in sporting form. His Barcelona era ripped up ideas about what you did with the ball, how many goals were feasible from a centre-forward and how elevated and beautiful the sport we love could look when it was played daringly at high speed.

No safety net. Very few precedents.

Without an ounce of criticism, it was interesting to watch some of the Guardiola rules tossed aside during Barcelona's 2-1 win over Real Madrid this past Saturday -- about 24 hours before Lou Reed finished his final t'ai chi session and breathed his last breath.

Manager Tata Martino has never promised to be the new Guardiola, but it was a firm step away from recent ideals to see Barca introduce the double-pivot defensive system (at the expense of Andres Iniesta) in midfield at 1-0 up and a decent chunk of the game left.

From vanguard to rearguard.

Other notes that were out of tune with the Barcelona era of transformation before this weekend's Clasico included both Pique and Valdes taking recourse to the long ball booted either into the stands or far up the pitch when under pressure.

Guardiola's bible was so evangelical that he often defended the risks Valdes took as a "sweeper-keeper" when he dribbled or passed the ball away from his goal-line under pressure. Guardiola would say that he'd rather see a goal conceded than possession lost cheaply thanks to the keeper (or a defender) clearing his lines ruthlessly.

That's not quite how Martino feels. He wants to retain some of the sweet sounds this group can make, but like Bowie (as much of an innovator and risk taker as Reed), it might be time to say goodbye to Ziggy and the band.

Life will go on, creative and interesting, but different.

What I hope, if this is the time when Barcelona metamorphose from being, possibly, the best ever to simply very good, is that their white-heat revolution has been inspirational.

Just as we got glam rock, punk rock and the explosion of an alternative music culture sucking inspiration and daring from the Bowie-Reed-Iggy high points, I hope that we'll thrill to football in Germany, England, the U.S., Japan, Scotland, Italy and Africa. Maybe these nations can inspiration from the "new wave" of football at the Camp Nou since 2008.

So many perfect days; we're glad we spent it with them.