Simeone is a glaring omission from FIFA list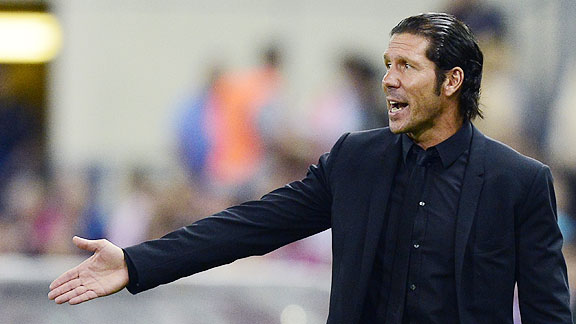 Javier Soriano/AFP/Getty ImagesDiego Simeone's achievements were not enough to earn him a place on the FIFA World Coach of the Year shortlist.
I accept that it's always easier to take a wrecking ball to something than it is to construct and create, but when FIFA's coach of the year shortlist was issued on Tuesday I thought it was dreadfully short of one name.

Atletico Madrid manager Diego Simeone has done more than enough to make this elite list, either on his own merits or in direct comparison with Jose Mourinho and Arsene Wenger. As is quite normal, the official website carries a neat precis of why each of the 10 candidates has made the cut.

FIFA World Coach of the Year shortlist

What I'd like to see is a short summary of why Simeone isn't deemed eligible.

If only 10 can make the grade, the Argentinian automatically elevates himself above Mourinho and Wenger in that he has won a trophy in this calendar year. In fact, Simeone's Copa del Rey winner's medal came directly against the Special One.

But there is no need to play the Atletico manager against the two men who faced each other in the Capital One Cup on Tuesday night in London. Simeone's Copa win was hugely significant in itself. Not only was that win Atletico's first domestic trophy since 1996, it ended a 14-year hoodoo which Real Madrid held over their red-and-white neighbours.

Better still, Los Colchoneros have used that remarkable victory, having trailed 1-0 to Cristiano Ronaldo's goal at the Santiago Bernabeu, as a springboard to equally noteworthy things this season. Despite having lost Radamel Falcao, someone capable of single-handedly producing a flood of goals (and thus points), Atletico made it back-to-back wins over Real Madrid at the Bernabeu for the first time in their history.

Simeone also fell only one success short of equalling the all-time record for consecutive victories at the start of a season (set by Real Madrid in the late 1960s) and lately completed his 100th game in charge of Los Rojiblancos with a 64 percent win rate and three trophies in the cabinet.

If you take into account that Simeone took over a century of matches ago with his team looking like relegation fodder and without a budget to buy their way out of trouble, the trajectory under the battle-hardened former midfielder has been exceptional.

But there's more. If one of the most often repeated moans about Spanish football is that people want the Real Madrid-Barcelona hegemony broken, or at least attacked, the current league table suggests that Simeone is involved in just that. His team have already played Barca twice this season, without Tata Martino's side being able to register a victory, and defeated Real Madrid in a game when the winning margin could -- and should -- have been more than one goal.

It is also true that having lifted European silverware four times since 2010, the way Atletico are progressing marks them down as Champions League dark horses, particuarly taking into account their two impressive away wins in Vienna and Oporto this season.

Without wishing to sound like either his agent or a much-removed family member, what more do FIFA and France Football actually require to give Simeone his official props?

The Costa Connection

There's even more … if that will help them reopen the prematurely published list.

Atletico striker Diego Costa has just taken advantage of FIFA rules to publicly declare that he wants to take advantage of the fact he has a Spanish passport and that he's never played an 'A' international for the nation of his birth, Brazil.

Corrigan: Costa commits to Spain

The reason that the reigning world champions and the greatest football nation in history are fighting over Costa it that over the past two seasons he has become an exceptionally resourceful, dangerous and unpredictable centre-forward. Domestically Costa is threatening to break the Cristiano Ronaldo-Lionel Messi goal duopoly, while internationally he MIGHT yet become the difference between Spain retaining their world title next summer or not.

The reason Costa is part of this Simeone encomium is that he has developed exponentially under his club manager.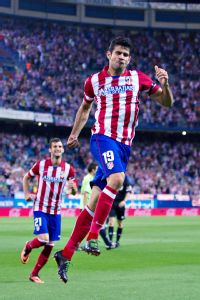 Denis Doyle/Getty ImagesWith 11 goals, Diego Costa is the top scorer in La Liga this season.
Over the past two seasons, Costa has been taught how to excel in three different positions -- second striker and/or winger last season, main central striker this season. His goal total has soared, his assists remain more than admirable, his pressing is increasingly efficient and relentless, and although Simeone was the most street-wise of players he appears to be in the process of teaching Costa to stay out of trouble with referees a little more than he was accustomed to.

Want more? It has also been on Simeone's watch that Thibaut Courtois has elbowed his way into the category marked Top Five Keepers In The World.

Koke, regarded as a routine squad player before the Argentinian took over, has now been recognised as a vital future Spain player by Vicente Del Bosque, the midfielder having made his international debut by adapting to play at right-back. Del Bosque has made no secret of admiring the young tyro's development.

Meanwhile, Juanfran, still a right-back candidate for Spain in Brazil, was not only moved to the position under Simeone, he has been taught how to add high-percentage decision-making to what is a high-risk role.

There are more words of appreciation which are easy to offer up when assessing Simeone's 2013 performance, but the way in which he's coaxing through the precocious talents of Oliver Torres seem, to me, a proper way to finish.

Torres became the quickest scorer in Atletico's history during the 5-0 win over Real Betis at the weekend. Despite his age, he's only 18 and looks 16, Torres has 15 appearances for the club, often playing in the false 9 role which Messi has trademarked.

"This is a marvellous moment, something I've waited for all my life," the talented kid underlined on Monday. "My situation has been particularly well handled by the club's management. My development is on the rise and my tasks are to learn from my teammates and to make sure I'm enjoying my football to the maximum."

Simeone's strong CV

So when you want to rate Simeone, we have a fabulous win ratio, a regularly full stadium, trophies, loan players who are improving, purchased players who are not only improving but over one of whom two world powers are bickering, a gem of a young talent who's the subject of intelligent husbandry and a squad capable of waging war on the big two.

All this from a club which is in the process of preparing to move stadium (often the most debilitating process known to a football organisation) and which Simeone inherited when they looked like eight-stone weaklings.

If you tot all that up, the central question has to be whether there is a better placed candidate to compete with Jupp Heynckes for what will be a shoo-in win for Bayern Munich's treble-winning coach from last season?

Thus, the idea that Simeone hasn't been recognised as one of the 10 great coaches of 2013 looks quite ludicrous.

His club president, Enrique Cerezo, confirmed: "It seems to me abnormal that Diego isn't on the list. He's the sensation of European football coaching."

You'd be wise to bet against the 43-year-old Argentinian crying himself to sleep. Wiser still to bet on him using it as powerful motivation to keep powering his beloved Atletico on to still greater achievements.