Madrid experiment fails to blunt Barca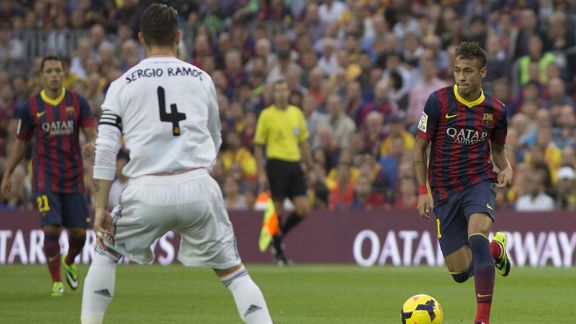 GettyImagesSergio Ramos' role did not stop the Barcelona flow in the first half.
It was an interesting weekend's action in La Liga, and not merely because of the season's first Clasico. However, I must admit that I like watching this fixture in different places, difficult as it is to get into the real thing. The trouble is, with a relatively early kickoff on Saturday night (1800 Catalan time), you need to have reconnoitred the local scene correctly, and when you've just arrived in a place like Sos del Rey Catolico, a beautifully preserved medieval fortress town in the middle of nowhere (Aragon), you need to be sure that your hotel has Canal Plus (it did, but not the football bit) and then not break your ankles running up steep cobbled streets in the gathering darkness trying to find a bar. When I finally found one, about 50 metres from the birthplace of Ferdinand of Aragon (you know, the one who wed Isabella, and authorized Columbus' expedition), Neymar had just scored and the bar was so packed there was nowhere to sit. In fact, given the previous empty silence in the winding cobbled alleyways, the whole town must have been gathered there.

They all seemed to be supporting Barcelona, which must have been painful for Ferdinand, looking down on his birthplace. Marrying Isabella sort of kick-started the whole idea of Spain, with which Catalunya has subsequently had some issues, as I'm sure you're aware. They did it in Valladolid in 1469 (got married, that is), which was some time before things got really hot in 1714, when Barcelona fell to the Spanish forces in the War of Succession and had most of its local privileges taken away for the beastly crime of supporting the Austrians and others in their attempt to stop Felipe V taking up the Spanish crown. So it was kind of significant that just one minute after the traditional Nou Camp calls for independence which start up on the 17th minute (and 14 seconds, of course), debut-boy Neymar from Brazil should score the goal that set his team on the road to their first Clasico victory for some time.

It was a strange game, not helped by the three Aragonese bluebottles that stuck to the TV screen for the whole of the match, changing position occasionally but never straying from the pitch. Barcelona won, but were rather timorous in the second half, scoring a spectacular second from Alexis just as Madrid were consolidating their control of the game. Carlo Ancelotti will receive some stick this week for his decision to start with Sergio Ramos as the defensive pivot, instead of Asier Illarramendi -- a decision that echoed Jose Mourinho's own attempt to break up Barcleona's upper-midfield fluidity by putting Pepe in there to cause a bit of mayhem. It wasn't necessarily a bad idea, but with Gareth Bale also playing out of position (as centre-forward), and Sami Khedira at times trying to do the same (to be fair he almost scored), it was expecting too much of Luka Modric alone to oppose the collective creativity of Xavi, Iniesta and Cesc. Leo Messi had one of those days when he seemed lost in Patagonia, hanging out his washing over on the right flank and mixing his metaphors as the game passed him by.

I expected a change-up in the second half, but at least got myself a seat and managed to make one rather cold red wine last the whole half. As soon as the players walked off for half-time refreshment, the barman switched the match to the local station, which was showing Zaragoza vs. Alaves, in Segunda "A." Last season, Zaragoza were in the top flight, and Alaves were languishing down in Segunda "B." Almost as soon as the barman switched channels, Zaragoza scored an excellent goal and the entire bar rose in fist-clenched salute. I found this surprising, since Sos del Rey Catolico is in the province of Zaragoza but is much closer to Navarre, and only 60 kms shy of Pamplona. But there wasn't an Osasuna fan to be seen, and then Zaragoza scored again, a rather daft goal gifted to the ex-Real Sociedad player Jose Javier Barkero, the whistleblower at Levante last season, a team whose orbit he has sensibly decided to quit. As regular readers of this column will know, Zaragoza are not my favourite team of all time, and given last season's experience among their faithful I decided to stay quiet while the barflies whooped and high-fived.

In the second half, with Clasico hostilities resumed, Ancelotti tired of his experiment (or saw sense) and brought on Pea-Mountain Illarramendi and Karim Benzema. Madrid immediately began to function due to both players' ability to hold onto the ball and distribute it simply but effectively. Perhaps Ancelotti thought the Pea-Mountain was a little green for the Camp Nou workout, at such a fledgling stage of his Madrid career, but with Xavi quiet and Barcelona deciding to play deeper, Madrid began to look the better side. Referee Undiano Mallenco, a sociologist from nearby Pamplona, was reputed to be a Barcelona lucky charm, despite the fact that he refereed the Copa del Rey final in 2011 that Madrid won -- but leaving all those rather tedious arguments aside about which team has been more favoured this season in general, the decision not to award a penalty for Javier Mascherano's shove on Cristiano Ronaldo was rather curious, to say the least. If it wasn't a penalty, then presumably he should have booked Ronaldo for diving? It is true, of course, that Madrid have recently been favoured by some poor decisions, but the Clasico is the Clasico. If there is a good referee in Spain (Mateu Lahoz?), then perhaps he should be given the game. Undiano used to be good but seems to be losing the plot.

The game, however, may mark the future in unpredictable ways. Barcelona are less convincing, and slightly unsure of themselves, while Madrid seem on the verge of getting something right, of turning the tables. They certainly learned more. The fact that Jese came on and also scored on his Clasico debut may become a significant fact for the future, and Illarramendi is clearly a good signing. The jury remains out on Bale, although he showed some improvement, and Isco's absence (also from the Juventus match in midweek) was strange given the importance of the two occasions. On Wednesday, Xabi Alonso may reappear against Sevilla, so the horizon is beginning to clear.

Still, the controversies will keep the folks talking this week, although there isn't much time because there is a midweek raft of fixtures. Barcelona now head the table six points clear of Real Madrid but with the hot breath of Atletico only a point behind, after the mattress-makers' dismissal of struggling Betis (now in the relegation spots) by a solid 5-0 scoreline. David Villa got a couple, breaking his drought, Diego Costa -- the man torn between two lovers (Spain and Brazil) -- got another, and Oliver (Benji) Torres, the precocious 18-year-old making his debut as a starter, scored after a remarkable 15 seconds. The future beckons, and Atletico, after more or less confirming their place in the next stage of the Champions League with a 3-0 win away in Vienna in midweek, continue to consolidate their excellent start to the season.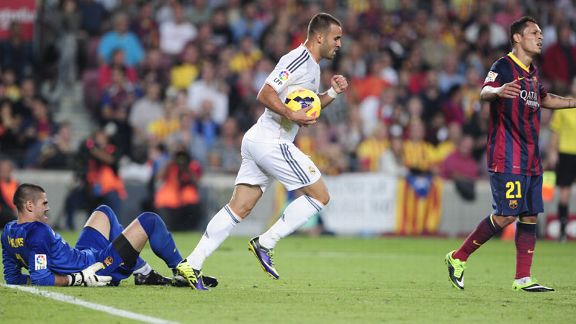 GettyImagesJese Rodriguez celebrates his goal for Real, although it didn't alter the result.
Barcelona travel to Celta de Vigo on Tuesday night, a team run by their ex-hero Luis Enrique and buoyed by their staggering 5-0 win at Bernd Schuster's Malaga on Saturday night. No wonder it's hard to win the Spanish "quiniela" (football pools). Celta had lost five from their previous six, and only scored three goals in the sorry process. Malaga hadn't won in three either, but the result was still a bit out to lunch. Real Madrid meet improving Sevilla, and Atletico travel to Granada, who are also a bit happier after winning 1-0 at Elche.

On Sunday evening, after a longish drive back from Sos, I nipped to Anoeta to see Real Sociedad stroll to a 3-0 win over a poor-looking Almeria, with no punch up front and little organisation at the back. Real Sociedad, after the disappointment of Old Trafford in midweek (a 1-0 defeat to United) where 6,000 away supporters turned up, welcomed Almeria as a benevolent visitor.

On a final note, Alaves came back in the second half and drew 2-2 at Zaragoza, both goals scored by Borja Viguera, an ex-Real Sociedad player. Of course I welcomed this news, illuminated on my mobile phone, as I staggered though the dark medieval streets down to my hotel. On re-acquaintance with my wife, she noted my smile and asked me who won. "Nobody," I replied. "It was a draw. Alaves came back from 2-0 down." She shrugged and went back to her Kindle. Sometimes it's better just not to ask.