The magic of Spain, and the dreaded FIFA virus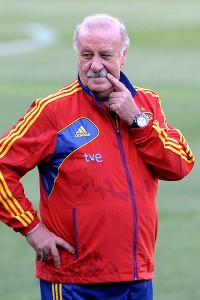 GettyImages / Miguel Riopa/Getty ImagesVicente Del Bosque has the Midas touch with late-game substitutions and breaking down stubborn defenses.
This has been a pretty sensational few days for World Champions Spain.

In defeating the massed ranks of Georgian defenders, Vicente Del Bosque's side set an all-time record of 23 straight qualification game victories -- European Championship and World Cup. They also set an all-time high stat of having enjoyed 80 percent of possession during the 1-0 victory in Tiblisi.

Moreover, Iker Casillas, who has extended his record as the player with the largest number of victories in the history of international football, is only 33 minutes away from breaking the longest spell of any Spain keeper without conceding a goal.

Better still, La Roja's all-time leading scorer, David Villa, garnished his comeback match by adding another goal to his total in a red shirt.

But none of these, nor the fact that Spain prepare for next month's fixture against old enemies France with a 100 percent points record after a visit to a difficult opponent, are what attracts me most in what we've seen from Spain.

You see, Del Bosque has done it again.

For many years now -- in fact ever since their buccaneering victory at Euro 2008, Spain's opponents have tended to play blanket defence, to abandon any normal creative instincts and to try and frustrate in a manner that, once in a blue moon, will catch the Spanish on an off-day. The product can (sometimes) be games that are less than thrilling to watch and it can lead the infantile to peddle their utter nonsense that Spain, somehow, play boringly.

The principal means by which Del Bosque attempts to attack this phenomenon is … attack.

Spain perpetually use the ball in a creative fashion, usually play with two wingers and use a 4-3-3 formation which, when I was growing up, was discarded as "suicidally adventurous."

However, there are matches when it's just not possible for La Roja to make the breakthrough early and, then, put opponents to the sword for our entertainment and gratification. That's when two or three of their absolutely priceless tendencies come to the fore -- as was the case in Georgia on Tuesday.

You see, Spain perpetually score late goals.

Late in the first half, when the opponents are dozing off and ready for their halftime cup of tea and juicy orange. Late in the second half, when all that hurtling around trying to close down Spain's offensive passing is beginning to leave the opponents dull of mind and limb. That's when this team pounces.

In Tiblisi, it was Pedro's little shuffle and dribble that created room for a pass to Cesc Fabregas. The Catalan's instant and pinpoint cross allowed Roberto Soldado to thrash in a lovely first-time shot. There were five minutes of normal time left when the two substitutes combined to feed the striker.

It was no fluke. There has been an absolute flood of such crucial moments.

During Euro 2008, Spain beat Sweden in the 92nd minute (Villa), Greece in the 88th minute (Daniel Guiza), were sharper in the penalty shootout against Italy and scored their third in the 82nd minute while beating Russia in the semifinal.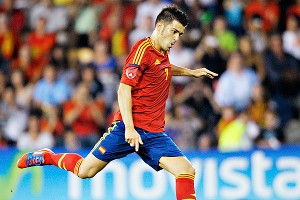 GettyImages / Miguel Riopa/AFP/Getty ImagesDavid Villa, who's still trying to regain full fitness, scored a penalty for Spain against Saudi Arabia in a friendly this past Friday.
From that point until this week, the late, often winning goal has become Spain's trademark.

I'll give you some examples. In qualifying for World Cup 2010, which they went on to win, Spain managed six points from their two fiercest away games thanks to an 88th minute winner against Belgium in Brussels 3-2 in 2008 (Villa) and an added-time winner in Turkey 2-1 in April 2009 (Albert Riera). At the tournament, Del Bosque's side achieved their 1-0 victories against Paraguay, Germany and Holland in the 83rd (Villa), 73rd (Carles Puyol) and 116th minutes (Andres Iniesta to win the final).

Only one really big late goal, with 10 minutes left against Scotland at Hampden (Fernando Llorente, a substitute) was needed in qualifying for Poland and Ukraine. But once there, the defending world and European champions beat Croatia 1-0 in the 88th minute (Jesus Navas) and France with a 92nd minute goal (Alonso) created by subs Santi Cazorla and Pedro. La Roja were sharper in the penalty shootout against Portugal after 120 minutes and then Spain scored two goals in the last 10 minutes of the 4-0 defeat of Italy in the final (Torres and Mata, both subs).

Once it was the case that when teams were naive enough to chase Spain for possession of the ball, it literally burned them out. They were vulnerable, Spain were fresher and the goals arrived.

Now, even when La Roja's opponents sit and wait and block and frustrate, it still frazzles them to the extent that they bend, mentally and physically, when the game reaches its final moments.

Within this trend lies the fact that Del Bosque repeatedly introduces a replacement player -- Llorente, Pedro, Navas, Fabregas, Cazorla, Fernando Torres or Juan Mata are the most regular candidates these days -- who changes the game with a cross, an assist or a goal. Some of that is because Spain's manager arguably has the greatest array of talents the world has ever seen, taking into account that all his players are fully fit and fully benefiting from the four years of his reign.

But Spain also has players of first-class mentality who, if they are not chosen, perpetually arrive on the pitch as "jack-in-the-box" options with a killer attitude.

Del Bosque needs credit for that, I reckon. He takes men who hunger to win and who in his own memorable words to me this summer "wouldn't even know where the bench WAS at their own clubs," asks them to be substitutes and still gets first-class, aggressive commitment from them. His timing of when to introduce such players, and who to change them for, seems quite impeccable.

An example is Roberto Soldado. Once a pet project of Del Bosque, who signed him as a kid for Real Madrid, he was surprised and wounded to be left out of the Euro Championship squad at the last moment. Yet not only is he back, hungry, but the manager opted to leave him on the pitch rather than reach for either Torres or Villa. And who was it that produced the razor-sharp finish for 1-0? Soldado.

I believe that Spain are emphasising to us that you can possess all the talent in the world but hunger, concentration, intelligence, judgment and sheer application are the components that forge champions.

One more point. Or two. This "boring" team has now scored 32 goals in its past 13 matches and a key part of their success is that while Torres, their talisman, has been searching for form and Villa, their goal-metronome, has been injured, Del Bosque has had 15 different scorers in those 13 games.

Truly, we are blessed to be watching an epic era served to us by epic champions.

The Virus and the Cure
It's not often that you'll hear the big bosses at the Camp Nou or Bernabeu praising the FIFA international break. Players often go off to represent their countries for 10 days, packing in 20,000 transatlantic miles a couple of matches in which all kinds of physical damage might be inflicted and during which one or two jet-lag inducing changes of clock can be involved.

The number of times big clubs drop shock points the weekend after a big international fortnight, not just Barca but Real Madrid, Manchester United, Arsenal, Milan, Bayern Munich, Valencia and, in fact, all the European big guns, means that there is even a nickname for the affliction – the FIFA Virus.

Some will be expecting that virus to bite when Real Madrid visit Sevilla and Barca go to Getafe this weekend. However, perhaps this time Barca have been done a turn by the exceptionally shrewd Vicente Del Bosque.

Villa broke his tibia, a horrible injury for any athlete but still more so for a striker, last December in Yokohama while winning the FIFA World Club Championship during Pep Guardiola's final season. His rehab has taken longer, much longer, than originally anticipated and although he scored a sublime goal in the debut La Liga fixture, the 5-1 win over Real Sociedad, the club has been proceeding slowly.

The idea was that Villa put in a tremendous pre-season for core fitness, then began edging his way back to match readiness with a series of appearances which gave him around 15 minutes each time. Subsequently, he would move up to half an hour per match, as an impact substitute and then full fitness would beckon.

Precisely quarter of an hour is what the striker got from Tito Vilanova away at Osasuna, and in those 15 minutes Barca went from 1-0 down to 2-1 up. But the plan was strict enough, and Villa was sufficiently in search of sharpness that he didn't get any further minutes against Real Madrid in the Supercopa or against his ex-team, Valencia, during Barca's last home win.

All of which meant that with the international break looming and some 19 players leaving the Camp Nou, Vilanova looked like he'd have the recuperating Villa on his hands with no means of giving him meaningful match-time or even fully staffed training sessions for two weeks.

Equally, Villa's lack of playing time meant that he shouldn't really have been a candidate for the Spain squad to play a friendly against Saudi Arabia and a qualifier in Georgia.

But Del Bosque rates the player so highly that he gave him just under 40 minutes in the friendly win over Saudi Arabia.

Lo and behold, Villa scored a penalty, loved his time with his international colleagues and returns to the Camp Nou just that little bit better prepared to play some role in the next two games -- away to Getafe and home to Spartak Moscow.

"I've missed all this and really suffered while being out injured all these months," Villa said after the win. "It's not just the matches you miss but the fun of being with these lads and it's great for your confidence to get back and enjoy it again."

The plan is that the 30 year old gathers momentum with constant monitoring and that he's at his fittest and match sharpest by November at the latest.

Now to discover whether the FIFA Virus gives with one hand and takes away with the other as Barca return to Getafe on Sunday, a place where three points were surrendered last season.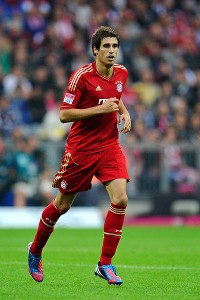 GettyImages / Lars Baron/Bongarts/Getty ImagesJavi Martinez is involved in a bitter dispute with his former club, the troubled Athletic Bilbao.
Night Maneuvers
Finally, another word on the sad saga at Athletic Bilbao.

The Basque club is suddenly involved in a war of words with their former player Javi Martinez.

Now with Bayern Munich, the midfielder is part of a disputed move since the Germans enabled him to meet his 40 million euro buy-out clause and indicated that they weren't due to pay tax to the Spanish government or add-on compensation to his original club, Osasuna.

His departure was agonising, badly handled, and happened at such a pace that he wasn't able to clear his locker at the Lezama training ground.

According to the club version, he returned there in the dead of night at the weekend, vaulted the security barrier and removed his belongings like some thief in the night.

The player, via a statement from his new club, has hit back saying it's "incredible" that anyone believes that version and insisting that he arrived, entered with the consent of the security staff and cleared out his own belongings without any fuss at all.

If I were Athletic and I saw that Martinez was so intent on coming back in the dark of night rather than have a proper adios from the club, he's helped enrich in both football and financial terms, then I'd have a long hard think, while counting the 40 million euros, about how I'd handled his departure and the months leading up to it.