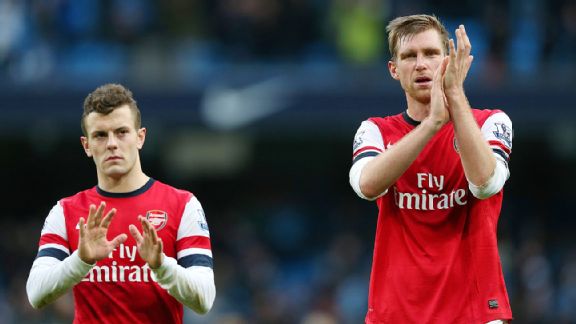 Stuart MacFarlane/Getty ImagesJack Wilshere endured a miserable afternoon versus Man City, but Arsenal can still make noise in the Prem title race.
On the one hand -- his right one -- Jack Wilshere brandishing a solitary, centrally-located finger toward the Manchester City fans was certainly an obscene, immature and costly gesture that will undoubtedly result in a one-game ban for the Arsenal midfielder. On the other, he was technically correct. The Gunners are still No. 1!

You'd be forgiven for not knowing this incontrovertible fact had you listened to all the math-challenged English commentators and pundits who pronounced Saturday's 6-3 beatdown by City as conclusive proof that after a fortuitous draw with Everton and a disappointing 2-0 Champions League defeat to Napoli, the wheels are finally coming off on Arsenal's title challenge. Continue Reading...