With remix apologies to Jerry Lee Lewis, Saturday's "Showdown at Handshake Road" morphed painfully into a "whole lotta nothin' going on." No goals, no red cards, no drama and no handshakes, not that the pregame old-fashioned version of a digital snub appeared to fluster either John Terry or Ashley Cole, both of whom helped the Blues keep a clean sheet.

Unfortunately for both the league leaders and the viewing public, the Anton Ferdinand-led QPR rear guard was just as obdurate -- the scoreless draw is the first blot on Chelsea's heretofore perfect record. Not only that, but Eden Hazard missed a sitter, thereby failing to wrap up World Player of the Year.

Given how impressively fluid the Blues' attack had looked to date, it came as something of a shock to see them play so insipidly against a Rangers team still searching for its first win. Part of the reason lay in Roberto Di Matteo's starting lineup -- two holding midfielders in John Obi Mikel and Frank Lampard, a man who might lose a foot race to Brad Friedel.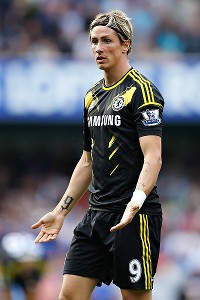 GettyImages / Julian Finney/Getty ImagesFernando Torres was in regressive form for Chelsea this past weekend, but Liverpool took more steps back in agreeing to feature in a hackneyed documentary.


Perhaps the midfield choices were a silent homage to Andres Villas-Boas, who first came face-to-face with his Chelsea mortality when his Blues ended up on the wrong end of 11 versus 9 in last year's 1-0 loss to Rangers.

The only other possible explanation for the risk-averse selections was that Di Matteo felt he needed a human shield to protect Terry's feelings, but such a mindset assumes that JT possesses a central nervous system. As it was, Captain Braveheart was booed by the home crowd every time he came within the general vicinity of the ball. Chelsea fans, however, saved their opprobrium for Fernando Torres, who also had a roll-back-the-clock-to-AVB performance.

The Spaniard, who in recent games seemed to be rediscovering his mojo in the absence of Didier Drogba, was invisible Saturday until he was mercifully subbed off in the 81st minute. El Tempestuous made no attempt to disguise his disgust, storming straight down the tunnel without -- you guessed it -- shaking Di Matteo's hand.

While Torres was exiting stage right, his old club Liverpool continued to feature far more than a team struggling at the lower end of the table would wish.

Over the past week, you could barely open a newspaper, click on a website or channel-surf without being inundated by all things Merseyside. First came the truly horrendous findings from the Independent Hillsborough Commission report, which justifiably dominated the front pages and tore the scab right off a festering national wound. Unfortunately, Fox Sports simultaneously cranked up, with relentless gusto, the PR hype for its behind-the-scenes (and awkwardly punctuated) documentary "Being: Liverpool." Just hearing its hyperbolic opening line, "You've seen them on the field as heroes. Now you'll see them as you've never seen them before," was enough to either make a sane man cringe or await something truly revelatory, like Stevie G playing a short, crisp pass.

Given Liverpool FC's recent penchant for ham-fisted fiascos in public-relations land -- the unwavering defense of Luis Suarez's innocence in last season's racial-abuse episode; the buying high and loaning for chump change of Andy Carroll; pretending that the League Cup was meaningful -- you would have correctly predicted the penny-pinching antics of management that allowed Clint Dempsey to get away to the dark side of North London.

Now, while Liverpool is enduring its worst opening to a season since shortly after the end of Queen Victoria's reign, it's easy to appreciate the irony of the filmmakers' boast. Because the only people who have seen Liverpool in its current state of dishevelment are mercifully old enough not to remember it. The last time the Reds failed to record a win in their first four games was in 1911, an effort of such note that it may well have spawned Teddy Roosevelt's slightly less famous quote, "Walk alone softly and carry a big shtick."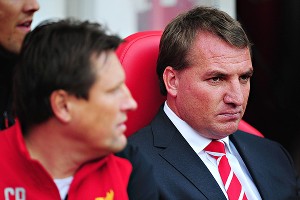 GettyImages / Stu Forster/Getty ImagesBrendan Rodgers has been entertaining enough in "Being: Liverpool" thus far, but when will results on the field match up to the drama being shown on television?


Is there a bigger, more lamentable piece of slapstick than a reality show in which the latest version of the Anfield savior pretends that he doesn't curse in front of his players? Where the vaunted lads in red attend a relaxation and meditation class? The very idea of Daniel Agger and Jamie Carragher chanting "Ommmmm" from the lotus position is as believable as this year's Arsenal side scoring six in one game (OK, four because two were courtesy of OG, and I don't mean Olivier Giroud).

You'll never hear a snippet of impromptu dialogue in "B:L," because the show contains all of the spontaneity of a Mitt Romney speech. While Liverpool management has strived to ensure that the club nestles perfectly in the blazing light of televised heroism, that same image isn't anywhere on display when the team actually plays. At some point in the "Being: Liverpool" series, I fully expect to watch a drill during which the Reds practice hitting balls off the woodwork after being put clean through. Against Sunderland, Liverpool added to its league-worst shooting accuracy (25 percent) by crashing one ball against the crossbar and another off the post.

After falling behind to a predatory sliding finish from one-time boyhood Liverpool mascot Steven Fletcher in the 29th minute, the Reds saw an ex-Spur manning Sunderland's right flank and thus began an unceasing assault on Danny Rose. First, it was Suarez who tricked his way to the byline only to swan-dive over John O'Shea's outstretched leg, earning an entirely deserved yellow card for amateur theatrics. The ensuing look of incredulity on Suarez's face clearly stated, "Didn't you see me play Monopoly with my mates in 'Being: Liverpool'? How dare you accuse me of cheating?"

Landlord Luis finally delivered in the 71st minute thanks to a Ronaldo-like step-over by burgeoning wonder boy Raheem Sterling, as Rose continued to be more exposed than Princess Kate in those Italian tabloid photos. Sterling's subsequent cross picked out Suarez at the near post where, on his second attempt, the Uruguayan smashed the ball into the net.

The Liverpool bench erupted, and nowhere was the relief more evident than on Rodgers' face. The end result was certainly less than the Liverpool manager desired, but it lifted the Reds out of the bottom three and kept the talk on the vision of the future rather than the failures of the past.

Next up for the Reds is arguably their most important home fixture of the season -- Manchester United. Fail to win that one, and I doubt that any of that day's starting eleven will want to admit to Being: Liverpool.