No win, no cry for the USMNT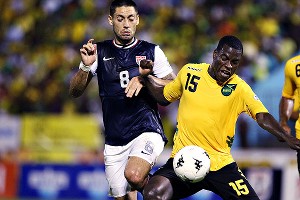 no_source / Marc Serota/Getty ImagesClint Dempsey's lack of match fitness showed against Jamaica on Friday night: after his first minute goal, his influence quickly waned.
What a game that was on Friday night, full of white-knuckling tension, frayed tempers and a glorious set-piece goal that nearly caused the home stadium to spontaneously combust.

I'm speaking, of course, of No. 1 ranked UConn's 1-0 overtime win versus Washington that was decided eight minutes into overtime by a sublime free kick from Max Wasserman that curled around the wall and into Huskies folklore.

Oh yeah, it turned out the U.S. men's national team also played on Friday night in a World Cup qualifier against Jamaica, which is why my local watering hole was jammed with soccer fans who don't subscribe to Al Jazeera Network and normally wait until 8 a.m. on Saturdays to start their weekend benders.

Of the seven screens in the back room at Kinsale Tavern, all but one were tuned to the U.S. game, but it's a testament to how abject the Americans were that I saw more skill and creativity from UConn All-American junior Carlos Alvarez than I did from the three-headed circus sideshow of Jermaine Jones, Kyle Beckerman and Maurice Edu that passed for the U.S. midfield.

Perhaps I am being unfair given the circumstances. The entire U.S. squad was probably exhausted from taking all those bows after it beat Mexico at the Azteca last month for the first time ever. While it was certainly a significant accomplishment for the U.S. to finally slay the green-and-white dragon in its fire-breathing pit, I am required by FIFA law to point out that the game was a friendly, a fact that has been conveniently glossed over in the orgy of self-congratulation that followed the 1-0 victory.

It's perfectly understandable that U.S. Soccer would choose to focus on this historic triumph rather than, say, the failure of the men to qualify for both the U-20 World Cup and the Olympics. Just don't expect the rest of our CONCACAF opponents to be cowed by that result.

Its most recent stumble notwithstanding, Mexico long ago ended U.S. regional dominance, but what's most alarming is that previously reliable tomato cans no longer possess the requisite inferiority complex when facing the United States. First came a less-than-convincing 3-1 win over mighty Antigua and Barbuda, then a lackluster 1-1 draw in Guatemala, and now Friday's 2-1 loss to Jamaica that snapped an 18-game unbeaten streak against the Reggae Boyz and forced Jurgen Klinsmann back to das drawing board.

Ever since he abandoned the Zen trappings of his California lifestyle for the daunting challenge of reinventing the U.S. national team, Klinsi has dipped into his New Age playbook (with an introduction by Glenn Hoddle) for ways to motivate his players. But apparently yoga and meditation sessions have not provided sufficient inspiration, forcing him to resort to chillaxation exercises that smack of desperation, if not outright farce.

Prior to the Jamaica game, for instance, Klinsmann decided it would be a good idea to invite Donnie Moore, a "motivational minister" who is also the Oakland A's chaplain, to address his team. Donnie's shtick is to perform seemingly impossible feats of strength (that is, unless you've already seen phonebooks easily torn in half on the TV show "MythBusters") that inspire his congregants to reach for greatness in their own lives. In other words, if the Reverend can "roll a frying pan like a burrito," the U.S. players can surely carve Jamaica apart like a piece of jerk chicken.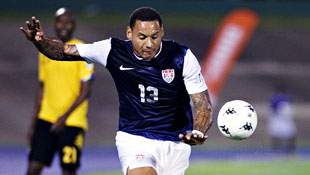 no_source / Marc Serota/Getty ImagesJermaine Jones was a poor man's Nigel De Jong in the U.S. midfield, all thuggery with little artistry or control. He and his teammates will need to do better against Jamaica on Tuesday.

Unfortunately, with his fire hydrant frame, blond pompadour and nylon track suit, Moore brings to mind those old Matt Foley "Saturday Night Live" skits starring the late Chris Farley. When Moore snapped baseball bats over his thigh as if they were uncooked spaghetti, it was his way of saying that if the American players "followed their goals and dreams" they could do anything they wanted. As it turned out, however, that didn't include stringing two passes together in midfield or defending set pieces around the penalty area.

Even allowing for the fact that the United States was missing two of its most dominant players -- Landon Donovan and Michael Bradley were injured -- and that the pockmarked field at "The Office" in Kingston should be featured in an acne cure-all commercial, the U.S. men have only themselves to blame for their sorry performance. Without Donovan and Bradley, it was left to Clint Dempsey to carry the attack for the U.S., and though he scored in the first minute on a fortuitous rebound, the Tottenham midfielder (God, how I hate typing those two words) faded as the game wore on, a display befitting a man who hadn't played a competitive match in nearly three months. (Come to think of it, here's hoping he keeps up that fitness level for Spurs.)

The Reggae Boyz were simply hungrier and more dynamic than the Americans and gave as good as they got. Klinsmann has always had a soft spot for his resident hard man Jermaine Jones, blithely ignoring that he's morphed into Nigel de Jong without the passing skills. Let's face it, when Klinsi famously remarked after a 4-1 drubbing by Brazil that "maybe we're still a little bit too naive, maybe we don't want to hurt people, but that's what you've got to do," he didn't have Jose Torres in mind. Which helps to explain why he chose to build his team around the bone-crunching trio of Jones, Beckerman and Edu.

But if Jurgen thought they would muscle Jamaica off the ball and give the U.S. a midfield platform from which to launch attacks, the naiveté began in the technical area. All three stooges were guilty of costly fouls while constantly being outwitted by the quicker Jamaican attack.

How is it possible that after all the strides American soccer has made in the last decade, a team made up of mostly MLS players -- Jamaica had six on the field at game's end -- could overrun a bunch of battle-hardened World Cup veterans who are plying their trade in the Premier League, Bundesliga and Eredivisie?

And more importantly how will the United States respond on Tuesday in Columbus when faced with the first must-win game of Klinsmann's short but bittersweet reign?

Perhaps instead of Donnie Moore, the manager should have thought about bringing in Pia Sundhage. At least she knows how to win.