More proof of the Prem's 'apocalypse' season
From an early age, I was trained to keep an eye out for signs of the approaching apocalypse. Fire belching from the sea, dogs and cats tongue-kissing with impunity and, most alarming of all, Arsenal winning every week.

Maybe that's why I detect a giddy end-of-days feel to a season that is a little more than one-third complete and so far, the only thing you can be certain about is that there are no certainties. As for the axioms of yore, toss them out the window along with your "Gareth Bale Is Wales' Best Player" T-shirt.

Consider the recent evidence:
- Manchester United lost to Everton at Old Trafford for the first time in 21 years!

- United also lost to Newcastle at Old Trafford for the first time in 41 years!

- Stoke beat Chelsea in the league for the first time in 38 years, while Jose Mourinho lost his first Prem game in December!

But all these pale in comparison to the most compelling confirmation of a pending Armageddon. That's right; I am speaking of the statistical evidence that proves Marouane Chamakh is the Premier League's deadliest marksman.

Yes, the very same Marouane Chamakh, whose hair looks like it was styled during a Category 4 hurricane and an oil spill, scored two goals last week for Crystal Palace, bringing the Arsenal washout's total to three from only four shots on target. In other words, Luis Suarez may have to take a break from snacking on Branislav Ivanovic's arm and start eating his own heart out!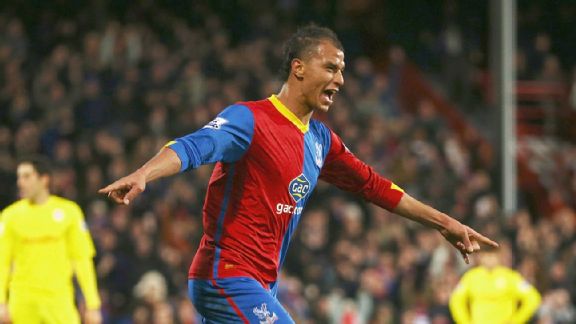 Paul Gilham/Getty ImagesMarouane Chamakh has scored three goals from four shots on target, making him the Prem's deadliest. Yet more proof of an apocalyptic season.

So why should Arsenal be immune to this up-is-down, black-is-white, tweed-is-corduroy trend that is all the rage in the Prem? After all, the Gunners were on the business end of the first "shock" of the season, losing to Aston Villa in their home opener.

And yet, they came tantalizingly close -- only the width of the crossbar kept out Olivier Giroud's last-second screamer -- to exorcising that hoodoo at the Emirates on Sunday when they took a 1-0 lead against Everton in the 80th minute on Mesut Ozil's goal.

Game over, right? Just 10 minutes for the meanest defense in the league to hold their nerve. Just one-sixth of an hour before Arsenal could tick off the first of four boxes that would go a long way toward answering the question: Will Arsene Wenger's trophy-less streak end after eight soul-crushing years or is this just the latest cruel joke that the Frenchman has played on the club's long-suffering fans? Just 600 seconds before the Gunners would be seven glorious points ahead of the chasing pack as they prepare to run the treacherous gauntlet of Man City, Napoli and Chelsea in the coming two weeks.

- Mangan: A point well-earned by Arsenal
- Cross: Positivity key for Gunners
- Delaney: New questions arise
- O'Farrell: Toffees take plaudits

At New York's Football Factory, where the boisterous Gooner contingent was in full cry, I could almost reach out and lay my Stella-soaked head on that fat seven-point cushion at the top of the table. Only Ed, perched on the bar stool next to mine, offered a sobering note. "I'd feel a lot better if there was no time left on the clock," he said prophetically.

Also, the world would be a better place if Roberto Martinez didn't speak Spanish and wasn't able to talk Barcelona into loaning Everton a 19-year-old, baby-faced assassin named Gerard Deulofeu, who looks like he should be opening for One Direction rather than outwitting three Arsenal defenders at the edge of the box before smashing the ball into the top corner for a 1-1 draw.

I suppose it's churlish of me to complain that Arsenal's lead is now a mere five points when last season at this time we were roughly 473 points behind Sir Alex's swansong Manchester United side, but I can't help myself -- I'm just a churl who can't say no.

If like me, your EPL IBS acts up at the thought that it's Arsenal's title to lose, then the Gunners' failure to take maximum advantage of Chelsea and Man City dropping points feels like it's a propitious moment to invest in an industrial-sized vat of WD-40 because squeaky bum time could last for the next six months.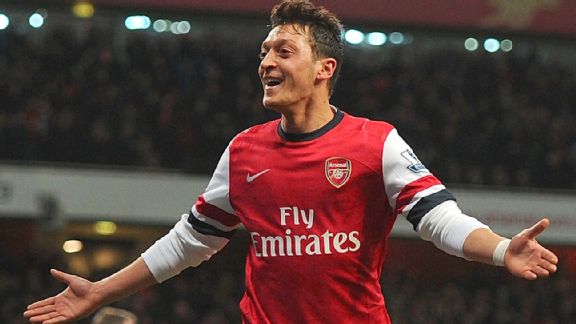 Stuart MacFarlane/Getty ImagesThough Arsenal didn't beat Everton on Sunday, their form still has them well ahead of the chasing pack.

Though Everton hadn't beaten the Gunners in their past 12 encounters, the Toffees were not inclined to be cowed by Arsenal this time around; in fact, for the first 40 minutes, the team playing Wenger-ball wore blue. Under Martinez, Everton has been performing with the kind of adventure and fluency rarely seen in the 11 years of David Moyes' stolid reign at Goodison Park. With Man City refusing to embrace away fixtures and Chelsea looking porous at the back, the Spaniard also has the Toffees believing they are Top 4-worthy. (I realize that Liverpool is technically second in the table but I refuse to lose sleep over a team that is one Suarez act of cannibalism away from the Europa League or worse.)

And speaking of career-terminating episodes, I bet Jose Mourinho is sure glad he got his new "going to war" buzz cut just in time for his first trip to the Britannia Stadium. After all, if there is one team in the Prem who sometimes confuses soccer with organized mayhem, it's Stoke City. Mourinho, who declared that Chelsea's brutal nine-game stretch of fixtures in December were "only for the brave," came armed for the battle with Captain Courageous himself, John Terry, as well as a four-game winning streak. Meanwhile, Stoke hadn't won a league match since the end of August. What could possibly go wrong?

Well, for Mourinho, everything. Chelsea dominated the game only to lose 3-2 on a 90th-minute thunderbolt from Oussama Assaidi, who's on a season-long loan from Liverpool. The scowl on the Increasingly Unhappy One's face at the final whistle was almost as deliciously satisfying as Terry's death stare as he walked off the field. Did I mention that it was the Blues captain's 33rd birthday and that he celebrated like the true sportsman he is by getting a yellow card for jostling the referee? Is it just me or is there something slightly unlikable about that Chelsea chap?

With the pretenders to the crown coughing up points, it was all set up nicely for Arsenal at the Emirates. What a shame that Ross Barkley chose the occasion to morph into Michael Ballack, displaying the incisive movement and explosive acceleration reminiscent of the German captain in his pomp.

While Roy Hodgson looked on from the stands, the Everton wunderkind made a compelling case for a seat on the England plane to Brazil. Not only did he boss an Arsenal midfield consisting of Santi Cazorla, Jack Wilshere and Aaron Ramsey, but he was the hub of the attack that led to the Toffees' equalizer. And what a knife to the Gunners' heart it was from Deulofeu, who had entered the game only minutes before just as Ozil was blowing kisses to the adoring crowd after scoring what looked to be the winner.

A pessimist would lament the two points dropped but I'm not that guy. Had you told me in December that Arsenal would be five points ahead in December, I would have retreated to my NORAD-approved, Wyoming nuclear shelter and cornered the market on canned Spam and bottled holy water.

Now I'm just hoping that the apocalypse holds off until late May.