Rampant Rooney comes to Man United's rescue
Lest we forget -- and there's at least one cranky old Scot who can't and won't -- it was only this past summer that Wayne Rooney was the belle at the debutante ball, fluttering his eyelashes at Chelsea and even playing footsie with Arsenal, the club against whom he joyfully announced his arrival as England's Next Savior with a wonder goal at the tender age of 17.

Years later, on the occasion of the publication of his autobiography for which I was the American editor, I reminded him of that seminal moment.

"Arsenal must be special for you," I said to him upon being introduced. "Because you crushed them first."

"They're all the same to me, mate," he responded, thereby crushing me like he crushed my team. "A club's a club, I just love scoring goals."

That attacking ebullience, so conspicuously absent last season under the aging leather jackboot of Sir Alex Ferguson, who publicly questioned his commitment, has recently returned with a snarling vengeance.

Rooney's seventh and eighth Premier League goals on Sunday rescued a 2-2 draw from a surprisingly inspired Spurs outfit, and while neither was a glittering piece of individual brilliance like his teenage thunderbolt against Arsenal or his acrobatic overhead kick against Manchester City, both served as a timely reminder of his rejuvenation in what is (for him, anyway) a pivotal year. If England is to make any noise in Brazil -- other than the traditional gnashing of quarter-final exit teeth -- or if Manchester United is to challenge for anything more than a Europa League place, then Rooney needs to be fit, engaged and flourishing.

Not incidentally, this latest Rooney revival is occurring without Robin van Persie, who injured his groin on Nov. 10 against Arsenal after scoring the only goal of the match and has since strained his neck looking up at his old team in the standings.

After a second consecutive season for the ages, is it any wonder that the 30-year-old Dutchman would break down like the zipper on Arsene Wenger's puffy coat? But what is surprising is that United haven't been hurt by his absence. If anything, they have become less predictable offensively and for that, they can thank Rooney.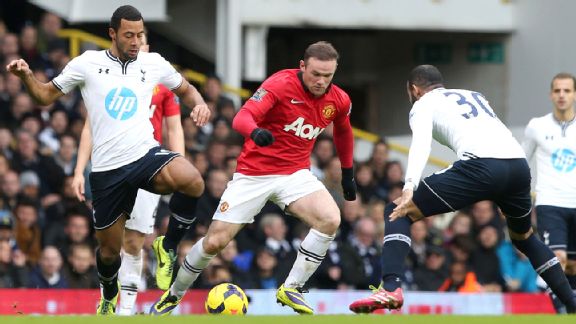 Matthew Peters/Getty ImagesManchester United forward Wayne Rooney, back from suspension, will carry the offensive load with Robin van Persie out injured.

At 28, Rooney has clearly lost a yard of pace but has regained the confidence of his manager and teammates. Once again, his is the domineering influence and forehead on any field he plays on, and the defending champions are rounding into form behind him. Unbeaten in their last 12 matches, United is moving ever closer to their ordained place in the table, which in this brave, post-Fergie new world is no longer at the summit, but rather somewhere in the Champions League conversation. Though they currently sit ninth, nine beautiful points behind Arsenal, it is hard to see them finishing below Southampton, Everton, Newcastle and Spurs. As for a Daniel Sturridge-less Liverpool, well wouldn't that be a delicious cage match for the final CL spot?

Wherever United end up, it appears they will get there by riding Rooney's brawny shoulders.

Wazza's resurgence was never more evident than during last Wednesday's 5-0 carpet bombing of Bayer Leverkusen. Rooney didn't score in United's biggest away win in European Cup competition for 56 years, but there was never a doubt as to whose genius illuminated that night, Ryan Giggs' ageless performance notwithstanding. Rooney was the creative muse at the heart of four of his team's goals, his touch and vision alongside Shinji Kagawa tearing apart the Bundesliga's second-place club at their home ground. I haven't witnessed a thrashing like that since somebody got in my grandmother's way at a Black Friday doorbuster sale.

- Brewin: Rooney saves United
- Read: Team of the Weekend
- Okwonga: United lose more Prem ground
- Fitch: Spurs take forward step

United's hiccups this season mirror the craziness of the early league returns, where the only great truths to date have been Jose Mourinho's head games, Man City's ridiculous differential between their home and away results, and Fulham losing to all comers. Martin Jol, we hardly knew ya.

The idea that on any given Saturday, you don't know whether your club or its layabout identical twin will turn up makes for a raucously wide-open campaign and a spike in the sale of Tums for impassioned supporters, but managing a Prem team this season must be as enjoyable as watching your girlfriend chatting with John Terry at a cocktail party.

Take Andre Villas-Boas, for instance. According to reports in the understated English press, most Spurs fans wanted to take him to the glue factory after Tottenham's shameful 6-0 surrender last week at the Etihad.

On Sunday, though, AVB saw that same feeble Spurs ensemble rediscover their professional pride -- not to mention their ability to bother the scoreboard operator -- just in time to save him from being dismembered for the crime of letting his team fall a whopping four points off the final Champions league spot with a mere 25 games to play. Fortunately, Spurs were playing at home, so there was little danger of Norwegian hairdressers distracting AVB from the task at hand, which was to show the Tottenham faithful that last week's slaughter was a speed bump rather than a sinkhole, while at the same time trying to beat United at White Hart Lane for the first time since 2001.

And as much as it pains me to admit it, Spurs were good. AVB's men gave a display of heart and surly intent that would have achieved the desired result had it not been for the indefatigable combativeness of Rooney and the inability of referee Mike Dean to grant any of the several Tottenham cries for penalty help.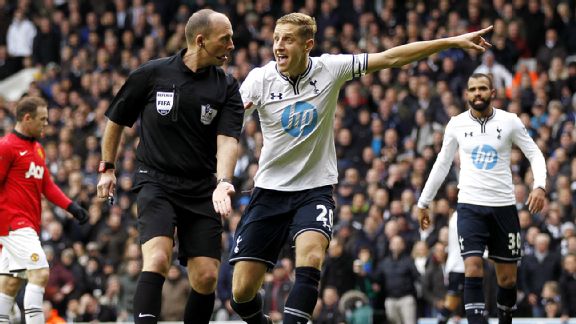 Ian Kington/AFP/Getty ImagesMike Dean didn't help Spurs though Andre Villas-Boas will have been pleased at his side's rediscovered attacking menace.

By the end, there wasn't a blade of White Hart grass that hadn't felt the thundering, cleated caress of a Rooney boot over the course of his 90 lung-busting minutes. One instant he was leaping to powerfully head away a corner in the United box, the next he was launching a perfectly weighted 30-yard crossfield ball to the feet of Antonio Valencia so the Ecuadorian winger, long a favorite Rooney attacking partner, could skin Spurs' makeshift left-back Jan Vertonghen as if he were auditioning for a "Silence Of The Lambs" remake. Alas, after turning the Belgian defender inside out and blazing to the end line, Valencia's crosses looked a lot like Aaron Lennon's.

With no one in the United midfield able to stamp their authority on the match -- did Tom Cleverley also turn 40 this week? -- Rooney became a one-man wrecking crew, leading the line while also pulling the strings in the middle of the park. After Spurs took the lead in the 18th minute on a Kyle Walker free kick that skidded under United's jumping wall, Rooney equalized by pouncing on a deflected clearance from the Spurs defender to slot home from 6 yards out. In the holiday spirit, Walker both giveth and taketh away.

At the Football Factory, where I arrived at the ungodly hour of 7 a.m., I inhaled my breakfast of champions -- a rasher of bacon washed down with two pints of Stella -- and enjoyed the sonorous quality of the 40 sleep-deprived United fans who greeted the Rooney goal with a delightful a cappella rendering:


I saw my mate the other day,
He said to me he saw the white Pele,
So I asked, who is he?
He goes by the name of Wayne Rooney,
Wayne Rooney, Wayne Rooney,
He goes by the name of Wayne Rooney.


The real Pele may have felt a bit slighted, especially when Rooney and his supporting cast had to rally yet again as Sandro bamboozled the elderly Cleverley and hit a 25-yard screamer into the top corner. But Spurs' joy lasted only three minutes. Danny Welbeck, as anonymous up to that point as a pierogi at a dumpling convention, raced onto Rooney's pass in the area and managed to brush his back leg against Hugo Lloris to earn a penalty.

The call was absurd, but Mike Dean's whistle had a Fergie Flashback moment, and when Rooney converted from the spot, the United glee club roared back to life:


United are the team for me,
with a Knick Knack Paddy Whack
give the dog a bone,
why don't Spurs shove off home!


For some reason -- it could have been the third pint -- I found myself joining in. Not because I have any great love for United, mind you, or even because I wish to heap more misery on Spurs, but because the 2-2 draw meant that for the time being at least, Arsenal no longer had to worry about either side.