Gift-giving season comes early for Arsenal fans
As far as birthday presents go, Manchester City's 6-0 evisceration of Spurs was every bit as satisfying as my daughter giving me that Cesc Fabregas action figure -- the one that launches a pizza at Sir Alex Ferguson's head -- a few years ago.

I woke up later than expected on Sunday because the combination of Arsenal stretching their lead at the top of the table and my birthday was just too much not to celebrate with a few dozen vodka shots. So imagine my delight when I stumbled out of bed in my Gooner footie pajamas, turned on the TV and the first thing I heard was: "MANCHESTER CITY HAS SCORED FROM THE KICKOFF!"

Almost nothing cures a hangover quicker than Tottenham in an early 1-0 hole and an ice-cold breakfast Stella. The only thing better, as I was to discover, is watching Spurs lose by a tennis score. So abject was their capitulation that I felt an unfamiliar sensation coming on when Jesus Navas scored the sixth goal with seconds to spare. But I was able to repress any sympathy and instead danced a gentle jig while playing "Blue Moon" on the kazoo.

Never mind that the really scary part of the result is how devastating City was despite missing two of their most influential players, Vincent Kompany and David Silva. The Sky Blues have now scored 26 times in six games at the Etihad and have surely petitioned the league to have all their future fixtures moved to their home ground.

I mean, one of the constant complaints you hear about the Premier League is the paucity of goals scored, so Man City plundering a half-dozen against Spurs -- just one less than they put past Norwich City! -- is good for the league, right? Well, it's certainly good for Arsenal, who is eight points ahead of their North London neighbors. All you need to know about the level of desperation to which Tottenham has sunk is that Andre Villas-Boas was forced to play Emmanuel Adebayor for the first time this season. No wonder that Sandro could be seen throwing up on the field.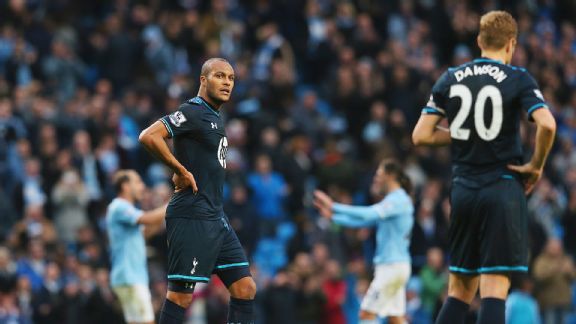 Alex Livesey/Getty ImagesMaking things even sweeter for Gunners fans: Tottenham's complete annihilation at Man City on Sunday.

And while Spurs' sweeper keeper Hugo Lloris was unquestionably responsible for Goal the First versus City, the weekend honors for goalkeeping slapstick had been secured about 21 hours earlier.

I'm not sure what I did to deserve all this largesse from the soccer gods, but I'm not about to look a gift keeper in the mouth. After all, if Artur Boruc wants to suddenly practice "The Hokey Pokey" 22 minutes into Southampton's game at Arsenal, who am I to criticize him?

Besides, Boruc has always fancied himself as more than just a player who makes his living with his hands. Check out this acrobatic scissor kick from the Polish No. 1 in training as he prepared for a World Cup qualifier with Ukraine last month.

That is the kind of improvisational brilliance that blesses a player who is in the form of his life, as Boruc was earlier in the season when he kept five clean sheets in his first seven league games for Southampton. Oh sure, there was a bit of a hiccup a few weeks ago when he allowed a long kick from a fellow keeper, Stoke's Asmir Begovic, to bounce over his head and into the goal a mere 12 seconds into the match. But he smoothly blamed that aberration on climate change. "I blame the wind for that," Boruc said. I also blamed the wind -- and several shots of Slivovitz.

But there was no stiff breeze or plum brandy on Saturday when Boruc received a harmless back-pass, looked up and became transfixed by the man whom the UK's Glamour magazine named one of the Hottest Footballers of All Time. Perhaps he was mesmerized by Olivier Giroud's dreamy looks, or maybe Boruc had never seen such an immaculately coiffed, high-top fade, but either way he dawdled. Three times, Boruc had the opportunity to just hoof the ball upfield or into touch but instead he tried to dribble it past Arsenal's latest French god, even throwing in a Zidane-esque pirouette for good measure.

That last move must have offended His Hotness because he simply nicked the ball off the Pole's foot and tapped it into the empty net to give the Gunners a 1-0 lead. As his defenders looked away in disgust, Boruc unleashed a tirade to no one in particular. Reading his lips, though, I'm pretty sure he said "Happy Birthday, Hirshey!"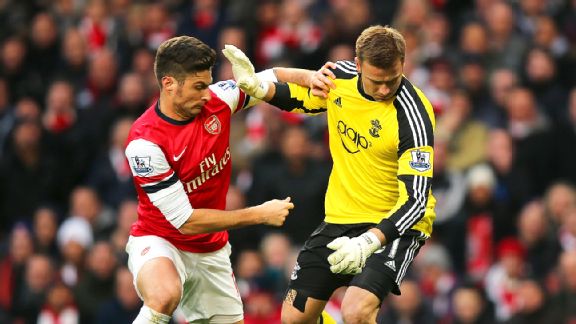 Clive Rose/Getty ImagesArtur Boruc's generosity capped a fine weekend for Arsenal.

As much as a brain spasm as it was from Boruc, it was also was a piece of wonderful opportunism from Giroud, who had endured quite a week. The Arsenal striker could be forgiven if he was un peu fatigué from the international break. He had played in France's emotional 3-0 win over Ukraine on Tuesday that saw Les Bleus overcome a 2-0 first-leg deficit to qualify for the World Cup and trigger a night of wild revelry throughout the country. Yet none of the celebrations were more delirious than the one Giroud orchestrated at the Stade de France.

Naked to the waist, the 27-year-old led his teammates on a raucous parade through the press area, spraying champagne at French journalists who didn't believe that the tricolors were up to the task. I must admit that when I watched the video of that celebration, I was a little disoriented. It's been so long since I saw an Arsenal player pop a cork after a victory that I had to lie down and make sure I wasn't having some psychedelic 2003-04 Invincibles flashback.

As happy as I was for Giroud and his fellow French Gunners, Bacary Sagna and Laurent Koscielny, I worried they would party like it was 1998 (when France won the World Cup final in Paris) and forget that they had another important game to play just four days later at the Emirates, one that would be yet another benchmark for Arsenal in their quest to end an eight-year drought of bubbly and baubles.

Arsenal, of course, were coming off a disappointing loss at Old Trafford that sliced their lead at the summit to just two points over Liverpool. More troubling, they were a mere three points clear of Southampton, this season's surprise gate-crasher who went into Saturday's game at the Emirates with the chance to go top of the league. And with a newly minted trio of English internationals -- Rickie Lambert, Adam Lallana and Jay Rodriguez -- the Saints had already beaten Liverpool at Anfield, drawn with United away and compiled the stingiest goals-against record in the league.

For all the swashbuckling soccer that Arsenal had played this season, the Gunners always knew that Southampton would be a tricky fixture because the Saints embody two of the attributes that can give Arsene Wenger's men all sorts of bother -- a well-organized, high line of defense and players pressing all over the field. In order to break Southampton down, Arsenal needed Giroud to be at his clinical best -- not to mention sober.

Plus, the Frenchman was long overdue. He hadn't scored in the league since he struck against relegation-bound Crystal Palace a month ago, and every time he gets so much as breathed on during a game, Arsenal fans have a nasty attack of the Nicklas Bendtners. To hear the collective gasp from the Arsenal mob at the Football Factory on Saturday, you would have thought the beer taps had run dry when really all that had happened was that Giroud was on the business end of a Southampton tackle and went down in a heap.

"I came all the way from Chicago to watch the game here," said Brent, a hard-core Gooner who along with his wife covered their eyes as the Sexy French Striker (SFS) lay on the ground. "I can't bear the thought of Giroud being injured and the Danish ninja coming on in his place." Brent finally exhaled when Giroud slowly got up and hobbled back onto the field. "That calls for a pint," he said, quickly getting into the any-excuse-to-order-a-beer mood that prevails at the FF.

While it was hardly a vintage Arsenal performance, there were moments to savor -- and to justify ordering another pint. Both Jack Wilshere and Aaron Ramsey hit the woodwork with the kind of audacious shots borne of supreme confidence -- the former's dink over Boruc that caromed back into the keeper's grateful hands and the latter's Zlatan-worthy, back-heeled flick that shaved the outside of the right post.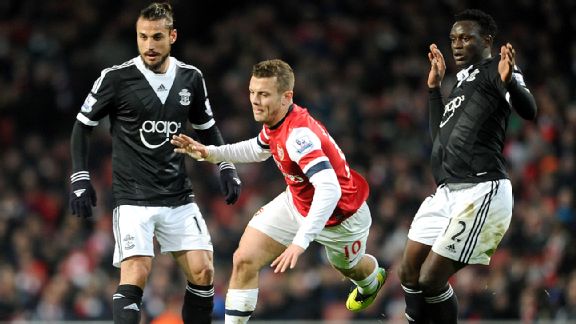 David Price/Getty ImagesArsenal survived yet another stern Prem test to give Gunners fans even more hope of a successful season.

There was also the reassuring sight of Wojciech Szczesny making two world-class saves from Lallana and Rodriguez as Southampton refused to go gently into the good night. Their resistance held until the 86th minute, when Arsenal were fortunate to get a Charmin-soft penalty as Saints defender Jose Fonte grabbed a fistful of Per Mertesacker's jersey in the area on a Gunners corner and referee Mark Clattenburg whistled for the foul.

Up stepped Giroud to smash the ball past Boruc and cement the three points, while at the same time helping the rest of us overcome the crushing disappointment of seeing how French weather woman Doria Tillier cheekily paid off a lost bet. The former model and actress had vowed to do her forecast naked if Les Bleus came back from that two-goal deficit to Ukraine and qualified for the World Cup. Technically, she delivered on that promise, but she had herself filmed from such a great distance that you could barely make her out as she gamboled in her birthday suit in the village of Poil -- which I'm pretty sure means "squint."

And that's what Arsenal are doing as the Gunners look in the rearview mirror and try to make out the battered shell of Spurs receding in the distance.