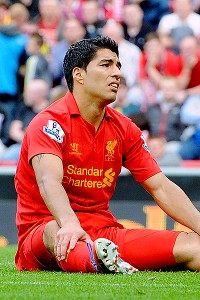 GettyImages / John Powell/Liverpool FC/Getty ImagesWith its lost to Arsenal, Liverpool has gotten off to its worst start since the 1962-63 season.

It was May 15, 2011, when I last saw Irish Dave. He was dancing, deliriously, atop the Kinsale Tavern bar after his beloved Manchester United had just drawn 1-1 with Blackburn to clinch the league title for a record 19th time. Giddily anticipating United's coronation, Irish Dave had stayed up all night, closing pubs around the city, and it was a testament to his fortitude that not only was he still vertical when the final whistle blew, but he was able to clamber up on the bar and perform his victory dance.

Just before the start of last season, Irish Dave did something cruel -- he moved to Boston, thereby denying the rest of us Kinsale degenerates the opportunity to show him our Coyote Ugly bartop moves when Man City beat United to the trophy on the final day of the campaign.

So when Irish Dave came sauntering through the swinging pub doors on Sunday, I immediately sensed that my weekend was about to go further south.

And what a weekend it had been, starting with the news that the Clint Dempsey transfer fandango had concluded with the worst possible ending for anybody who believes in the existence of a divine being. I mean, how could you, Clint? I know Liverpool didn't have the stones to close the deal after stringing you along for two months, and I can understand why you turned down Villa and the chance to shop for rap CDs in beautiful downtown Birmingham. But Spurs? Why not sign for Maggots FC, or even a French side?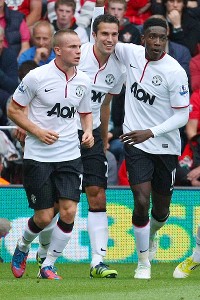 GettyImages / John Peters/Man Utd/Getty ImagesOne-man team: United's Tom Cleverley and Danny Welbeck congratulate their savoir, RvP.

This brings me to a deeply uncomfortable conundrum: Do I continue to root for my favorite American player, knowing that if he does well, it means less misery for Spurs fans who deserve unceasing pain at the Lane? Or do I maintain my record of hating all things Spurs and turn my back on the King of Stubble?

Mercifully, I didn't have to make this life-altering decision on Saturday as Dempsey was acquired too late to make his debut for the devil's spawn. But sitting in the home stands and hearing Spurs whistled off the field after their insipid 1-1 draw with Norwich must have made Deuce long for Anfield, where they only have two so-called strikers and one of them is already getting booed.

Poor Brendan Rodgers. First, Liverpool's penurious American owners assure him that it's OK to let the most expensive player in club history, Andy Carroll, take his aerial knockdown act to West Ham on loan because the Big Ponytail didn't fit into the team's tiki-taka future. Then they let Dempsey, the object of Rodgers' come-hither affections, trundle off to the dark side of North London, where he now has to sport a ridiculous rooster on his lilywhites. The only plausible explanation for Liverpool's pathetic transfer business is that Fenway Sports Group must still be feeling the effects of its "we offloaded how much of our crap to the Dodgers?" binge. What other excuse could there be for low-balling Fulham with a bid of $6.5 million for Deuce, who had scored 23 goals in all competitions last season? That's 21 more than what Jordan Henderson has scored, a player for whom Liverpool splashed out a cool $32.5 million in 2011.

All of which combined to leave Rodgers red-faced and gazing forlornly at what remains of his strike force, a tandem that consists of one Uruguayan drama queen, Luis Suarez -- whose favorite position seems to be laying prone on the ground moaning about some perceived injustice -- and a short, stocky Italian, Fabio Borini, who seems more comfortable on the wing, which is where Rodgers plays him.

At least the tempestuous Suarez has managed a goal, a sublime free kick against Man City and one of only two Reds tallies on the season. Borini has yet to bother the scoreboard operators and lasted only 54 minutes against Arsenal on Sunday. Did Liverpool's shrewd talent evaluators somehow forget the Alberto Aquilani nightmare experiment? There must be a good reason why there's no gourmet Italian restaurants on Merseyside.

With Dempsey keeping his London postal code, Rodgers has been reduced to the twin horrors of exploring a Michael Owen pickup (maybe Lil' Mikey can replicate his 28-goal season for the Reds in, um, 2002!) or even more desperately, continuing to find a place for Steven Gerrard in his starting XI. Pairing Stevie G with an attack that relies on quick passing, ball possession and tactical positioning is working about as well as hoping that Stewart Downing connects with a red shirt on his crosses (although to be fair to Downing, is looking a lot more lively in Rodgers' new system).

Somebody should alert the Liverpool manager that Robbie Fowler hasn't yet officially retired, either, and if his race horses have been losing, you could probably get him on the cheap.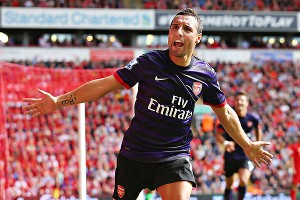 GettyImages / Alex Livesey/Getty ImagesDo you believe in Santi Cazorla? Arsenal fans do, given how he's helped add a much-needed creative spark to the side.

The whole dire start to Liverpool's season serves as a fair counterpoint to those of us who have been screaming at Arsene Wenger to get off his fat wallet. While the Merseysiders have bought, sold and bought again, Wenger has quietly assembled a side that has learned that the key to winning is to keep the other team from scoring. Hey, three clean sheets in three games, and Tony Adams isn't even in the lineup.

It's too early to tell whether RvP's purchased replacement, Olivier Giroud, is simply Marouane Chamakh wearing a wig (come to think of it, I've never seen the two of them in the same TV shot), but Wenger's other buys are fitting in quite nicely.

Santi Cazorla continues to dazzle as the midfield linchpin, his calmness on the ball and fluency of his passing a joy to behold. Combined with the ball-winning prowess and long-legged Patrick Vieira-like runs of Abou Diaby, the Gunners are now able to break with pace and precision. Let's hope I'm not regretting that sentence and cursing the injury-prone Diaby soon (like I have pretty much every other season).

The other new import, Lukas Podolski, intercepted a wayward Stevie G give-and-go before tearing off on a lung-busting 40-yard run that culminated with the German lashing Cazorla's clever return pass past Pepe Reina into the far corner. It was Podolski's first goal for Arsenal, and more importantly, ended the Gunners' bid for immortality at 211 scoreless minutes.

Later, thanks to the comedic stylings of Reina in goal, Arsenal only had to wait another 37 minutes before scoring a second. Cazorla fired a low, hard shot toward the near post that Reina couldn't hold, the ball slithering out of his grasp and nestling in the back of the net.

That sealed Liverpool's worst start in 50 years and gave Arsenal fans the false hope that if they can maintain this swashbuckling level, trophies will surely follow.

"We're on course for the quadruple," I said to the Kinsale bartender Shirley, after she slid a victory pint in front of me. And then, just as I lifted the glass to my lips, I spied Irish Dave and I could just tell that whatever spasm of joy I was experiencing was destined to drain away like the Stella in front of me.

"Thanks for van Persie," Irish Dave said, radiating that air of smug satisfaction that makes United fans so endearing. "I fully expect him to score a hat trick today."

Lord, I do hate Irish Dave.