Gunners look strong despite tough spell ahead
At the risk of jinxing myself and being forced to inhale my mustache come May, let me just say that these are heady days for Arsenal fans.

After the Gunners' 4-1 vivisection of 30 million pounds-wasted-on-summer-transfer-fees Norwich, a clearly besotted Chelsea supporter sidled up to me at the Football Factory and asked whether he could buy me a pint. Now, if there's one thing I never trust, it's a seemingly pleasant guy wearing a John Terry jersey. After all, Terry himself must have acted friendly to Wayne Bridge at first too, right?

So I told the guy that while I rarely drink alone, I prefer it to drinking with plastic fans who scurry about in the shadows of an evil Russian oligarch. Then I bet him $100 that Arsenal would finish ahead of the Blues in the table. Did I mention that I had already enjoyed a few pints of Stella-flavored courage?

Let's face it -- this jinxing business can be tough on the nerves. Usually I prefer to assume the worst until fate, Arsene Wenger or Howard Webb prove me wrong. And for eight long, sad, Birmingham City-tainted and trophy-less years, this state of affairs has proved to be depressingly correct.

But this season there's something in the North London air, and it's not the usual "mind the gap" stench wafting from White Hart Lane ...

Even more surreal is what happened next. Standing in line for the men's room, I found myself behind a gaggle of mid-table United fans, still in shock from dropping two home points against Southampton in what used to be called Fergie Time. Suddenly the sea of red jerseys parted and, in a loud, booming voice, the guy in front of me said, "Go ahead, mate. You're top of the league."

Was this some tacit acknowledgment that a Gooner's needs now come before those of the fallen champions -- or were they simply having a laugh at my expense because they saw me hopping from foot to foot as my bladder threatened to burst? Either way, I gratefully accepted their magnanimous gesture.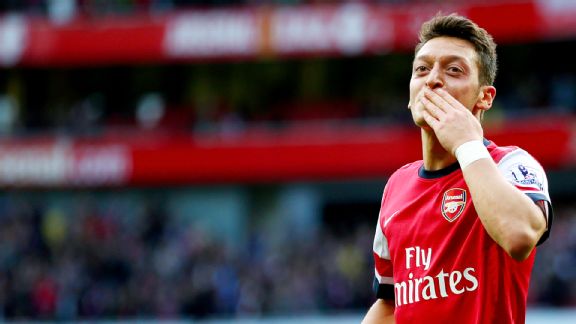 Paul Gilham/Getty ImagesIt's hard to deny how Mesut Ozil has transformed Arsenal. But the toughest games are yet to come.

Wait, there's more. Still basking in the glow of this mystical deference towards Arsenal, I floated out of the bar -- in truth, my feet haven't touched the ground for the past four league-leading weeks -- and headed uptown in a taxi. The driver took one look at my maroon Gunners bomber jacket and said, "What an amazing goal by Ramsey!" He explained that he was originally from Ghana, supported Arsenal because of Emmanuel Frimpong and had heard breathless reports of Ramsey's goal on BBC Radio. I told my new Ghanaian best friend that from now on he was to refer to Arsenal's next savior as Aaron Rams-messi, but that the Welshman's sick corkscrew dribble in the box that left three Norwich defenders flat on their derrieres wasn't even our best goal of the game.

"I'm so happy right now," said the cabdriver, who was even giddier after I gave him a tip commensurate with a fare to central Ohio. Now you could argue that there's nothing stupider than communing with a man whose Arsenal hero is a player whose primary contribution to the team's success is making a line of clothing with someone named Lethal Bizzle, but I believe that my Gunners and I are bulletproof this time around.

Killjoys will claim that Arsenal has yet to beat any team of consequence in the league -- did they forget our 1-0 win over Spurs? Perhaps -- and that the true test of Arsenal's mettle will come over the next 22 days, a time frame featuring seven games against formidable opposition. It all starts Tuesday with Borussia Dortmund in the Champions League, followed by Chelsea in the Capital One Cup and then Liverpool and Man United in the league.

Sure, a couple of bad results would see the Emirates' feel-good factor vaporizing like a plume of cigarette smoke over Jack Wilshere's head. But judging by Saturday's joyful, mesmeric display, Arsenal's normally glass-completely-empty faithful can be forgiven for thinking that it's the Prussians, Blues, Reds and Mancs who should be afraid. Very afraid. I mean, when even the world's greatest Danish ninja warrior, Nicklas Bendtner -- he of the ridiculous topknot and scruffy Red Sox beard -- is starting to look like a legitimate threat to someone other than his fellow drivers, you know the soccer gods are smiling down upon your team. Can a Frimpong hat trick be far behind? That's three goals, not a yellow, yellow and red card.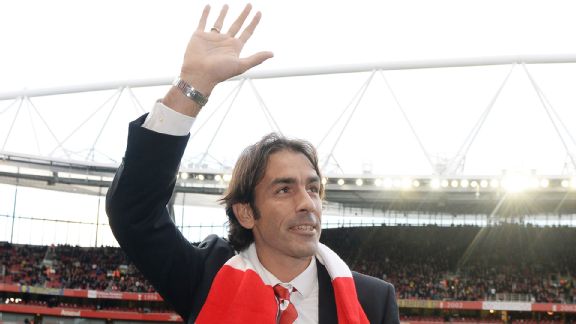 David Price/Arsenal FC/Getty ImagesHow fitting it was that Arsenal looked truly unstoppable on a day when Robert Pires, a key figure in the Gunners' last invincible run, was in attendance.

Despite its rollicking start to the season, Arsenal has been bedeviled by injuries to several key attacking options -- Lukas Podolski, Theo Walcott, Alex Oxlade-Chamberlain and Santi Cazorla have all been struck -- and the bad news for Gunners opponents is that save for Walcott, they appear to be mending just in time for the upcoming crucible of big games.

Cazorla, the practically forgotten midfield maestro who was the team's best player in 2012 B.O. (Before Ozil), returned on Saturday from a month layoff to put in an impressive 60-minute stint alongside the man who usurped his role as Arsenal's creative heart. Ironically, it was the Spaniard and not the German who was in the middle of Arsenal's dazzling sequence of six one-touch passes that resulted in the Gunners' first golazo, as memorable an homage to teamwork as anything we've seen since the wizardry conjured up by Les Invincibles.

How fitting was it that Robert Pires -- who, along with Thierry Henry, Dennis Bergkamp and Patrick Vieira formed the attacking spine of that storied unbeaten side -- should be in the stands to witness the latest sleight-of-foot magic unfolding in the 18th minute. (Although I'm pretty sure that Cazorla waxes his eyebrows, which none of the Invincibles would have considered.) It began harmlessly enough with Wilshere picking up the ball deep in the Arsenal half and passing to Cazorla on the left flank. Cazorla galloped to the top of the box before laying it off to the on-rushing Wilshere who fed Olivier Giroud and kept on running. Two lightning-quick flicks from the Frenchman, sandwiched around a fortuitous back-heel from the England player, and Wilshere was clean through the Norwich defense, which seemed hypnotized by the interplay.

Wilshere, who never broke stride, volleyed the ball past the Canaries' outstanding keeper, John Ruddy, and straight into Arsenal folklore.

Astonishingly, for all the technical quality and speed of thought involved in the move, neither of Arsenal's two most accomplished players had a foot in it. Perhaps a tad weary from having played in Germany's World Cup qualifiers during the international break, Mesut Ozil started slowly, causing the flummoxed commentator at one point to yelp "OUT OF BOUNDS OFF OZIL!" Ramsey, meanwhile, was relegated to the bench to make room for Cazorla in midfield.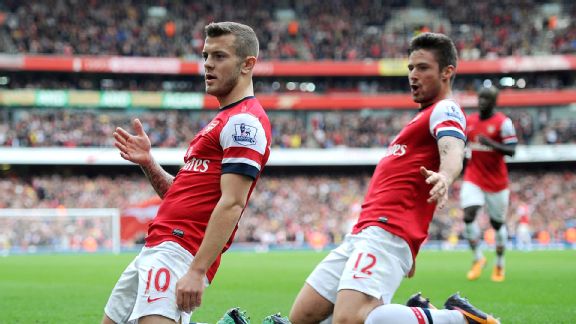 Stuart MacFarlane/Getty ImagesThe players arguably most inspired by Ozil's brilliance? Try Jack Wilshere and Olivier Giroud.

Both would join in the fun soon enough. When the spiky and influential Mathieu Flamini was forced off with a concussion late in the first half, Ramsey slotted into the holding midfielder role. But anyone who has watched Arsenal this season knows that the only holding the Welshman does is after the game when he clutches the bottle of champagne awarded to the man of the match. Ramsey has been an attacking beast for Arsenal, leading the team in scoring with seven goals, none more spectacular than the one he invoked in the 83rd minute. I don't think I've seen so many bodies lying forlornly on the turf since Diego Maradona slalomed through the England defense in 1986. Granted, Maradona's was a 60-yard open-field run compared to Ramsey's mini-masterpiece in the Norwich box that saw him Cruyff-turning and Zidane-pirouetting before calmly beating Ruddy to his far post.

It is tempting to suggest that the presence of Ozil on the field has been the spark to light Ramsey's recent performances. Tempting but not precisely true. The Welshman had rediscovered his swagger long before the former Real Madrid player arrived at the Emirates, and his confidence has been soaring with every goal.

On the other hand, you could make the case that Ozil has lifted the games of almost every other Arsenal player, most notably Giroud (who had two assists against Norwich) and Wilshere who, in addition to scoring the goal of his career has been playing with more control and less whining.

But the German, as he showed again Saturday, is far more than the sublime playmaker who has made more goals than any other individual in Europe over the past five years. Give him the slightest opening to score himself and he is a ruthless finisher. His two strikes on Saturday -- the first a rare header off a delicious Giroud cross -- brought his total to three goals and three assists in seven games for Arsenal.

When Ozil side-footed home the fourth against Norwich, the delirious Gunner contingent at the Football Factory chorused "Umlauts for everyone!"

I'm buying.