Just like (really) old times for Arsenal, Liverpool
As the boys in Spinal Tap once wisely observed, there is a fine line between stupid and clever. When Arsenal bid $60 million to bring that lovable scamp Luis Suarez to the Emirates over the summer, I worried that Arsene Wenger had finally descended into total stupidity.

But much like the massive difference between 10 and 11 on a speaker amp, Wenger's subtle gambits take a keen eye to appreciate. If I had one, I might have picked up on the intent of his audacious poker play. He was never really interested in Suarez as anything more than a bluff, a Machiavellian masterstroke to throw Real Madrid off the Uruguayan's scent and to drive the price to such a preposterous level as to force the Spanish giants to channel all their energy -- and money -- into procuring Spurs' best player, Gareth Bale.

As the Welshman's price tag soared to the heavens like Gervinho's hairline, Madrid found itself looking for someone to help defray the cost.

Willkommen, Mesut Ozil, and a tip of the Texas Hold 'em Stetson to Arsene the Genius.

Seven weeks into the Premier League season, Wenger and Brendan Rodgers would be forgiven for thinking they had pulled off a piece of transfer legerdemain for the ages. The Ozil-choreographed Gunners and the Suarez-led Reds sit atop the table while Tottenham find themselves in their evolutionary, natural, sixth-place position, scrambling for another exciting Europa League campaign after being pummeled 3-0 by mighty West Ham at White Hart Lane.

- Mangan: Give Wilshere time
- Cross: Point gained rather than two lost
- Usher: Suarez, Sturridge the best around

Best of all, due to next weekend's international break, the standings stay just as they are for two glorious weeks. Which means I'll be swanning around town in my new retro satin Arsenal jacket and cackling "top of the league" to clueless passers-by. Ask me if I care if they wonder why a grown man would rock 1983 Rush concert-style clothing in 2013? Hey, when you haven't won anything for nearly a decade, you can be forgiven for celebrating seven months early.

But the Gunners' Prem drought is nothing compared with the epic, title-winning famine that Liverpool has endured. The only time the Reds have even come close to hoisting the EPL trophy was in 2009 when they battled their bitter rivals Manchester United to the last day of the season, only for Federico Macheda, a 17-year-old Italian, to rescue the title for United on a wonder strike against Aston Villa. Macheda is believed to have immediately entered the Witness Protection Program and hasn't been seen since.

So while it's barely October, Liverpool supporters can be excused for not only dreaming of ascending to their old perch -- they did win 18 First Division titles in the Paleolithic era of English soccer -- but reveling in United's stuttering start to the season even if their chief tormentor, Sir Alex Ferguson, is no longer around to suffer the ignominy of the defending champion trailing Hull in the table.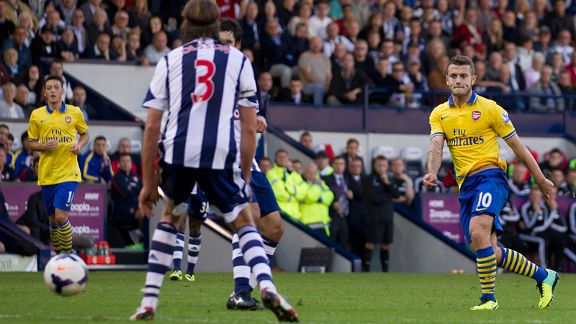 APArsenal's Jack Wilshere scores against West Bromwich Albion.

It's one thing for Fergie to ignore the dramatic reversal in the early-season fortunes of Liverpool and United while seeking to burnish his elder statesmen image -- in truth, he sounded like just another policy wonk during a recent appearance on the "Charlie Rose" show -- but I was shocked to see how few United fans manned up Saturday for the Sunderland game at my soccer pub, the Football Factory. Normally a stronghold for hundreds of United supporters to lord it over the rest of the league with their nonstop singing, there were only a few guys in red jerseys scattered about, and none of them were chanting "We're Manchester United. We do what we want." I guess that's because under David Moyes, they don't anymore.

United did rocket up to ninth place by desperately holding on for a 2-1 victory over last-place Sunderland, courtesy of two brilliant strikes (and one shameless, Ashley Young-ian dive) from their 18-year-old Belgian/Albanian wunderkind Adnan Januzaj. Before United builds a statue for him at Old Trafford, however, I'd like to offer up those two words of caution again: Federico Macheda.

The raucous Liverpool contingent at the bar, still pinching themselves after going top of the table for 24 hours (until Arsenal played on Sunday) with a 3-1 demolition of Crystal Palace, uncharacteristically stuck around for the United-Sunderland game and congratulated their United counterparts on their victory by chanting "You're in the top half of the table."

Liverpool supporters had many reasons to be giddy, not least the return of their prodigal striker, Luis Suarez, to his old biting ground after a 10-match ban for sinking his teeth into Branislav Ivanovic's arm. At both Anfield and the Football Factory, the Uruguayan was greeted warmly by the same fans he couldn't wait to escape this summer. And he didn't take long before repaying their "masticatory" faith in him with a wonderfully flat-on-his-back opportunistic goal in the 13th minute.

For Suarez to be such a lively, menacing presence in only his first home game back since April has to have sent shivers up the collective spines of Premier League defenders. And it was particularly terrifying to see the effortless, almost telepathic way he linked up with his strike partner, Daniel Sturridge, who had shouldered Liverpool's attack in Suarez's absence. The former Chelsea man scored his eighth goal in seven games with a clinical finish that essentially put the game to bed after 17 minutes. Even Steven Gerrard got in on the first-half fun by scoring from the penalty spot, but the Liverpool skipper personified his team's flagging intensity by strolling through the final 30 minutes as if he were the Scouse David Beckham.

Liverpool's underwhelming performance in the second half -- in addition to reverting to cruise control, they allowed a late set-piece goal -- will no doubt cause Rodgers to reprise his cringe-worthy three-envelope routine at training this week, but it did little to detract from the Scouser euphoria at the Football Factory.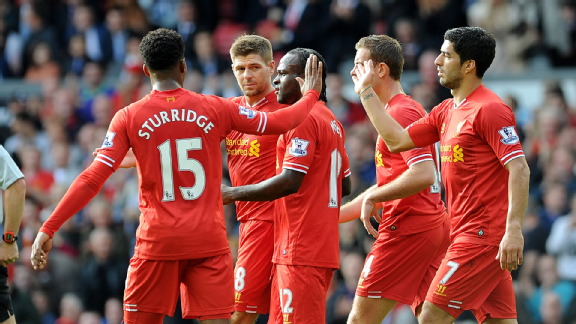 John Powell/Liverpool FC/Getty ImagesLiverpool fans have much to cheer as Suarez, Sturridge & Co. have the Reds sharing space at the top of the Prem.

"Who would have ever thought back in August that Liverpool and Arsenal would be fighting it out for the top spot in October?" chortled FF bartender Mickey while pouring pints on the house for both sets of supporters. "It's just like the good old days."

And by the good old days, he meant 1989. I don't think there's an Arsenal fan alive older than 30 who will forget how that season ended, with the Gunners needing to beat Liverpool by two goals in the final match at Anfield to claim the title. And to take nothing away from Sergio Aguero's exhilarating last-gasp winner against QPR, the one that ripped the 2011 league trophy out of United's hands and deposited it on the blue side of Manchester, I still maintain that it pales next to Michael Thomas' surging run from midfield that ended with him beating Liverpool keeper Bruce Grobbelaar with 25 seconds to go in injury time.

Of course, we're a long way from a similar denouement to the current season, but it bodes well for Arsenal that in a game they would have undoubtedly lost in past years, they rescued a point Sunday to remain in first place, albeit on the basis of more goals scored than Liverpool.

With their life-affirming win over United at Old Trafford last week, West Brom served notice that they weren't going to be cowed by playing the league leaders at the Hawthorns, despite the fact that the Gunners were looking for their eighth consecutive away win.

And to further complicate things, the league leaders -- sorry, I just like the sound of those three words -- had come through a week of distractions from those smokin' pictures of Jack Wilshere and the release of a French charity calendar that features Olivier Giroud in nothing but his tattoos. Neither Wilshere or Giroud had a particularly good game for Arsenal, but as much as the British tabloids would like you to believe otherwise, neither performance was related to the effects of butts.

It's true that Wilshere appeared out of sorts in the first half, hurling himself into anything that moved and spending more time on the floor than Senator Ted Cruz. But to be fair, he is still feeling the effects of a 17-month injury layoff, and it didn't help that Wenger chose to play him out of position on the flanks. It is a situation reminiscent of when Aaron Ramsey struggled to regain his fitness last year, only to rediscover his mojo late in the season and morph into Arsenal's most valuable player so far in the current campaign. But even Ramsey -- and dare I say, the Almighty Ozil -- found little joy in the first half against a West Brom team still oozing confidence from their first away win against United in 34 years.

When Claudio Yacob powered a header past Arsenal keeper Wojciech Szczesny in the 42nd minute, it marked the only time this season that an opponent had scored first against the North London club. After 10 wins in a row, the famously brittle Gunners faced a gut check that could speak volumes about the rest of their season.

Perhaps Wilshere sneaked a smoke in the bathroom during intermission, because he came out for the second half with the old swagger in his step. No longer was he flinging himself about with reckless abandon and snarling at the referee when a call went against him. Once again he became England's Great Young Hope, a galvanizing force in midfield who ignited the Gunners attack.

The breakthrough came in the 62nd minute when Giroud, who had a frustrating afternoon against the physical Baggies defense, laid the ball off to substitute Tomas Rosicky, who had come on for a hobbling Ramsey. The quicksilver Czech touched the ball to a surging Wilshire at the top of the box and his fierce right-foot drive took a slight deflection before bulging the Baggies net.

Arsenal had enough chances to win the game in the final 30 minutes -- Giroud will lament his two gilt-edged opportunities -- but Gunners fans have never been a greedy bunch, although we do love ourselves some Spurs misery. And despite taking only a point against West Brom, the result at White Hart Lane made it feel like three.

Top of the League, baby, top of the league.