Let's give United a second chance


Stop the season -- United manager David Moyes wants a do-over. Think of all the pain and suffering this magnanimous idea would save. Plus, it would give Wayne Rooney's head wound time to heal so that he doesn't have to look so miserable wearing a fanny pack that is constantly slipping from his prodigious dome, much like United's Premier League crown.

I realize that cynics will see my brilliantly radical suggestion as merely self-serving, given that halting matters after five games would finally hand Arsenal a richly deserved league title and its first silverware since Mesut Ozil was making silky passes at his senior prom.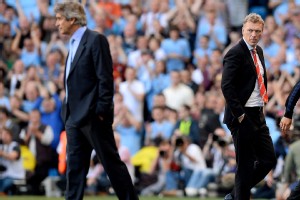 Andrew Yates/AFP/Getty ImagesDavid Moyes (right) is no Sir Alex Ferguson, but against Manuel Pellegrini's City he encountered a side which came together at the right time.
But the skeptics are wrong. My proposal is a bold act of kindness in service to any and all remaining United fans who would certainly find it less odious for the perennial fourth-place-is-a-trophy Gooners to make off with the top spot than, say, Manchester City. Or God forbid, Liverpool.

Ask any Red his thoughts after Sunday's debacle, and he'd lift his head from his quiche-stained hands to give you his best Moyes death stare. At least that, more or less, is what owner Jack Keane said to me at the Football Factory, my spiritual soccer home in NYC, after his beloved United had been disemboweled by Man City in the first Manchester derby for Moyes and his managerial counterpart, Manuel Pellegrini.

"Let's face it, United were never going to win the league this year," said the FF's proprietor who, to my knowledge, had never even thought to blurt out those words during the last 26 seasons. "You can't lose the greatest manager in the history of football and expect things to stay the same. Was there a second Elvis? A second Beatles?" Well, unless you count ABBA, I guess the answer is "no."

While there is another dour Scot in charge of United, that's where the comparisons begin and end between Sir Alex and The Anointed Yet Disappointed One. For one thing, Moyes looks a lot more like Willie, the red-headed Scottish groundskeeper in "The Simpsons," than Sir Alex does, even though they're equally angry. More important, he appears to possess none of his predecessor's genius for disguising the cracks in United's championship edifice. The Old Evertonian basically inherited a squad that ran away and lapped the league last year in what proved to be Fergie's final season berating referees and pointing at his watch from the Old Trafford sidelines.

What was remarkable about that team was not its vast reservoir of talent but rather its nonpareil will to win. How many times last season did United climb off the canvas in a late round, bloody and battered, to overtake their opponent with a fierce combination of mental fortitude and Robin van Persie?

Unfortunately for United, on Sunday at the Etihad, neither was on display and City took merciless advantage. So thoroughly did the Sky Blues outplay, outhustle and outmuscle Moyes' men that even referee (and perennial 12th man) Howard Webb was unable to help United avoid abject humiliation at the feet of their despised crosstown neighbors. Only City's generosity of spirit saw them essentially stop playing after 50 minutes, at which point they were already up 4-0. But in many ways, the 4-1 result, thanks to Rooney pulling a goal back with a sumptuous free kick, was more worrisome for United fans than the 6-1 annihilation of two years ago at Old Trafford. At least back then they knew that the man who presided over their squad would ultimately find a way out of the morass and restore them to their rightful perch. With Moyes, there are no such guarantees.

I'm becoming more and more convinced that when envious opponents refer to United as a one-man team, they don't mean van Persie but Sir Alex.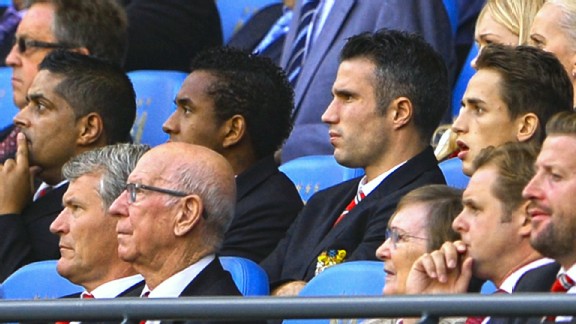 Michael Regan/Getty ImagesRobin van Persie's pregame injury didn't help matters Sunday, but does United miss Sir Alex Ferguson more?
That said, it didn't help matters that RvP injured himself during warm-ups and missed his first Premier League match since the 2010-11 season when he played for a certain North London club and I had a massive man crush on him. Now, of course, I wish him only the worst and my heart soared as the TV cameras panned to him in the stands looking despondent. Not that having the sharp-shooting Dutchmen on the field would have been enough to hold back the blue tsunami.

Which, I have to admit, I never saw coming, considering the stuttering start to the campaign that City had endured so far. I mean, this was basically the same team that lost 3-2 to mighty Cardiff City and struggled to hold Stoke City to a 0-0 tie. But then I should have known that it was only a matter of time until the Roberto Mancini-constructed squad that Pellegrini had so methodically overhauled and rebuilt in his own counterattacking image would explode into life.

You can't expect so many skilled players like Alvaro Negredo, Jesus Navas and Fernandinho to settle in to a new team, let alone a new league, without going through a bit of a teething process. Now if only Spurs would also understand this basic maxim.

It was United's and Moyes' misfortune to encounter City on a day when all the fresh, exciting talent meshed effortlessly with the veteran core to both attack and defend as one frighteningly fluid team. Ironically, if you had to single out individuals, they came from the old guard. Vincent Kompany, Yaya Toure, Sergio Aguero, and -- kill me, now -- former Gunner Samir Nasri were all immense for City, who dominated from the opening whistle.

No one who has watched Moyes' impeccably organized and overachieving Everton teams for the past 11 years expected United under him to morph into the reincarnation of Brazil's 1970 World Cup champions. Still, there are basic requirements for a United manager, and one of them is to pick the right players. Which begs the question: What exactly does Moyes see in Ashley Young other than a shameless talent for flopping in the box, the kind of craven behavior that goes against Moyes' it's-a-man's-game ethos? Or in Antonio Valencia, who hasn't delivered a decent cross since Ryan Giggs had more hair on his head than on his back? Or even, for that matter, in Danny Welbeck, who has the first touch of a cement mixer? It is no coincidence that he is currently the attacking spearhead of England's national team.

Did I miss something or have Shinji Kagawa, Nani and Chicharito joined the likes of Chelsea's Juan Mata and David Luiz in that special level of purgatory reserved for those twinkle-toed artistes who don't fit the mold of players their managers are comfortable with?

Also, what's up with Marouane Fellaini, for whom Moyes paid 27 million to his old club Everton in the hope of infusing a little steel into United's soft midfield? He still has the same towering nest of hair and icepick elbows that made him such a daunting aerial threat at Everton, but he looked positively Lilliputian up against the imposing presence of Toure who, along with Fernandinho, overran Fellaini and Michael Carrick in the middle of the park. Time and again, the United pair were either muscled off the ball or caught woefully out of position, most notably on City's third goal that saw Aguero ghost past Fellaini as if he were a traffic cone, and surge into the six-yard box to tap in Negredo's cross.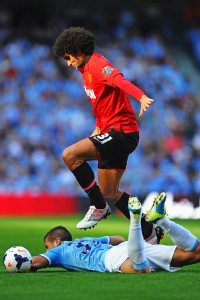 Laurence Griffiths/Getty ImagesMarouane Fellaini, United's expensive acquisition, looked fragile in midfield against an imposing Man City attack.
It was the quicksilver Aguero who had ignited the rout in the 16th minute with a sick piece of improvisation. When Aleksandar Kolarov's cross was hit fractionally behind him, the Argentine international contorted his body so that the ball would fly off his left foot at an angle that gave keeper David de Gea no chance. While Aguero peeled off to celebrate, Red Devils captain Nemanja Vidic tore into Valencia for allowing Kolarov to run 30 yards untouched along the left flank and slice apart the United defense. On the sidelines, Moyes could see the free pass United's supporters had given him over the first few games disappearing in the rearview mirror.

"Play like Fergie's boys," the away fans encouraged Moyes as United cheaply gave the ball away and failed to close down City's attackers. At least they gave voice to their exasperation. At the Football Factory, normally a raucous hive for singing, chanting, and hard-drinking United supporters, the atmosphere was as listless as it was on the team's bench.

"I was expecting to see fans bantering and beer flying," a first-time Brit visitor to the FF said to me just before he almost got his wish by requesting a cappuccino from Jack Keane behind the bar.

"A cappuccino?" Jack roared. "Sorry, mate, this is the Football Factory. Perhaps you'd like to see our wine list."

On the screen, as Nasri made it 4-0 with an exquisitely controlled volley off Navas' chip to the back post, the City fans burst into a mocking chant of "There's only one David Moyes."

Then again, it's not yet October and even Ferguson said he never really concerned himself with United's position in the table until December. So it's way too early to make any sweeping judgments other than to observe that the defending champions currently sit eighth in the standings, five points behind the league leaders, erm, Arsenal.

At first glance, it must be terribly disheartening for United fans to see their club so far down the table. I mean, United in eighth place is like Spurs finishing above fifth, a sure sign that the world has fallen off its axis.

Save for one thing. United were 10th at Christmas in 2002 and guess who won the league that year? Right, except that was then and this is now. Or to put it another way, that was Sir Alex and this is David Moyes.