You've really got to hand it to Arsene Wenger. Everybody talks about how clueless he is in the transfer market, but that was some coup he pulled off.

I'm speaking, of course, of how he hoodwinked Cardiff into selling Aaron Ramsey for a paltry $7 million five years ago.

I know, I know. Every Arsenal fan is required to drool over a more recent signing -- a certain German bearing the most beautiful umlaut ever to appear on a Gunners shirt -- before invoking the name of any other player, but I hope you'll forgive me. You see, Saturday was a very holy day for my people (and for once I don't mean Gooners), and among the many things I atoned for -- drinking a vat of Stella before 10 a.m. on weekends, taking Sir Alex Ferguson's name in vain, being kind to a man wearing a Spurs jersey -- was my tendency to say mean things about Ramsey right up to, oh, about six games ago.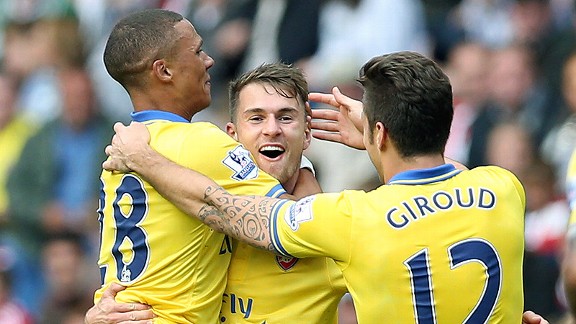 Ian MacNicol/AFP/Getty ImagesMaligned by Arsenal fans for what feels like years, Aaron Ramsey's blistering start to the new season has underlined his importance in midfield.

When those rumors of Bayern Munich's Brazilian stud Gustavo coming to Arsenal started to gain traction in the waning days of the transfer window, my first two thoughts were:

1. At last, a proper defensive midfielder
2. Ramsey returns to his deserved perch on the bench

So it's only right to admit I was wrong (and not for the first time) about an Arsenal player, although I was spot-on about Gervinho. This is not to say I was immune to the serious Glucklichkeit that accompanied the ballyhooed debut of Arsenal's record $66 million signing, Mesut Ozil, against Sunderland. From the 11th minute when the Real Madrid refugee Velcro-ed an arcing ball over his left shoulder and with one Bergkampesque touch laid it into Olivier Giroud's path to put the Gunners ahead 1-0, it was love at first assist.

- Mangan: Ramsey shines in Ozil's decent debut
- Cross: Arsenal's new midfield dream team

Had it not been for Theo Walcott spurning a hat trick of engraved invitations to stick the ball in the net from close range, the Wizard of Oz would have no doubt earned the first of many Man of the Match awards. As it was, after a sublime first half full of perfectly weighted through balls and effortless flicks, Ozil, whom Wenger had said was suffering from a stomach virus before the match, began to visibly flag. That allowed Ramsey, a man who doesn't know the meaning of the word "tired," to steal the show as well as the bottle of champagne that goes to the game's best player.

Somewhere Ryan Shawcross must have been throwing up in his mouth. After all, it was the Stoke City thug (I know, it's redundant) who famously broke Ramsey's leg with a horrific tackle in February 2010. The Welshman didn't play again for Arsenal until March 2011, coming on as a 72nd minute substitute in a losing FA Cup effort to Manchester United (I know, it's redundant).

I hope Shawcross isn't still wondering why Ramsey never responded to his pathetic texts apologizing for attempted midfielder-slaughter. Did it ever occur to him to behave like any other penitent criminal and seek forgiveness in person? Or at least send over an Edible Arrangements bouquet?

Not surprisingly, Ramsey struggled to regain his pre-Shawcross form and though the Arsenal faithful were initially supportive, their patience with his tentative, dilatory play finally ran out last October when boos rang around the Emirates during the Gunners' ragged 1-0 win over 10-man Queens Park Rangers.

That game seemed to showcase all of Ramsey's perceived flaws -- his lack of pace, his unwillingness to take on defenders, his dithering on the ball until he's stripped of it -- but, to be fair, Wenger was playing him out of position on the right wing. Nor did it help his confidence when the new Wales manager Chris Coleman, who had replaced Ramsey's beloved mentor Gary Speed after the latter's sudden death, publicly humiliated him by taking away his national team captaincy.

But Ramsey is not nicknamed "Rambo" for nothing. Though by all accounts a quiet lad off the field, he is a firebrand when stomping around on it and had the mental toughness to endure a torrent of abuse from Arsenal supporters who seemingly blamed him for everything wrong with the club -- except for Wenger's puffy coat. When a succession of injuries forced Wenger to restore him to his natural role as a deep-lying central midfielder, a position in which his lung-busting stamina allows him to relentlessly drive forward from box to box, Ramsey blossomed. He was instrumental in Arsenal's late resurgence to secure its 17th consecutive Champions League berth and this season has won back the respect and affection from those fans still flossing crow from their molars.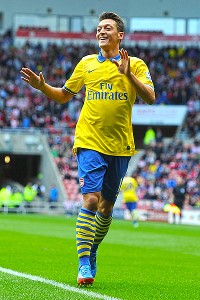 Stuart MacFarlane/Arsenal FC/Getty ImagesAnyone can see that Mesut Ozil is going to fit nicely at Arsenal, but all Gunners are second-fiddle to the dynamic Welshman so far in 2013-14.

In fact, you can make the case that not only has he been Arsenal's best player through the first six games (five goals in all competitions and the most successful number of tackles by anybody in the league), but also the top Welsh player in the Prem now that Ryan Giggs has turned 90 and Gareth Bale has taken his nauseating heart-shaped (and trademarked!) goal celebrations to Madrid.

"I think Rambo will have a big season," Jack Wilshere said when I interviewed him over the summer. "He has his confidence back and the three of us [Cazorla, Ramsey and Wilshere] are more comfortable with our different roles."

Ah, but now there's a fourth player whom they need to click with, and judging by Saturday's commanding performance, it doesn't appear that the addition of Ozil will cause Ramsey to lose his place in the heart of midfield. With only one legitimate striker in Giroud, Arsenal needs someone to score goals from midfield. For all their flair and technique, Cazorla or Ozil are unlikely to provide them. As heretical a thought as it may be, I now see Wilshere, the Great English Hope who like Ramsey is coming back from his own lengthy injury nightmare, as having less job security than the Welshman. As much of a threat as Wilshere's dribbling and passing provide, he is so tightly marked that he rarely gets free in the box like Ramsey does, as evidenced by Rambo's two superbly taken goals on Saturday.

Sunderland had enjoyed a whopping 27 percent possession in the first half but found itself trailing only 1-0 at intermission. Then three minutes after the restart, a clumsy challenge in the area from Laurent Koscielny (the second penalty he's given away in four league games) resulted in the Black Cats drawing even. With Ozil fading and Arsenal unable to convert its dominance into goals, I knew that this story would end with two lost points. But this was not the right day to lose faith, and with 20 minutes remaining, Ramsey went to work.

First, he restored the lead by volleying in Carl Jenkinson's seeing-eye cross. After Jozy Altidore's equalizer was disallowed by referee Martin Atkinson's controversial decision not to give the home side a clear-cut case of the advantage rule, Ramsey put Sunderland into greater misery when he slid home a clever pass from the excellent Giroud to make it 3-1 and ensure that Ozil's coming-out party would not be spoiled.

Normally, in these circumstances, I would have ordered a pint or three to celebrate Saturday's hard-earned victory. But given that it was Yom Kippur, I was not allowed to drink or eat anything until after sundown. And frankly, I am not quite done atoning yet. Don't even get me started on Jose Mourinho.