Reversals of fortune for Arsenal, Spurs
So now we know that the going rate for sixth place in the Premier League is a mere $160 million -- or, rather, the current bill of fare that Spurs have lavished this summer in their futile quest to do something they haven't accomplished in 17 years: finish above Arsenal in the table.

I realize that making this kind of bold pronouncement three games into the season may strike the easily offended (aka Spurs fans) as a tad premature, so let me quickly add that should undefeated Liverpool eventually thud back to reality, it's quite possible Tottenham may come in fifth.

Of course, my newfound generosity of spirit has more to do with Monday's stunning development than any burgeoning sense of maturity or kindness. And by stunning development, I mean that Arsene Wenger, a man who hadn't so much coughed up a used piece of Sir Alex Ferguson's gum in the transfer market, has caused a rip in the time-space continuum by shelling out a reported 46 million pounds for the great Mesut Ozil. Personally, I don't even mind having lost that 10-pound note I put down at Ladbrokes on Friday after they offered 5-1 odds on Arsenal not buying anyone before the transfer window shuts on Monday.

Oh, what a life-affirming weekend it's been. First, I got to revel in Tottenham's pain and misery in Sunday's aneurysm-inducing North London derby at a pub just a corner kick from the ocean in Santa Monica. The Ye Olde King's Head is a dark, cavelike bar populated by a genteel amalgam of impressively buff male and female specimens as opposed to the scruffy, beer-soaked rabble that is my normal fellow congregants at the Football Factory in New York City. So overcome was I by California bonhomie that when introduced to a Spurs supporter named Arun, I found myself wishing him "Good luck" before getting a grip and adding "... in the Europa League."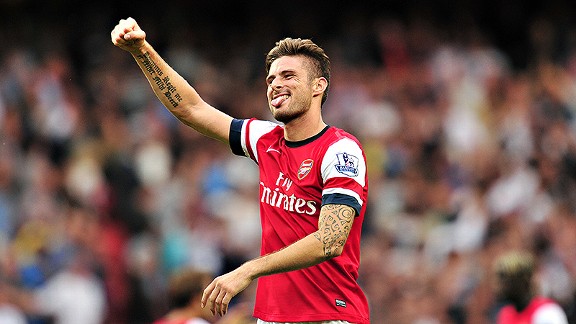 AllsportFantasy managers expect Olivier Giroud to be back in Arsenal's lineup against Everton.

Truth to tell, I was a bit jealous -- and leery of -- the deep and talented team that Real Madrid has financed for Spurs' Daniel Levy. Based on what I saw of the Euro- and South American-laden squad against Arsenal, Roberto Soldado, Vlad Chiriches, Etienne Capoue (until his gruesome injury), Paulinho and Erik Lamela are all worthy additions to a side that was clearly missing its Wel$h heart. In fact, I'd like to take this opportunity to thank the Barclays schedule-makers, who made it possible for Arsenal to play Spurs 2.0 before the players have learned one another's names, let alone their movements off the ball. The same fixture 10 games in might not have ended so pleasantly.

If only Champions League qualification were decided by a wanton display of fiscal might during the transfer window. Then Spurs would be peering down at Arsene Wenger and his penny-pinched ragamuffins with imperious disdain.

Of course, all that was B.O.: Before Ozil.

All summer long, Wenger had pulled our leg with potential mouth-watering signings -- Gonzalo Higuain, Luis Suarez, Luiz Gustavo, Yohan Cabaye, ad nauseam -- only to deliver ... Mathieu Flamini. Such a kidder, that Arsene. And cheap; never forget cheap. But Wenger was unapologetic, saying he wouldn't be forced into "panic buys" because he felt there simply weren't that many players available who were better than the ones he already had -- all 12 or 13 of them. So he would wait until someone of "super quality" came along, even if it meant incurring the fans' increasingly vocal wrath. Voilà! Ozil!

Is he the player who best fits Arsenal's needs, given that the Gunners have a plethora of talent in the midfield with Santi Cazorla, Jack Wilshere and the "new" Aaron Ramsey? No, but who cares? He's Ozil -- and that's enough to curl my mustache.

And dare I say that judging from what transpired on the field against Spurs, the addition of one more player of "super quality" gives Arsenal a genuine shot at challenging for silverware -- something I haven't really felt in, well, eight years.

Ozil joins the likes of Cazorla and Ramsey, who were both immense Sunday. The pint-sized Spaniard, who huffed and puffed through the opening debacle against Villa, is fit again and slicing defenses open with his Iniesta-worthy passes. Ramsey, the hero of Arsenal's Champions League qualifiers with Fenerbahce, has exorcised the thuggish ghost of Ryan Shawcross to become Arsenal's indefatigable midfield linchpin, overshadowing the more celebrated (and less resilient) Wilshere.

And yet as invaluable as their contributions were to Arsenal's win, they would have been wasted had it not been for Olivier Giroud. Only a few weeks ago, Arsenal fans were clamoring to replace the hunky Frenchman with either Higuain or Suarez, but since then, Giroud has scored four goals in his past five matches, none better than his sublime outside-of-the-left-foot flick to cap off a lightning series of passes involving Cazorla, Ramsey, Tomas Rosicky and Theo Walcott that ripped Spurs' offside trap apart. As brilliant as Spurs keeper Hugo Lloris was against Arsenal, time and again anticipating the Gunners' through-balls to make sprawling last-ditch interceptions, he was no match for Giroud's opportunistic finish, which slithered inside the near post.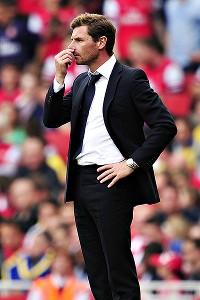 Glyn Kirk/AFP/Getty ImagesAndre Villas-Boas has spent heavily this summer, but his talented squad will need much more time to jell before it can be considered a true threat.

By then I was well into my second Stella (it was, after all, almost 8:30 a.m. PT, which is around 11:30 a.m. ET, and I was flying the flag for all East Coast Gooners who enjoy a healthy breakfast) and serenading my new Spurs friend Arun with a boisterous chorus of "What A Waste Of Money." Given the nonstop chanting and singing that I've become accustomed to at the Football Factory, I was surprised that my fellow Arsenal supporters didn't join in, but then I remembered I was in California, where people have a sunnier disposition and see no need to mock the person next to them just because they're wearing a hideous, white Spurs jersey with Keane on the back. It was bad enough that on Saturday night I had attended the L.A. Galaxy game unaware that it was Robbie Keane Night, and was handed a bobblehead doll of the former Spurs striker upon entering the stadium. I very much enjoyed pulling off its head.

But I digress. What made the victory over Spurs so satisfying, other than being able to rub the faces of Tottenham supporters in their delusional preseason euphoria, was the realization that Wenger might have stumbled on a Plan B. Despite the aesthetic pleasure derived from Giroud's goal, this was a triumph of pragmatism over beauty. Unable to impose their tiki-taka passing triangles on the game, Arsenal found themselves in the strange position of having less possession at the Emirates than their opponents. Spurs probed patiently through the midfield with Andros Townsend showing flashes of You Know Who except that none of his hijinks ended up with the ball in the back of the net.

Normally, at this stage of the match Gareth Bale would simply take matters into his own feet and come flying down the wing at Arsenal's terrified fullbacks. But as skilled and physical as many of the Spurs' new recruits are, they lack the game-breaking speed and power of the World's Most Expensive Player.

Still, they displayed enough attacking threat for Wenger to forsake his traditional reliance on his twinkle-toed players to bamboozle their way to victory. Instead, in the kind of risk-averse gambit that would make Jose Mourinho proud, he replaced two midfielders with two fullbacks, Nacho Monreal and the too-ill-to-start Bacary Sagna, to make a heroic defensive stand in the final, frantic minutes as Spurs assaulted the Arsenal goal and Andre Villas-Boas attempted to will the ball into the net with his sideline contortions.

The game, as you may have heard, wasn't the only thing that ended in high drama on Sunday. I don't know about you, but I died a little inside when I heard the news that the Bale transfer soap opera was officially over. Couldn't it have lasted just a little bit longer, maybe until the end of the year, so we had enough time to find a new reason to live? I mean, what else is there to fill that void now that Bale is gone? Thank God for Miley Cyrus and twerking.

"We missed Bale," a surprisingly stoic Arun said when we shook hands at the final whistle. "He would have made the difference today."

"Don't despair," I replied, "You can always buy him back in the January window. That way, Spurs can definitely lock in fifth place."