Revived Cosmos get a second chance at a first impression
Nostalgia can be a wondrous thing. You can bathe in its sepia-tinted glow and revel in the sweet memories of a time when the world seemed more innocent -- and Luis Suarez hadn't bitten anyone yet.

But it can also be a curse. Admit it, those seven lost years weren't so kind to "Arrested Development."

Which brings us to the New York Cosmos, whose first season in 29 years kicks off Saturday at Hofstra University's Shuart Stadium in Hempstead, on Long Island. For those of you who weren't even a golazo in your father's eye back then, here's a quick primer: The Cosmos were the original Dream Team, the Galacticos of their day, featuring Pele, Franz "Der Kaiser" Beckenbauer, Giorgio "The Godfather" Chinaglia, Carlos "El Capitan" Alberto and Shep "Full Frontal" Messing. As many as 77,000 fans came to watch them dazzle on the field. Mick Jagger, Robert Redford and Henry Kissinger genuflected to them in the locker room. Andy Warhol, Elton John and Lisa Minnelli partied with them at Studio 54.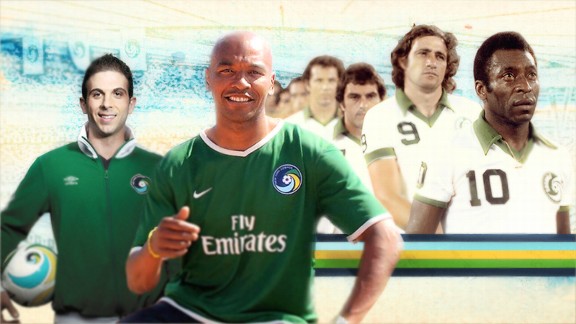 ESPN.com IllustrationCASTING A SHADOW: Can players like Marcos Senna and Ayoze help the new Cosmos recapture the glory years of Pele, Chinaglia and Beckenbauer?
And I had a ringside seat at the circus, chronicling the madness first for the New York Daily News and later in books with Pele and Messing.

Which is why I'm so conflicted about the resurrection of the Cosmos. Part of me wishes they hadn't exhumed the body, that they had just left all those once-in-a-lifetime memories in the vault, undisturbed, because -- let's face it -- the legacy can only be tainted.

But then another part of me is ready to break out my old spandex jumpsuit from the Studio 54 days and party on with the new team. As long as the expectations are realistic and no one envisions them bestriding the sport in this country like a deep-pocketed colossus again, it could be fun and maybe even make the American soccer landscape more interesting.

But what, I wondered, would the Cosmos look like when the team finally rose from the wreckage of avarice and shortsightedness that ultimately caused it to implode in 1984? And then, on a sweltering day in the summer of 2011, I got my first clue when I ran into Messing on Fifth Avenue. In his typical low-key way, the team's former goalkeeper (and onetime VIVA Magazine centerfold) explained that he was now an official "ambassador" for the new New York Cosmos.

"Holy s---, you're not going to believe what's going on," he exclaimed. "A bunch of rich Brits have bought the Cosmos name, and they're throwing money around like in the old days. Pele, Giorgio, Carlos and I are all being paid to promote the team, and they've brought in Eric Cantona as technical director."

Was I hallucinating from heatstroke? I mean, Pele, Chinaglia and Alberto made sense, but Cantona? The French philosopher/provocateur/performance artist might have conjured his wizardry for Manchester United, but he was still one of my soccer deities. (And not just because he once leapt into the stands to kung-fu kick a fan who had heckled him.) Seriously, Le Roi himself? Was this some sort of cosmic joke being played on all those disenfranchised Cosmos-loving refugees who had wandered through the soccer desert for nearly three decades without a team to support?

"Come on," I said to Messing, "What would the great Cantona want with the Cosmos?"

Messing paused, that familiar mischievous grin spreading across his face. "Hell if I know," he said, "Maybe he's broke."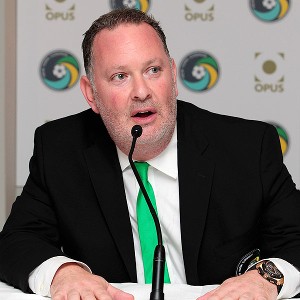 Danny Martindale/Getty ImagesPaul Kemsley's attempt to revive the Cosmos via nostalgia, hype and wowing the old guard fell flat -- as did his MLS ambitions.
"Broke" aptly describes the financial state of British real estate huckster Paul Kemsley after his $750 million property empire went belly-up in 2009 and he was forced to cast about for a new money-making venture. Backed by geysers of oil-soaked Arab cash and extensive contacts in the Premier League -- he was once the vice chairman of a certain North London team that has finished behind Arsenal in the league for the past 18 years -- he devised a scheme to relaunch the Cosmos brand around the world. Never mind that he didn't have any players. Or a stadium. Or a league. He'd worry about those petty details later.

First, he had to replant the Cosmos flag in the American consciousness after a hiatus of some 30 years using nostalgia and hype as his tent poles. Suddenly, larger-than-life size billboards of Pele and Cantona sprang up in New York's Times Square proclaiming that "The Cosmos Are Back." Next came the announcement that the Cosmos were gearing up to play their first official match. On which of their old stomping grounds would they hold it? Randall's Island? Hofstra? Yankee Stadium? Giants Stadium? Sorry, you're on the wrong continent.

Kemsley picked Old Trafford, a place of no relevance in Cosmos lore but at least an arena where Cantona wouldn't get lost on the way to the match. With forward thinking like that, what could possibly go wrong?

"I remember the first time I heard Kemsley's plans for the club," Messing told me. "He had invited like a dozen former Cosmos players -- including Giorgio, me, Pele, Carlos, Werner [Roth], Bogie [Vladislav Bogicevic], Santi [Formoso] and Esky [Andranik Eskandarian] -- to the restaurant Per Se in the Time Warner Building. Dinner was $500 a pop, plus he ordered a bunch of ridiculously expensive wines for the table. He wanted to assure us that he respected the Cosmos legacy and would never do anything to damage it. He sounded very convincing, and I left there thinking, 'This might just work.' Of course, we had a lot to drink that night."

The sober realization that behind the curtain were simply smoke and mirrors would come soon enough in August 2011 when a makeshift Cosmos side featuring former international stars such as Fabio Cannavaro and Patrick Vieira and a few U-23 Cosmos Academy players was completely mauled by a United team trying manfully to keep the score down. It ended 6-0 with the English media snickering that the Cosmos might have been more competitive with Pele and Cantona in their lineup.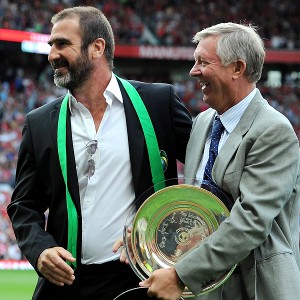 Chris Brunskill/Getty ImagesEric Cantona might have done more good on the pitch than as manager when the punchless Cosmos surrendered to Sir Alex Ferguson's Manchester United in 2011.
"A complete farce," Messing said of the globally televised debacle. "So much for not doing any damage to the Cosmos legacy."

Undaunted, Kemsley kept blithely burning through millions of marketing and publicity dollars in a ham-fisted attempt to muscle into Major League Soccer as the next expansion team in New York. But once it became clear that MLS commissioner Don Garber valued financial stability over bluff and bravado, Kemsley was shown a red card by the Cosmos' Saudi Arabian investors.

Enter Seamus O'Brien, the founder and chief executive of Asia's top sports marketing and media management company who had known the Cosmos' Middle East benefactors from other business dealings. Asked for advice on how they might salvage the charred remains of Kemsley's costly flameout, O'Brien imparted more than just his two cents, offering to share 50 percent of the financial burden, so sure was he of the club's bountiful future.

"I'd rather die than pass up this opportunity," O'Brien said a tad melodramatically in the Cosmos' Soho offices the other day. Surrounded by his club's trophies, memorabilia and photos of the Pele-Beckenbauer-Chinaglia holy trinity, O'Brien, a genial, garrulous Brit, talked with great zeal as if he were on a mission to bring back the halcyon days of soccer in New York.

"We're coming from 30 years of stone-cold nothing, apart from a few nice memories," he said, sipping water from a glass that was three-quarters full, "I don't want us to be a passing fashion trend that is hot for six months, we're looking to build a competitive and credible organization that in five to 10 years will allow us to get back to the top and stay there."

Toward that end, O'Brien's vision for the Cosmos is almost a reverse engineering of the previous regime, a bottom-up, bide-your-time approach rather than a top-down smash and grab. And the base he has chosen to serve as the team's launch pad is the same one from which the original Cosmos began their quest for world domination: the North American Soccer League.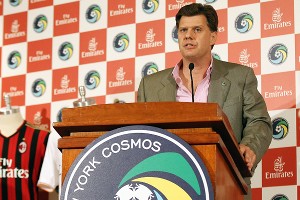 Mike Stobe/Getty Images/New York CosmosSeamus O'Brien picked up the Cosmos' flag, picking up 50 percent of the tab and settling on a bottom-up approach to reviving the club.
Of course, this is no longer the glorious NASL of George Best, Johan Cruyff, Eusebio and other soccer gods, but rather the one of Hans Denissen, Martyn Lancaster and Kupono Low. (I'll pause here while you Google their names.) "Granted, there are not many household names in the league right now," O'Brien said candidly, "but those marquee signings will be coming in the next couple of years. Despite what the previous regime may have thought, you have to walk before you can run."

Like the new New York Cosmos, the NASL was rebooted -- in the league's case, three years ago after a 26-year hiatus in which it saw its status as the pre-eminent American soccer league usurped by MLS. Two of the NASL's eight franchises, though, the Tampa Bay Rowdies and Fort Lauderdale Strikers, were once the Cosmos' fiercest rivals, attracting crowds in excess of 70,000 to Giants Stadium for their playoff games. Not only will attendance be a fraction of that when the teams meet this season but it is safe to assume that Tampa Bay no longer has the budget to engage in the kind of shenanigans it did in the go-go years of the NASL.

Chinaglia, who died last year at 65, once regaled me with the story of how, the night before a pivotal game against the Rowdies in 1977 -- it also happened to be Beckenbauer's internationally televised debut for the Cosmos -- a stretch limo had arrived at the team hotel stocked with Chivas Regal (Chingalia's drink of choice) and a couple of long-legged models (Pele's legendary weakness) and how the two superstars had partied into the wee hours. After the Cosmos lost 4-2, a confused Beckenbauer said, "I kept passing to Pele and Giorgio and they could barely move."

Luckily, if the 2013 Cosmos turn in a risible performance like that against Fort Lauderdale this weekend, the whole world won't be watching. Although Shuart Stadium has undergone a considerable upgrade since the team last played there in 1973, with seating more than doubled to 15,000 and the old sandpaperlike surface replaced by FieldTurf, the Cosmos view it simply as a way station until they can move into their $400 million, 25,000-seat Taj Mahal on 26 acres of Belmont Park in 2015-16, pending approval by New York state.

"Once we have our own soccer-specific stadium," said Alecko Eskandarian, the former D.C. United star who is now a Cosmos assistant coach, "there'll be no stopping us."

You can forgive Eskandarian his romantic worldview. The son of Andranik, the nails-hard defender for the Cosmos in the glory years, Alecko literally grew up around Cosmos soccer. "My first memory is of juggling a ball with Carlos Alberto in the team's locker room, " he said. "I was 2 years old."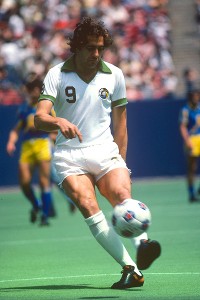 Focus on Sport/Getty ImagesThe late Giorgio Chinaglia's Cosmos were the only game in town, but the current incarnation will compete with two New York-area MLS franchises by 2015.
The baby steps Eskandarian took some 30 years ago make him a perfect fit for a Cosmos team struggling to gain a foothold in the increasingly Darwinian soccer environment.

The New York area already boasts an entrenched first-tier team with its own handsome stadium in Harrison, N.J., and resident superstar (and my longtime man crush) in Thierry Henry. Then this past spring came the bombshell announcement that another New York team was joining MLS in 2015 -- the Yankees had partnered with Manchester City to form New York City FC. Considering New York couldn't support three baseball teams past the 1950s, isn't O'Brien concerned about being soccer's third wheel?

"Not at all," O'Brien said. "I knew about the Man City-Yankees alliance three months before it was announced. I couldn't give a monkey's [expletive] about it then, and I'm not fazed by it now. I happen to believe that New York is the biggest soccer market in the world and that there's a large enough fan base to support all three teams."

O'Brien is fond of throwing around the term "the global soccer economy" as if that will determine whether a fan opts to support the Cosmos or the Red Bulls. "The MLS is unique to world soccer with a single-entity structure that runs contrary to the global economy of the sport," he said with increasing fervor in his voice. "You can't live in wonderful isolation forever, not when the rest of the world is based on a decentralized model that allows clubs to buy and sell players as they see fit. I'm not saying that we're going to bring Lionel Messi to the NASL next season, but, if we had the resources, we wouldn't be beholden to the other owners for their approval like the MLS is."

At the same time, O'Brien is not ruling out the possibility of joining MLS down the road should the league change its philosophy and the Cosmos have a spare $100 million to purchase a membership card. "I'm friendly with Don Garber," he proffered, name-dropping the MLS commissioner in a way Kemsley never could. "In fact, I saw him in Chicago a couple of nights ago and we had a good chat."

For now, all the Cosmos can do is to focus on putting a dynamic enough product on the field to make people forget they are watching a second division team. Such is the power of their global brand that they have already fooled at least one key person -- their marquee signing, Marcos Senna, the former Villarreal star who locked down the midfield for Spain when it won the Euro Championships in 2008.

"I am very excited to be joining the team that Pele played for," Brazilian-born Senna said through an interpreter, stopping short of pulling a Robbie Keane and claiming it had always been his childhood dream to play for the Cosmos. "At one point, the Red Bulls wanted me, but they did not bet on me like the Cosmos did. I look forward to showing the Red Bulls what they are missing when we play them in the league."

When I talked to Senna he didn't seem to be aware that he wouldn't be playing in the top league in the country, almost as though it didn't matter to him. Maybe so - after all, the wages, according to O'Brien, are comparable to the MLS -- while Senna assured me that he and his family wanted to live in New York.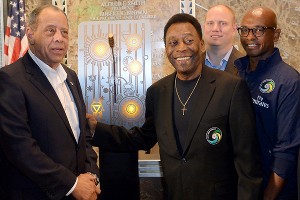 EMMANUEL DUNAND/AFP/Getty ImagesThe Cosmos first season in 29 years won't have star power like Carlos Alberto or Pele. Instead, former Villarreal star Marco Senna will fullfill a "childhood dream."
The idea of playing in the polyglot media capital of the world also appealed to Senna's compatriot, Ayoze, the skillful Spanish midfielder who spent the last two years in La Liga with Sporting Gijon.

The rest of the Cosmos squad is an eclectic mix of MLS retreads (Carlos Mendes, Hunter Freeman, Danny Szetela and Joseph Nane) and graduates of the Cosmos U-23 Academy such as David Diosa and Dane Murphy. "I can't speak for the other teams in the NASL," Eskandarian said, " but I feel very comfortable saying that the Cosmos' level of play will be on a par with the MLS."

How that level will manifest itself on the field is the responsibility of head coach Giovanni Savarese, the former Venezuela international who spent three seasons banging in 44 goals for the late, unlamented MetroStars.

"Seamus has made it very clear that we're in the entertainment business, " Saverese said. "We're committed to playing an attractive possession-based game with lots of players going forward. That doesn't mean we won't be playing defense, but we're not looking to win 1-0."

The cold, hard truth will come Saturday in Hempstead, when, after three years of grandiose illusions and spectacular pratfalls, the Cosmos finally usher in their Brave New New World. Pele will be there and so will Carlos Alberto and Messing, but don't expect a night heavy with sentiment. Nostalgia can only take you so far before it invites comparisons with the past.

Be patient, Cosmos fans -- and pray that Messi can still play at 37.