Q&A: Jack Wilshere has trophies on his mind
NEW YORK CITY -- When I arrived at the roof deck of the tony Soho House in Manhattan on a recent sweltering morning, bikini-clad women were gamboling in the pool, pausing only to make googly eyes at an impish, brown-haired boy sporting a backwards baseball cap while perched on a nearby chaise.

"Oh, that's Harry Styles from One Direction," explained Jack Wilshere, sitting underneath an umbrella. "He dated Taylor Swift -- but so did a million other guys."

It's sometimes easy to forget that Wilshere himself was once a teenage English heartthrob who made his debut for Arsenal at the age of 16 -- the youngest league debut in the club's history. Remarkably, that was five years ago, and the fact that he is still viewed as the most promising -- as well as the most fragile -- young player in his country tells you as much about the moribund state of English soccer as it does about Wilshere's meteoric progress through the Premier League and international ranks.

Unfortunately, his ascendancy on the field has been matched only by his descent onto the training table. Injuries have robbed him of more than two years of time on the field. Somehow a jacked-up Jack has still managed to represent the senior English side seven times (he earned his first cap at 18) and play 62 Premier League games for the Gunners.

Ever since Paul Gascoigne drank his talent into oblivion, the increasingly frantic English public has sought to make mountains out of midfielders, and the 5-foot-7 Wilshere is the latest to be blessed and cursed with great expectations.

Arsene Wenger once chucked gasoline on the hyperbolic flame by saying that Wilshere possessed "Spanish technique but an English heart" before awarding his latest pixie the no.10 shirt once Robin Van Persie stripped it from his traitorous frame. Even old warhorse Frank Lampard proclaimed "Wilshere will be a massive player for England—and in the world" after the Arsenal man led the Three Lions to an impressive 2-1 victory over Brazil at Wembley.

A small, fiery bundle of skill and toughness, Wilshere at times last season seemed to be fighting a one man crusade to keep Arsenal in the Champions League race and England on track for World Cup qualifying. All of this on ankles so brittle that they kept him out of action for 15 months from June 2011 to October, 2012 and again last season for six weeks before he came back in April to try to rescue Arsenal's stuttering campaign.

As I checked him out from feet to ankles, there was no hint of a limp as Wilshere greeted me poolside wearing the standard issue player's ensemble of Nike polo shirt, sneakers and the requisite Ryan Gosling-esque two-day stubble. While abundantly expressive on the field, like most players who have grown up in a hothouse atmosphere from an early age, Wilshere has never been known as a quote machine. Perhaps it was his fondness for One Direction, but he was in a particularly expansive mood.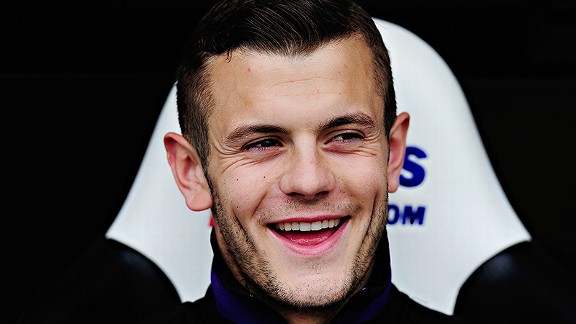 Stu Forster/Getty ImagesEngland's desperate hopes lie with oft-injured 21-year-old Jack Wilshere, who debuted with Arsenal at 16.
ESPN FC: Let's start with your ankle. How is it?

Wilshere: 100 percent. I'm really looking forward to having a solid preseason. I haven't had one in two years, and once you miss it, you're always playing catch-up. It's a chance to show the manager that you deserve to be in the team and I think there's going to be competition for a few spots. But that's a good thing. If you're going to challenge for trophies, you need a big squad. You can't expect 11 players to do it every week.

Are you excited about the prospect of Gonzalo Higuain joining the club?

I've never played against him, but anyone who plays for Real Madrid and Argentina has to be quality.

Speaking of quality, have you seen the photo on the Web of Higuain's wife modeling lingerie? I've printed it out just in case you missed it.

[Wilshere's eyes widen and he smiles] That's the sort of picture that will go right up on the bulletin board in the changing room. Some of the lads like to put up photos of other players' wives and girlfriends and have a bit of banter.

Really, who, for instance?

[Laughs] I'm not going to say but it's not the English players. There are so few of us, anyway.

Rumor has it that you might be joined by one more. [Here, I bring out my second prop, a paperback copy of Wayne Rooney's most recent autobiography that I helped translate into English.]

If it happens, it would be amazing. He's the type of player who can win you trophies. And just to see his name on the team sheet brings fear to the opposition. We could do with a little more of that.

Trophies or fear?

[Laughs] Both.

Was Rooney a role model for you growing up?

Oh, definitely. When he first broke onto the scene, he was 16 and scored an amazing goal against Arsenal. Then he was playing in the Euros at 18 and I think he's been England's best player for the last eight years. When a young player like myself or [Theo] Walcott, or [Alex Oxlade-]Chamberlain, comes into the senior [England] team, he puts his arm around you and looks after you.

How about when you play against him at club level?

Then it's different. [Laughs] He's the type of player who takes no prisoners. He likes to get stuck in.

So you're similar in that way?

I think in England, it's important to play with some bite. You look at all the English midfielders who've had success and they've all got that. [Steven] Gerrard, [Paul] Scholes ...

I hope you don't model your tackling on Scholes.

Well, he was brilliant at so many other things ...

What about when you're on the business end of a Scholes Special?

Football is football. When you get kicked, you get on with it. It's when something happens off the ball that can wind you up.

Do you think teams now target you in the hope that you'll lose your focus, become too aggressive, and pick up a yellow card?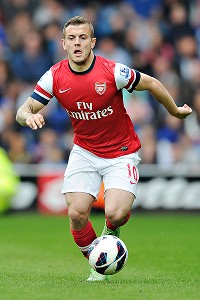 Stuart MacFarlane/Getty ImagesJack Wilshere would welcome a presence such as Wayne Rooney to add an element of fear to Arsenal's opponents.
Do I tend to get fouled a lot? Yes, but I think that's more because I like to run with the ball from deep positions rather than opponents targeting me. Either way, it's not something I worry about.

Do you worry about the future of English soccer after watching England crash out of both the U-21 UEFA Championships and the U-20 World Cup without winning a single game?

Obviously, it's disappointing. You sit there thinking you'd like to be out there helping them. I played with several of the U-21 players on the U-16s and I know they have some exciting young talent like Wilfred Zaha. Just because they had a bad tournament doesn't mean the future of English football is in bad shape. Not with guys like Phil Jones, Tom Cleverley, Danny Welbeck ...

You neglected to mention yourself there. Is that because you're tired of being labeled the "Future of Everything from Arsenal to England to Western Civilization?"

It's flattering but it makes me laugh a bit as well. Even [Lionel] Messi can't win the World Cup for Argentina by himself. He needs to have the players around him and as I said, I feel like I have those on the senior England team.

But what about the pressure of living up to people's stratospheric expectations of you?

What pressure? [Laughs] I admire players who carry it lightly like Cesc [Fabregas] and RVP did. But there are times when you do feel like if you want to win you've got to step up and take control. You either have that mentality or you don't. I don't think you can say to someone, "OK, take over the game." Don't get me wrong. Obviously the manager helps, but it's something that you've already got to have inside you.

Is that how you felt after the first half of the Champions League match against Bayern at the Emirates when the team was booed off the field?

Bayern is probably the best team I ever played against, even better than Barcelona. We knew they'd be difficult to break down, but tactically and physically, they were all over us in the first half. You don't expect that to happen at home and I can understand the fans' frustration. I think we won back their respect in the second half and then by beating them 2-0 away.

How do you feel about reports that Pep Guardiola can see you as a Bayern player in the future?

Obviously, I'm flattered. How can you not be? They're the best team in Europe, but I'm an Arsenal player and I just signed a new deal. So right now all I'm focusing on is the upcoming season.

Last season, you were quoted as saying that finishing third is "unacceptable" for a team like Arsenal, and then you finished fourth. How do you see that changing this season?

You look at the type of players like Higuain we're trying to bring in and you've got to be encouraged. I think we need a few more, not to step right into the team but to add to the squad. We need our squad to be as deep as United's and City's. They can change their back four completely and still win. There's no way United would have won the Premier League trophy with 18 players.

I notice this is the third time in our conversation you've brought up the dreaded T-word. Has it become a bit of an obsession at the club?

It's no secret we need to win a trophy. How long has it been now, seven or eight years? The players feel the pressure and we've gotten close a few times like with the Carling Cup a couple of years ago. I think once we win one, others will follow.

Believe it or not, there was a time when Arsenal got to put things on the trophy shelves ...

I was watching a Premier League show on the telly the other day and it was about the Invincibles. It must have been incredible playing on a team that knew they were going to win every time they stepped on the field.

One of the many strengths of that team was the exquisite midfield balance that Arsene Wenger orchestrated even if it meant leaving out Robert Pires or Freddie Ljungberg. Do you see that as an issue with you and Santi Cazorla?

Remember, last season was Santi's first in the Premier League and he adapted brilliantly. He was probably our best player last year, but he and I are still learning each other's games. I think we work best when I'm sitting deeper and he's playing ahead of me like Cesc did during our first season together. But Cesc is a different type of player from Santi. Cesc would pick up the ball deep while Santi likes to play in tight spaces. But Santi and I are developing a good rapport and I think it'll get even better this season.

What did you think of Wenger's comment toward the end of last season that he felt he rushed you back from injury too soon because the team needed you in the battle for the final Champions League berth?

I've always had a good relationship with the manager, as I did with Steve Bould in the youth teams. They both have been protective of me and told me not to feel pressure about coming back into the team until I'm totally fit. But as a player, you want to play every game, especially when those games can determine the success of your season. So maybe I wasn't quite ready and it showed on the field.

If you had to describe your career so far in three words, what would they be?

Exciting. Frustrating ... [Here Wilshere pauses and you can see him groping for the word that sums up his past, present and future, as he says ...] Promising.