Diary: Hype and glory at the CL final
Dear Diary --

March 3: God is fair. Spurs have just beaten Arsenal 2-1 to move seven points clear but who cares? I'm going to London for my first Champions League final. It's certainly not the matchup I anticipated when I initially procured a ticket to the tournament's crowning game. Sixteen teams were still in the running -- well, 15 plus Arsenal -- and I visibly salivated at some combination of Barcelona, Real Madrid, Milan and Manchester United starring as the last two standing at Wembley. Instead I am bearing witness to the greatest German incursion into England since the Saxons invaded in the 5th century.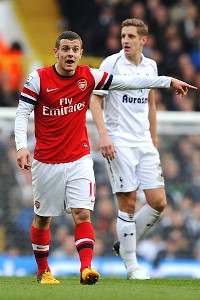 Stuart MacFarlane/Arsenal FC/Getty ImagesArsenal's March loss to Spurs bears little importance ... we're going to Wembley!
It's a sign of our changing times that this is a German assault that doesn't bother me, although the sight of uber-Bayern fan Boris Becker did make my DNA tremble. Make mental note to have Boris sign my yarmulke at the stadium.

May 24, 10 a.m.: Meet up with my friend Paul to traipse around the city, soaking up the rain, the local color and the beer. First stop: the rumored unveiling of Brendan Rodgers' likeness at the National Portrait gallery -- you know, the one the Liverpool manager had hanging in his own living room. (link to Being Liverpool) Twenty dollars later, we're disappointed to learn that Man-Ray was a photographer and not Arsene Wenger's latest unknown French signing from Auxerre.

May 24, 12:30 p.m.: Time to hit the betting shops and declare our respective allegiances. My twenty dollars was plumped down on Dortmund's Robert Lewandowski to score the first goal. After all, as a long-time Arsenal fan I'm all about the plucky, fiscally challenged unter-hund. Paul put his punt on Bayern's Arjen Robben scoring at least one goal, which makes sense if you know Paul. He's a Los Angeleno and Bayern is known as Hollywood FC. Besides, my friend always favors wealthy, arrogant, front-running sides ... like Chelsea. He also knows that there are few players in world soccer (Samir Nasri and Joey Barton come to mind) who I find more insufferable than Robben, the preening, prematurely aging and pouty Dutch diva. It is small solace to know that I have more hair on my upper lip than he has on his entire body.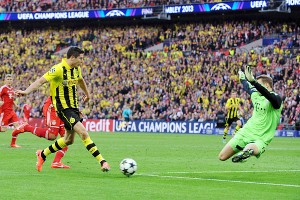 Tim Groothuis/Witters Sport/USA TODAY SportsThe early money was on Dortmund's Robert Lewandowski scoring the first goal.
After his failed penalty kick in extra time of last year's final, Robben became the hood ornament for Bayern's failure and misery in the Champions League -- the mighty Bavarians had lost three of its past four finals -- and has been lustily booed for his every mistake at the Allianz (or, as its rivals refer to it, the Arroganz) Arena. The mercurial French winger Franck Ribery, who commands the opposite flank from Robben, delighted the Bayern faithful when after a heated debate over a free kick in the first leg of the last year's CL semifinal against Real Madrid, he followed his teammate into the dressing room and punched him in his massive ego.

Like his previous spats with captain Phillipp Lahm and striker Thomas Muller, Robben seemed to shrug off the incident, saying last week that "those stories are closed. We are a real team. We fight for each other and run for each other." It will be interesting to see how that theory holds up if the chrome-domed Dutchman chokes again under pressure.

Note to self: England's largest betting consortium Ladbrokes is offering a refund on all proposition bets if Bayern Munich loses the game. Apparently the oddsmakers have been influenced by Bayern's president and resident expert in tax evasion, Uli Hoeness. "We are the best side in 50 years of the Bundesliga," he boasted recently. I'm guessing that's probably news to the Bayern juggernauts of the mid-70s led by Franz Beckenbauer, Sepp Maier and Gerd Muller.

May 24, 1:30 p.m.: Time for a little bratwurst and beer and I've found the only German pub in London that welcomes both sets of fans. It's called Zeitgeist and it's in Vauxhall, a 30 minute slog through the pelting rain. Emboldened by several schooners of Bitburger and two years of high school German, I frog-march over to an older man sporting a Dortmund scarf and ask him where are all the Bayern Munich fans. "They're not proper fans," he explains. "They're tourists." He is one of the lucky 25,000 Dortmund fans who have won the ticket lottery, although this hasn't stopped another 75,000 giddy Dortmunders from descending on London.

This Soccernomic application of the law of supply and demand explains why tickets are being scalped for as much as $20,000. We are offered $2,000 apiece for ours. Every man has his price but ours is $3,000 and an apology for the Torsten Frings handball against the US in the quarterfinals of the 2002 World Cup.

May 24, 2:30 p.m.: On my 18th trip to the bar, I ask the bartenderess how they're bracing for tomorrow's Oktoberfest in May. "The cellar is jammed full of kegs," she replies. "Normally, we sell 200 pints of beer but tomorrow it will be closer to 5,000." I'm certainly hoping that the Bayern crowd will be crying into theirs.

As we're leaving, we stumble into a German camera crew filming boisterous and barely legal cadres of Dortmund and Bayern fans exchanging pleasantries.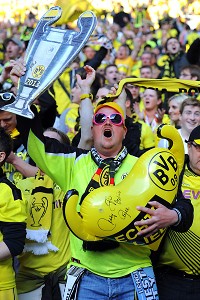 Chris Brunskill Ltd/Getty ImagesThe Bayern fans? They're probably out taking tours of London.
"Zieht den Bayern die Lederhosen aus," sings the tow-headed teen sporting a yellow cape and matching crown. Roughly translated, it means "let's strip off Bayern's lederhosen" but all I could think of is that only in German does the phrase "take your pants off" sound menacing.

On the way back to our hotel, we duck out of the monsoon to take the tube as it is time to pass out. In mid-afternoon.

May 24, 7:45 p.m.: Upon revival, we walk to Trafalgar Square to look at the huge television setup. The multiple 3D screens dominate the north end next to the giant fountain. We think about returning to Ladbrokes to bet the over on the number of Germans who will end up frolicking in Admiral Lord Nelson's wading pool after tomorrow's game, but are momentarily distracted when the screen switches to "Britain's Got Talent" (which apparently it doesn't).

May 24, 9 p.m.: Having remained sober and sentient for almost three consecutive hours, we repair to the hotel bar. The rest of the evening is a blur except for another offer to buy our tickets for $2,500. I was a little fuzzy at this point but the offer might have come from Torsten Frings himself.

May 25, 10 a.m.: Note to self. This far north, the sun rises at 4:57 a.m. or two hours after I go to sleep. Draw blinds the next time. At breakfast, I am groggy until Paul brandishes the Daily Mail "Exclusive" that Arsenal is preparing to shatter its wage structure in a bid for Wayne Rooney. I don't think it'll ever happen. He's not French.

With the sun still visible, we make our way to Piccadilly Circus where the Dortmund fans seemingly outnumber their Bayern counterparts by about 10-1, or roughly the same odds of Mats Hummels scoring an own goal. Not all the Dortmunders are upright, mind you. Some of them are being held up by the statue of Eros in the middle of the square. Others are simply hammered.

A block away from the beery lunacy of their rival supporters, Bayern fans are milling about outside a pub aptly named Halfway to Heaven. For all their domestic dominance -- Super Bayern won the league by a whopping 25 points over Dortmund -- they still wear the almost-but-not-quite yoke on Europe's grandest stage. But after annihilating Barcelona by a 7-0 aggregate in the semifinals, their fans are convinced that nothing can stop them from running the table this year.

The only thing that reeks more than their cigar smoke wafting over the pub is their sense of entitlement. To me, Bayern is Manchester United without the big game mentality and with a departing manager who doesn't act apoplectic every time a call goes against his team.

May 25, Noon: With little more than seven hours until kickoff, we head over to Camden Town, a depressed area of the city renowned for its various flea markets. It's sort of a let-down as most of the German fans have remained in Central London in a bold attempt to drink the place dry. In a stark illustration of how the Teutonic plates in European soccer have shifted, I notice this sign hung around the neck of the Barcelona shirt display: 50% off.

May 25, 5 p.m.: Suitably refreshed after another afternoon siesta and with our much coveted tickets in hand, we're finally off to English soccer's monument to that brief moment 47 years ago when England ruled the world -- Wembley. On our walk to the stadium there is an infectious joy radiating from the Dortmund faithful. They sing louder, drink more heavily and urinate more copiously against the Wembley fence. The number of beer cans I crunch underfoot reminds me of the Terminator machines walking over human skulls, except in this case they are the metallic harbinger of BvB's impending misery.

The atmosphere is already feverish 90 minutes before kickoff and on its way to flat-out mental. Part of me wishes that all supporters could be this positive and committed in cheering for their teams, but then what would happen to all of my fellow Arsenal fans? (My joy at finishing fourth has already been replaced by depression for feeling joy at finishing fourth.)

May 25, 7 p.m.: As we settle into our seats, I learn something new: Did you know that modern lederhosen can be made in brown suede with matching suspenders? Most of those around us will probably remember the staged Medieval mock battle (all that was missing was Mel Gibson in war paint) as the low point of the pregame pageantry, but for me the most unpleasant moment was being forced to having to relive, on the big screen, the horror show that was Munich's 3-1 beat-down of Arsenal at the Emirates.

With only minutes 'til kickoff, I glance over at the Dortmund touchline and there is my man-crush, Juergen Klopp, his black hipster glasses framing his magnificently stubbled face, shouting encouragement to his players and excitedly clapping his hands. Klopp oozes charisma in the same way that Jose Mourinho oozes self-regard. As I chant his name along with the rapturous yellow-clad fans, the thought occurs to me: "Ich bin ein Dortmunder."

May 25, 9 p.m.: The first 45 minutes fly by so quickly that the half time whistle comes as a surprise. The place is thrillingly abuzz even though there is no score, thanks to some heroic goalkeeping on both sides, the usual clutch of close-range Robben misses and a purported injury in warm ups to Bayern's talismanic midfielder that reduces him to Bastian Schwein-stagger.

Early in the second half, Robben abandons his exasperatingly self-centered role to glide a seeing-eye pass beyond both goalie and defender into the path of Mario Mandzukic, leaving a goalmouth so gaping that only Gervinho could miss. 1-0 to the reigning Bundesliga champions and pandemonium among the red and black-kitted Bavarians.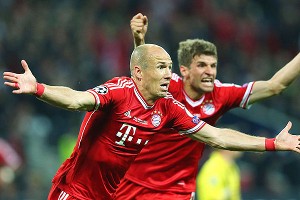 Alex Livesey/Getty ImagesPaul's bet pays off, with the ancient Arjen Robben scoring the game winner for Bayern.
Within minutes, Munich's Dante decides to tattoo his studs on the chest of Marco Reus in the penalty area and, having already earned a yellow card, is lucky to stay on the field. Dortmund's Ilkay Guendogan coolly converts the spot kick to make it 1-1 and ignites acid flashbacks among the Bayern fans to their previous string of CL implosions.

May 25, 9:10 p.m.: A match this exhilarating deserves its own tub of popcorn, thus it is entirely fitting that Robben, a man who looks slightly older than Orville Redenbacher, grabbed the late winner. And it is deliciously ironic that it was his one-time nemesis Ribery who made the goal, flicking a back-heel into Robben's path and enabling the Dutchman to take the ball past Matt Hummels with one deft touch before sliding it cheekily by Roman Weidenfeller to bury the ghosts of Champions League past.

Tyler: A game we won't soon forget
Delaney: Cathartic triumph for Bayern
Brewin: Dortmund loses CL, gains friends
Uersfeld: Dream over, but not fairytale
Schaaf: Bayern seals its legend
Press Pass: Robben's redemption

As the familiar tableau of prone losers and euphoric winners plays out on the turf, we are left to marvel at the rarest of sporting pleasures -- a championship match that surpasses its hype.

I think I speak for not just those lucky enough to be at Wembley, but for all the millions of people around the world who watched the game on TV, when I say to both teams: Danke!

Still, I leave the final word to Klopp, the great philosopher king, after his losing team had covered itself in glory:

"It's been great. The weather, the stadium, the game. Only the result was s**t."

David Hirshey has been covering soccer for more than 30 years and has written about the sport for The New York Times, Time, ESPN The Magazine and Deadspin. He is the co-author of "The ESPN World Cup Companion" and played himself (almost convincingly) in the acclaimed soccer documentary "Once in a Lifetime."