The season is done and the verdict is in. The correct London teams are heading to the Champions and Europa Leagues, respectively, while the evil hegemony of Manchester United may well be toppled now that Sir Alex Ferguson has left the building with his hairdryer, gum and 13 titles. All that remains is to honor this year's most astonishingly gifted players and, not surprisingly, the bulk hail from England's Top Six.

And just like with all of the great teams, we built our Best XI from the back while showing no bias whatsoever towards the clubs we support.

Goalkeeper: David De Gea, Manchester United
What happened: De Gea developed from De Saster into De Man for the league champions

In spite of United's early season habit of surrendering quick goals, the 22-year-old Spaniard only let 25 past him in the Prem while saving a close-to-league-high 78 percent of the shots fired his way. Judged initially to be too brittle and tentative for the EPL's smash-mouth melees, the Spaniard banished all doubts when he stood up to Andy Carroll's bludgeoning challenge in April. He capped his PFA Keeper of the Year performance with a string of 678 scoreless minutes. Was he really that dodgy before, or were we simply fooled by his quiet confidence? Either way, by year's end De Gea's stunning reflex saves had the hardcore Red Devil fans gaping.

Strongly Considered: Simon Mignolet, Sunderland

Left Back: Leighton Baines, Everton
What happened: The reigning EPL left back got older and Baines remained Baines

Let's start with the hair. Seriously, what is that thing? Is it a groovy homage to the Beatles' mop top? Because if it is, it would be one more reason to explain why the Fab Four were Liverpool fans. Not that David Moyes had any concerns about Baines' retro coiffure as long as the defender's howitzer of a left foot is launching rockets on goal. Moyes is reportedly keen to splash out around $20 million and take Baines with him to Manchester United.

The Everton man is a worthy inheritor of the Best English Fullback mantle worn for so many years by Ashley Cole, without being 1/8th the prat that the Chelsea defender is.

Somewhat considered even though he mainly played in the middle: Sebastien Bassong, Norwich City

Didn't even think about: Patrice Evra, Manchester United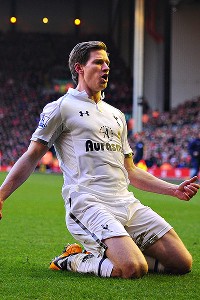 Michael Regan/Getty ImagesIt took one Prem season for Jan Vertonghen to assert himself as the league's best defender, such is his class and composure on and off the ball.
Center Back: Jan Vertonghen, They Who Shall Not Be Named
What happened: Showed everybody that Manchester City captain Vincent Kompany wasn't even the best center back in Antwerp

Even though we know that it is easier for central defenders to settle more quickly in the EPL, Vertonghen has made his transition look absurdly smooth. With surprising pace, formidable ball skills and a delightfully nasty streak, the 26-year-old is probably the second name filled in on Andre Villas-Boas' team sheet after Whatshisname (you know, the one with the jug ears who -- God willing -- will be in Spain next year).

Vertonghen's mastery of AVB's high line, defend-through-attacking system, was on rampant display in March when he blasted in three goals on his way to earning Barclay's Player of the Month honors. But the Belgian's prettiest goal was this masterpiece at Old Trafford last September when his side ended its 23-year drought at Sir Alex's former Field of Vented Spleens.

Somewhat considered: Rio Ferdinand, Manchester United

Center Back: Matija Nastasic, Manchester City
What happened: Roberto Mancini reminded us that Italians can still pick out great defensive talent

Prem club directors, take note. When a defender from the Balkan whose name ends in -ic becomes available, snap him up. Last year, Matija was a precocious teen playing for Fiorentina in Serie A but $18 million of Sheikh Mansour's loose change later, the prodigy was lining up for his inaugural match in Sky Blue -- at the Bernabeu. His composure, strength, and deft touch belie the fact that Nastasic can't even legally drink in the US.

To the former City center back Joleon Lescott, we extend our deepest condolences and recommend that he and United keeper Anders Lindegaard start their own support group for the permanently displaced. Let's also give a deserved honorable mention to Liverpool's retiring Jamie Carragher. After reclaiming his place in the side in December, Carra's play has been almost spotless. Or, as he would say, "Chrakcldwilkdh." (TV viewers, good luck understanding a single word of his analysis next season).

Not worthy of being mentioned in the same breath: John Terry, Substitute's Bench

Right Back: Pablo Zabaleta, Manchester City
What happened: It's always the quiet ones, isn't it? Pablo's performances are so steady that he's being considered as a medical antidote for Joey Barton

One of City's least-ballyhooed players is simply the best right back in the league and one of the top three in the world. Zabaleta was the very last player brought in by previous owner Thaksin Shinawatra and was ironically signed the day before Sheikh Mansour took control.

Stuck behind England phenom du jour Micah Richards, the Argentine had no choice but to bide his time until Mancini recognized what he had and moved Richards to the end of the bench. Two seasons later, Zabaleta is a permanent fixture and even wears the armband when Kompany goes down. All this for less than $10 million.

Strongly considered but red-carded at the end: Rafael da Silva, Other Manchester

Midfielder: Michael Carrick, Manchester United
What happened: The calm before the storm. The reef that protects the harbor. The nest that encircles the young. The metaphor that precedes the nausea. Thy name is "Carrick."

The United rock doesn't muscle you off the ball -- he bores you off it. Carrick is human ambien in cleats. Rampaging opponents simply suffer somnambulism when confronted by the England midfielder. After a rough start to his United career, his performance in 2013 reminded you of the great stoppers in their prime, iconic players like Claude Makelele and Lothar Matthaus.

The most astonishing part of the puzzle is that you cannot look at Carrick when he's playing and point to any outstanding individual skill. But like a Zen Master, Carrick flows not to where the ball is, but where it will be. To watch Carrick marshal his back line is to admire a painting that you cannot truly fathom. But we still wouldn't want to own it.

Also thought about but not for long: Steven Gerrard, Liverpool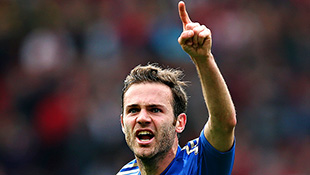 Alex Livesey/Getty ImagesChelsea's Juan Mata was the EPL's standout player in 2012-13; creativity allied with strength, brilliance fused with consistency.
Midfielder: Juan Mata, Chelsea
What happened: His fluidity and MENSA-worthy soccer brain transformed the Chelsea midfield into the EPL's best. He remained the Blues' most influential player despite having to play 742 games in 2012-13 as Chelsea failed to grab seven of the eight available trophies.

It's actually quite hard to get credited for an assist in soccer. A player effectively has to trap, kill, skin, cook and serve the ball before the Great Statistician in the EPL Firmament dubs it worthy. Thus it comes as no surprise that Juan Mata, the latest in the Spanish assembly line of smurf midfielders, led the league with 12 of these rare gems. Even more impressively, look what he had to work with -- Fernando Torres, Demba Ba and Victor Moses, a trio that doesn't exactly inspire pant-wetting terror in non-Europa League opponents.

With iguana-like vision, Mata pinged his passes all over the field, often surprising his own teammates. The only bigger shock was when Torres finished one of them. Few players have so swiftly adapted to the EPL and then continued to improve despite having a head that is 47% larger than it should be. (Seriously, it looks like a pumpkin wobbling on a matchstick.)

Short and slight, the Spaniard seems utterly at ease amid the physical mayhem, while his ability to not only create goals but score them too (he had 20 in all competitions) justifies his Chelsea nickname "Johnny Kills" (yes, it's the English translation of his name but you gotta admit that it fits). While it might feel blasphemous to some, Stamford Bridge hasn't witnessed a talent this sublime since Pope Gianfranco Zola held Saturday Mass.

Flanked by twin terrors Eden Hazard and Oscar, Chelsea's passing carousel figures to be the most beautiful to watch outside of Barcelona in the years to come. Unless, of course, Jose Mourinho decides to suck the soul out of the whole thing.

Also considered: Santi Cazorla because there's a biblical law that requires at least one Arsenal player to be on this list

Midfielder: Michu, Swansea City
What happened: Brilliant strike after feathery touch after "did you see what he just did?" moments.

What are they putting in the tapas these days at Liberty Stadium? Michu arrived in Wales for a paltry $3 million from Rayo Vallecano, a peripheral La Liga side. This season he netted 18 goals, almost every one of them leaving ridiculous at the station to go straight to the sublime, like this sick effort against Man United and this gem vs. Chelsea.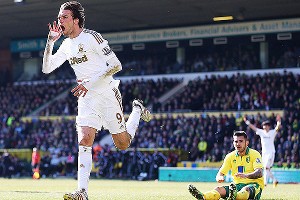 Matthew Lewis/Getty ImagesNo one -- not even Sir Alex -- knew of Michu when he landed at the Liberty Stadium. Yet his goals and creativity were a revelation for Swansea.

While statistics rarely matter, Michu's 18 goals from only 38 shots on target shows a finishing talent worthy of Gerard Butler on a Saturday night. However, we did dock the midfielder some points for his truly moronic goal celebrations.

Considered: Rickie Lambert, Southampton

Midfielder: Gareth Bale; Nope, not going to write it
What happened: The soccer gods obviously have a perverse sense of humor. They put the most heavenly player in the league on that hellish North London club.

When professional sides and their back room staffs place the entirety of their focus on stopping a single player, and it simply never works, then you've been 'Messi'd' in Spain and 'Baled' in England. This season, Lord Gareth abandoned his favored left side of the field to roam wherever he wanted causing havoc not seen since General Sherman went on his little Southern jaunt. He was the runaway PFA Player of the Year as well as the PFA Young Player of the Year.

As soon as the Welshman comes to his senses and gets to a real side, he's going to win the Ballon d'Or. And, to facilitate that end, we have generously sent him first-class plane tickets to about a dozen European cities outside of Great Britain.

Also considered: Absolutely no one

Striker: Luis Suarez, Liverpool
What happened: Most goals from open play (23), most shots launched (175), most shots on target (74).

We don't know about you, but we feel like a snack.

Also considered: Hannibal Lecter

Striker: Robin van Persie, Manchester United
What happened: Unceasing anguish and misery for Gunner fans as their former beloved Dutchman reprised his spectacular 2012 season while leading United to the title.

Arsenal fans want to despise RvP. They feel like he abandoned them in their decade of need. But just as you cannot bring yourself to truly discipline the gorgeous puppy who just Jackson Pollock'd your new white rug, every time that they watch the former Arsenal striker ply his glorious trade, they revert to admiration. This is an obvious personality defect and we hope that our Gunner friends are working on it.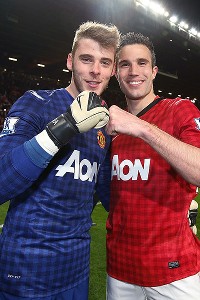 Matthew Peters/Man Utd/Getty ImagesMan United struck gold with David de Gea and Robin van Persie -- one proved he was strong enough for the Prem while the other stayed healthy and lead the scoring charge.

Once again RVP led the Prem in goals with 26. Almost as impressive were his nine assists, but it was the confidence that he brought to an unsettled United early in the season that made him the gold standard of the previous summer's transfer buys. While he wore down in the latter stages of the campaign, all you need to know is that a team that was fundamentally unchanged from 2012 to 2013 went from second to first while challenging for the record EPL highs in wins and points.

Now Cesc Fabregas, Samir Nasri and van Persie have all been rewarded with the silverware they sought, while Gunner fans are hoping that Jack Wilshere cannot do the math, and that Gervinho cannot find his way back to London next fall.

Entered the conversation but quickly left it: Christian Benteke, Aston Villa

Manager: Arsene Wenger, Arsenal
What happened: After a soft start and even weaker middle to the Gunners' league play, the Frenchman inspired a level of courage and fortitude in his team that hadn't been seen at the Emirates since his puffy coat was still a goose.

Yes, he permitted his goal-scoring talisman, RvP, to be sold to an arch-rival for around $32 million, and he pawned off his sturdiest midfielder, Alex Song, to Barcelona for $21 million. But to his credit he spent the whole lot, raiding Malaga for Cazorla and Nacho Monreal plus the German and French leagues for Olivier Giroud and Lukas Podolski. For once, we can point out that Wenger's fascination with players from the continent was not rooted in rank and profligate lunacy -- or as we like to call it, a Chamakh.

After the 2-1 loss to Spurs at White Hart Lane in early March left the reeling Gunners seven points in arrears of Spurs in the Champions League spot derby, their season was deemed to be over. Yet AVB has been picking flecks of egg yolk off his face ever since.

The turning point was the 2-0 win over presumptive Champions League title-holders Bayern Munich at the Allianz Arena. Even though the Gunners fell agonizingly short of advancing, it electro-shocked them into qualifying for that competition for an astonishing 16th consecutive time. Can you imagine how good this team could have been if van Persie had only stuck it out one more year? Arsenal fans can. Every single night when they close their eyes and dream.

Would have been picked if we were remotely impartial: Michael Laudrup, Swansea City

Would have been picked if we were remotely sentimental: Sir Alex Ferguson, Man United

Would have been picked if we were riddled with self-loathing: Rafa Benitez, Chelsea

--

David Hirshey has been covering soccer for more than 30 years and has written about the sport for The New York Times, Time, ESPN The Magazine and Deadspin. He is the co-author of "The ESPN World Cup Companion" and played himself (almost convincingly) in the acclaimed soccer documentary "Once in a Lifetime."

Paul Kanarek is a freelance soccer writer living in Los Angeles, the only city in America where MLS teams outnumber NFL teams 2-0.