Here's to the sore winners
There is no more beautiful sight in all of soccer. Nothing that makes the heart soar higher, the pulse race faster, the mustache go more a-quiver or the beer spray across the room with more joyous gusto.

And on Sunday at the Football Factory in New York City, hundreds of Premier League fans got to witness this magical sight in all its priceless glory as the seconds ticked down on this crazy season while the camera panned to the stands at White Hart Lane.

"We see you crying on TV," sang the army of magnificently insensitive Arsenal fans as the final whistle blew down Tottenham's Champions League hopes and its supporters hung their heads and blubbered into their fifth-place finish. "We see you crying on TV," the Gooners chorused again, pogo-ing to the silent beat of their 16th consecutive appearance in Europe's only meaningful competition. The fact Arsenal is pathologically incapable of winning it -- or indeed any trophies, except those that exist in Arsene Wenger's mind -- meant nothing this weekend. We were in, they were out, and that was enough for now.

Mangan: Gunners do enough, now must improve
Fitch: Sad end to Spurs' stellar season
Duffy: Arsenal wins its cup final
Debate: Did Spurs waste a great chance?

Oh, what a sweet, sweet denouement to a season in which some people actually thought Wenger's magic CL carpet ride had come unwoven. And by "people," I stretch the definition to refer to Spurs fans who still haven't learned to accept their second-class status in North London after all these years of bitter disappointment. If there's one thing that you can count on in this sibilant rivalry, it's that as soon as a Spurs player or manager starts gloating about how Tottenham will finish above Arsenal in the table, they will end up gagging on their premature bravado.

You would think that last season's "mind the gap" nonsense -- begun when Arsenal trailed by 10 points with six weeks to go -- would have served as a potent reminder of their misplaced hubris.

Did they learn? Of course not -- they are Spurs fans and so, once again this past March, the latest Ringmaster of the Impending Collapse (Andre Villas-Boas) spoke giddily about the Gunners' "negative spiral" that saw them seven points back. Unfortunately for AVB, Arsenal reversed the helix to pull 26 points out of a possible 30 over their last 10 games.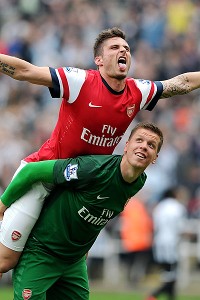 Stuart MacFarlane/Getty ImagesSo what if Arsenal doesn't win trophies? This weekend, none of it mattered given that the Gunners pipped Spurs to the final CL spot.

Oh, and about that gap. It was only one point at the end but it was Spurs who were minding it.

What a shame, too, given that Fifthenham finished with its highest-ever points total -- 72 points! -- and probably had its strongest squad in the five decades since it last won the league. Meanwhile, Arsenal was widely regarded to have its weakest roster in recent memory, stocked with players like Sebastien Squillaci and Andrei Arshavin who it literally couldn't give away. If ever the Gunners were there for the taking, it was this season.

And yet like Einstein's definition of insanity, there would be only one narrative played out: Spurs get pipped at the finish line by the vagaries of outrageous fortune (see: Chelsea winning the CL against Bayern at the Allianz Arena) or simple cluelessness (Exhibit A: Allowing Emmanuel "I will kill Arsenal" Adebayor to lead their line in lieu of a proper striker).

My Sunday started strongly after my Gooner compadres bought me three pints before the Newcastle game was a half-hour old. And to think that some people view me as a glass-half-empty guy. (In their defense, I suppose I should acknowledge that there were times this season, when I may, in my delirium, have suggested that Wenger should go. I wholeheartedly recant those foolish statements -- unless he doesn't spend any money this summer.)

But it wasn't only the IV of Stella Artois that helped facilitate my peace of mind; it was the knowledge that Arsenal had grown a spine in the run-in. The old Wenger mania for aesthetically pleasing soccer was trumped by a gritty resolve as the pressure ratcheted up and the Gunners went about their business of achieving the bare minimum: a berth in the Champions League.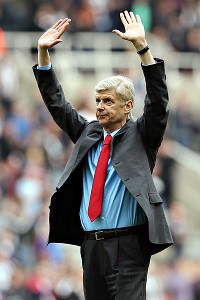 Getty ImagesArsene Wenger's Gunners aren't normally known for their resiliency but the final weeks of the season saw Arsenal eke out crucial wins despite mounting pressure.

And if there's any group that can extract the most joy from mediocrity, it's Arsenal fans. I wouldn't be surprised to hear that an open-top bus parade to celebrate our fourth-place finish is planned for this week in North London.

Still, could Arsenal have made the day of Champions League reckoning any more difficult on their fingernail-chewing faithful?

Newcastle's fat clown of an owner, Mike Ashley, fueled the already inhospitable atmosphere at St. James' Park by offering a million pound bounty to the club's non-playing staff if the Magpies pulled out a win. Of course Arsenal needed no additional incentive, especially one as crass and misguided as Ashley's pot of fool's gold. (Does anyone really think the Newcastle players were shouting "Win One For The Tea Lady!" in their pregame huddle?) The Gunners knew that anything less than victory could mean spending their Thursday nights in remote precincts of Eastern Europe where Wenger would struggle to find a restaurant with the proper table linens.

And yet, the opening 45 minutes were a microcosm of the Arsenal season: lots of possession but no real penetration or cutting edge and a distinct lack of urgency as the Gunners ambled about. Indeed, right up to intermission, Wenger bore the constipated look of a man sitting down to the first act of a four-hour opera. Fortunately, apart from a couple of attacking forays, Newcastle played like a team who cared not one whit less whether the tea lady spent her summer basking on the Tyne or the French Riviera.

It was only fitting that the Gunners' facially clenched manager should be rescued by a fellow Frenchman as in the 52nd minute, his most underrated player delivered the $30M goal. Laurent Koscielny had begun 2013 slotted firmly behind his team's captain, Thomas Vermaelen, in the central defender pecking order but fortunately for my crumbling psyche, a string of defensive howlers finally forced Vermaelen to the end of the bench. Once Koscielny was paired with Per Mertesacker, the league's most polysyllabic defensive duo fashioned a remarkably consistent partnership at the back, combining calm, organizational skills with aerial strength and robust tackling.

And on Sunday, the two linked up at the other end of the field for the Champions League lottery-winning goal. It was the towering German Mertesacker who leaped highest to flick Theo Walcott's free kick goalward before Koscielny ran onto the ball and hooked it past Newcastle keeper Steve Harper. (By the way, this the first time in recorded history that the words "Per Mertesacker" and "leaped highest" have been uttered in the same sentence.)

At that moment, if you had spent the past nine months below ground in a hermetically sealed bunker and walked into the Football Factory where dozens of grown men in red jerseys were leaping about high-fiving each other while shamefully spilling their precious beer and belting out "One-nil to the Arsenal," you might have thought the Gunners had won the league for the first time in nearly a decade. And if you agree with the recent Wenger definition of "trophy," we now had one manicured hand on our annual piece of imaginary silverware.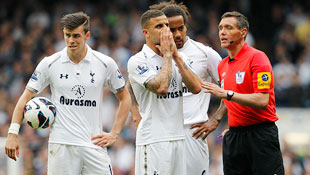 Ian Kington/AFP/Getty ImagesSuch is the acidic nature of the North London rivalry that Tottenham's pain made for a happy day among the Gunners faithful.

The boisterous mob of Newcastle fans found the scene so amusing they began chanting "We're going to win 4-4." And then there was the little matter of 38 minutes remaining in regulation time for us to both claim our rightful destiny and consign Spurs to theirs.

I don't think I've ever felt time move more slowly -- not even when I was stuck on a ski lift with an insurance agent. What made it even worse was that the Spurs-Sunderland game was on a screen at the other end of the bar and I had to swivel acrobatically on my stool and strain to catch a glimpse of it. My chiropractor is going to be so very, very annoyed.

Not that I needed to make the effort because those gluttons for punishment known as Spurs fans kept up a running audio track of outraged howls (how dare Andre Marriner whistle Saint Gareth for diving?) and near-death exhalations (like when Aaron Lennon's close-range shot deflected off a Sunderland defender and hit the post before being scrambled away). But there was no mistaking the sound that erupted in the 90th minute when Bale left the Spurs supporters with one last memory of his solitary genius, launching a left-footed screamer into the far corner from 25 yards.

Now it was the Gooners' turn to sweat. Arsenal still had to hold out for four excruciating minutes of stoppage time. Walcott could have ended the anguish but with the goal gaping, his shot shaved the post and rolled to safety. Finally, Howard Webb blew his whistle and the Arsenal fans went entirely mental, pausing their celebrations only to drink in the scene of misery at White Hart Lane where a red-eyed Spurs captain Michael Dawson embraced an equally devastated Bale, perhaps for the last time as teammates.

Later, Dawson would manfully try to articulate his emotions: "It's really hard to take. We've got 72 points, the highest total the club's ever got and we still miss out on the Champions League … it's not a good day."

Sorry, Michael, you got that wrong, mate. It's actually a great day. It's St. Totteringham's Day!