What I'll Miss About Fergie's Time
As someone who has been following English soccer since Vinnie Jones grabbed Paul Gascoigne in a place that is generally considered impolite, I can't help but admire Sir Alex Ferguson's staggering achievement as the manager of Manchester United: 26 years, 13 league titles, five FA Cups, four league cups, two Champions League trophies, and that one press conference when he didn't threaten to evict a reporter.

It is a testimonial to his ruthless brilliance that since the Prem was formed in 1992, the lowest finish for Ferguson's side was third.

But as an Arsenal fan, I can't help but take a measure of fiendish delight in his departure, even if it means Gooners no longer get to hurl pizza at a tartan-loving United boss.

Oh wait, David Moyes is from the Scottish kilt zone -- cue the wood-burning oven.

My joy is not merely based on the presumed sadness masking itself as irrational exuberance that SAF's retirement will wreak on the smug followers of the world's most entitled club. Neither is my vengeful glee bubbling up because I feel that with Ferguson gone, Arsenal will have a better chance to put something other than a dust bunny in their antique-housing trophy case.

No, the real source of my happiness is my belief that United's lengthy Darth Vader-like grip on the Premier League is finally coming to an end. I'm not saying that Fergie is the greatest tactical mind to ever draw up a set play or kick a cleat at David Beckham's head. Nor do I think that Moyes is any less a tough guy than the man who coaxed seasons of genius and consistency out of Eric Cantona, or that United doesn't still boast world-class talent.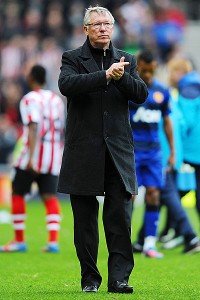 Michael Regan/Getty ImagesUnforgettable scene: Alex Ferguson was crestfallen after losing the title to Manchester City on the final day of last season.
What I am positing is that without Ferguson pulling the strings, United will suffer because more than tactical acumen or brilliant players, the team's success was primarily a byproduct of Ferguson's black magic. There is no other feasible explanation for the litany of last-gasp goals (you know, the ones that came a full two minutes after official stoppage time elapsed), the stunning capitulations of its front-running rivals, the overwhelming refereeing favoritism, and the descent into moribund irrelevancy of his former archenemy at Anfield.

Ferguson's warlock powers turned back the ravages of time for Paul Scholes and Ryan Giggs and were so remarkable that people like Wes Brown and Jonny Evans were believably useful as part of medal-winning sides.

It is patently obvious that Ferguson met the devil at the crossroads of, say, Whitworth and Sackville, and swapped his soul in exchange for managerial immortality. And now that soccer's Doctor Faustus is retiring, the team will revert back to relative normalcy (say, a title every three years) unless, of course, Moyes has also made a compact with Beelzebub -- or Wayne Rooney.

But this isn't the time to brood over what the future holds for the Theatre of Dreams, but rather to revel in the great spectacle of the past 26 years. So here are five things I'll miss about the Man Who Stayed For About The Right Amount Of Time (are you taking notes, Arsene?)

1. The wild visual disconnect of such a crotchety old man enjoying a teenager's love affair with chewing gum.

2. The look on his face after he thought he had won the league on the final day of the 2011-12 season, only to discover that Sergio Aguero and City had broken Fergie's heart and, apparently, his face.

3. His postgame interviews. Sir Alex was simply the master at effortlessly combining humor and condescension, particularly when it came to dressing down his favorite target: the media. His special Pokemon skill was his ability to make compliments feel like insults. My personal favorite was when he was praising Inter Milan on the eve of a Champions League meeting as masters of the smoke screen: "When an Italian tells me it's pasta on the plate, I check under the sauce to make sure." And there is a special place in the sky above for any man who could reduce Rafa Benitez to a blubbering, napkin-scribbling wreck.

4. His spontaneous touchline combustions. Ferguson would desperately try to contain his burgeoning rage within his technical area before unleashing a torrent of spasmodic jerks, frustrated stomps, and extra-hard gum chewing that have been matched only by Linda Blair in "The Exorcist."


5. The immense pride I felt on those rare occasions when Arsenal beat United. What's this? I've just been told that referee Howard Webb has awarded me some Hirshey Time. He's just put a few more minutes on the clock and that means I get to add a sixth entry.

6. I'll never get to watch a better soccer manager.