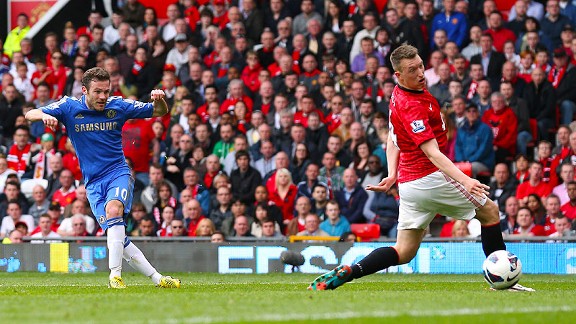 Alex Livesey/Getty ImagesWith one swing of his foot and a lucky deflection, Juan Mata added extra chaos to the fight for a top-four Prem finish.
It's not fair. Every Christmas, I put money into the Salvation Army kettle in spite of that incredibly annoying bell they ring. Every Arbor Day I always plant a tree -- or at least sit under one sipping a beer. And every July 4, I donate my mustache trimmings to the nearest hospital for the hirsutely challenged.

In fact, now that I think about it, the only ongoing blots on my ledger of goodness are my unapologetic delight at Spurs not winning a league title in the past 42 years and John Terry going from "Captain. Leader. Legend" to "Seldom. Used. Substitute."

So why have the soccer gods decreed that I must suffer? Why am I sadistically tormented in a way that should be solely reserved for people who kick puppies or bite Branislav Ivanovic? Well, it comes with being a Gooner.

Okwonga: United drifts gently to season end
Lythell: Juan Mata takes Blues to CL brink
Limbert: Why Arsenal fans are right to worry

Consider the utter cruelty of my weekend. It began with 84 ebullient minutes of what looked to be the standard Spurs choke-a-palooza against Southampton, during which time the Lily-livered whites mustered as many shots on goal as I did. Oh, joy!

Then Destiny, in the form of Gareth Bale's lethal left foot, catapulted the ball into the corner of the Saints' net. Oh, despair!

Is there a more sickening sight for Arsenal fans than the Welshman forming that stupid little heart with his fingers after scoring a goal? And is it even really a heart? Or is that a bull's-eye for Europe's elite clubs to aim at when shooting millions his way for next season?

Fortunately, I didn't have much time to dwell on how (once again) Bale had bailed out Spurs -- because Arsenal scored a goal before I could even order the first of several pints designed to blunt my anguish.

Yes, Theo Walcott belted the ball past QPR's helpless Robert Green a mere 21 seconds into the lunchtime match, as I giddily imagined the next 89 minutes and 39 seconds of what figured to be a merry stroll against Harry Redknapp's relegated mess.

Yet, astonishingly, the cellar dwellers appeared the more energetic and committed team at Loftus Road and had it not been for Wojciech Szczesny's heroics in goal, Loic Remy might have equalized in the 83rd minute. By the final whistle, my derriere was cramping from a two-hour clench-fest.

Thankfully, my pained posterior had an entire day to recover in advance of the weekend's big game between Man United and Chelsea at Old Trafford. From my standpoint, life was good through 86 minutes of 0-0 dreariness. Then, once again, a non-English left foot intervened to harsh my mellow as Juan Mata's shot from the edge of the box deflected off Phil Jones and past Anders Lindegaard.

While I normally feel nothing but unalloyed glee when Sir Alex Ferguson suffers a loss (especially at home), this time -- not so much.

You see, the 1-0 victory moved the Blues into third place, a point ahead of Arsenal and three above Spurs, with both of the other London clubs holding a precious game in hand on the Gunners.

And now I am left to manage three more days of acid reflux as Wednesday's Spurs-Chelsea showdown will probably determine the Champions League fates of all three teams. Should Bale and his Ten Useless Friends prevail at Stamford Bridge for the first time since 1990, Arsenal could win its last two matches and still be starting next season with European matches in places where airlines simply won't fly. (Are there any direct flights from JFK to Makhachkala?)

The prospect of Arsene Wenger's team playing in the Europa League after 15 straight Champions League appearances must make Sir Alex's heart soar. Despite his recent faux cordiality with the Frenchman, Ferguson has never considered him to be a worthy wine-drinking companion like, say, Jose Mourinho.

So eager is Fergie to welcome back the Special One to the Premier League that on Sunday he did his best to ensure Chelsea a place in the CL, even if it meant allowing his old enemy Rafa Benitez to buff up his CV at United's expense.

And what a warm and sincere handshake the always gracious Scot gave the Spaniard... after Rafa had to look around for him for about five minutes.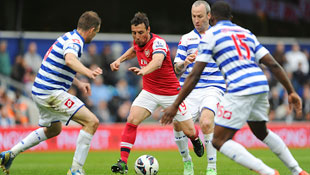 Stuart MacFarlane/Arsenal FC/Getty ImagesArsenal scored very early vs. QPR but couldn't break the relegated side a second time, leading to a nervous afternoon.

For all his palaver about the runaway champions wanting to secure the Premier League record for most wins and how there will be no slacking off, the United manager contrived to leave out four of his regulars -- David DeGea, Rio Ferdinand, Michael Carrick and Wayne Rooney -- and could find no place for attacking spark plugs like Shinji Kagawa or Javier Hernandez. Yet a week ago, he sent out his strongest team to play Arsenal even though United had clinched the title already. Hmmm...

When Mourinho used his Champions League exit news conference this past week to remind everyone that he is likely headed back to England -- where "I know I am loved by some clubs, especially one" -- even his preening self may have underestimated the extent of Ferguson's personal affection. It's all well and good for Chelsea to win the Europa title later this month, but Sir Alex knows that his prodigal friend isn't returning to take back the reins at Stamford Bridge unless the Blues are in the Champions League next season.

And how could you make Chelsea's passage into the competition less fraught? For starters, picking a midfield of Anderson and Tom Cleverley over Rooney and Carrick. Benitez must have thought he had died and gone to heaven -- or Real Madrid. And before you start accusing me of being a conspiracy theorist, allow me to explain something: I am a conspiracy theorist. At least when it comes to Sir Alex and Arsenal.

Lest we forget, a bleary-eyed, reportedly hungover United played against the Gunners last Sunday as if they were still lounging in the VIP banquettes at which they had celebrated the club's 20th league title earlier that week. Yet this past weekend, the Red Devils played against Chelsea as if the match was actually taking place in the champagne room and nobody came for the soccer.

"I have a couple of mates who are doormen at the big Manchester nightclubs," said Jack Keane, the bartender/owner of the Football Factory and a lifelong United fan. "They told me that United hasn't stopped partying for two weeks. They've been on an uncontrollable bender and Ferguson is pi---- off but he's putting on a bright face."

Not that you could tell anything was amiss in Fergieland from the giddy United supporters at the pub. Massed around their huge championship banner, they hopped up and down, chanted "Campeones! Ole! Ole! Ole!" and, in general, displayed considerably more energy than their heroes were showing on the field.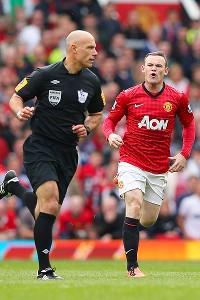 Alex Livesey/Getty ImagesHoward Webb felt the brunt of United's complaints after Chelsea's late win, though Sir Alex Ferguson only had his lackluster XI to blame.

It took the usual antagonist Howard Webb to inject a jolt of urgency into the mundane proceedings. The pride of English referees chose to ignore Ryan Giggs mugging David Luiz at the edge of the penalty area in the 51st minute, eliciting howls of outrage from the Chelsea mob at the bar: "Howard Webb, you're a w**ker, you might as well wear red." It's amazing that everyone on planet Earth thinks that Webb favors United, except for Sir Alex. Even though the bald whistle-blower seemed to enjoy sharing private jokes with some of the United players -- he and Lindegaard almost collapsed from laughter at one point -- Fergie was not amused.

"I thought the referee's decisions went against us," Ferguson told the English media afterward. "Chelsea surrounded the referee all day, four and five players all the time and I think that affected him."

Remember, it is Sir Alex's world -- we are just permitted to live in it.

In a nod to reality, Ferguson stopped short of blaming Webb for the loss. After all, it wasn't the referee who kept giving the ball away in the midfield or who was going for the Guinness Book of World Records for offsides like Wandering van Persie.

Chelsea had increasingly pinned United back in the second half, causing some nervous moments for Lindegaard before the Blues finally broke through in the 87th minute. Rooney, who had come on with 20 minutes to play, looked like a cat coughing up a hairball as he surrendered possession to Ramires at midfield. When Oscar spotted Mata unmarked in the area, the Spaniard (and Jones' leg) did the rest.

Their pride stung, United surged forward with Rafael racing down the right flank and battling Luiz for control of the ball near the corner flag. The Chelsea defender caught his fellow Brazilian with two well-placed elbows before Rafael sent Luiz flying with a petulant kick to the back of his legs. As Luiz writhed on the ground, Webb brandished a red card for Rafael that caused Luiz to grin and Fergie to erupt.

"He rolled about like a dying swan," Sir Alex hissed. "He was smiling. What kind of professional is that?"

Probably the kind of top, top pro that Mourinho will embrace just as soon as he alights at Stamford Bridge. With a superior goal difference, the Blues can essentially lock up one of the two remaining CL berths with a victory over Spurs on Wednesday.

But god forbid, if Spurs were to win, well, let's just say some poor kids aren't going to have mustaches this year.

David Hirshey has been covering soccer for more than 30 years and has written about the sport for The New York Times, Time, ESPN The Magazine and Deadspin. He is the co-author of "The ESPN World Cup Companion" and played himself (almost convincingly) in the acclaimed soccer documentary "Once in a Lifetime."