RVP showered with boos at Arsenal, but did he get one last kick in?
I had one of those vivid, hi-def dreams Saturday, the kind where you don't want to wake up, especially after a 12-hour bender celebrating Spurs being Spurs and dropping two points at Wigan. (Imagine the damage I would have done if the Latics had actually held on to their late lead.)

And this wasn't one of those NC-17 dreams, by the way, it was far better. It was an RVP-rated dream, in which an ex-Gunner was so grateful for all the faith and love that Arsenal had showered on him that he decided to return the favor.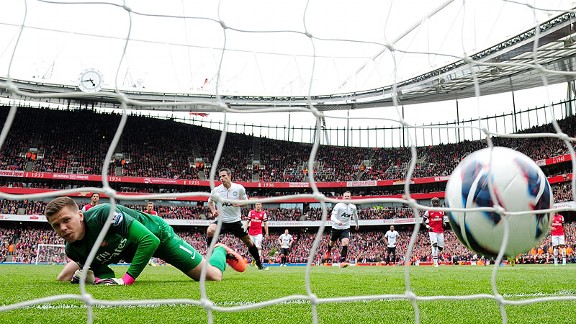 Shaun Botterill/Getty ImagesRobin van Persie barely registered any emotion when he converted the penalty kick in the face of a vengeful Arsenal crowd that once claimed him as its own.
In my feverish hallucinations, the dirty Dutchman did away with the traditional guard of honor that normally would be afforded Manchester United after they locked up the title last Monday. Instead he had cajoled his teammates into forming a line outside the Emirates tunnel in order to applaud the man whose cheapness and obsessive love of underpriced French players allowed Sir Alex Ferguson to rip the heart out of the Gunners and transplant it to their hated rivals, who then went on to win their 20th league title.

And here's the best part: Not only would van Persie clap Arsene Wenger onto the field but he would give him a warm hug and then, as the Emirates erupted in teary-eyed nostalgia, he'd let Wenger do something he's been waiting eight years to do -- zip up his puffy sleeping bag of a coat without incident.

Oh yeah, RVP would also permit his ex-manager to touch the championship medal hanging from his neck. How classy and life-affirming would that have been? (I'll pause while you slow clap.)

Unfortunately, when I woke up, reality kicked me in the face. Eardrum-shredding boos rained down on van Persie as he emerged from the tunnel, the last United player to jog onto the field through Arsenal's somewhat less-than-heartfelt guard of honor.

He looked sheepish, as if that little boy inside of him who had screamed to go to United over the summer had blossomed into a gangly teenager embarrassed by a sudden growth spurt. Gone was the once jet-black hair, replaced by generous amounts of grey, as if the stress of coming back to his home of eight years (which overlapped with the six years he sublet a place on the trainer's table) was proof that he had a conscience.

I was too tired to boo him, partly due to the epic hangover and partly because I save my venom for truly traitorous swine like Samir Nasri.

I understand that at 29, RVP knew time was running out on his career and he wanted to win something other than the Emirates Cup. When he looked around the training ground and saw the likes of Sebastien Squillaci and Andrei Arshavin going through the motions at $150k per week, he did what any sane world-class player would do and hopped off the treadmill. And if my onetime man crush had gone anywhere but United, Spurs or Chelsea, I would still be marveling at his goals and singing "Oooh, Robin van Persie."

So while RVP didn't handle his departure in the most gracious manner -- the incessant demands for a higher wage, the game of footsie with Man City and finally that silly "little boy inside me" quote -- Wenger must share in the blame for selling him to the club's sworn enemy when he could have shipped him off to Italy for a few million less and where his every goal wouldn't come back to haunt Arsenal.

Not that the boisterous band of Gooners who showed up at our house of worship, the Football Factory, were about to engage in some Kumbaya-style love fest with the Dutchman. We were as sick of the van Persie circus as Liverpool fans must be with the tedious Suarez soap opera.

Only one thing mattered to us Sunday (besides assurance that the Guinness and Stella taps were in working order), and that was Arsenal's desperate quest to lurch into one of the two remaining Champions League berths.

Before the kickoff, I vowed I would only hate van Persie if he somehow helped to deny us our divine right to fourth place. So if the penalty kick he scored in the 43rd minute to deprive Arsenal of two precious points turns out to cost the Gunners their 16th consecutive place in Europe's only meaningful competition, then I'll be forced to further weaken his ankles on my "FIFA Soccer" RVP avatar to mirror what Mother Nature -- or Ryan Shawcross -- should have already done at some point this season.

But for now, I'm more annoyed with Bacary Sagna -- and it has nothing to do with the fact I have blonde cornrows in my mustache. I realize that the French fullback is a bit confused by playing this late in the season without a broken leg. Still, if you're foolish enough to give away the ball on a slack back pass, do you really need to compound your error by attempting to scythe the opponent in two, especially when RVP has already scored 24 goals this season? Of course, Sir Alex could have marked his 1,500th game in charge (that's a lot of Bourdeaux) by displaying a modicum of common decency and letting someone else take the kick. Mike Phelan, for instance.

-- RVP spot on in Arsenal return
-- Draw fair but frustrating for Gunners

Is Ferguson still so bitter that Cesc Fabregas threw a pizza in his face roughly 42 years ago that he feels this petulant need to punish Arsenal?

Even taking into account the fractious history between the clubs, I never thought Fergie would start his strongest XI, including Phil Jones who was last seen, according to the British tabloids, at 5:45 a.m. on Tuesday, dancing in the street with several of his teammates after a night of beer and Jagerbombs. (You can detect the influence of German soccer everywhere these days.)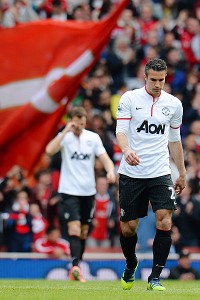 Shaun Botterill/Getty ImagesThe only thing that matters regarding Robin van Persie's return is that, when all is said and done, he doesn't cost Arsenal its usual spot in the top four.
Not to suggest Jones was feeling the effects of that title-clinching drunk-a-thon, but there was a moment in the first half when under no pressure he passed the ball into touch about 10 yards away from any United player. And then burped loudly.

Van Persie, though, was presumably sober when he handed Arsenal the illusion of hope only two minutes into the game. Given that Thomas Vermaelen (remember him?) had so magnanimously assisted the Dutchman in scoring his goal in the third minute at Old Trafford in November, it seemed only fitting that van Persie would cough up the ball just inside the United half in the second minute of the return match. And that 30 seconds later, RVP's moment of largesse would end up in the United net courtesy of Theo Walcott and Phil Dowd, the latter ignoring that the former was marginally offside when he hammered the ball past a helpless David De Gea.

"Same old Arsenal, always cheating," went the chant from across the bar at the Football Factory, where the smug United contingent were in full title gloat. Clearly it didn't occur to them that when the game isn't played at Old Trafford not all referees abide by Fergie's Law, a supposedly immutable construct where United must be the beneficiary of all close calls. Besides, it's only cheating when you do it on purpose and everyone knows that Walcott hasn't had a clue where he is on the field ever since he signed his new contract.

Also, Arsenal needed all the help it could get after Chelsea's 2-0 victory over Swansea vaulted the Blues into third, a point ahead of the Gunners. At least the Spurs didn't disappoint, failing to beat relegation-threatened Wigan and having to settle for a 2-2 draw that drops them to fifth two points behind Arsenal albeit with a game in hand. I still wish they would have gone full gag and lost but the math of history is on my side -- Tottenham and Europa League have always made for a beautiful couple.

The relentless booing that van Persie received from the Arsenal faithful momentarily turned to mock cheers when he was booked in the 28th minute for a reckless tackle on Per Mertesacker. It was a challenge born out of frustration for a player used to being the spearhead of United's attack, but who for the first half hour had been reduced to a peripheral figure at best. Credit Arsenal for pressing United high up the field with ferocious intensity but also factor in that for most of the first half, the Red Devils were already mentally on the white sands of Ibiza.

Wayne Rooney, in particular, was so invisible that every time he touched the ball, cries of "PSG! PSG!" echoed through the pub. But United didn't leave an arguably superior -- not to mention wealthier -- Man City choking on their second-place dust with four games to spare without possessing an impressive mental toughness. And once their alcohol-sodden heads began to clear, the league champions settled into the game. Even Rooney shrugged off the effects of his booze, meat pie and hair-plug binges to drive United forward with energy and verve.

But this was always going to be van Persie's show and he collapsed to the occasion when Sagna fouled him in the box.

It takes immense sangfroid -- or incredibly poor hearing -- to tune out the fury of a vengeful crowd as you stand over the ball, but RVP had been lethal from the spot for Arsenal last season and it was no different Sunday as the ball flew by Wojciech Szczesny's outstretched left hand. Those United fans who may have hoped for a chest-thumping, badge-kissing, Adebayouresque-sliding celebration were disappointed as van Persie barely registered any emotion, showing the Arsenal supporters that he bore no ill will toward them even if the feeling wasn't mutual.

I, for one, appreciated the gesture -- unless, of course, that goal keeps us out of the Champions League, in which case RVP is even more dead to me.

Except in the solitude of my Gooner dreams in which he still wears our colors and blows past a falling John Terry.