A biting chance in the fight for fourth
It's been a horrible, crazy week but on the bright side, it now looks as if there won't be a title-clinching honor guard for Sir Alex and the Dutch weasel at the Emirates next Sunday. That's because barring a miracle -- and after Spurs' mind-boggling hat trick in seven minutes against Man City, I suppose anything is possible -- United will reclaim the Premier League trophy at Old Trafford on Monday afternoon and spare Arsenal fans the indignity of having to witness its coronation firsthand.

And if Fergie has already locked up his 13th league title by the time United visits Arsenal, might he be so inclined to give his starters the day off and play Paul Scholes, Ryan Giggs and maybe someone even older -- Sir Bobby Charlton's still in the lineup, right? -- against the Gunners? I mean, why not keep your stars fresh for the Charity Shield in August now that United is out of all other competitions?

OK, so I'm desperate (for a change), but that's what happens when your team is embroiled in the only Premier League drama remaining at the top of the table. And so it is time for me to ask that eternal question: Whose London Bum Is Squeakiest?

With four matches to go Arsenal is in third place, a point ahead of Chelsea and two up on Tottenham. The Blues and Spurs both have in a game in hand on the Gunners but still have to play each other while Chelsea and Arsenal both have Man United to look forward to. I fully expect the next few weeks to send me to an early grave (hold your applause), if not from the mountainous spike in my blood pressure then from the tanker of beer I'm planning on drinking to calm my nerves.

I thought for sure that Spurs would be in full choke mode by now and, indeed, for 75 minutes Sunday you could hear the gagging sounds all the way in West London. But then in startling succession, Clint Dempsey, Jermaine Defoe and Gareth Bale scored and suddenly Arsenal could feel Tottenham's hot breath on its neck.

It would get worse. Chelsea refused to wilt against Liverpool at Anfield and led 2-1 until Luis Suarez headed in the equalizer somewhere around the 147th minute -- or however long the "six minutes" of extra time actually lasted.

Morally, I was appalled by the injustice Chelsea suffered but it didn't stop me from catapulting off my bar stool at the Football Factory and spilling my beer all over the guy in a blue Drogba jersey next to me.

Jolly: Suarez leaves LFC in no-win situation
Tyler: Food for thought as Reds claim point
Lythell: Chelsea falls victim
Walsh: Suarez "saves" dull contest

I suppose, though, that a dropped pint is better than a dropped point -- and Chelsea lost two valuable ones on Sunday. Not to mention one of Branislav Ivanovic's arms.

Arsenal's talent for making things as difficult as possible borders on the paranormal so it came as no surprise that even against a Fulham team reduced to 10 men from the 12th minute on, the Gunners seemed to have no more than a ghost of a chance of winning. Instead, they had to hang on desperately for a shabby 1-0 victory. The less said about Arsenal's craven performance the better (has any team ever played more backward and sideways passes against 10 men?) including the fact the Gunners' one legitimate -- not to be confused with effective -- striker Olivier Giroud was red-carded in the final minute and will miss the next three games. While I'm here, could someone get me Nicklas Bendtner's phone number and the name of a good defense attorney?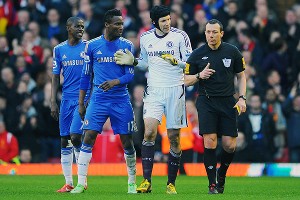 Michael Regan/Getty ImagesHired to referee the fiery clash between Liverpool and Chelsea, Kevin Friend ended up as much a spectator to affairs as the Anfield crowd.

But at this stage of the season, aesthetic concerns are trumped by results and I'd rather get three ugly points playing like a bunch of pub cloggers than one picturesque point playing some of the brilliant, flowing stuff that Chelsea conjured at Anfield. To be fair, the Blues' result came with mitigating -- and, as it turned out, masticating -- circumstances, not least that the equalizer was scored by a player who shouldn't even have been on the field for the final 24 minutes of regulation time.

By now, you've no doubt had plenty of time to digest Luis Suarez's Hannibal Lecter impression in which the Uruguayan chowed down on both Ivanovic's arm and Chelsea's Champions League hopes. I guess when God gives you teeth that big it's a shame not to use them, but you'd think that Suarez would have learned from the last time that he indulged his inner cannibal.

I happened to be in the Amsterdam Arena on Nov. 20, 2010, when a scuffle broke out between Ajax and its bitter rival PSV in injury time of a feisty 0-0 draw. The image of Suarez sinking his teeth into the shoulder of Otman Bakkal is seared into my brain, as is what my friend said to me when it happened: "Well, that's something you'll never see again in your lifetime."

I should have put a bet down on it. Damn.

Because not only did Suarez do it again, this time the referee didn't even see it. So Suarez remained in the game and, as fate would have it, scored the goal that cost Chelsea the three points it deserved.

Afterward, a contrite Suarez apologized for his "inexcusable" behavior while simultaneously kissing goodbye whatever chance he had to win the PFA's Player of the Year award. Even though the PFA's chief executive, Gordon Taylor, defended Suarez's inclusion on the short list -- he said last week that "this is a footballing award and Suarez's footballing ability shined through" -- it's now well-nigh impossible to separate Suarez the world-class, 30-goal-scoring soccer player from Suarez the alleged racist, diver, World Cup cheat and future "True Blood" star. (Of course, his supporters would claim that he was exonerated of being a racist, has limited his dives recently and never actually cheated in the World Cup. On the vampire charges, however, he is busted undead to rights.)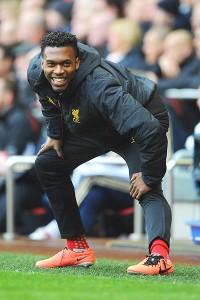 Michael Regan/Getty ImagesOne player who did impress on Sunday was Daniel Sturridge, who transformed the game against his former club with an impressive second half.

Even if Brendan Rodgers is loath to condemn his meal ticket for fear he may fly the Kop after this season, the Liverpool manager has to be ruing his recent choice of words in praising his striker's "absolutely amazing appetite for the game." That was how Rodgers explained the fact Suarez jetted right back to Liverpool training after playing for Uruguay against Chile in a World Cup qualifier.

Oh, and did I mention he reportedly punched a Chilean player in that game?

Suarez was not the only one to leave his mark on Sunday's game at Anfield. Rafa Benitez, the embattled Chelsea manager, was given a hero's welcome by the Kop complete with lovey-dovey chants and a huge "Thank U Rafa" banner that presumably saluted his myriad accomplishments at Liverpool (2005 Champions League trophy, an FA Cup victory and the constant annoying of Sir Alex) and not his subsequent clueless substitutions.

In return, Benitez allowed the Reds to come back into a game that Chelsea should have killed off by halftime. Perhaps he was disoriented by the cheers raining down on him at Anfield given that all he hears at Stamford Bridge are jeers and Roberto di Matteo songs, or maybe his tactical acumen failed him after Chelsea took a 1-0 lead into intermission.

Either way he had no answer for Daniel Sturridge, who created mayhem in the Chelsea defense when he came on at the start of the second half. An exasperatingly selfish player at both Manchester City and Chelsea, Sturridge seems to have rediscovered his mojo at Anfield and has formed a potent strike partnership with Suarez. The two combined to pull Liverpool even in the 52nd minute with Sturridge volleying home a sweet clipped pass from Suarez over the top of the Chelsea defense. It was another wondrous piece of skill from the mercurial Uruguayan, which only made what came after so sadly predictable.

Suarez's unraveling began when he was called for a handball in the box as he flailed at Juan Mata's corner in the 57th minute and then got up in referee Kevin Friend's grill to proclaim his innocence. It earned him a yellow card and a thunderous chorus of "Cheat, Cheat, Cheat" from the Chelsea hordes watching at the Football Factory, who erupted in delight when Eden Hazard subsequently buried the penalty kick to make it 2-1.

But the mood in the pub quickly changed when Benitez made a baffling substitution in the 78th minute, taking off Hazard and bringing on the seldom-used Israeli midfielder Yossi Benayoun.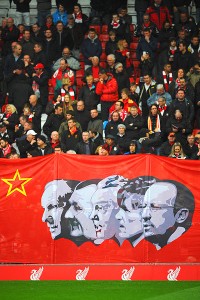 Michael Regan/Getty ImagesChelsea boss Rafa Benitez earned a warm reception from the Liverpool crowd. That he only left with one point is another matter.

"What is he thinking?" an enraged Chelsea fan at the bar shouted above the din, "he's got Lampard on the bench and he's going to lock down the midfield with Benayoun? Insanity!"

Of course, the real insanity was still to come when Sturridge, who was lucky not to be sent off for raking his studs on Ryan Bertrand's leg, found space on the right flank to cross into the six-yard box for Suarez to head home the equalizer in the 127th minute -- or whenever Kevin Friend decided to end the match.

Was he actually waiting for Suarez to score? Maybe he had a bet down on it. All I know is that I was emotionally spent afterward and I was officially a "neutral." I walked around Sunday afternoon in a fog of Stella Artois and Champions League anxiety, stopping every so often to stare at the Prem table and calculate all the possible mathematical permutations.

Believe it or not, Arsenal still has a chance to finish second this season but really, if you offered me fourth today, I would probably sink my teeth into it.

David Hirshey has been covering soccer for more than 30 years and has written about the sport for The New York Times, Time, ESPN The Magazine and Deadspin. He is the co-author of "The ESPN World Cup Companion" and played himself (almost convincingly) in the acclaimed soccer documentary "Once in a Lifetime."