Wigan saved the FA Cup from further indignity, but now it's City's cup to lose
Not to get all misty-eyed, but it did seem like the FA Cup went from "Zombie Apocalypse" -- courtesy of some charming Millwall knuckle-draggers -- to English soccer heaven within 24 hours.

Following Saturday's harrowing glimpse into the sport's dark past, Sunday's War of the Nouveau Riche couldn't come quickly enough for the sake of the game's future. Thankfully, Manchester City and Chelsea went instep-to-instep for 90 is-there-an-EMT-in-the-house minutes -- and somehow they managed to do it without anyone getting bloodied or stomped. (Unless you want to count Sergio Aguero tap dancing on David Luiz's butt, though referee Chris Foy certainly didn't.)

- Video: Watch Aguero's two-footed tackle on Luiz
- Video: Rafa's regret
- Curtis: Football redeems itself
- Martin: Brilliant match
- Brewin: Mancini closes in on cup glory

Given the two polar FA Cup semifinals, the Chelsea-City game was, ironically, more ill-tempered -- at least on the field. Aguero's two-footed lunge was matched by Fernando Torres raking his studs down the back of the Argentine's leg, although a cynic might say that Torres was aiming for Sergio's chest and missed. Those incidents aside, the game provided enough moments of luminous skill and nerve-jangling drama to serve as a much-needed salve to the festering Wigan-Millwall head wound. The images of baton-wielding policemen charging into the Millwall end to break up the antics of a few dozen deranged yobs were straight out of "A Clockwork Orange" -- or an episode of "Real Housewives."

Fortunately, one day later, we could shunt aside those gruesome pictures of the not-so-beautiful postgame, thanks to such breathtaking sights as Yaya Toure brushing off Blues defenders like pieces of lint, and Demba Ba swiveling on those ancient, rickety knees of his to hook home a volley at which City reserve keeper Costel Pantilimon could only marvel.

Yet no matter how much welcome relief was served up by Chelsea and City on Sunday, there's not a sentient human being outside a Blue-ish section of Manchester who wants Roberto Mancini's men to win the Cup on May 11. I mean, how can anyone root against Wigan after what they accomplished on Saturday? The Latics didn't just easily dismiss Millwall 2-0 and send their fans back to their caves in the East End of London. Rather, they saved the FA Cup final, the soul of English soccer, the glory of Wembley, and -- if you believe some of the more muted-as-usual tabloids -- the entire fabric of Western civilization.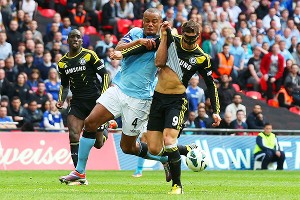 Alex Livesey/Getty ImagesVincent Kompany's treatment of Fernando Torres in the box could have been called a penalty, but there's no argument that the better team won the match.
Of course, to say that Roberto Martinez's relegation-threatened team has its work cut out for them is akin to pointing out that some Millwall supporters have impulse control issues.

But it is precisely that impossible dream that lies at the very heart of the FA Cup. Only in this oldest of cup competitions can a small-money club (one that couldn't even fulfill its 20,000-seat allotment at Wembley) have a chance to rise up and belittle a behemoth like the defending Premier League champions -- a City squad so absurdly financed that it can afford to waste $40 million plus on an insufferable French weasel who can only put the ball in the net from 6 yards out when it ricochets fortuitously into his path.

Felicitations, Samir, from all your Arsenal pals on scoring your fourth goal in 31 games this season.

The question du jour is this: Can Wigan make a sizable enough withdrawal from its good karma bank to overcome the serious talent deficit it will face on its next visit to Wembley? The good news is that the final is in May, and there is no more joyful month for the Latics, who for the past several years have been Criss Angel-like in the art of relegation escapism.

The bad news is that history rarely favors Championship-flirting teams on life-affirming cup runs. Just look where both Portsmouth and Birmingham ended up. (On second thought, don't bother unless you enjoy wallowing in bankruptcy and despair.)

The worse news is that it appears City have emerged from their season-long hibernation after they have been all but eliminated from the EPL title race by their unforgiving Manchester neighbors.

First came last Monday's impressive victory over United at Old Trafford, one in which Mancini's collection of millionaire divas finally resembled the swashbuckling and remorseless league champions of last season rather than the underperforming bridesmaids slumming 15 points from the top.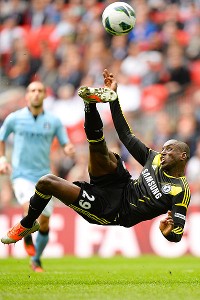 Laurence Griffiths/The FA/Getty ImagesDemba Ba helped ignite Chelsea's fightback with a stellar goal.
And then on Sunday, City emphatically underlined their rediscovered superiority -- at least for 60 dominant minutes -- against a Chelsea team still chasing a Champions League berth, a Europa League title and a fourth FA Cup in five years. Is it any wonder that after a tumultuous season in which they have played a mind-boggling 59 games (15 more than City), physical and mental fatigue has crept into the European champions?

It was a testament to how weary and out of sync Chelsea looked early on that the majority of Blues supporters at my local pub were flooding toward the bar with the same regularity that City swept forward on the screen. "No one drinks like Chelsea fans during a big game," said the Football Factory's delighted owner/bartender, Jack Kean.

But if Chelsea are wheezing to the finish line, they are not doing it without a fight. And by fight I don't mean the finger-jabbing tete-a-tete between Luiz and Frank Lampard during the midweek Ruben Kazan match, but the spirited revival they mounted from 2-0 down in the final desperate 30 minutes on Sunday.

Where the heavy-legged Blues summoned the energy to lay siege to the City goal in search of an equalizer is anyone's guess, but they came tantalizingly close to pulling off a comeback for the ages after Ba conjured his second goal-of-the-season candidate in the past week with a glorious, whirling finish. You could even make the case -- as the Chelsea fans at the Football Factory did in colorful language and a rainbow of beer -- that the Blues should have been awarded a penalty in the 82nd minute when Vincent Kompany grabbed a hold of Fernando Torres' shirt and didn't let go until he treated El Nino's female admirers to a glimpse of the Spaniard's washboard abs. But you can't argue that the better team lost on Sunday.

While caps must be doffed to United on their relentless march to the title, one can only imagine the thrilling dogfight that would have ensued had the likes of Toure, Aguero, Nasri and Kompany decided to go full-throttle from the start of this season rather than jolting themselves awake in April. The pace and power of City's devastating counterattacks, the rat-a-tat precision of their passing in and around the box, the bruising physicality and endless stamina of their back four are unmatched in the Premier League when Mancini's men are engaged. How spectacular is the City firmament? Well, its most creative player, David Silva, was out with an injury and its leading scorer in the league, Edin Dzeko, was relegated to the bench Sunday, while its most fascinating personality, Super Mario, skulked off to Italy weeks ago.

With Balotelli permanently removed from Mancini's glare, the manager recently focused his frustration on Nasri, singling out the Frenchman as the City player that he'd most like to punch. Roberto, the line forms on the left.

Unlike Rafa Benitez, his managerial counterpart on Sunday, Mancini is not in serious danger of having to wait tables approximately 20 minutes after the season ends. His team is in its second cup final in three years, and more importantly, Pep Guardiola is off the market. In fact, all the Italian has to do to ensure another campaign of running the Etihad asylum is to win a game on May 11 against a club that by then could be looking at two more matches against Millwall on the 2014 Championship schedule.

C'mon, you Latics!