FA Cup is Rafa's last Chelsea dance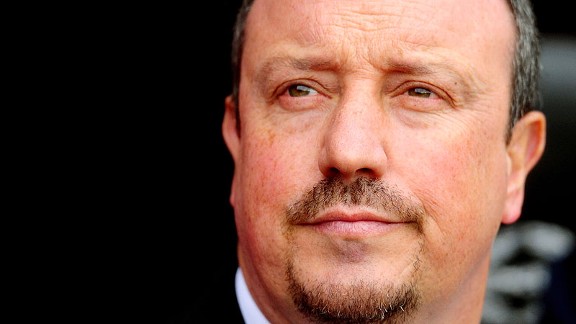 Mike Hewitt/Getty ImagesAn FA Cup win vs. United would be a sweet farewell for the embattled (and "interim") Rafa Benitez.
Sometime in May, Rafa Benitez will walk through the door at Stamford Bridge marked Vamonos while being careful not to bump into Jose Mourinho who, according to reports in the oh-so-reliable English press, will be swaggering through the door marked "Welcome, our once and future Savior."

If you're Benitez, the best you can hope for is that "The Returning One" stops to admire the shiny FA Cup medal around your neck and mumbles gracias for teeing him up with a Champions League berth that he can use to win Roman Abramovich's favorite tournament again, diminishing your Chelsea "legacy" even further. As it stands now, that "legacy" is pretty impressive: The Blues were within four points of the league summit when he was hired. They're now 22 points off the top.

But if Chelsea can somehow beat Manchester United in Monday's FA Cup quarterfinal replay, Benitez instantly becomes the smartest guy on the unemployment line -- hence why the game can now be viewed as Rafa's Last Supper.

After dropping three precious points in the CL soapbox derby by losing to Southampton 2-1 on Saturday -- their third consecutive away defeat -- the Blues fell two points behind one London rival (Spurs) while maintaining a reed-thin two-point lead over another: Arsenal. As the Queen song goes "Pressure pushing down on me …" (Or was that Vanilla Ice? I always get them mixed up.)

On the bright side, though, Rafa's good friend Sir Alex Ferguson leads his Premier League champions-elect to Stamford Bridge and who knows, this time the smug Scot may even deign to shake the hand of the embattled Spaniard. After all, look what happened to the last manager, Martin O'Neill, who clasped Fergie's leathery digits -- the jaunty Irishman was fired on Saturday, hours after his woeful Sunderland team lost to United 1-0 at home.

But ironically, it was the Blues' 2-2 draw at Old Trafford just three weeks ago that served as the finest moment in Benitez's short, frumpy and excuse-laden interim reign. Not only did his team fight back from two goals down in the second half and nearly win it at the death, but Rafa left the Old Master choking on his tactical dust.

Lest you forget this minor miracle, it was Benitez's substitutions in the 52nd minute -- John Obi Mikel and Eden Hazard for Frank Lampard and Victor Moses -- that turned the game on its goateed chin. Sir Alex had no answer for the inspired strategic gambit, countering with the insertion of Robin van Persie, who failed to trouble the scoreboard operator. Only a sick reflex save from David De Great on Juan Mata in the 90th minute spared Fergie the ignominy of losing to his least favorite Premier League manager (and that's a long list).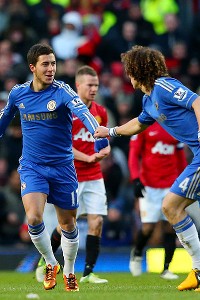 Alex Livesey/Getty ImagesEden Hazard swung Chelsea's first FA Cup meeting with Man United firmly into the Blues' favor. Will he get to do the same again on Monday?

Afterward, there were no post-match niceties -- no handshake, no invitation for a glass of Merlot, no sharing of a last stick of gum -- just the knowledge that these two teams with a history of lovey-dovey encounters (who can forget the 2-0 United win at Old Trafford in 2007 that ended with Mike Dean under siege for sending off Mikel and the bullying Blues fined 30k?) would have at it again as United pursues the one piece of silverware it has not crammed into its trophy case over the past nine years.

Oh, and did I mention that the game is being played at 7:30 a.m. ET? It's one thing to stagger to the pub at that ungodly hour on the weekend, knowing that you can have a breakfast of liquid courage and no one will ask you to give a Power Point presentation of your latest project before lunch. But this is Monday morning and nothing good ever happens then except for someone occasionally bringing in a box of Dunkin Donuts and leaving them unattended on their desk.

Ultimately, there are many excellent reasons for showing up drunk to the office and I'm hoping that this match will be one of them. So by kickoff on Monday, I'll be at the Football Factory along with the same boisterous souls who packed the place on Saturday. The United mob, keenly aware that their team's last trip to Sunderland ended in bewilderment and tears when they heard the news that their hated neighbors had won the league on goal difference, burst into a new anti-Man City ditty once they had gone a whopping 18 points clear at the top (if only until the City game was over and the lead was back to a mere 15):

"Mancini, are you listening / You'd better keep our trophy glistening / We'll be back in May to take it away / Walking in a Fergie wonderland"

As annoying as this song was, it still couldn't diminish the memory of seeing Sir Alex Ferguson's gobsmacked face when United lost the title last season. That one has kept me warm on many a snowy evening.

On the other side of the pub, the Chelsea contingent were shaking their fists in frustration at the big screen every time Rafa's disheveled image slithered into view. The next three weeks will determine what Chelsea has to show for this risible soap opera of a season other than managerial heartbreak (fare thee well Roberto Di Matteo) and disgust (Rafa's very presence profaning sacred Stamford Bridge ground).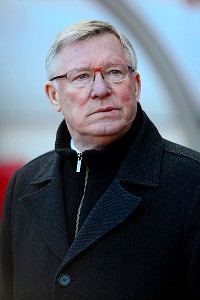 Stu Forster/Getty ImagesSir Alex Ferguson was humbled by Rafa's tactical changes in the teams' first FA Cup meeting but should have the measure of Chelsea in the replay.

Benitez realizes that no triumph -- even winning the Europa League -- is going to give him the same level of vengeful joy as taking something he wants away from Sir Alex. With that in mind, the Spaniard decided to rest a trio of key players (Demba Ba, Ashley Cole and David Luiz) against the plucky Saints, thinking that an undermanned Chelsea team would still be too strong for a club fighting for a top-half finish. The gamble might have worked had he not also been missing his creative linchpin, Juan Mata, out with a virus, and his defensive anchor, Gary Cahill, rehabilitating from a knee injury.

But what has become increasingly clear is that in a season where several of Chelsea's high-priced recruits -- Ba, Oscar, Moses and Marko "Capital One Cup" Marin -- have arguably failed to live up to their exorbitant fees, (Fernando Torres is in a special category all his own and the Batman mask he wore on Saturday only underlined his clownish futility), Mata is as indispensable at Chelsea as Luis Suarez is at Liverpool. Without them in the lineup, their teams are eminently ordinary; to wit, the European champions had only one shot on target Saturday, that being John Terry's thumping header from a corner kick.

The good news for Benitez is that Mata is expected to be back for United, though Cahill may still be ruled out. If you watched how the Terry-Branislav Ivanovic partnership at the heart of Chelsea's defense struggled to cope with the darting runs of Southampton's Rickie Lambert and Jay Rodriguez, you can only imagine the havoc that Javier Hernandez (six goals in seven Chelsea encounters) and Wayne Rooney will wreak upon the Blues' rearguard, even with Luiz back in the team.

Sir Alex rested both Chicharito and Wayne Rooney on Saturday along with Patrice Evra and Rio "Hey-don't-disrupt-my-intricate-training-schedule" Ferdinand, meaning that all the ingredients are in place for Fergie to do a happy jig on Benitez's Chelsea managerial grave.

United 2, Chelsea 1, Rafa 0.

David Hirshey has been covering soccer for more than 30 years and has written about the sport for The New York Times, Time, ESPN The Magazine and Deadspin. He is the co-author of "The ESPN World Cup Companion" and played himself (almost convincingly) in the acclaimed soccer documentary "Once in a Lifetime."