My heart bleeds for Sir Alex. First, that mean old Turkish referee failed to get the memo about how when you're officiating at Old Trafford you're not allowed to send off a United player -- especially when it's clearly not a red card offense anywhere in the world except maybe in the FIFA rule book.

Then some mischievous tabloid hacks, desperately attempting to come up with a creative angle on why Wayne Rooney was benched for the Real Madrid game, cooked up a story about Sir Alex falling out of love with his prodigal son and like an angry usher, looking to boot him out of the Theater of Dreams at the end of the season. Let's just say that neither of these incidents went down quite as smoothly as one of Fergie's fine Merlots.

- Tyler: Cup questions
- Chelsea invoke old values
- Okwonga: In praise of David de Gea

But little could The Sage Scot have known that the greatest indignity of the week awaited him Sunday in the shape of a goateed interim manager with a skinny tie and the thickest skin this side of a love child conceived by Joan Rivers and a rhinoceros.

I mean, Ferguson would sooner share a heart-shaped hot tub with Cuneyt Cakir, the impudent ref whose decision to give Nani a red card sent SAF into a purple-faced rage, than deign to shake the hand of Rafa Benitez, a man who once called a news conference to enumerate a laundry list of "facts" that purported to show how Sir Alex bullied Premier League referees to his advantage. (As crazy as he is, Rafa pretty much nailed that one, huh?) When asked on Friday what he thought of the job the Spaniard has done at Stamford Bridge, Ferguson responded with barely disguised condescension: "I'm not going to kick anyone when they're down."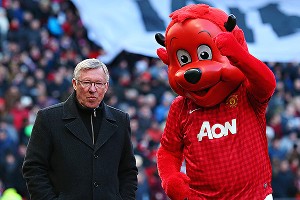 Alex Livesey/Getty ImagesCome on, Fergie -- cheer up. You were only outcoached by one of your archrivals in the FA Cup.
It was a sentiment apparently not shared by either the home or away fans at Old Trafford, who spent the better part of the first 60 minutes serenading the embattled Chelsea manager with a rousing chorus of "You Don't Know What You're Doing."

And yet, astonishingly, he did.

I realize I risk ex-communication from The Church of Sir Alex for merely suggesting such a heretical thought, but it sure looked to me in their enthralling FA Cup 2-2 draw that one of the greatest managers in English soccer history got outcoached by a shlumpy but smarter-than-he-looks Benitez. Had the match lasted another five minutes, Chelsea may well have won it and Ferguson would have spontaneously combusted, which you've got to admit is a powerful argument for extending game times.

In a master stroke of tactical substitutions, Benitez took off the sainted but running-on-fumes Frank Lampard and the only-effective-when-playing-for-his-national-side Victor Moses and replaced them with John Obi-Mikel and Eden Hazard. Not only did those moves turn the game on its head, but they appeared to flummox Ferguson, who was determined not to let Benitez dictate any of his tactics. So in the 59th minute, when Benitez reinforced the base of his midfield with the steely Mikel and added a cutting edge to Chelsea's attack with the introduction of the technically gifted Hazard, there was no immediate response from Ferguson. And why should there be?

After all, up to that point United had shown no lingering effects of their Champions League trauma. Indeed, they had bagged two goals in the first 11 minutes and only a sharp reflex save from Petr Cech kept his own defender David Luiz's header from making it 3-0.

Perhaps, though, Sir Alex should have taken it as an ominous sign when Nani, once again a bundle of energy and invention in the United attack, went off prematurely. This time, it wasn't for a poorly timed "Karate Kid" impression in front of an unforgiving by-the-book referee but for a tweaked hamstring at the end of the first half. Chelsea was not sorry to see the Portuguese trickster go, and were further delighted by the sight of his replacement, the woefully out-of-form Antonio Valencia.

Still, it took an outrageous piece of skill from Hazard to awaken the echoes of the Real Madrid collapse and force Fergie's hand. The Belgian looked to be going nowhere when he faced up to Rafael Da Silva on the left edge of the box. Suddenly, he launched an inch-perfect curler into the far corner of the net and for the second time in six days, Old Trafford watched in despair as another lead began to slip away.

The goal forced Ferguson's hand and he responded with his trump card, Robin van Persie. Not a bad guy to bring off the bench, but why wasn't he starting in a game against one of United's fiercest rivals with a FA Cup semifinal berth at stake? Sure, his form has dipped of late but if United goes on to win the league, as appears increasingly likely, the Dutchman deserves to be -- and it pains me to say this -- the player of the year even though Luis Suarez leads 22-19 in the goal-scoring race. Of course, Fergie looked like a genius picking Hernandez in his stead when the Mexican's looping header put United ahead 1-0 inside of four minutes.

And just to show those pot-stirring journalists that his bromance with Sir Alex was still alive, if not all that well, Rooney provided the second goal on a free kick that eluded everyone in the box before nestling in the net.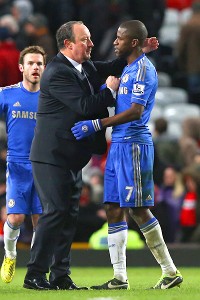 Alex Livesey/Getty ImagesRafa Benitez had Ramires to thank for tying up the match and forcing a replay at Stamford Bridge.
"So much for the Real Madrid hangover," I said to my friend Jason, who, as the thirstiest of the United supporters at the Football Factory, knows a thing or two about hangovers. "Your boys seem to have recovered brilliantly."

Like the rest of the United fans at the pub, Jason took an uncharacteristically sober attitude toward his team's 2-0 lead, owing to the fact the three kegs of Guinness behind the bar were malfunctioning like Chelsea's defense. "After Tuesday, I'm taking nothing for granted," said Jason, standing in the middle of a couple of hundred United and Chelsea lunatics. "We looked to be in control then, too, and you saw what happened."

The difference is that on Sunday, United were not playing with 10 men for the last 30 minutes and yet they still couldn't hold onto their lead. In large part that was due to the fact their midfield was nonexistent with Tom Cleverly and Michael Carrick being overrun by Hazard, Oscar, Ramires and the majestic Juan Mata. Few teams can counter with the pace and power of Chelsea, and in the 70th minute the Blues swept forward with Luiz intercepting an errant United pass and releasing Hazard. In the blink of an eye, the ball pinged from the Belgian to Oscar to Ramires, who surged past Jonny Evans and caressed his shot just beyond David De Gea's outstretched fingertips.

Ferguson looked as dazed as did United's rearguard, who defended manfully just to hang on for the remainder of the game as Chelsea pinned them back in their own penalty area. Only a sick kick save by De Gea at the death on Mata spared United from a second straight crushing defeat at home and forced a replay at Stamford Bridge.

I bet this time Fergie will have learned his lessons: he'll start Van Persie, make nice with Rooney and he'll even shake Rafa's hand. If not, then there'll be two managers at Stamford Bridge who don't know what they're doing.