Glee and sympathy in North London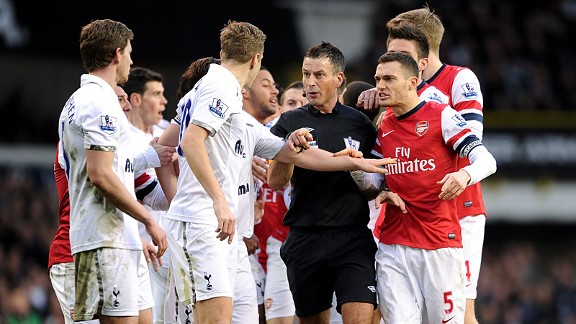 David Price/Getty ImagesHas Sunday's victory shifted the North London balance of power to White Hart Lane?
They were waiting for me outside the bar: three Spurs fans kitted out in the odious colors of their satanic North London cult. Since they never properly introduced themselves, let's just call them Fat, Drunk and Stupid.

"Guess you'll need a new jacket now," snarled Fat, pointing to my shiny maroon satin jacket with the words "Kings of London" emblazoned underneath the Arsenal crest.

"I didn't know Spurs followers could read," I said, emboldened by the fact that my friend Jason was following close behind and had just reminded me, "I'm from Detroit and I like to punch people."

"We can read the league table, can you?" taunted Drunk.

"Would that be the same table where you finished below Arsenal for the past 18 years?" I asked.

"Typical Gooner," said Stupid. "Always living in the past." OK, maybe not so Stupid.

Martin: Dark times for Arsenal
Mangan: Gunners self-destruct (again)
Fitch: Below-par Spurs still too good

And so it went on Sunday at the Football Factory where the banter between Arsenal and Spurs supporters flew almost as rapidly as Gareth Bale and Aaron Lennon did past an Arsenal defense that would not have looked out of place at Madame Tussaud's wax museum.

In the end, it was the Tottenham faithful who swaggered out of the pub, gloating over their deserved 2-1 victory in the North London derby. Meanwhile, the gaggle of deflated Gooners staggered into the sunlight, hoping that we hadn't borne witness to the final rites of nearly two decades of dominance over our most bitter rivals.

This was a game that Arsenal desperately needed to win; not simply to affirm its superiority in North London but to keep alive its increasingly fitful quest to secure what it regards as its only divine right -- a Champions League berth.

By the time the final whistle blew, my beloved club was a forlorn fifth in the table, five points behind Chelsea and a full seven back from Totten -- I cannot do it. I cannot complete the sentence.

What I can say is that Sunday's defeat is certain to trigger another hysterical round of calls for the well-coiffed head of Arsene Wenger, who is likely going nowhere other than to scout some obscure French teenager. Unless, by some miracle, Arsenal is suddenly taken over by the mysterious Arab consortium rumored to be offering $2.25 billion for a team that made Michael Dawson look like the 1966 incarnation of Bobby Moore on Sunday.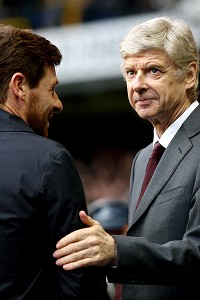 Paul Gilham/Getty ImagesAndre Villas-Boas has infused Spurs with a sense of panache and resilience not ordinarily associated with North London's second club.

While I put as much stock in these takeover rumors as I do in the belief that Stan Kroenke can actually name two of his players, I can obviously see the irony in a club that fancies itself the moral guardians of the Premier League suddenly awash in the same filthy lucre that has allowed Man City and Chelsea to buy success.

Look, if it brings trophies, I think I can live with a certain amount of hypocrisy.

But I digress. Even more soul-crushing than Sunday's loss was the chilling realization that Arsenal fans can no longer go to sleep at night secure in the knowledge that the sun will rise tomorrow, Rafa Benitez will ply his trade elsewhere next season and that Spurs will engage in their annual collapse down the stretch.

How many points behind Tottenham were Arsenal last year at this time? Ten. And we all know how that worked out in the end. Sadly, however, Gunners fans can no longer count on Andre Villas-Boas' side to choke like, say, an Arsenal team playing a lower-division opponent in a cup tie. Spurs are showing off a newfound resilience, a pugnacity that was on abundant display Sunday. If anything, it's Arsenal that now suffers from mental brittleness, and in Bale and Lennon, Spurs had the players to ruthlessly exploit it.

Before the derby, Wenger had said that Arsenal would not pay Bale any special attention because "we don't plan for anybody." Well, he was a man of his word. Or perhaps Wenger's subtle message was that Arsenal hasn't had a player since Patrick Vieira capable of nullifying a talented opponent, so why bother?

That question was answered at the 37-minute mark when Bale motored past Per Mertesacker and Thomas Vermaelen. It's one thing to decide not to mark one of the fastest players on the planet, but it's sheer madness to also play a high line against him, especially when your central defenders are -- how to put this gently? -- slower than the statue of Thierry Henry outside the Emirates.

All Mertesacker and Vermaelen saw were flashing studs and a look of pants-soiling terror on the face of Arsenal keeper Wojciech Szczesny. I know their respective native languages are German, Flemish and Polish, but is it too much to expect them to have learned some basic English expressions like "Somebody cover the most dangerous player in Europe next to Messi and Ronaldo"?

Two minutes later, I was reminded of the definition of insanity. You know, the one where you do the same thing over and over and expect a different result.

Granted, the second Spurs goal wasn't exactly a carbon copy of the first because Bale had nothing to do with it, but even Einstein would admit that it's all relative. This time it was Scott Parker doing the passing instead of Gylfi Sigurdsson while Lennon accepted Nacho Monreal's engraved invitation to whoosh past him and round Szczesny.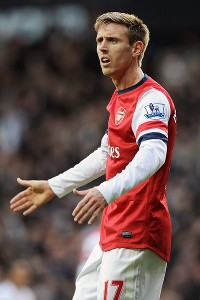 Stuart MacFarlane/Arsenal FC/Getty ImagesNacho Monreal typified Arsenal's brainless defending versus Tottenham, letting Aaron Lennon slip unnoticed past the high back line for Spurs' second goal.

On the Arsenal bench, the team's granite-faced defensive guru Steve Bould sat staring off into the distance, perhaps finally understanding why his predecessor Pat Rice took early retirement.

Even as a permanent resident of the ever-imaginative torture chamber that is Arsenal fandom, this was new territory in the land of pain. Normally, the pattern has been for the Gunners to lollygag about during the first half and then stage a ferocious second half fight-back that too often falls short. On Sunday, however, Arsenal displayed none of their early match jitters, dominating possession for long stretches only for their attack to break down once it came within hailing distance of Tottenham's penalty area.

Partly this was due to some heroic last-ditch tackles by the excellent Spurs captain Dawson and his commanding partner in central defense, Jan Vertonghen. More frequently it was because at the final ball, Arsenal has all the composure of Taylor Swift during a bad breakup.

Spurs were entirely content to let Arsenal have the ball and wait for the advancing Gunners to leave gaps at the back. It is no secret that Arsenal is vulnerable to the counter --everyone from Bayern Munich to Aston Villa has found joy on the break against them -- but for 37 minutes the Gunners held their nerve. Unfortunately, FIFA and the EPL dictate that matches must last for 90 minutes. (I looked it up.)

You cannot have true misery without hope, and that flickering mirage arrived in the 50th minute courtesy of Mertesacker's Bale-deflected goal from a Theo Walcott free kick. Up to that point, I had no idea Walcott and his $150k weekly paycheck were even on the field.

With the game becoming increasingly frenetic and edgy, if had you offered me a 2-2 draw, I would have happily asked my pal Jason to stop head butting you and bought you a pint instead. Spurs, however, were in no mood to surrender in front of their baying audience at White Hart Lane where Wenger was serenaded with a mocking chorus of "We want you to stay."

Whatever inferiority complex Spurs fans may have felt in previous North London derbies has been justifiably replaced by a sense of ambition and optimism. The winners are now closer to second place than they are to fifth and Villas-Boas says his team is on "an upward spiral in terms of confidence whereas Arsenal are in a negative spiral and once you get into that negative spiral it's difficult to get out of it." AVB is unduly fond of the word "spiral."

I want to keep saying, "It's still only the first week of March and there are ten games left for Spurs and Arsenal to swap trajectories." But what I will really be doing is studying my Arabic and looking for a new satin jacket.

David Hirshey has been covering soccer for more than 30 years and has written about the sport for The New York Times, Time, ESPN The Magazine and Deadspin. He is the co-author of "The ESPN World Cup Companion" and played himself (almost convincingly) in the acclaimed soccer documentary "Once in a Lifetime."