Hey, Mancini, why don't you quit while you're behind?
I'll give Roberto Mancini credit. The Manchester City scarf model is surrounded by math majors who look at the Premier League table and ask, "Why don't you quit while you're behind?" Yet he isn't about to back away from a fight.

The defending champions started the day a Real Madrid-like 15 points behind their vengeful neighbors Manchester United, in a contest that is rapidly becoming more jest than joust. Those budding numerologists in baby blue could hardly blame Mancini if he were to take his Gucci-clad foot off the accelerator and cruise to a comfortable second place finish. There's no disgrace in settling for runner-up to United in The Greatest League In The World, especially if it meant City could focus their energies on winning another FA Cup to mask the car wreck that was its Champions League humbling.

- Curtis: Man City find swagger
- Video: Mancini focused on improving
- Video: Rafa Benitez on match's turning point
- Lythell: Listless Blues

And best of all, the gulf at the top of the standings would allow Mancini to request another $100 million in the transfer kitty to wildly overpay for marginal French and Bosnian players next season.

Instead, Mancini continues to act like one of those bleary-eyed soldiers who wandered out of the jungle ready for battle, unaware World War II had ended 20 years before.

Perhaps that's because the Italian remembers what happened on May 13, 2012, when everyone declared City's title dreams dead and buried after 90 minutes had elapsed in the season's final game. And he also knows that Sir Alex Ferguson and his band of brothers still vividly recall the gut-wrenching sight of Sergio Aguero scoring the goal that tore the trophy out of Manchester United's hands with 110 seconds left in extra time.

So Mancini stubbornly refuses to wave the white silk handkerchief in his breast pocket despite the fact that for City to pip United again to the title, the Sky Blues would have to take all 33 points on offer while United contrived to drop 12.

"We can't think it is finished with 11 games to go," Mancini defiantly told the English press after City valiantly outfought and outwitted Chelsea 2-0 at the Etihad on Sunday. "For us now, it's not important to look at the table. Maybe we look in one month or 40 days."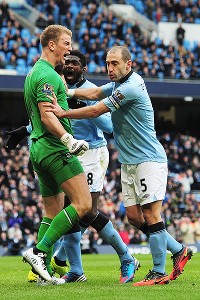 Shaun Botterill/Getty ImagesStuff It: Joe Hart stopped Frank Lampard's penalty attempt -- and answered his No. 1 critic, Roberto Mancini, who's questioned his focus.
As commendable as Mancini's over-my-handsome-corpse-attitude is, it looks increasingly likely that it will take a divine act to deny United their 20th league crown. Or a long-term injury to their most important player. If there was any comfort for City fans to derive from their crosstown rival's businesslike 2-0 dismantling of QPR on Saturday, it was the sight of Robin van Persie injuring his hip and hobbling off in the 41st minute.

The Dutchman had apparently tripped over a cameraman who was perched dangerously close to QPR's goal. The identity of the shutter snapper has not been revealed, but United authorities are looking into reports that he had long black hair, spoke Italian, and wore a blue and white cashmere wrap around his neck.

In a refreshingly candid interview with the Guardian over the weekend, Mancini admitted that he is still grieving over the one Arsenal player who got away from the avaricious clutches of Sheikh Mansour.

"Van Persie is the difference [between first and second]," Mancini said. " We are missing 10 to 15 goals [this season]. We score those goals and it's worth another eight or nine points. And Van Persie is a United player."

And Samir Nasri is a City player. The weasel, finally getting his just desserts, has so impressed Mancini with his talent and attitude that he kept the Frenchman on the bench until the 90th minute. Perhaps Mancini was hoping that his waste of $25 million in the No. 8 shirt would pull a Carlos Tevez and refuse to enter the game at such a humiliatingly late juncture, but as the Gauls are historically wont to do, there was no such resistance forthcoming.

By then, chants of "Man-chee-nee" were echoing around the Etihad, and John Terry, wearing a hot pink warm-up bib under his Chelsea jacket, was sitting forlornly on the sidelines, wondering how long it would take this time before he could convince Roman Abramovich to change the modifier in Rafa Benitez's job description from "interim" manager to "former." For once, almost every Chelsea fan on the planet agrees with the Blues captain.

Even by Benitez's gruesome standards, this was an abject performance from the European champions, who looked listless and disjointed from the opening whistle. The only glimmer of hope occurred seven minutes into the second half, when Demba Ba was brought down in the penalty area by Joe Hart's lunging challenge and Chelsea were awarded a penalty. Frank Lampard, whose resurgent form has generated talk of a new contract, hit the ball low and hard toward the left corner, only for Hart to guess correctly and make a sprawling, fingertip save. To take nothing away from his goal-keeping heroics, England's No. 1 keeper has probably seen Lampard take a penalty or 300 in Three Lions training sessions. Did it ever occur to Benitez that perhaps a different player, such as Juan Mata, would give Chelsea better odds of converting the spot kick? On the bright side, Lamps, few MLS goalies would have made that save.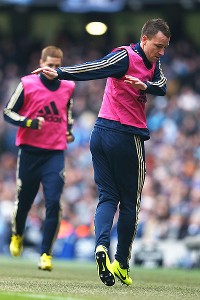 Alex Livesey/Getty ImagesJohn Terry was pretty in pink during the warmup, but remained rooted on the bench during the match.
At the Football Factory, my beer-soaked home-away-from-home, the boisterous throng of Chelsea supporters ("We're the New York Blues and we're full of booze" they had chanted moments before) grew decidedly agitated.

"We'll never win anything with Benitez," hissed Matt Eison of Greenville, S.C., who was on his fifth pint by 10 a.m. "This team has enough attacking talent to compete at the highest level, but we need the Special One to instill the defensive discipline to make us champions again."

Until that happens -- and Mourinho could just as easily wind up at Man City -- you would think that Terry would be the man to provide steel and shape to Chelsea's back four. But fearing that Terry might not be at full strength given his exertions midweek against Sparta Prague in the Europa League, Benitez chose David Luiz to partner with Gary Cahill at the heart of his defense. Luiz has shown promise this season when Benitez moved him up to midfield, but the player's slipshod distribution and positional wanderlust at the back made him easy prey for the darting runs of David Silva and Aguero.

The Sky Blues haven't been the swashbuckling, goal-scoring machine they were last season in part because Silva, their sublime string-puller, has been strangely subdued. But the Spaniard was back to his old silky self on Sunday, slicing apart Chelsea with his eye-of-the-needle passes and no-look flicks. Only several last-ditch tackles by Cahill kept City off the board in the first half but, ironically, the former Bolton defender was an unwitting accessory to the opening goal in the 63rd minute.

Silva managed to wriggle to the end line and cut the ball back to Yaya Toure on the left side of the box. The long-limbed Ivorian, who had been overrunning Chelsea's midfield all afternoon, glided past Lampard and John Mikel Obi before opening up his body to curl the ball off Cahill's heel and into the far corner.

Chelsea simply had no one to match Toure's driving force, and it didn't help that the usually dynamic midfield duo of Mata and Eden Hazard looked as weary as Lindsay Lohan's personal publicists.

Groping for answers, Benitez relied on last year's Champions League hero, Ramires, to ignite the Blues counterattack, but with his ball-peen hammer touch, he sometimes looks less Brazilian than Scandinavian.

With 20 minutes left and the Blues still trailing 1-0, Fox's newly minted Voice of Soccer Gus Johnson asked his fellow commentator Lee Dixon, the former Arsenal defender, "What does Chelsea need to do?"

"They need to score, Sparky," bellowed a Blues fan from the back of the bar in a rare moment of mirth. But there were no chortles 10 minutes later when Benitez played his last card and it turned out to be The Joker, Fernando (one goal in his past 14 games) Torres. "You know what that means," said Matt, the Chelsea fan from South Carolina. "He's throwing in the towel."

If it's any consolation to Man City fans, Roberto Mancini will never throw in his scarf.