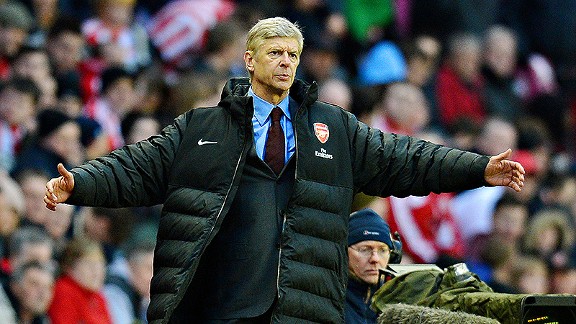 Andrew Yates/AFP/Getty ImagesAs the Gunners falter, one wonders how long Arsene Wenger will escape serious scrutiny.
Dear Stan,

I have written to Arsene twice in the last two years to little effect, so I have decided to move up the food chain. I know you don't like to get directly involved in the running of your sports teams but given your $450 million investment, I thought it behooved you to have an inkling of the unholy mess you're presiding over in North London. This is not like your Denver Nuggets, Colorado Avalanche or St. Louis Rams enterprises, none of which has reached a major final in their sport since 2001. This is one of Europe's most illustrious soccer clubs that is decomposing before your very eyes and mustache.

The proof is piling up like the snow at your new 124,000-acre spread in Montana. You own a soccer team that on Saturday was knocked out of its second consecutive Cup competition by an opponent from a lower league. You own a team that not only sits fifth in the table, a mere 21 points behind Manchester United but -- and I'm ashamed to even type this -- is also four points behind a striker-less Spurs side that currently lives on Gareth Bale's borrowed time. And, most importantly, you own a team that is about to play Bayern Munich in the Champions League round of 16. Have you even considered the size of the new one that the Bavarian giants are going to tear us at the Emirates on Tuesday? Me neither. It's too painful.

Yet I'm no longer in a spittle-flecked rage about our recent failures. So depressingly predictable has been our slide into irrelevance that I have achieved a kind of strange zen calm. Except, of course, when I jump into the bathtub at the same time as my plugged-in toaster.

Limbert: Are you sitting comfortably, Gunners?
Video: Wenger gets angry in press conference
News: Arsene questions team's mentality
On The Move: Wenger out? Not just yet

As I watch the Gunners make the same boneheaded mistakes week after week -- getting caught ball-watching in the box, delivering corners that fail to clear the first defender, parrying shots into the path of onrushing opponents and spurning chances that are easier to finish than a meat pie -- I have come to expect nothing more than the doom-loop of disappointment, not to mention a pounding hangover the next day.

Stan, given that your net worth is an estimated $4 billion, is it too much to ask that you at least pick up my bar tab when Arsenal loses to a team one or two tiers below it in the league? Notice I didn't say the Premier League. I don't want to bankrupt you.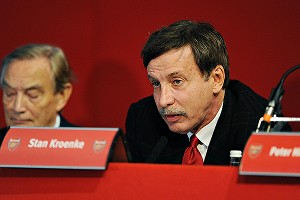 Stuart MacFarlane/Getty ImagesStan Kroenke has been unacceptably quiet since taking over as Arsenal owner. Will recent form and the promise of yet another disappointing season break his silence?

Stan, I respect your desire -- some might say mania -- for privacy, but it's time to stop hiding in the cabernet sauvignon-lined bunker of your ranch and take some responsibility for this dysfunctional club that you claim to have such respect for. Otherwise, you might as well pack up your cowboy boots and go home, because even the Promised Land of Financial Fair Play won't be enough to save you from the very public glare of the angry Gooner villagers if Arsenal bagels this season and ends up without so much as a CL qualifying slot.

If it was merely the oil-rich fat cats at Chelsea and Man City pricing you out of Cups, you'd have a rational leg to stand on. But we're crashing out to the mediocre B's -- Birmingham (OK, that was before your time, but it still hurts) Bradford City and Blackburn. Yes, that Blackburn. The same one your club crushed 7-1 last season when the Rovers were still in the top flight. Now they're in the Championship, which at least is two levels above League Two, where Bradford City resides. I know, it was only the Capital One Cup, but trophy-less beggars can't be choosers.

Can you really blame thousands of your supporters for staying away from their ridiculously expensive Emirates seats on Saturday? Assuming you bothered to watch the game, did you hear the sound of the attending Gunners faithful boo your team off the field for their arrogant and insipid performance in the one competition it still had a realistic chance of winning?

Now all hope is lost, and we're only in mid-February. Of course, maybe you're one of those deluded souls like your manager who believes that the conquerable "B" is coming to town -- Bayern.

Did you catch Arsene's news conference on Friday, the one where he said with a straight albeit pinched face that if Arsenal could just get past Bayern, he sees no reason it can't go on to win the Champions League? Do the words "deranged confidence" mean anything to you, Stan?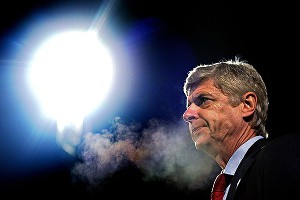 Laurence Griffiths/Getty ImagesWhat is Arsene Wenger's plan for handling Bayern Munich? Let's hope it's nothing like the plan he had for facing Bradford City and Blackburn Rovers.

Have you figured out Le Professeur's blueprint for victory? Does he even have a plan or has he run out of ideas beyond appealing to his players' pride and character? Are you aware that Bayern has won 18 of its 22 Bundesliga games, including ten of eleven away from home in which it's conceded only once? But why dwell on those scary stats when you can simply point to the miracle of BATE Borisov, the team that scored with three of its four shots on goal to stun Bayern 3-1 in the Champions League? Surely, Arsenal is as good as the Belarusian champion. And while we're clutching at straws, maybe Arsene's brilliant decision to rest his three strongest attacking options -- Theo Walcott, Santi Cazorla and Jack Wilshere -- against Blackburn will pay dividends in about 48 hours.

Unfortunately, we can't use the excuse that we started 11 one-legged circus dwarves. "We have only big names in our squad," Wenger said in his pre-match remarks, "so it will be a team of big names." What a kidder, that Arsene. Gervinho may be a big name in the Ivory Coast but in the Premier League he's simply a big forehead who can't score from point-blank range. And what exactly about Abou Diaby is big save his medical bills?

On Saturday, Gervinho managed to miss from 6 yards out with the goal at his mercy and Diaby took so long to release the ball in midfield that he allowed the Rovers enough time to regroup and watch the entirety of "Downton Abbey" before Arsenal could try to tippy-tap its way through Blackburn's densely packed penalty area.

If you're serious about trying to win a trophy for the first time in 83 years or however long it's been, you start your best players and then sub them off when the game is under control, not wait until the 71st minute of a 0-0 stalemate to bring on the cavalry.

But despite his protestations to the contrary, Wenger doesn't really give a damn about anything other than qualifying for the CL and then advancing as far as he can within it. And I have a sneaky feeling that you're complicit in this thinking, Stan, because without the CL income you'd have no chance of turning a profit.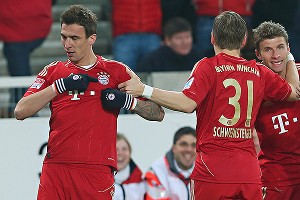 Alexander Hassenstein/Getty ImagesBayern has little to fear from Arsenal while the Gunners have much to learn from the Bavarian juggernaut.

Let's talk about this notion of "profit," Stan. You have made more money than most small nations' GDPs with your real estate wisdom but the currency in soccer is called trophies, and our cabinet is so dusty that opening it could cause a 10 degree drop in the earth's temperature. Which is why we've been begging you to give Wenger the funds to buy elite players so he can rotate his squad and still be a force in both the domestic Cup competitions and the Champions League. And by "elite" players, I don't mean Nacho Monreal, picked up by Wenger at the 11th hour as cover for an injured Kieran Gibbs.

I'm referring to players like those at Bayern, a side that can throw on game-changers like Mario Gomez and Arjen Robben, who would start for almost any top team in the world. In fact, Stan, you should take a good look at Bayern over the two legs, no matter how tempting it might be to avert your eyes.

Like pre-2006 Arsenal, it is a historic club that plays in a huge stadium. Sadly, in 2013, the comparison ends there. Bayern has remained true to its sense of tradition by letting its former cherished stars like Uli Hoeness and Karl-Heinz Rummenigge run the club in the image of the European juggernaut it was in the '70s and '80s. There's a reason, Stan, that Pep Guardiola chose Bayern over all Premier League suitors, and it wasn't money.

After dominating Chelsea in the CL final last season only for two of their big-game players -- Robben and Bastian Schweinsteiger -- to choke away the title on PKs, Bayern could easily have had a crisis of confidence. They could have even taken a page out of your accounting ledger, Stan, and sold off their marquee names to buttress the bottom line.

Rather, they moved quickly to upgrade their squad, bringing in the imperious Spanish enforcer Javi Martinez, promising Brazilian center back Dante, tricky Swiss winger Xherdan Shaqiri and the lethal Croatian goal-scorer Mario Mandzukic. I don't expect you to know who they are, Stan, but I have a feeling you'll find out in the next two weeks.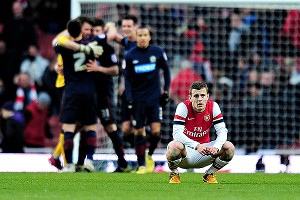 Shaun Botterill/Getty ImagesSaturday's defeat to second-tier Blackburn was another low point in a difficult season for Arsenal.

Plus you'll be happy to hear that a couple of familiar faces, Franck Ribery and Thomas Muller, are in fine fettle this season, with the latter having scored 15 goals and assisted on 10 others in all competitions for Bayern.

Add to that offensive firepower the creative midfielder Toni Kroos, marauding full back and current Die Mannschaft captain Philipp Lahm plus the rugged defender Jerome Boateng and you have the most fearsome counterattacking side in the CL not named Barcelona or Real Madrid.

Just thinking about what they are going to do to us has me smearing myself with chum and getting ready to play with sharks.

But if you're looking for reasons to live, Stan, the good news is that Bayern won't bunker into its penalty area and dare Arsenal to break them down, as Blackburn and so many of our other lesser opponents have done so successfully. No, Bayern will come at you with speed and power down the flanks and traditionally Arsenal has fared better in that kind of free-flowing contest.

And, of course, there is one other thin reed to hang onto. Maybe we've all greatly underestimated Arsene's genius for gamesmanship, and the pathetic capitulations to Bradford and Blackburn have been part of a masterful plan to lull Bayern into a false sense of security so it thinks it's in for a stroll. If that was indeed the strategy, I'm going to guess it's working.

On the other hand, Stan, if Bayern isn't overconfident and simply plays its game, I have a feeling you may be forced to poke your head out of the rabbit hole, look around at the detritus of our season and finally utter the only words that will give us hope again:

"Merci et adieu, Arsene."

Insincerely,
David Hirshey

Kicking and Screaming is a Premier League column by David Hirshey. David Hirshey has been covering soccer for more than 30 years and has written about the sport for The New York Times, Time, ESPN The Magazine and Deadspin. He is the co-author of "The ESPN World Cup Companion" and played himself (almost convincingly) in the acclaimed soccer documentary "Once in a Lifetime."